'Reading has helped me be a more empathetic and critical leader'
With over 38 years of experience in the education sector, Keshar Khulal, the principal of Kathmandu World School, shares how he makes time for reading, the genres he enjoys, and his favourite books.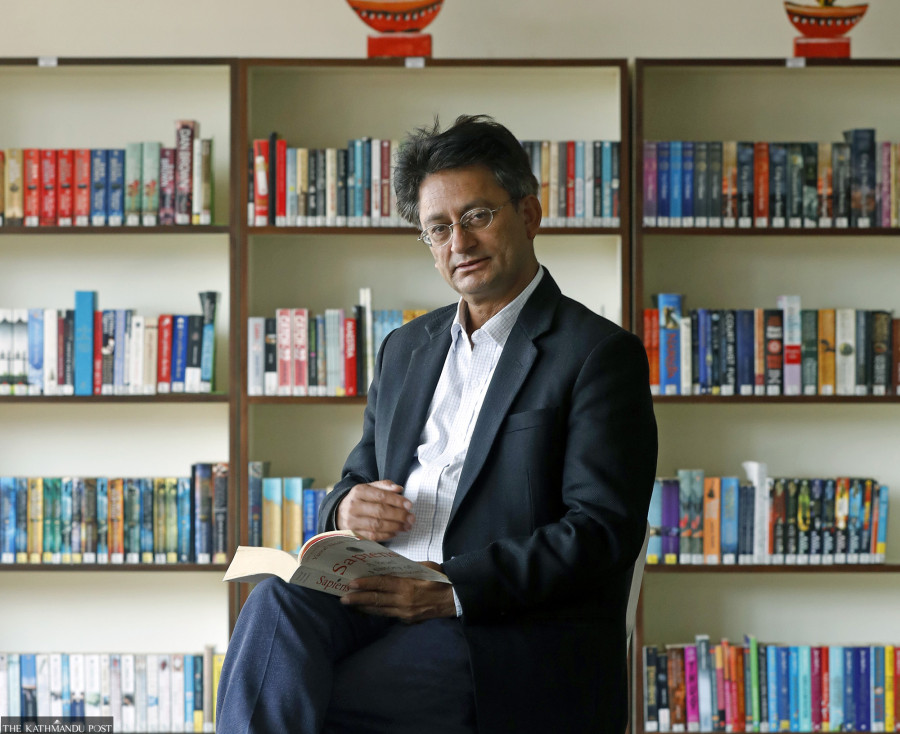 Hemanta Shrestha/TKP
bookmark
Published at : December 22, 2022
Updated at : December 22, 2022 08:54
Keshar Khulal is one of the most prominent names in Nepal's education sector. He spent the first 19 years of his career teaching physics at Budhanilkantha School and later went on to take on the responsibility of the institution's principal. He is currently the principal of Kathmandu World School. In a nearly four decades-long career, Khulal has also worked as a consultant for global organisations like the Danish International Development Agency and World Bank.

In this interview with the Post, Khulal shares how he got into reading, his know-hows about books and how they've been a part of his life.
Excerpts:
What part did reading play in your childhood?
As a student at Budhanilkantha School, I was encouraged to read a lot. I was exposed to reading books that were beyond the compulsory textbooks prescribed for school.
I borrowed books from the school library or my friends who read a lot.
Which books and genres do you prefer reading, and which do you avoid?
I prefer to read books on philosophy and avoid reading anything from the horror genre.
Are there any books you have always wanted to read but never got around to?
'The Monk Who Sold His Ferrari' by Robin Sharma has been sitting on my bookshelf for about a year. I am also planning to read 'Teaching While The World is On Fire' edited by Lisa Delpit.
Which books have had a lasting impression on you, and how?
'War and Peace' by Leo Tolstoy, 'Kite Runner' by Khaled Hosseini, and Animal Farm' by George Orwell all have left a lasting impression on me.
As for books from the science genre, 'Surely You're Joking, Mr Feynman!' by Richard Feynman, 'Sapiens: A Brief History of Humankind' by Yuval Noah Harari, and 'Tao Of Physics' by Fritjof Capra have left an impact on me.
Is there a book that you wish your younger self had read?
'Outliers' by Malcolm Gladwell.
How have your preferences in genres changed over the years?
As a child, I enjoyed reading adventure books, but as I got older, I started enjoying books by non-British writers such as those from Russia, Africa, India, and Nepal. In my adulthood, I have been enjoying reading books on philosophy.
As someone who leads a hectic professional life, how do you make time for reading?
I first read the reviews to decide which books are worth my time. I then carry a book with me wherever I go. I do most of my reading while I'm travelling, usually on a bus or a plane. I also read when I'm waiting for appointments.
How has reading helped you in your career and daily life?
Reading has helped me make teaching physics more interesting. It allows me to connect my teaching and physics with human values, and doing so has helped me become a more empathetic, critical, and humane leader. Reading has also helped me understand success is not possible without putting in the hard work.
What three books would you recommend to those in the education field?
I would want those in the education field to read 'Outliers' by Malcolm Gladwell, and 'Divaswapna' by Gijubhai Badheka, and 'Lean on Me' by Deborah Chiel.
What are the six books that you would recommend others read?
'Outliers' by Malcolm Gladwell

'Divaswapna' by Gijubhai Badheka

'Lean on Me' by Deborah Chiel

'For One More Day' by Mitch Albom

'A Brief History of Time' by Stephen Hawking

'Being Happy!' by Andrew Matthews
---