In this Nepali city, the North Korean dream is alive—and it's thriving
The city of Bhaktapur, ruled for over three decades by Narayan Man Bijukchhe, has long stressed self-reliance over everything, and everyone else.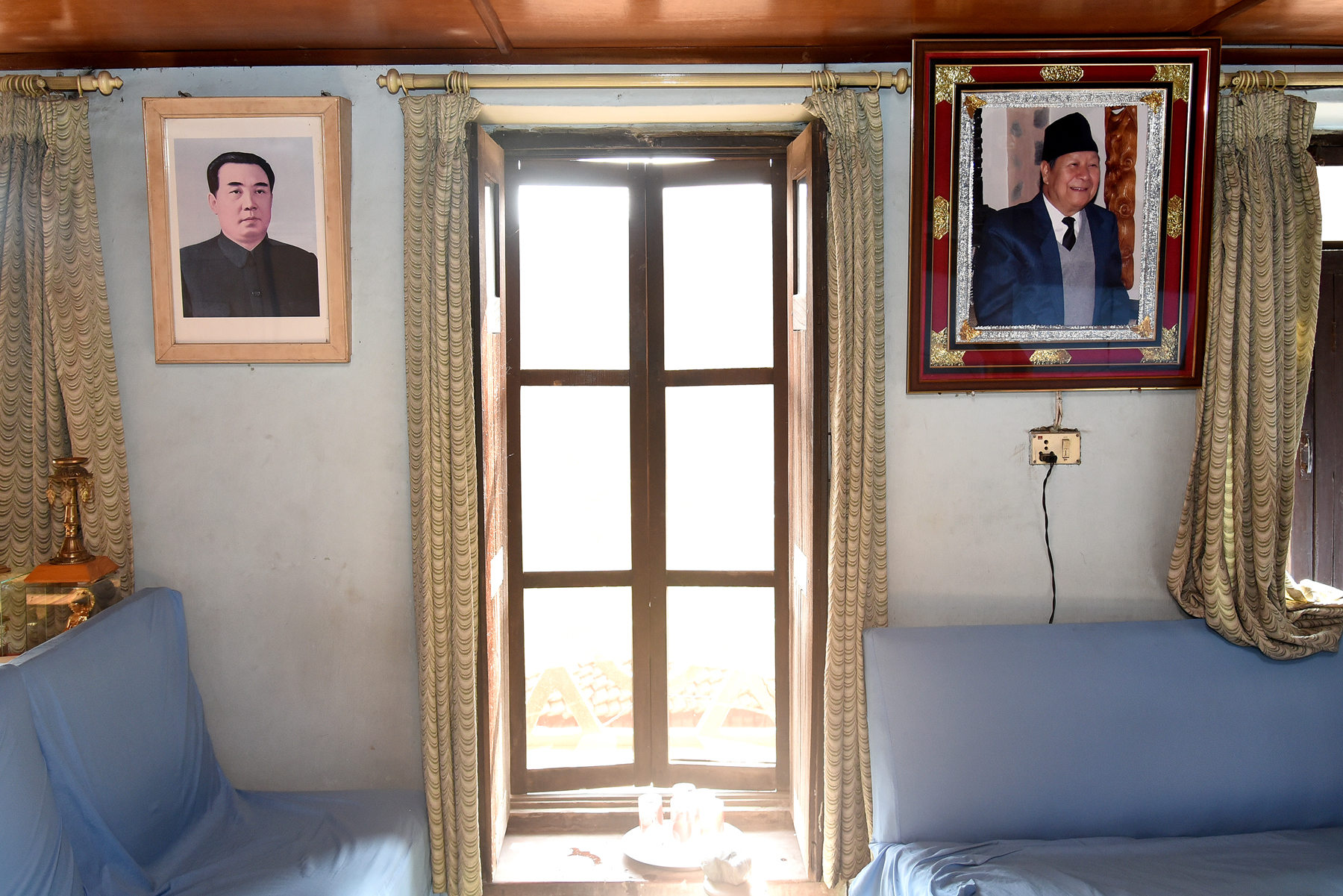 A picture of Bijukchhe (right) and a painting of Kim Il-sung, the North Korean patriarch, in the Nepal Majdoor Kisan Party's headquarters in Bhaktapur. Angad Dhakal/TKP
Published at : January 17, 2020
Updated at : January 18, 2020 02:12
Bhaktapur is pristine, especially when compared to the other cities of the Kathmandu valley. While Lalitpur and Kathmandu are metropolitan cities teeming with people and seemingly always in the midst of a building spree, Bhaktapur is quiet, almost as if it were frozen in the 70s. There is little garbage on the streets, which are well-paved and well-maintained. The glass-concrete monstrosities that offend the Kathmandu- Lalitpur skyline have yet to make inroads into Bhaktapur.

In the historic inner city, brick roads lead to a durbar square where all that was demolished during the 2015 earthquakes is already up and running, even as Kathmandu, and to a lesser extent Lalitpur, still struggle to get their ancient monuments rebuilt.
Behind Bhaktapur's enviable state is one political party--the Nepal Majdoor Kisan Party, or Nepal Workers and Peasants Party--which has ruled the city for nearly three decades. Presiding over that party is one man who has shaped Bhaktapur with an iron hand--Narayan Man Bijukchhe. And behind Bijukchhe is a radical ideology imported from a hermit state in a peninsula thousands of kilometres away--juche.
Entering party headquarters in Bhaktapur can feel incongruous. Amidst stacks of books and ancient steel almirahs are framed portraits of the Kim dynasty. A portrait of a young Bijukchhe sits alongside one of a young Kim Jong-il, father to current dictator Kim Jong-un. Another portrait of an older Bijukchhe sits to the right of a framed picture of Kim Il-sung, the North Korean patriarch.
"I only went to North Korea after I became a Member of Parliament," Bijukchhe told the Post. "There, everything is directed by the central government but here, everything is done by the people."
But he collects himself and adds, "But juche, it is also focused on the people."
In North Korea, juche, or self-reliance, is radically opposed to sadae, or a reliance on great powers. Juche, as Kim Il-sung, the founder of the Kim dynasty, expounded in a 1954 speech 'On socialist construction in the Democratic People's Republic of Korea and the South Korean revolution,' chiefly concerns three characteristics--political independence, economic self-sustenance and defensive self-reliance. Bijukchhe's NeMaKiPa, as his party is colloquially known, has made political independence and economic self-sustenance cornerstones of its model of development.
"We have practiced becoming self-sustained since the very beginning by utilising our own resources. We never sought anything from Singha Durbar," said Surendra Raj Gosai, a central committee member and member of the Bagmati Provincial Assembly.
In his nearly 30 years ruling over Bhaktapur Municipality, Bijukchhe has adapted juche to the Nepali context, bringing a homegrown model of development to the city that is not reliant on 'outside' interests but is wholly owned by locals and caters to locals. But Bijukchhe's strongman rule of the city has not come without its drawbacks. Critics point to an authoritarian style of governance that does not take democratic principles and values into account, and also a knee-jerk dislike of 'outsiders', including non-Newars and foreigners.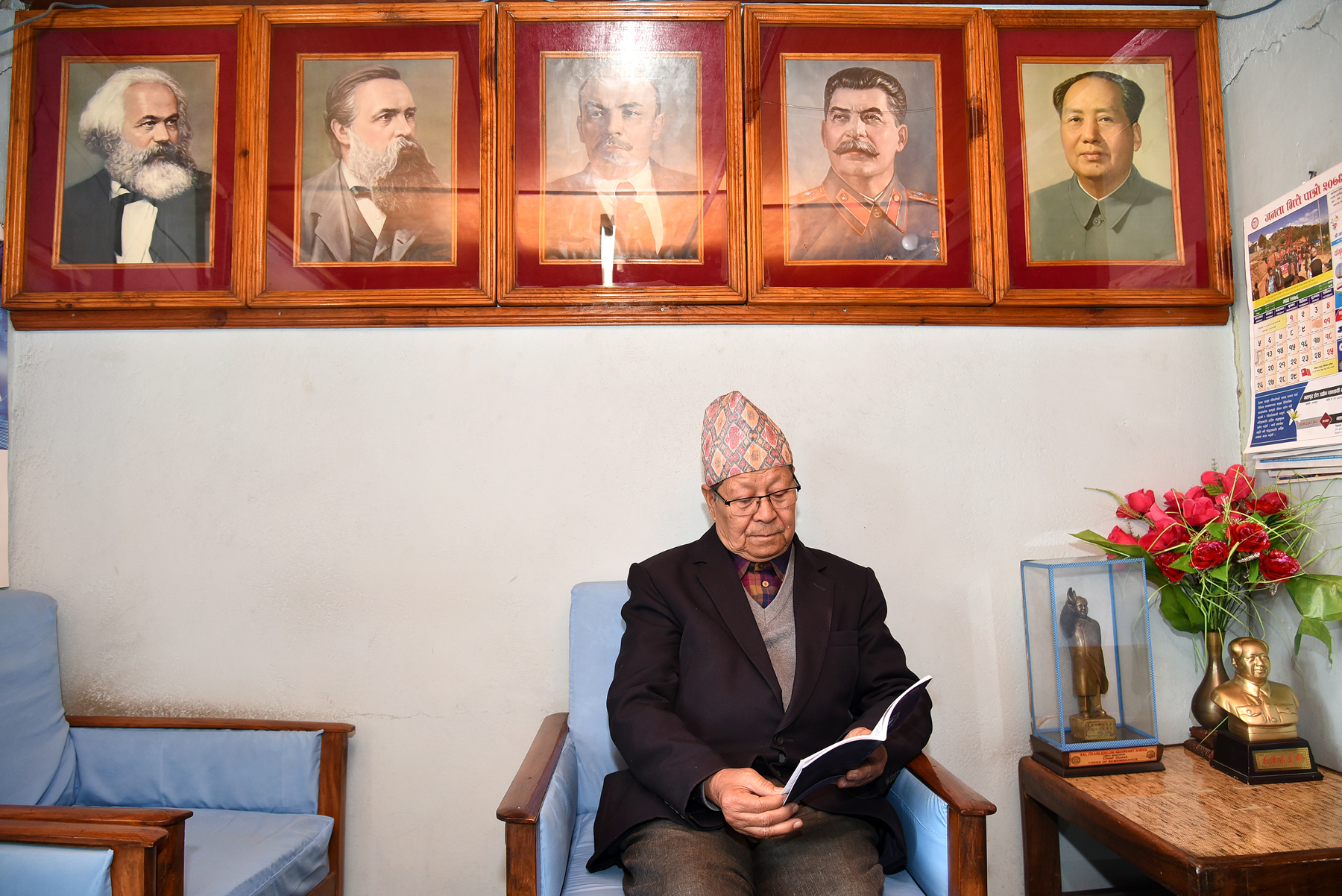 Narayan Man Bijukchhe sits below portraits of Marx, Engels, Lenin, Stalin and Mao at his party office in Bhaktapur. Angad Dhakal/TKP
A history of self-reliance
Bijukchhe, or comrade 'Rohit', has never lost any of the elections he's contested. Since the reestablishment of democracy in 1990, Bijukchhe has won all five parliamentary polls in Bhaktapur-1. In the 2017 general elections, he chose not to run, fielding the party's Prem Suwal from the constituency instead. As expected, Suwal won a landslide victory, with 33,076 votes to 17,818 by the closest opponent.
NeMaKiPa has always been adept at instrumentalising elections, even during the partyless Panchayat regime, said Rajendra Maharjan, a political commentator.
"The party has a strong hold among peasants and traditional organisations like guthis, which is unlike the country's other communist parties," said Maharjan. "Other communist parties expanded through their sister organisations but NeMaKiPa worked closely with traditional organisations."
It is no surprise that NeMaKiPa remains the most popular party in the city of Bhaktapur. After all, under the party's stewardship, the city has established a number of institutions that have won plaudits from across the country. The municipality currently runs seven educational institutions--Khwopa College, Khwopa Engineering College, Khwopa College of Engineering, Sarada Campus (for Bachelor level students), Khwopa Polytechnic Institute, Sarada Campus Secondary School (for 10+2 students) and Khwopa Secondary School. According to Roopak Joshi, principal of Khwopa College, about 6,000 students are currently receiving quality education in his college at affordable rates.
For Sunita Garu, a 42-year-old resident of Hanuman Ghat in Bhaktapur, whose eldest daughter Lisha recently completed her Bachelor of Engineering Science from Khwopa College, the institution has been a godsend.
"My son studies in class 9 in a Kathmandu boarding school and I need to spend at least Rs 100,000 annually for his education, but my daughter completed her Bachelors from Khwopa College for just Rs50,000 with a scholarship for two years," said Garu.
According to Bhaktapur Mayor Sunil Prajapati, who is also from the NeMaKiPa, there is a quota system in place for Engineering and Bachelor of Business Management--35 percent of seats are reserved for residents of the town, 15 percent for nearby municipalities, 5 percent for remote areas and the remaining 45 percent for open competition.
For Tejeswar Babu Gonga, a litterateur who grew up in Bhaktapur, all of this can be attributed to Bijukchhe.
"Though I'm not a party member, I believe in acknowledging anyone's good work," Gonga told the Post. If the Bhaktapur government had been allowed to run MBBS programmes, many students from poor families would have been able to graduate, Gonga believes.
"But the Oli government is fearful of NeMaKiPa's popularity," he said. "Even the municipality's proposal to develop a Khwopa University was dropped due to political interests."
The vision of Bijukchhe, and by extension NeMaKiPa, is for the municipality to stand out in terms of education, health, sanitation and overall development. The schools and colleges are a step towards that lofty goal, but Bhaktapur has also employed a number of other novel methods.
The municipality, for the last two years, has been bringing healthcare to its residents' doorstep. Every day, 10 staff nurses, accompanied by female community health volunteers, patrol the city's 10 wards, checking up on locals and following up on patients with pre-existing conditions. The municipality is also building a health record of all its citizens, so it knows who needs what treatment and when.
"This party has given good education to our children and now, good health check-up facilities to everyone," said 71-year-old Ram Bhakta Bijyu, a resident of Degamana in Bhaktapur. "Bijukchhe is a true leader, a real hero."
Tourism is Bhaktapur's largest source of income and the city has made certain to capitalise on its ancient heritage. Last fiscal year, the municipality raised Rs 240 million from tourism, while its internal income was only Rs 90 million.
Unlike Kathmandu and Lalitpur, out of 134 historical monuments damaged during the 2015 earthquakes, the city has already completed the reconstruction and renovation of 91 monuments, including 19 temples, 36 patis, six sattals and other shrines such as stone spouts and ponds.
Bhaktapur has so far spent Rs 254.9 million of its own money on reconstruction, according to data from the municipality. Again, unlike Kathmandu and Lalitpur, all reconstruction work is being carried out by the city, with no aid or assistance from foreign countries.
"We are well aware that foreign countries tend to impose their ideas on our culture and that ruins our identity," said mayor Prajapati.
Under the NeMaKiPa, all non-governmental organisations must work through the municipality. The city authorities channel their work into specific areas depending on the expertise and background of these organisations, said Prajapati.
Purushottam Lochan Shrestha, a professor of history and culture from Bhaktapur, said even their political rivals laud the work that NeMaKiPa has done in the city, especially its preservation of cultural heritage and its insistence on financial transparency.
"NeMaKiPa seeks input from cultural experts before taking any decisions regarding heritage," Shrestha told the Post. "Only when you understand historical developments and cultural context can can you take decisions that ensure the future."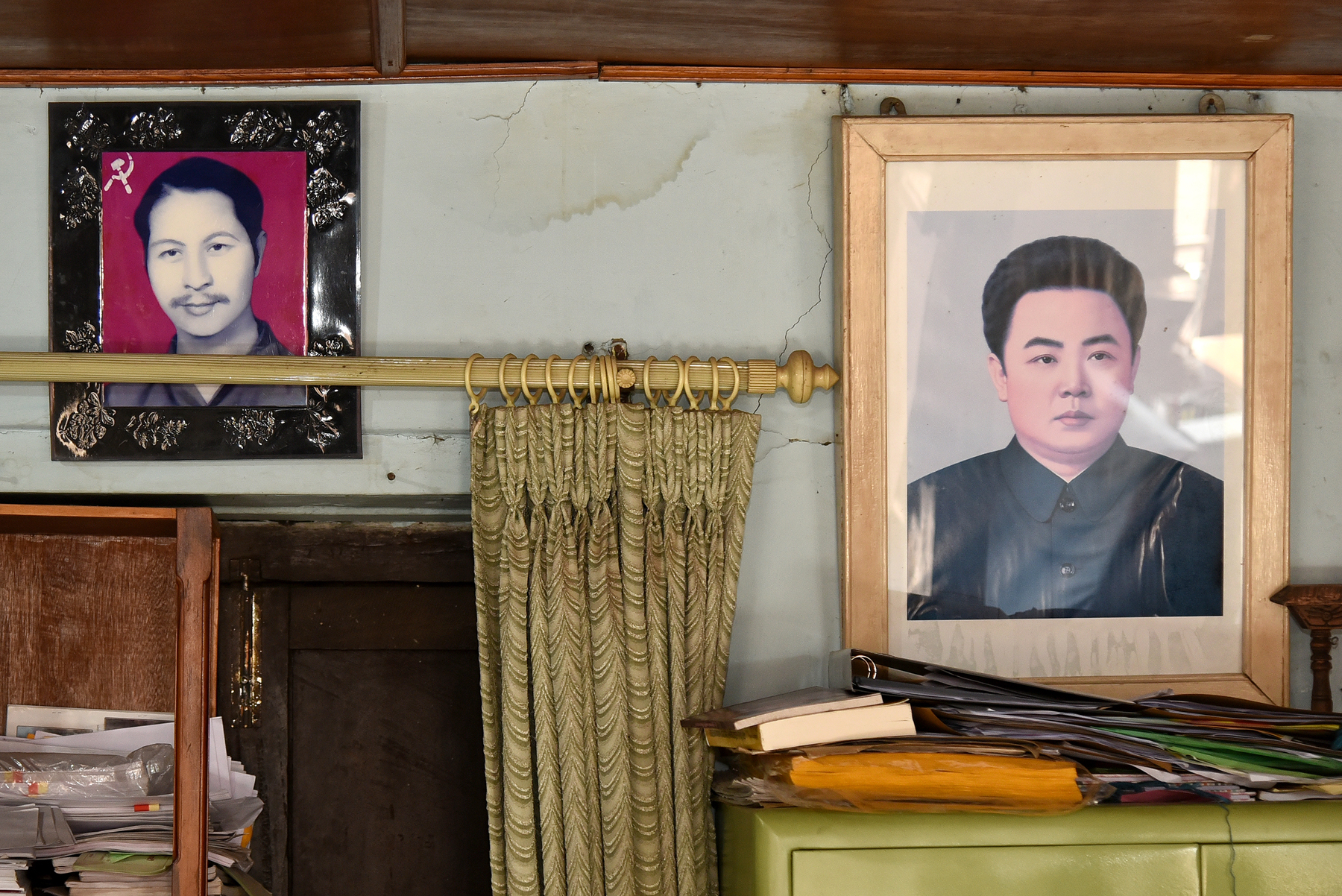 Portraits of young Narayan Man Bijukchhe (left) and Kim Jong-il. Angad Dhakal/TKP
Narayan Man and North Korea
In all of these works, the NeMaKiPa has pursued a sense of self-reliance. Whether it is prioritising education for the community or not accepting any foreign aid to rebuild its monuments, the party has consistently maintained that it will work on its own and of its own volition. This, according to party leaders, is the clearest manifestation of the party's embrace of juche.
"Juche is all about placing the people at the centre of all that we do," Bijukchhe told the Post one rainy winter morning.
Bijukchhe only began speaking once two party members--Niraj Lawaju, editor of the party's daily tabloid and Narayan Duwal, chairman of the party's Bhaktapur municipal committee--arrived.
Bijukchhe is a stern man, old and set in his ways. He doesn't carry a cellphone, only answering two ancient-looking telephones that sit on his desk and never seem to stop ringing.
"My friends bring me all the information I need," he said.
Bijukchhe has written a book on juche, based on the writings of Kim Il-sung, called 'Koriyali songun niti ra juche bichardhara' or 'Korea's Songun policy and the juche ideology'. He's one of a handful of political leaders from across the world who has visited North Korea four times, generally on state invitation. He even published a book in 2000 called Korea visit. Every year, the party marks the 'Day of the Sun' on April 15, the birth anniversary of the founder and Eternal President of North Korea, Kim Il-sung.
"We are here to serve the people," said Bijukchhe. "You might have heard corruption at other different municipalities of the country but you cannot find such news of Bhaktapur municipality. We have strictly forbidden all our party cadres from seeking donations from people. They complain that other parties' do so but I tell that we don't follow what others do."
To hear Bijukchhe tell it, it seems as if juche were always a central idea behind the kind of communism that he believes in. Juche might be a philosophy rooted in North Korean geopolitics but for Bijukchhe, it might as well have been born in the back alleys of Bhaktapur.
"Even after democracy came to the country, the people living in the gallis of Bhaktapur never knew what a municipality was, and the authorities didn't bother to tell the people," he said. "When we first won, we constructed a proper sewage system with donations from the public. The peasants who had no money contributed their labour. That's how we kept our city clean."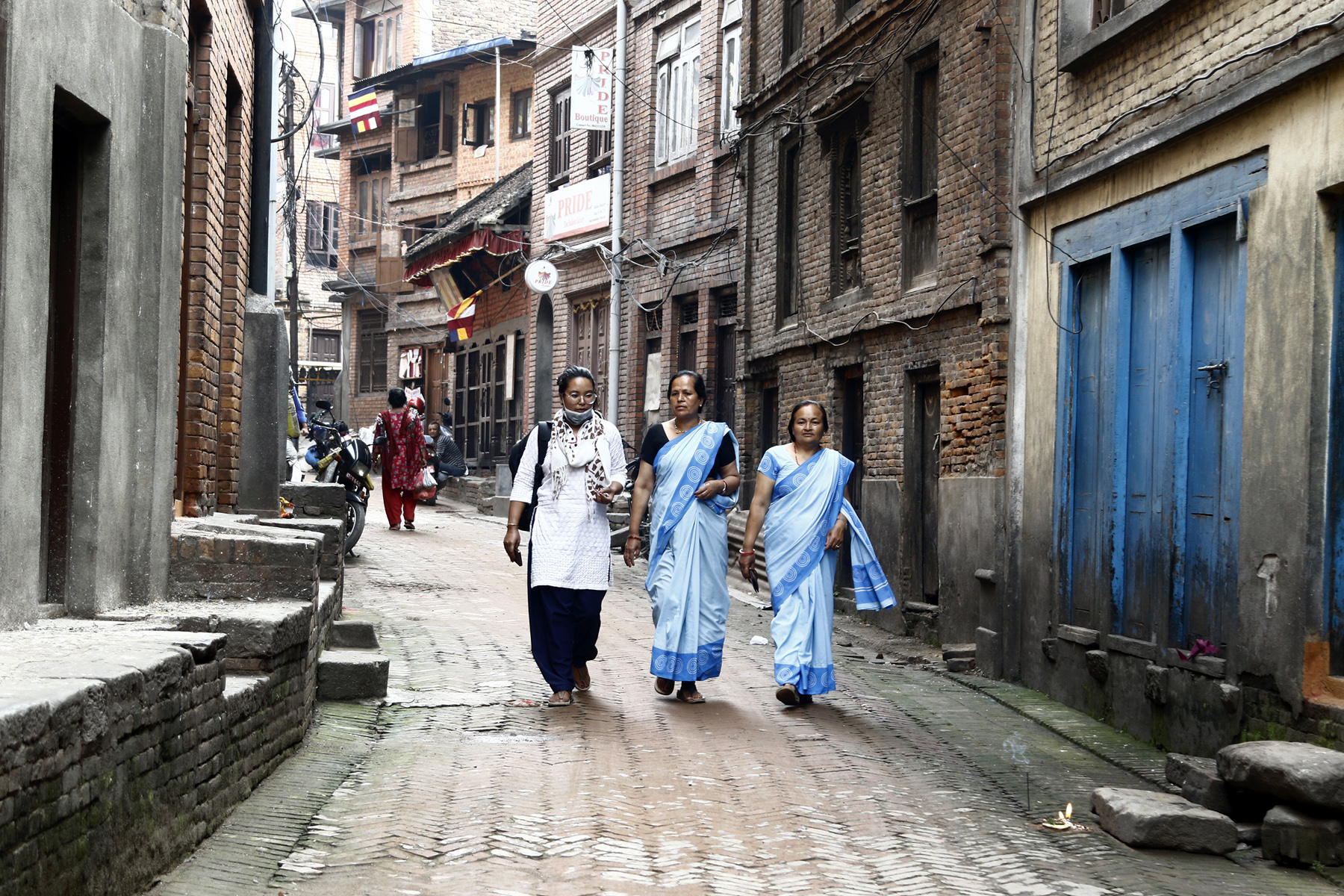 A nurse and and two volunteers patrol Bhaktapur's streets offering healthcare at home. Keshav Thapa/TKP
Bijukchhe has gotten a lot of press over the years for his admiration of North Korea's Great Helmsman, which is probably why he is quick to downplay the direct influence of juche. We have learned from everywhere, he says.
He hasn't just learned from North Korea--China too is a model, he says. He attributes the prohibition of all vehicles from Bhaktapur Durbar Square to what he saw at Beijing's Tiananmen Square, which is also a pedestrian-only square.
"We study different systems from different countries and follow what suits us here," he said.
In his office, Bijukchhe has the same portraits that used to hang on the walls of Nepal's Maoist party--Marx, Engels, Lenin, Mao and Stalin. But Bijukchhe has two more portraits--Kim Il-sung and his son, Kim Jong-il. A portrait of the North Korea's current leader, the rotund Kim Jong-un, has yet to go up.
"Just as the Korean people are dominated by the American and Japanese ruling class, India is doing the same to Nepal and the Nepalis," Bijukchhe told the Nepali Times in 2016. "There are similarities between Korea and Nepal."
But at 80, Bijukchhe is old and he is considering handing over power to the next generation of leaders. By refusing to run in the 2017 elections, he's already so much as anointed his successor--Prem Suwal, the current Member of Parliament from Bhaktapur.
Suwal is young, at just 34 years of age, but he is just as seeped in the party's dominant ideology as Bijukchhe is.
"Kim Il-sung is one of the great teachers for Nepal together with Ho Chi Minh, Fidel Castro, Rosa Luxembourg to learn communism lessons," he too had told Nepali Times in 2016. "The juche idea is a directional ideology of our party, we read and study a lot of literature from North Korea."
But speaking to the Post, both Suwal and Bijukchhe were more circumspect in their embrace of North Korea. Despite prodding, both refrained from openly endorsing the Kims and juche, but Suwal sees nothing wrong with the North Korean ideology.
"Just as China is practicing Socialism with Chinese characteristics, Korean socialism is based on the juche ideology," Suwal told the Post. "The central idea behind juche is to stand on one's own feet. But we don't just follow the ideology of others. We study them all and apply them in our own unique way."
Suwal might be young but he shares the same distrust of the foreign forces that is common to North Korea and to Bijukchhe--which all of Nepal's political parties, including the UML and Maoists, have professed at one point or the other in their careers. Just like juche argues that Korea is under the yoke of the United States, NeMaKiPa argues that India is Nepal's biggest hegemon. Bijukchhe even distrusts the Indian communist parties.
"We never so much as drank a cup of tea with the Indian communist parties," he said.
"In Nepal, we introduced multi-party democracy and a republican set-up with Indian support," he said. "We are bearing the brunt of it now. If we go for a revolution, we must do it by standing on our own feet."
A large part of the party's self-reliance rhetoric is based on this distrust of foreigners, whether it be India or any other foreign country. It is also why the party refused all foreign aid for reconstruction. This insular xenophobia is also behind the party's enduring popularity. NeMaKiPa has always received a large share of its support from Newars, which accounts for its continued presence in Bhaktapur. In contrast to the rest of the Kathmandu Valley, Bhaktapur remains a Newar stronghold, with over 90 percent of its population belonging to the Newar ethnicity, according to the municipality.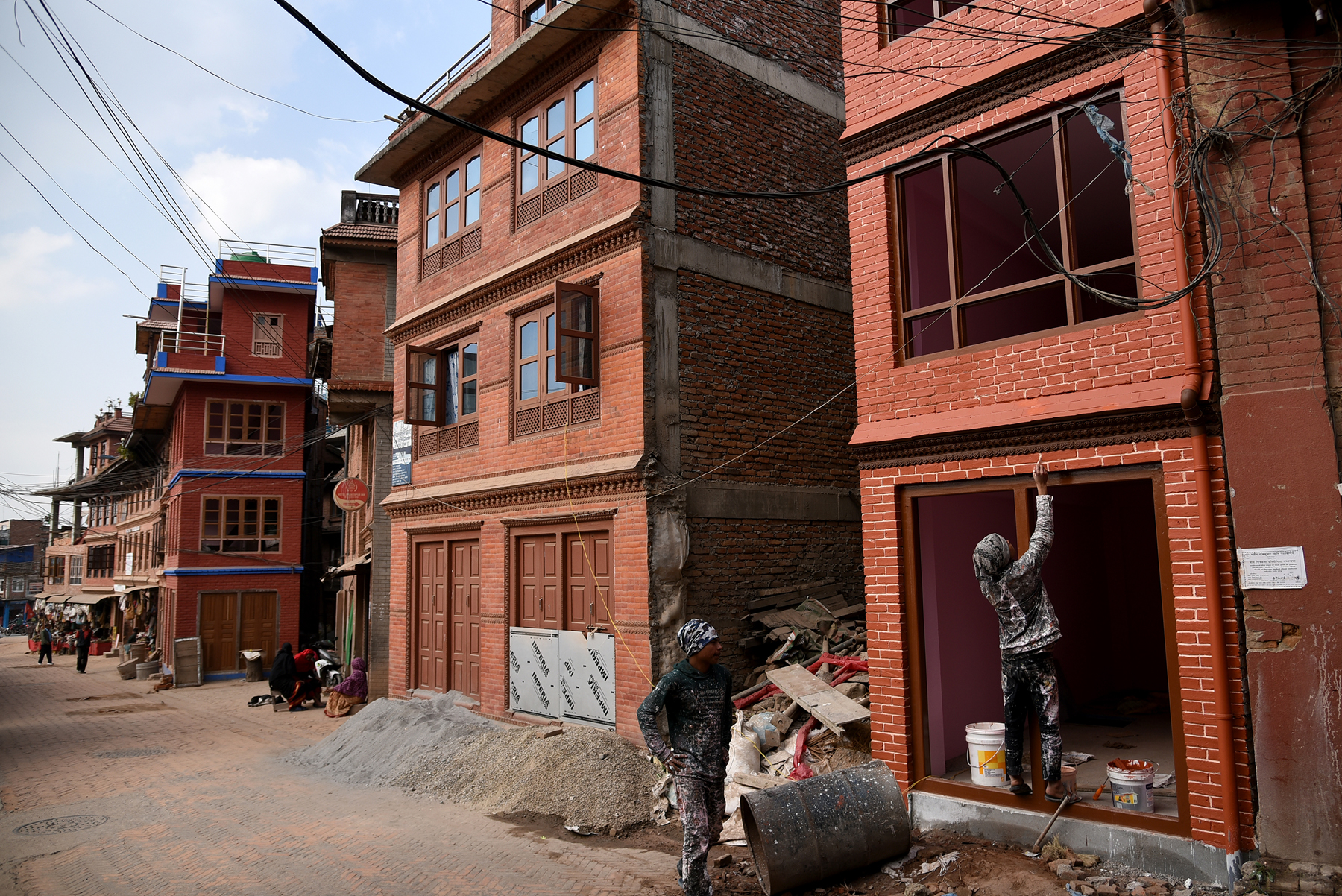 Bhaktapur is a model to many when it comes to development and cultural preservation. Angad Dhakal/TKP
Things, however, are changing for the NeMaKiPa. The party's traditional stronghold has been Constituency-1 of Bhaktapur district, which includes Bhaktapur municipality and Changunarayan municipality. Suwal was elected in 2017 from this constituency. But in Constituency-2, NeMaKiPa has been fast losing ground.
According to Ramesh Giri, a journalist based in Bhaktapur and associated with the Rastriya Samachar Samiti, the national news agency, Bijukchhe's grasp has long been limited to the Newar community. The changes in Constituency-2 can largely be attributed to changing demographics, where more and more migrants are settling in to Suryabinayak and Madhyapur Thimi, the two municipalities that constitute Bhaktapur's Constituency-2.
Data from the Department of National ID and Civil Registration shows that, from March
2017 till date, only 270 people migrated to the Bhaktapur municipality. The largest migration was 3,339 in Suryabinayak Municipality, followed by 2,734 in Madhyapur Thimi. And these numbers only account for those who've registered their move.
Giri acknowledged that the effects of migration could be one reason the party is losing its hold, but others believe that the party's ideology is outdated and it has not been able to keep up with the times.
"The party's ideology is scientific socialism, but society is gripped by capitalism," said Niraj Lawaju, former president of NeMaKiPa's Nepal Revolutionary Student Union and its candidate for the November 30 Provincial Assembly by-election. "The party's inability to take its ideology to the broader public is the reason behind its recent defeats."
The Nepal Communist Party, in particular, has made significant inroads into the district. In the 2017 polls, Mahesh Basnet of the former UML won a landslide victory in Constituency-2, with 36,412 votes to the NeMaKiPa's Anuradha Thapa Magar's 5,471 votes. Even popular leaders from the party, like Binod Bikram Shah and Keshav Badal, have abandoned NeMaKiPa for the Nepal Communist Party.
According to political commentator Maharjan, while there is no space to question the NeMaKiPa's development works, including sanitation and preservation of culture, questions can be raised about whether the party leadership is actually following democratic processes.
"There is ample space to question whether Bijukchhe has turned into a benevolent dictator," said Maharjan. "Being a model in development activities alone is not enough for a political party, its leadership needs to ensure that there is an internal democratic decision-making system."
The party also interferes in private lives, said Maharjan, by mediating divorce cases and the partition of families and their property. Maharjan said that many of his friends in the leadership were forced to abandon the party because of its chairman's autocratic tendencies.
"Second-rung leaders cannot stand up to the chairman," he told the Post. "Even in the decisions made by the municipality, it is not clear how much influence the party chair has."
Bijukchhe, however, remains firm.
"Other parties use money and muscle to win the polls but we never do. This is class struggle so we don't bow down," he said. "Whatever votes we've received are from our true voters."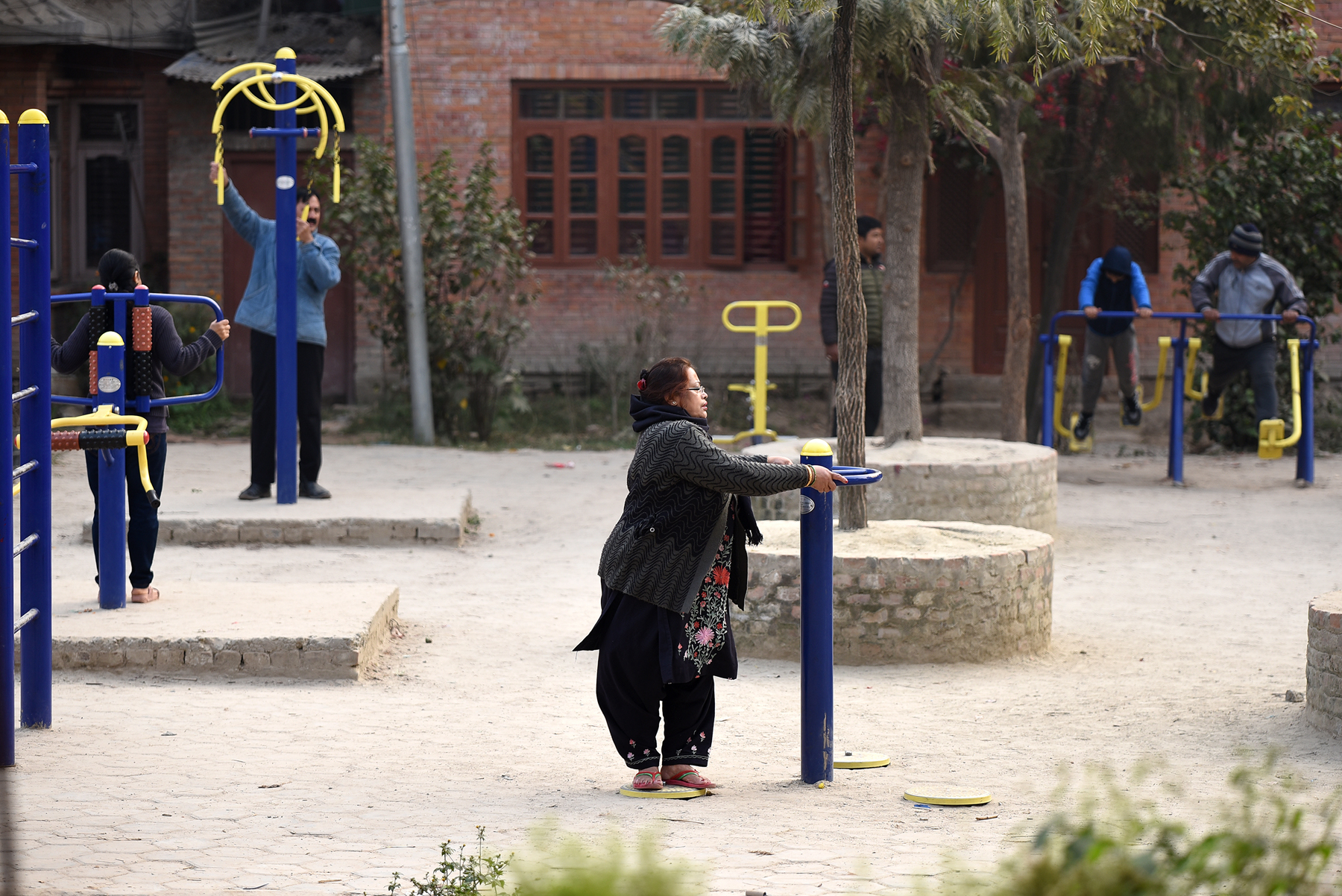 One of the Bhaktapur's popular initiatives has been free open-air gyms for the public. Angad Dhakal/TKP
But for many locals from the municipalities surrounding Bhaktapur city, it's a different story. They've long chafed under the iron thumb of the NeMaKiPa, which has consistently prioritised the core city.
"Bhaktapur Municipality is the oldest municipality in the district and it is resourceful, but it never cooperates with other municipalities," said Kiran Thapa, chairperson of Ward-8 in Suryabinayak Municipality, which connects with Bhaktapur's southern border. "It has a great source of income through tourism and infrastructure and we admire its model of development. Still, the peasant party is indifferent towards us."
Thapa is a member of the Nepal Communist Party and he believes that since he does not share in NeMaKiPa's ideology, it is unwilling to work with him.
Local representatives from Changunarayan Municipality echoed Thapa.
"Municipalities from Sankuwasabha and Ramechhap come to interact with us, but I have never seen our neighbours coming and sharing their ideas," said Som Prasad Mishra, mayor of Changunarayan Municipality and a member of Nepal Communist Party. "We call them but they do not come."
This is a complaint that is echoed throughout the district. Most of the elected representatives that the Post spoke to had the same refrain--we admire what they do but they do not want to work with us. They go so far as to accuse NeMaKiPa of prioritising their own party and their own residents--at the cost of others.
"Education facilities and health check-ups are easily available for party cadre but it's hard for people living on the outskirts of the municipality," said Narayan Nepal, a resident of Changunarayan Ward-8 and an active member of the Nepali Congress. "It is the same in all the neighbouring municipalities of Bhaktapur--Changunarayan, Suryabinayak, and Madhyapur Thimi. None of the citizens get priority. This is not a leadership quality."
Though the municipality itself is seen as a model for development, with its clean roads and well-maintained infrastructure, its neighbouring areas continue to suffer from dust, smoke and dirt.
"If you go to Byashi, Sallaghari, Jagate and Kamal Binayak, these places are neglected," said Rajindra Chawla, a taxi driver who lives in Bansgopal in Bhaktapur Municipality. "There aren't public toilets and the place is full of dust and mud."
According to Mishra, the Changunarayan mayor, Bhaktapur is like a separate state that does not want to keep in touch with any of its neighbouring municipalities.
Bijukchhe and Suwal both brushed off these criticisms, saying that they are working for the people and it is up to parties like the Nepal Communist Party and the Nepali Congress to do the same.
In a rare moment, Bijukcche appeared to deflate and he admits that things are getting tougher.
"Young people refuse to contest the elections on our ticket as they say they won't be able to build a house or buy a car when representatives from all other parties earn plenty of money," he said.
But he composed himself quickly, as if coming to his senses.
"We joined politics knowing it would be difficult," he said. "What is easy in this world anyway?"
Dear reader, we'd like to hear from you. We regularly publish letters to the editor on contemporary issues or direct responses to something the Post has recently published. Please send your letters to [email protected] with "Letter to the Editor" in the subject line. Please include your name, location, and a contact address so one of our editors can reach out to you.
---