Nepali comic artists portray their storytelling prowess through online comics and webtoons
They are increasingly gravitating towards online platforms to show off their craft and also hone their skills.

The cover art of Blaze Core webtoon by Anish Raj Joshi which has over 1.2 million views on WEBTOON CANVAS. Photo Courtesy: Anish Raj Joshi
bookmark
Published at : September 18, 2021
Updated at : September 20, 2021 17:54
Kathmandu
Most of the time when something bothers Padma Raj Lama, 19, he just tries to ignore it but when the issue hits too close to home then his hands start itching to get his stylus pen and draw a comic to escape into a world of art. One of his comics dated March 28, 2020, features his principal character called 'Mr. Blue', is based on the theme of menstruation. In the comic, Mr. Blue goes out to buy sanitary pads for his sister but notices uncomfortable gazes from people around him and in response, his character screams at the people, "What y'all looking at?"
"The incident actually happened, I went to buy a sanitary pad for my sister who was having menstrual cramps but the uncomfortable stares I got from the pharmacist and the people around me bothered me a lot so I drew a comic about it," he says. "Of course, I couldn't scream at the people at that time but in my comic, I have more freedom."
Lama, for now, publishes his comic strips only on his Instagram page. His comics feature the quirky (mis)adventures of Mr. Blue and occasionally, it also touches upon contemporary social issues. Drawn in an average of three-four panels and read left to right, Lama's comics, unlike the vertical scrolling webtoon format, mimic the style of traditional comic strips found in newspapers.
Webtoon, the digital comic artstyle which originated in South Korea, is specially designed for the smartphone audience with infinite scrolling vertical panels instead of traditional horizontal panels.
Like K-pop, webtoons are cementing their popularity on the global stage. Their popularity is also catching up in Nepal.
Nepali comic artists are gravitating towards online comics and webtoons, which do not entail any costs or hassles that come with publishing a physical comic, to show off their craft and also hone their skills. For many artists, the comics act as a 'visual diary' in which they feature their slice of life stories. For others, the comics act more as a medium to improve their art, and for the lucky few, it can also be a career path.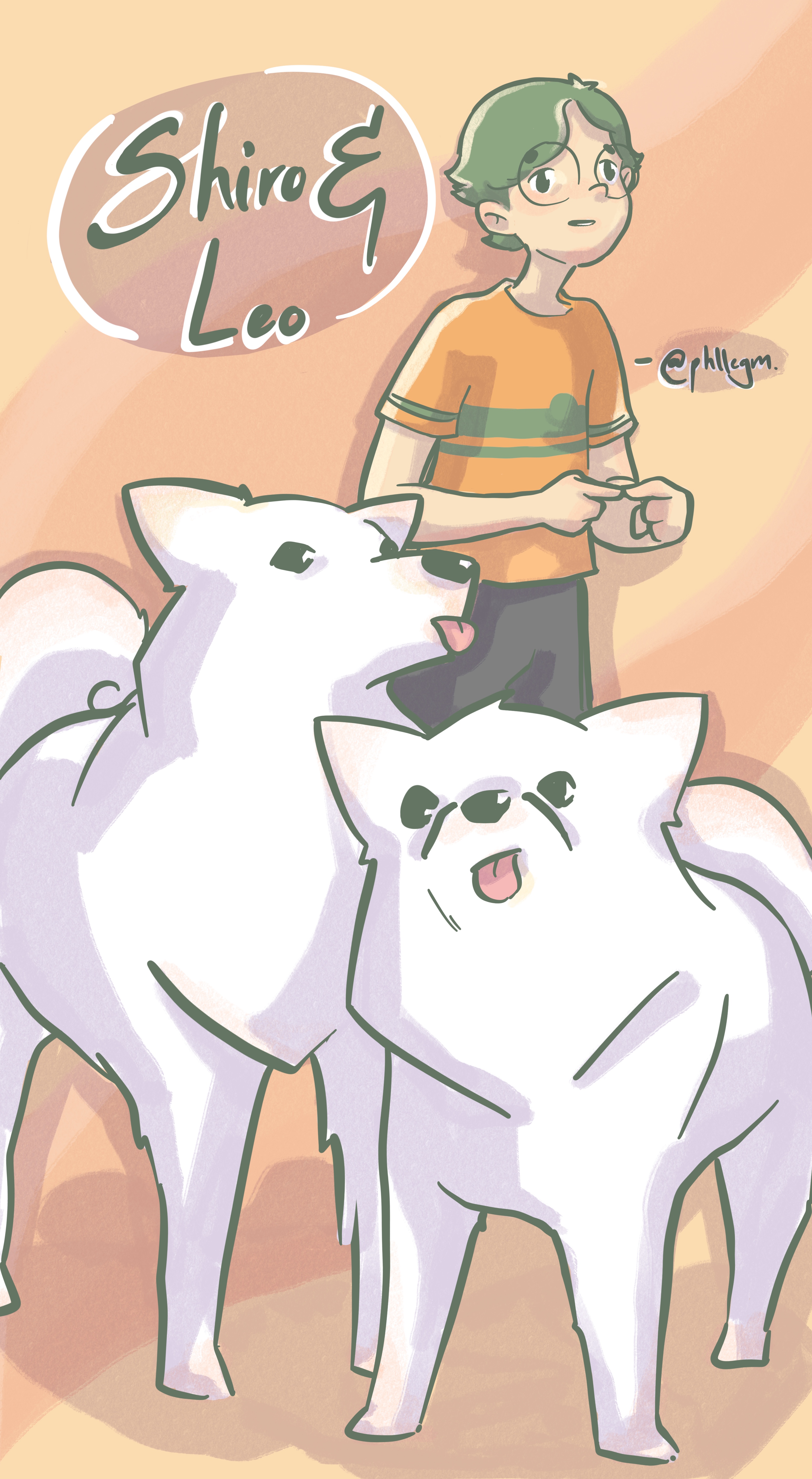 Shiro and Leo is a heartwarming slice of life webtoon by Roseena Shakya (Phllegm). Photo Courtesy: Roseena Shakya
Meanwhile, physical publication of such comics doesn't yet have a foothold in Nepal. Physical copies of comics may only be feasible as a passion project, artists say.

Most Nepali artists use Webtoon canvas (stylised as WEBTOON CANVAS), a webtoon publishing platform by Naver Corporation to publish their artworks. Nepali webtoon artists say Webtoon's publishing platform is free, extremely convenient, and has a large audience and that is why they prefer drawing and publishing webtoons instead of other comic styles.
Comic and webtoon artist Nozomi Rana, 34, says that his fascination with comic books started from an early age. He still remembers devouring Calvin and Hobbes comics back then. His foray into comic artwork started with his online comic series 'The Adventures of Momo Boya' and he eventually moved on to webtoons with his 'Deluded Dreamer' webtoon. Now, he is involved in both, as his webtoon account and Instagram page are updated with a new chapter of 'Momo Boya' and 'Deluded Dreamer' almost every week.
His comic books and webtoons are mostly comedy, adventure, and slice of life genres, and he tries to incorporate Nepali elements through the stories, supporting characters, and settings.
"I actually got the idea to base a character on momos while eating momos with my friend and that's how the name and design of Momo Boya came to life," he says. "The character of Momo Boya and the story of Deluded Dreamer have struck a chord with Nepali audiences."
Rana feels Nepali audiences are receptive towards local context stories and artstyle. "Foreign context stories and artwork style by Nepali artists are a bit less appreciated," he says.
He also dabbles in short horror comics from time to time. His most recent one is titled 'Sadak Hatya', published last month on his Instagram page.

Anish Raj Joshi, author of Blaze Core webtoon, says that he, on the other hand, has always been interested in action and fantasy genres since childhood. He goes by the nickname Xcelon Art on Instagram and was the author of 'Daemon Ignition' manga which was published in the Otaku Next magazines and also as its own standalone manga volume. From the manga artstyle, he transitioned into webtoons because he saw that the webtoon industry was burgeoning and the process of creating online webtoons was easier than creating online manga.
"Though romance and comedy webtoons are more popular, I was always more fascinated by fantasy and adventure genres. I had a fantasy and adventure story idea brewing on my mind, so when I transitioned to webtoons, I followed through on that idea," says Joshi.
His webtoon has over 40,000 subscribers, 1.2 million views, and even 31 patrons who financially support his artistic endeavour. He says that he is hopeful of making a career out of webtoons and committed to producing three chapters per month.
For emerging artists, however, their webtoons and artwork are mostly their passion and source of happiness.
Astha (who only goes by her first name), 18, is the author of two webtoons, 'Apology Letter' and 'Mutually Devious'.
"I just feel so much joy when I draw my characters, it's like a source of serotonin for me," she says. She goes by the nickname 'aeestha' on Instagram and was introduced to webtoons after an artist she admired started publishing webtoons. As she was always fond of writing stories even before she was seriously drawing art, she got hooked on drawing webtoons as it combined both of her interests.


"I have the power to show anyone what I have in my head. I can actually materialise my thoughts. If I want to see what a frog with horns would look like, I can just draw it! If I want to tell others about the story of a cheerful golden goddess I thought of in my head, I can just make a comic about her! It's crazy," she says.
The appeal of storytelling and narrative structure in online comics and webtoons attracts many artists. Roseena Sakya, 24, is one of them, who goes by the nickname Phllegm on Instagram and uses they/them pronouns.
"I started my art journey from painting thangka art, then moved on to water colours and then illustrations. However, I was always interested in incorporating a narrative in my artwork so when I was introduced to webtoon through other artists, I found my calling," Sakya says.
It has been four years since they started drawing webtoons. They share that there have been many trials and errors along their journey of learning how to draw webtoons. There have been many webtoon stories they didn't continue, but the one webtoon which they still continue is called 'Shiro and Leo', which features their own pet dogs. As a slice of life genre, their webtoon illustrates the calm, mundane yet relatable everyday lives of their dogs. Sakya says, "With my webtoons, I try to incorporate emotions that others can relate to. Though I draw my adventures with my own dogs, I believe that my webtoons can be relatable and fun for others, too."
They share that they are planning to publish a physical comic book collection with a small group of artists. "I am still learning how to draw comics and webtoons, and I feel that publishing a physical copy will be a valuable learning opportunity for all of us," they say. However, they don't see this venture as something commercially sustainable. "I don't think publishing physical comic books in Nepal is feasible right now but I still want to do it as more of a passion project."
Kavin Shah, co-founder of Otaku Next, which used to publish a bi-monthly magazine until 2018, says that artists can reach international audiences through webtoons while physical copies can help reach national audiences.
"Japan has had a physical comic book industry for hundreds of years while Nepal doesn't have such a history. So, it is difficult to commercialise physical comic books without an existing infrastructure," he says. However, he says that since manga and anime culture has become really popular, he is hopeful that physical comic book culture will follow suit.
Astha is also optimistic about a physical publishing culture of artwork in Nepal.
"I do think that a physical publishing of an original work created by a Nepali artist might have the possibility of success in Nepal, given that the price is within a range that students or teens can afford," she says. "I have also thought of printing a zine, like a small collection of my artworks, but I haven't thought about printing something on a large scale like a comic or the webtoon, mainly because I do not have the funds to publish my stories."
---
---