In between ideas and feelings
Gallery Mcube's latest exhibition 'MAATO' is manifestations of concepts that reflect contrasting takes on the medium of clay by artists Sushila Singh and Zoe Williams.

This is Mcube's first physical exhibition in months and looking at one after so long provides one a whole new dimension to how art is viewed. Beeju Maharjan/TKP
bookmark
Published at : January 13, 2021
Updated at : January 13, 2021 23:34
Lalitpur
There's an installation of bricks set in irregular concentric circles with black-painted patterns of fragmented pieces of human bodies on the ground floor of Gallery Mcube. The immediate impression is one of awe, as the installation drives the question: what do we make out of this art?
The design is by artist Sushila Singh, who attempts to represent a woman's strength through the nature of clay. The bricks in their unusual size—of about 18 inches, arranged in circles—also symbolises in some way the boundaries society has created for her and also how a woman is the one who builds a home. The installation also represents whirlpools, a motif Singh often repeats in her work, which signifies a woman being sucked into her different roles and her boundless thoughts and concerns.
And this concept of woman and femininity is repeated throughout her displayed works in clay tiles in the exhibition 'MAATO' by Gallery Mcube.
This is the Gallery's first physical exhibition in months and looking at one after so long provides one a whole new dimension to how art is viewed. And for that reason itself, Gallery Mcube's return to a physical exhibition feels significant and adds to the show's excitement.
'MAATO' brings together the works of Singh and Zoe Williams, a UK-based artist part of the 12th AIR_MCUBE residency programme in association with the British Council Nepal. And the exhibition shows two contrasting viewpoints of the two artists.
Unfortunately, the exhibition falls short of giving momentum to the hushed art scene. While there is much to mull over in the exhibition, a sense of ambiguity follows through the whole exhibition.
On the first floor of the gallery, Zoe Williams brings together various terracotta pieces, manifesting her reflection of the Nepali culture and faith, moreover that of the pottery tradition. At the gallery, her pottery works are placed on top of sal leaves defining the work's connection to the earth. Her pottery works—which work both as functional and decorative objects—show intricately carved snakes and impressions of them through her own observations of how snakes are symbolic to the culture of the Valley.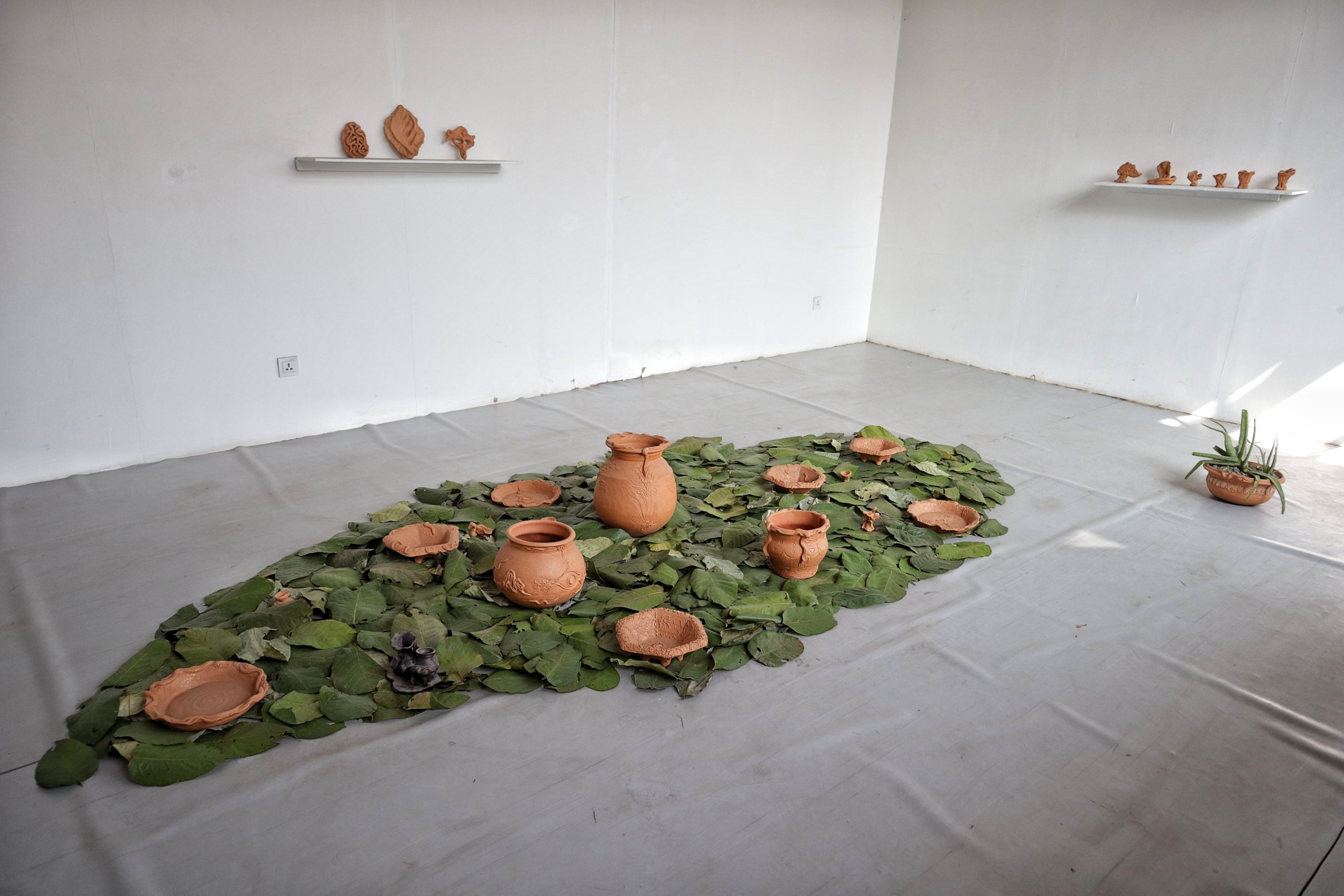 Beeju Maharjan/TKP
What makes her work interesting is the mythological stories she reminds the Nepali viewers—of how the Kathmandu Valley's origin is related to the forfeit of the serpents.
One important legend is of the one where the bodhisattva Manjushree cut the gorge in Chobhar flushing out the water from a lake to create an inhabitable valley that became Kathmandu. But in doing so, many serpents were left without a home. Among them was the king of nags, Karkotaka Maharaj. It is said that the bodhisattva persuaded Karkotaka and the serpents to resettle in Taudaha, a small lake south of Kathmandu.
It is apparent that Williams is intrigued with the snake motifs found in the Valley as representations of deities for worship. In her exhibition brief, she writes, "I was fascinated with the association's snakes have with air purification, rain and crop fertility in the area, as this seemed to me to be interlinked with the notion of respecting clay as a symbol and product of the soil."
However, her works don't provide insight into these beliefs directly but give recognition to a culture that regards snakes. And the end result of her engagement with traditional art is raw. Her work is self-reflective and depicts her understanding of the Nepali culture and tradition but the presentation of the works feel estranged in absence of a milieu.
While Williams' attempt does highlight the culture of pottery distinct to Thimi, Bhaktapur, as an art, the pottery works are not extraordinary. Her take on the pottery is no different from the practice we have seen in Bhaktapur but her experience is what makes her series unique.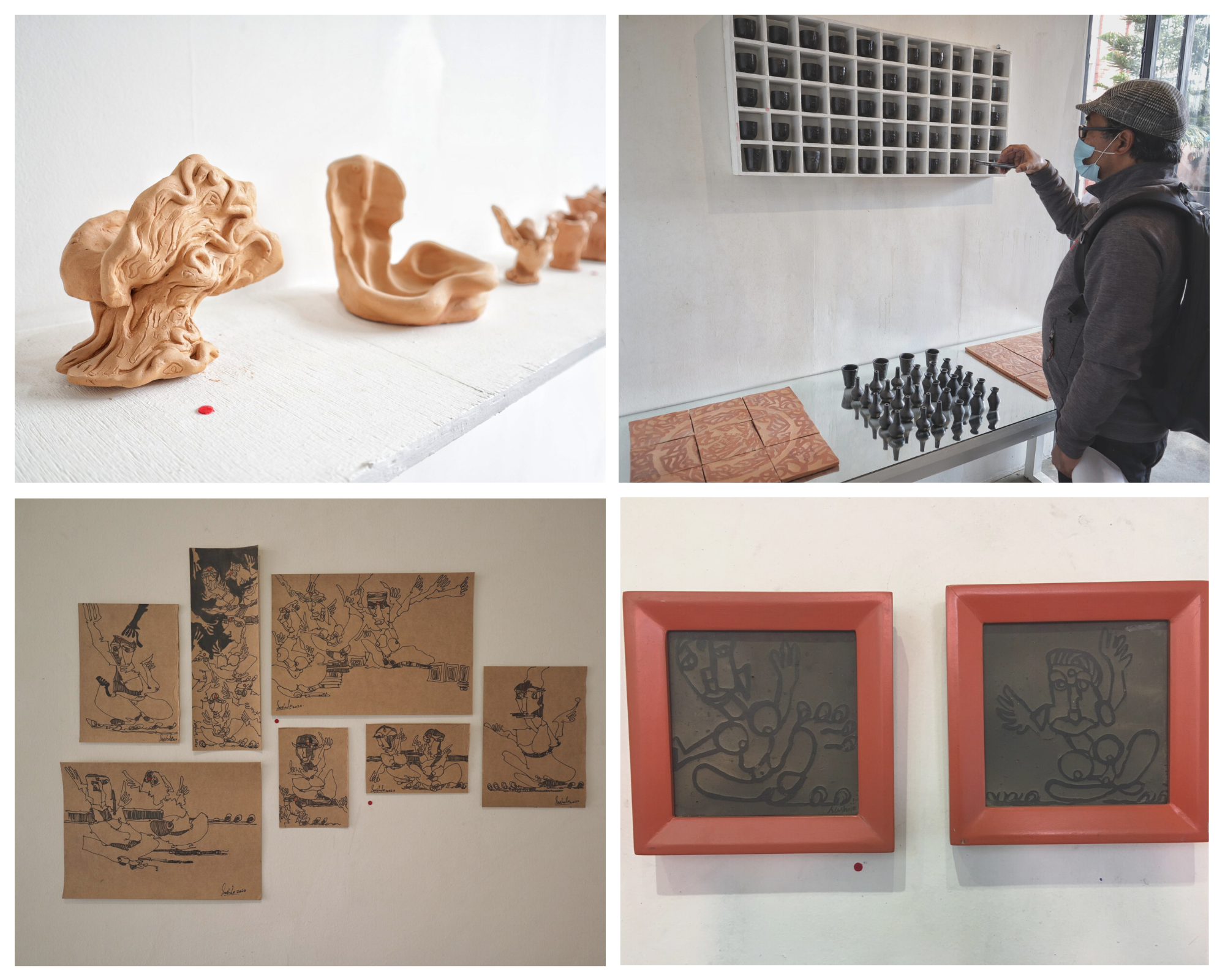 Beeju Maharjan/TKP
However, some of her ideas collide with the native practice of using pottery in various ways. Some of her large pottery works include vessels to hold baji (beaten rice) and dish plates to serve food. But in practice, such clay plates are not used to serve food because earthen clays cool down food quickly. Traditionally, earthenwares were usually used to moderate a cool temperature for delicacies like dahi, sanya khuna, takha and even alcohol.
Her collection also includes large pieces of clay dish plates with the impressions of wriggling snakes. And while this could be her way of paying homage to the cultural motifs of snakes, Nepalis may not be too keen with this coming together of motifs. That is because for Nepalis, snakes are revered religious symbols—and thus also feared—and serving food with ominous motifs of snakes is something many will not be able to take in.
The overall feeling of the exhibition also somehow feels detached. As an exhibition, MAATO's concepts—although introspective, different and intriguing—do not come together to give an immersive experience to the audience. What we see is the two artists' attempt to express themselves and their ideas through the medium of clay—but there is an unsettling gap that hovers around the concepts and their manifestations.
Take, for example, Singh's series of etching works in black clay tiles framed in red-coloured wood. The series represents the bodies of women to express their nature, their strength and beauty but it is hard to tell what these works mean individually. Moreover, had Singh herself not asserted her reference of bricks to the features of a woman, it is unclear what the design of her construct is to express to an audience who is not well-versed in the metaphor of her work.
And while it's not necessary for artists to guide the audience's meaning-making process, the works should be able to stand alone and make their own meaning.
Besides the artworks, what was also unconvincing was the gallery's preparation for the exhibition—the way the works were presented felt a bit unfinished, there were no guides or briefs placed next to the works displayed. For example, a set of 55 sets of black clay cups in a cupboard with 55 shelves meant to depict an imagining of Pachpanna Jhyal Durbar was not distinct—but information like these would have added to the experience of the exhibition.
The rough sketches of the artists' brainstorming process pasted roughly on a wall of the gallery could have been presented in a better way to provide audiences insight into the art presented. After all, it's the little details that show the effort of a gallery and the artists to tell people that their work was created with passion, love and care.
For many reasons, 'MAATO' fails to hold the interest of the audience. Although it is understandable the pandemic played a huge challenge to the resident artists' ventures, given that the word, 'MAATO' itself represents so many sentiments, including patriotism it's hard not to expect so much from the exhibition.
Maato, meaning earth, has portrayed different meanings from representing a culture of building and making to life itself—and to a certain extent, the exhibition does try to imbue this value but falters halfway.
Also, in matters of storytelling or presentation, the exhibition does not make an impression. In fragments, 'MAATO' explores multitudes of ideas that individually seem fascinating but are not enough for one to think them memorable.
Perhaps it's time for galleries in Kathmandu to work together with artists in their storytelling rather than just being a medium to exhibit the artists' work. And had this collaboration worked, this exhibition would have found more meaning.
On the whole, 'MAATO' as an exhibition is not coherent with its motive. Everything is so distinct yet so vague. But there is still a lot to take away from the works of artists if one is willing to give time to understand the artists' concepts.
The exhibition will be on display until January 21 at Gallery Mcube, Chakupat.
---
---