When the past meets the present
Tsherin Sherpa, through Print Exhibition, on display at Wind Horse Gallery, masterfully depicts his calibre as a fine artist.

Trained in traditional Tibetan artform, Sherpa makes art that is heavily influenced by Tibetan Buddhist iconographies that have religious and cultural value. Srizu Bajracharya/TKP
bookmark
Published at : January 9, 2021
Updated at : January 9, 2021 07:21
Kathmandu
On the first floor of Windhorse Gallery, there is currently a striking artwork on display that grabs the eyeballs, demanding visitors to walk towards it.
In the piece, we see a Buddhist deity, holding up its index and middle fingers in both hands. Titled as 'Peace', in the painting, the V-sign symbolises the yearning of peace in our chaotic world, which is represented by dark shades and motifs of war-like scenes in the artwork.
Creating such artworks that resonates universally, Tsherin Sherpa, through his latest exhibition titled 'Print Exhibition', held at Wind Horse Gallery, masterfully depicts his calibre as an artist and his talent of infusing contemporary and traditional artforms to create pieces that speak not only for himself but also for his community and society at large.
Trained in a traditional Tibetan artform, Sherpa makes art that is heavily influenced by Tibetan Buddhist iconographies that have religious and cultural value. However, as an artist, his artworks aren't only filled with iconographies that retell a religious tale or embody the essence of Buddhist philosophies. He rather mixes the traditional with the contemporary, making the artworks relevant to all so that many people can decipher his work and resonate with them.
For instance, in 'The Butterfly Effect', which is one of the most prominent and thoughtful artworks among the 13 exhibited works, he uses traditional Tibetan iconographies to make a commentary on the capitalist system of the world that is responsible for the sufferings of the underprivileged.
In the artwork, we see a plump, giant man painted in blue. Here the colour blue symbolises the coldness and indifference people in power have, who have no clue how their actions and privileges affect others. Then, on the left side of the arm of the man is a resting vulture, which indicates the nature of a capitalist society, always hungry for more.
Likewise, the man is also engulfed in fire, which again depicts the rage of the powerful people, who are so lost in their quest for power that they are unaware of the disaster they are responsible for.
To represent ordinary people, who face the wrath of the capitalist system, we see three figures who have raised their hands up—as if surrendering—and except for their head, their whole body is covered up, which symbolises their suffocation.
With the help of these motifs, Sherpa paints the reality of the bourgeoisie, who control all the social and economical capital in the world, forcing the underprivileged people to live constrained lives and with little means to survive on.
However, this artwork can be interpreted in a different way as well. Around the three individuals, there are butterflies flying and moving around.
Since the artwork is titled as 'The Butterfly Effect', it can also be interpreted that these people are united and are using their force to resist the system. But the capitalist giant, who is covered in fire, is so aloof that he has no idea the impact this unity can create, as by coming together, their energy will produce a storm that can burn the giant, eventually leading to its destruction.
And this is the beauty of Sherpa's artworks. Each artwork is unique, conveys an idea, and makes people reflect on themselves as they get lost in the traditional iconographies of the artwork that reflect contemporary issues.
As an artist, he does not spoon-feed to the audience what he intends to convey through his art. Rather he thoughtfully creates and uses his art in such a way that one starts to invest and imagine what is presented in front of them.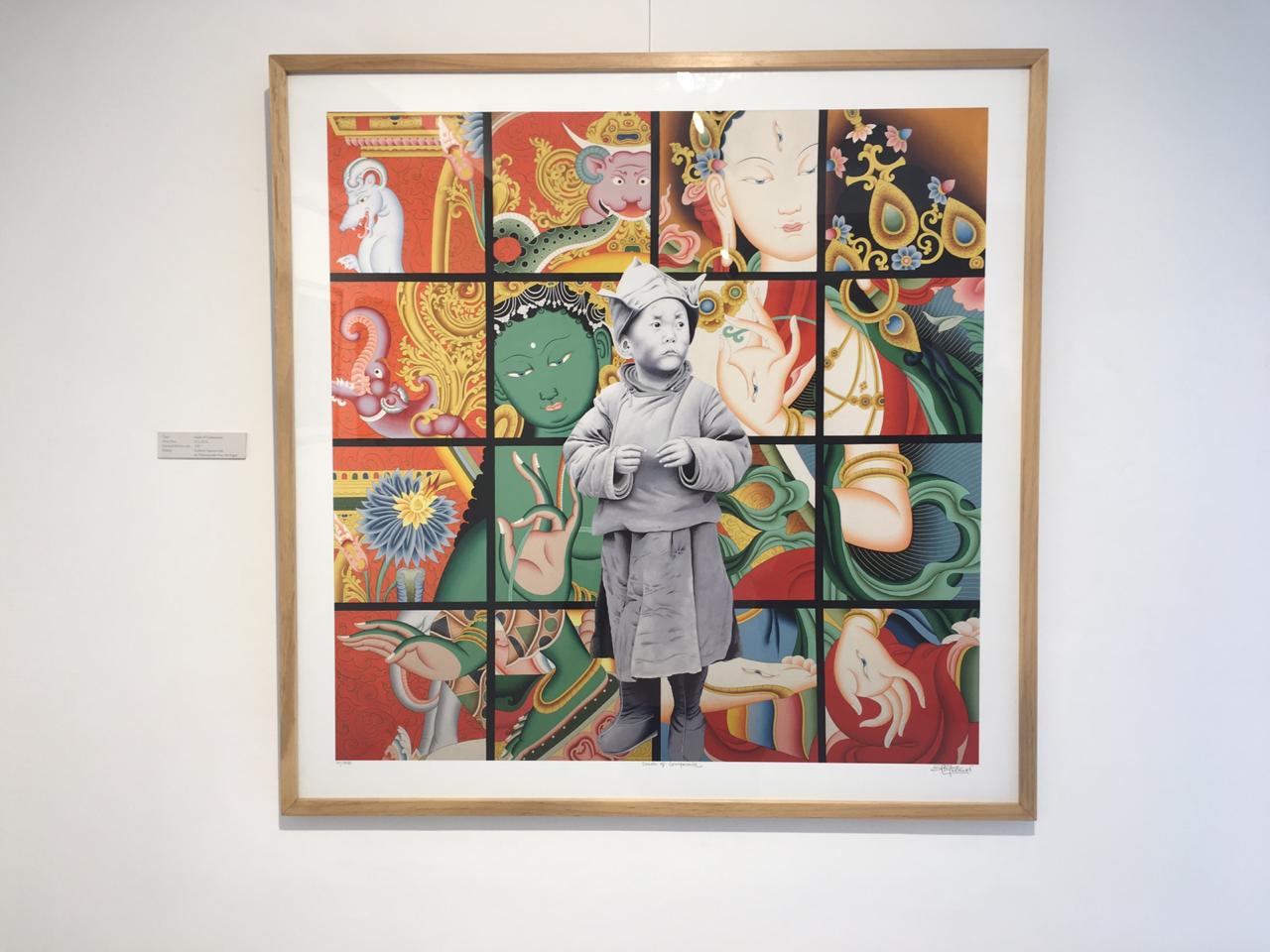 Srizu Bajracharya/TKP
For instance, in his artwork 'Seeds of Compassion,' he juxtaposes two intriguing iconographies building interest and curiosity for the onlookers. In the artwork, he juxtaposes a child along with two significant Buddhist goddesses, White and Green Tara, in the background. However, the deities are placed in such a way that they are disjointed and are separated by square boxes.
While it's understandable for the artist to use the child and the two deities in the painting as they symbolise compassion, the squaring of the figures of deities is intriguing. It might just be a style or it might also symbolise something deep and spiritual. A square could signify stability, balance, and order, and by boxing the deities, the artist might want to convey that compassion, which here the deities represent, can bring stability in our chaotic lives.
Another thing that is visible is that most of his artworks are tied with a common thread: he uses many pop-culture references infusing it with the traditional Tibetan iconography which makes his artwork relevant and palatable to the current generation.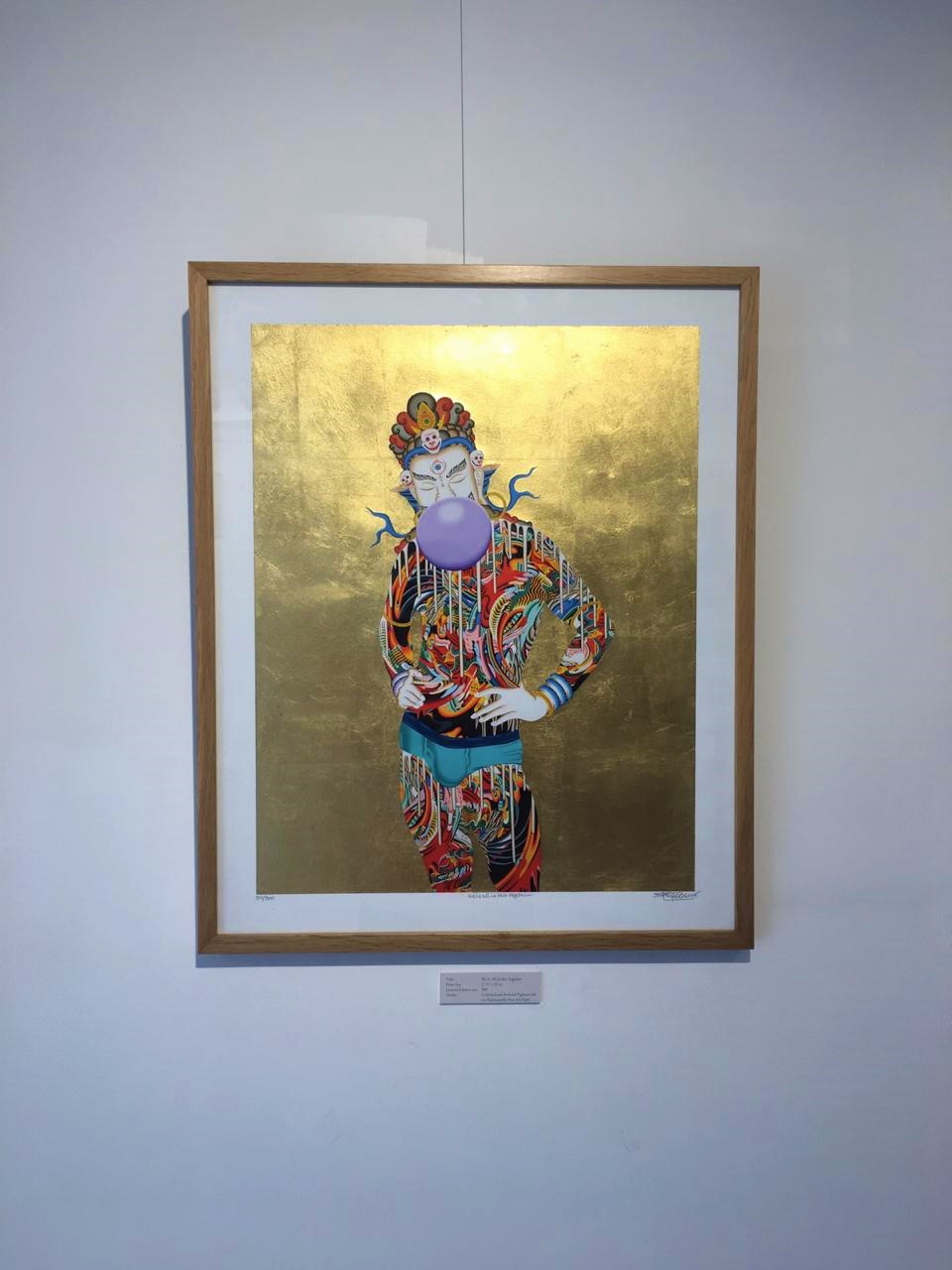 Srizu Bajracharya/TKP
For instance, in his artwork 'We're All In This Together', we can see a Buddhist deity standing with his arms on his waist. The deity is wearing bright blue underwear while blowing a bubble gum. And his body is covered in various traditional iconographies, making him look like a superhero.
Likewise another artwork, 'Dancing Yama', also features the use of pop-culture motifs. In the artwork, we can see Yama, the Lord of Death, performing the hook-step of Gangnam style, a widely popular Korean song. In the background is a silver leaf paper, which emits the darkness and horror Yama personifies.
This constant use of contemporary and pop-culture motifs makes his work stand out. His artwork isn't only relevant and intriguing, it is also a confluence of traditional Tibetan artform and contemporary art which functions as a repository that preserves and promotes the traditional Tibetan artform as well.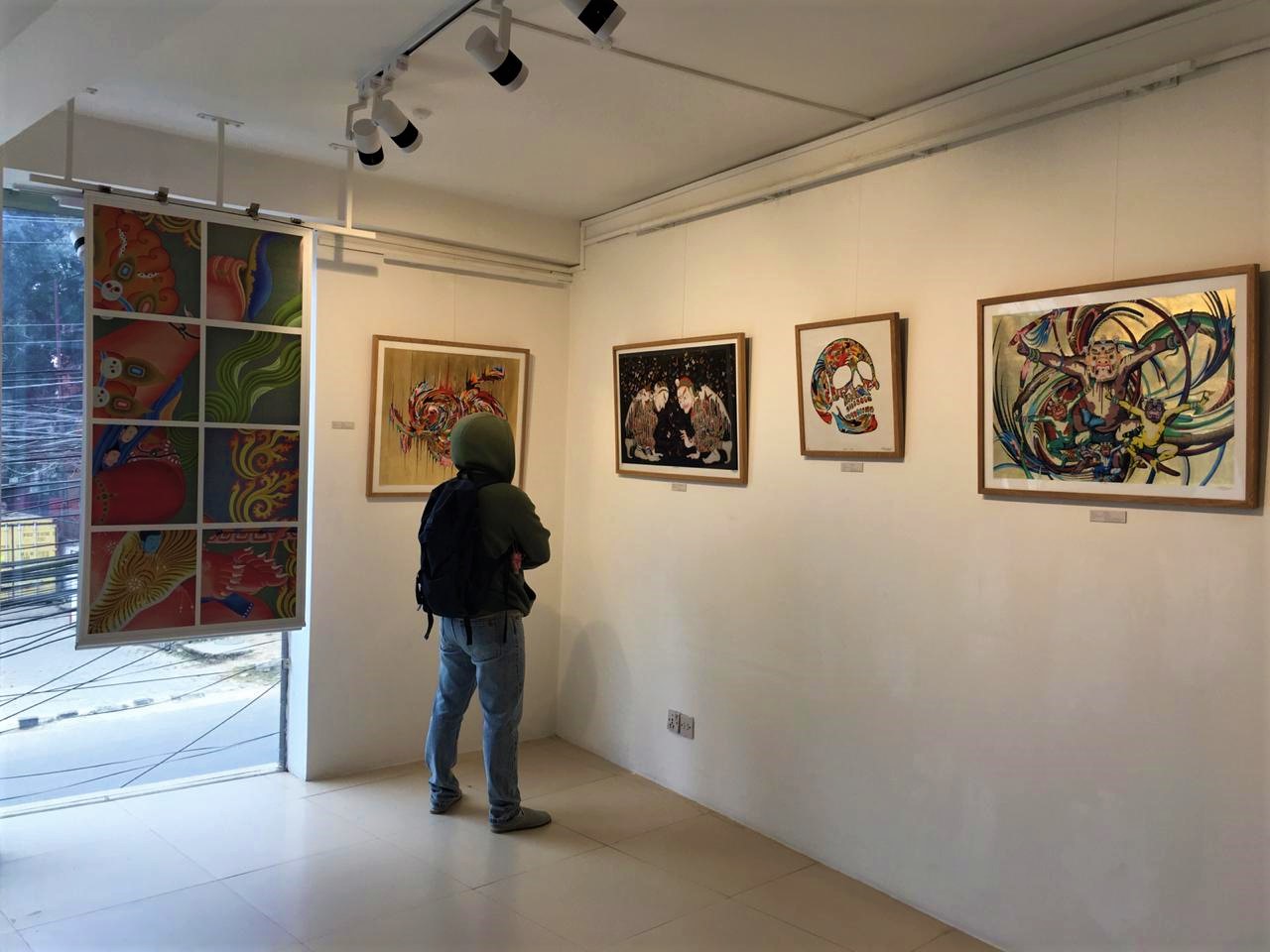 Srizu Bajracharya/TKP
Meanwhile, the gallery also deserves applause for exhibiting his artwork. Making the best use of the available space, they exhibit Sherpa's brilliant works in a manner that is approachable for people of different backgrounds—they don't overwhelm the space with many artworks, which for the beginners or even those who are learning and appreciating art can be difficult to comprehend at once.
But there are no free brochures that can help the audience to understand the artwork more effectively and this can diminish the impact since if the artist isn't present in the gallery, the visitors might be deprived of getting answers to their queries related to his artwork.
But this shouldn't stop anyone from visiting the gallery, as Sherpa's effort and artworks should be appreciated. Through his artistic expression, he successfully conveys his emotions and philosophies as well as makes effort in preserving traditional art—with a modern twist.
The exhibition will be held until February 14 at Windhorse Gallery, Ekantakuna.
---
---