Art is refuge for Jaya Sharma
How a visual artist used art to heal herself and battle through years of depression.

Sharma, with 53 exhibitions, is an acclaimed contemporary visual artist known for creating surrealist digital and hand-painted material. Photo Courtesy: Nawraj Wagle
bookmark
Published at : February 29, 2020
Updated at : February 29, 2020 07:33
Kathmandu
It was devastating for Jaya Sharma when doctors advised her to stay away from colours for some time. Colours were her best friend, but due to the excess fluid in her lungs, she had to stop following her painting passion.
"It broke me when I was forbidden from using colours. The doctors said it could accelerate allergies detoritating my health," says visual artist Sharma.
The colours, which were once her medium of expression, were testing her. "I tore up most of my artworks when I got the news," says Sharma.
This was back in 2003, but it didn't stop her from pursuing her passion for art. Instead, her passion led to her seeking an alternative for oil colours, which was when she discovered digital artwork. She sold her wedding jewellery, bought a computer and started creating digital pieces one after another, where she expressed her emotions and inner turmoil.
Cut to now, with 53 exhibitions (solo and joint) in different corners of the world—like India, Japan, Malaysia—and multiple artworks which many could resonate with, Sharma is an acclaimed contemporary visual artist known for creating surrealist digital and hand-painted material.
"An artistic soul since childhood, I was determined to pursue my career in painting. That's why I joined Lalitkala Campus to study fine arts", says Sharma who is the first Nepali artist to put up a solo exhibition exclusively featuring digital paintings.
Although she was doing well professionally, emotionally, Sharma was volatile since 1999, even before she could complete her degree, around the time she got married. "As soon as I got married, I felt like I lost my way. My artistic identity was slowly being replaced by that of a homemaker," said Sharma.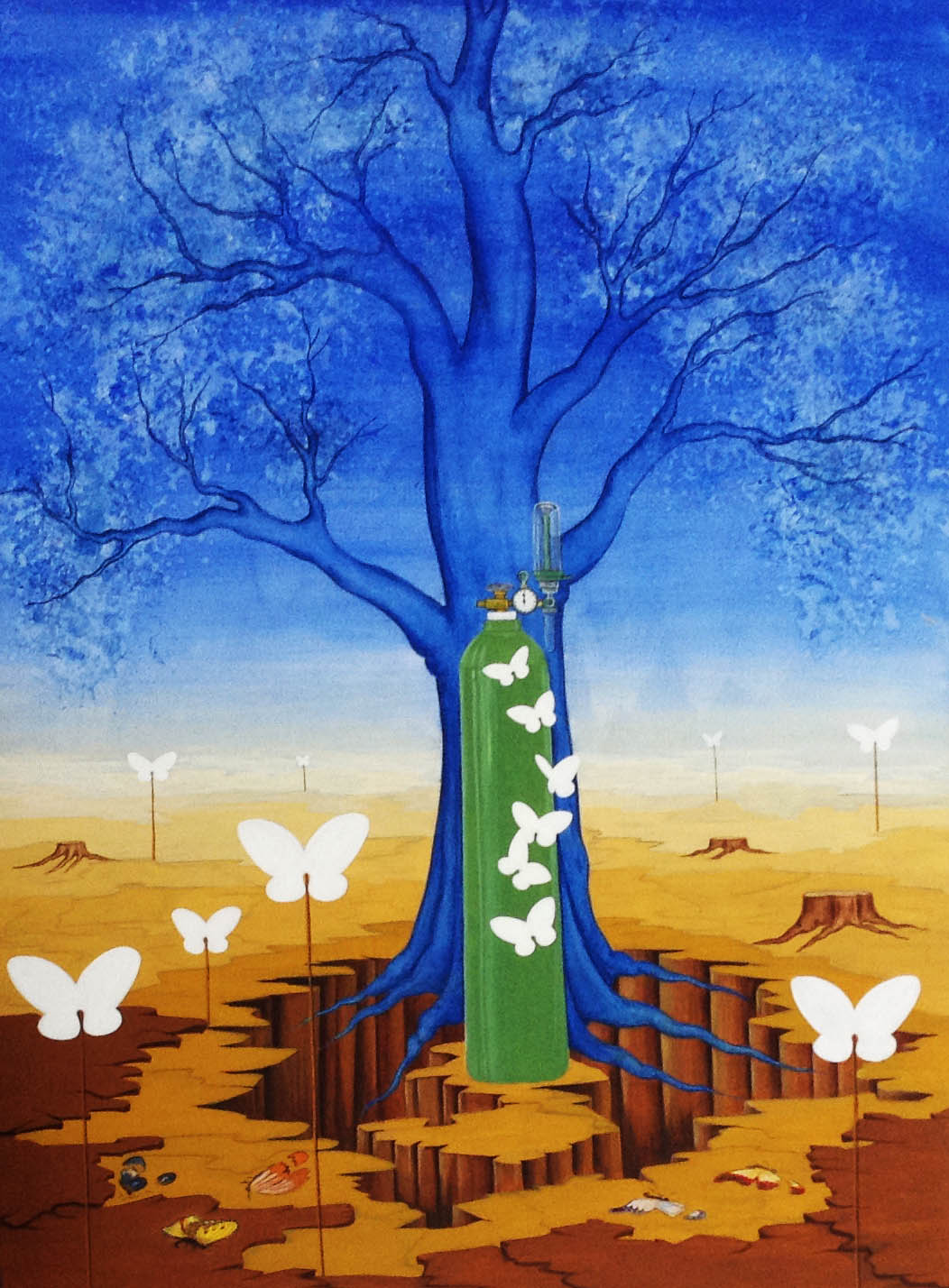 Photo Courtesy: Jaya Sharma
There she was, eager to paint and express herself, but with no one at her new home who understood her artistic passion. Her husband, a journalist, was busy with his work; her in-laws didn't care much either. Social expectations and restrictions were thrown at her—she was told what to do, what not to, what to wear and what not to. She says she was suffocated.
"I saw my colour palettes being replaced with sewing needles and thread. I expressed myself through my painting. It was my refuge. So, when I was deprived of painting, I felt lost and I didn't know whom to ask for help," she says.
By the time her husband Subrat Acharya realised her agony, it was too late. She had already slipped deep into depression, because of her restricted expressive freedom. The situation became worse when she was diagnosed with a health condition resulting in excessive fluid in the lungs.
"Initially, I was doing commission-based work like creating logos and greeting cards. It was only when a fellow artist, Kapil Mani Dixit, who discovered my works and encouraged me, did I think of pursuing digital art as a career", says Sharma. As a result, in 2009, she went on to showcase some of her digital paintings at an art exhibition organised by Dixit. Since then there has been no turning back for Sharma, who currently is the curator at Abhimanch Gallery of Shilpee Theatre.
A week ago, Sharma concluded her four-day exhibition 'DreamWalk 2033', at Nepal Art Council, which was a collection of her digital and handmade paintings. Although this was not the first time she exhibited her work, she says she was nervous the whole time, as it had a special place in her heart.
"The paintings were too personal. I created them when I was battling emotional extremes. Some paintings echo my raw emotions or psychological distress, while others are subtle reminders of hope," says Sharma.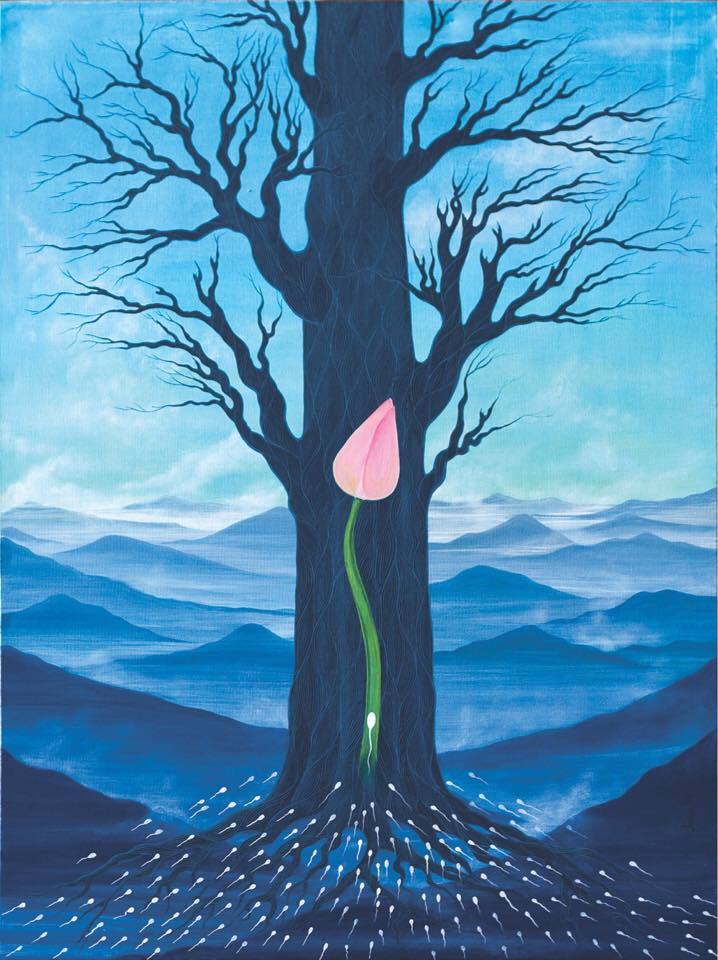 Photo Courtesy: Jaya Sharma
And the motifs she uses are truly transparent. For instance, in one of her pieces, titled 'Family Tree', she shows sperm racing towards an egg. Her intention of using these motifs was to convey the message that even before a person is born, they are already winners as they have succeeded in winning the race. That's why one shouldn't lose hope, she says.
"Even though there are ups and downs in my life, I always try to emerge as a winner. The hope that everything will be alright motivates me," she says.
Her use of colour, the themes she works with and the use of lines in her paintings, all share a narrative of healing and happiness. "I prefer emulating light colours from dark colours in my artworks, a way of showing that a bright life will appear from the dark phase," says Sharma.
She says art was, is and will always be her biggest healer. "Whenever I am stressed, I go to my studio, play with colours and draw on my canvas. Making art is my biggest stress reliever and it heals me," says Sharma.
---
---