When time is a lesson in itself
Krishna Lama's exhibition 'Passage of Time' is personal and evocative, and subtly states how painting remains one of the most powerful artistic mediums.

Krishna Lama's exhibition at Nepal Art Council explores his various thoughts over the past three years, including themes of parenthood and the future of children. Beeju Maharjan/TKP
bookmark
Published at : January 29, 2020
Updated at : January 29, 2020 08:16
Kathmandu
Our minds are always cluttered with thoughts. We are continually processing thoughts to make sense of life, work and everything in between. Most thoughts are fleeting. They weave in and out, creating their own vines and becoming the base of our understanding. They are what make our human mind ingenious and unique.
At Nepal Art Council, Babarmahal, Krishna Lama's 'Passage of Time' enwraps us in this very idea, of our fleeting and powerful thoughts, as we go through various phases in our lives. Through his experience Lama tells us about our fleeting emotions and the grayness of experiences: our anxiety, apprehension, uncertainty.
Lama's work is personal, but the ideas he paints resembles our own stories. However, one needs to take time to understand them, as his work is full of metaphors and his art style quite unique.
In his paintings, the human bodies protrude in odd angles, like they are made of elastic. And their shadows follow everything, reflecting sometimes the polar opposite of portrayed reality and other times in support to the main character, his wife, during her pregnancy. The human figures are the central idea of Lama's works: they are him and his thoughts, and the visuals of his mind. And in them, motifs like sunflowers, fish (even dead ones), toilet systems, fish bowls are recurring objects and his metaphors for light, train of thoughts, escapism and boundaries.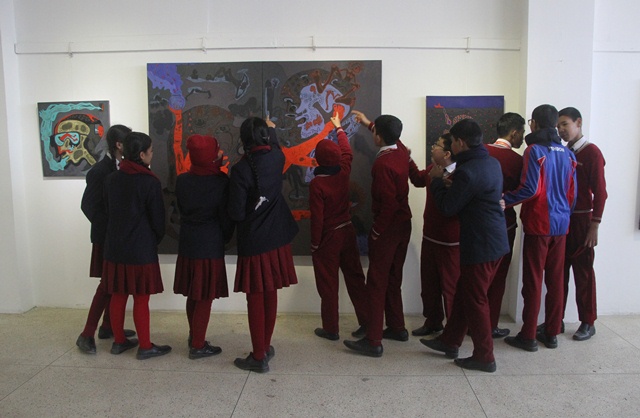 According to Lama, motifs have always been a part of his storytelling in his artworks. "The fish represents our constant mulling, the sunflowers represent positivity, toilet systems represent loopholes and escape from the world, dead fish represent the idea of decadence," says Lama.
But what's interesting in Lama's work is although he jumps from one idea to another in his paintings, because his main intention is latched to the way our mind works, they all come together. After all, our thoughts can't be trained, they just flow. And Lama shows us just that.
Lama explores many ideas like parenthood, climate change, even themes like escapism, intolerance, materialism. But at the heart of Lama's work is his personal experience that makes his work penetrating. And although he is describing joyful experiences of parenthood, there is a melancholic aftertaste to his works. And that bitterness maybe his fear, insecurity and uncertainty.
For example, in his acrylic painting titled 'Infant Crawling,' Lama shares his experience of fatherhood, where his baby is learning to crawl. However, unlike his childhood, his baby's surrounding is limited: there are no open fields for them to play and run around. The baby's childhood is sure to be surrounded by technology and mere objects as toys. There are multiple layers to his works, on the backdrop, there is a field of sunflowers, while the sky reflects towering concrete buildings; there is also a trace of a wall, which shows confinement. There's again fish following the central human figure, the mother.
The experience of parenthood is supposed to be a happy one, but Lama beautifully depicts his concerns about how he and his wife are going to raise a child. All of his paintings have a dark sensibility, and dormant colours such as red, purple, blue, dark grey and brown imbue more to the infectious feeling. The figures also look dreamy.
Lama's work tells us why painting as a medium is compelling and for an artist, the most honest way to touch people's hearts.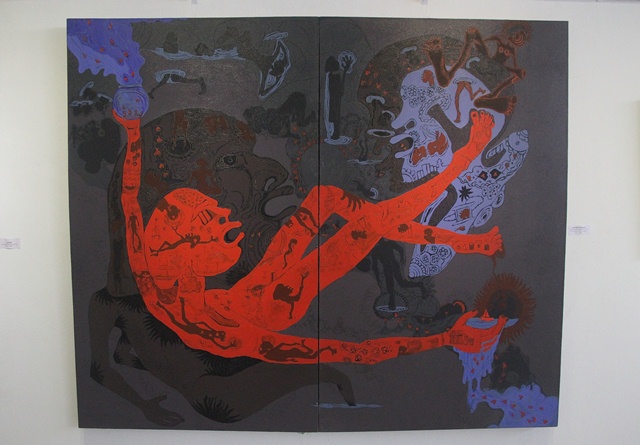 Lama's work is different from paintings that are used for aesthetic appeal. They are not pleasing. Instead, they implore our thoughts on our own frustrations. They are reflections of our reality. His series also emphasises the process of time's revelation: how it changes our views and teaches us valuable lessons in life; how fatherhood has changed him as a person. These in the paintings are seen in the juxtaposition of tight tall buildings that have limited the view of the open sky, and in the many material objects placed in the paintings.
Some of his works also suggest how we have been exploiting our environment and contributing to climate change. One particular painting stands out the most, which is titled 'Close to extinction'. The painting uses a dark blue hue, with popping colours like red, orange and yellow. In it there is a small boat, while a person swims underwater with a large net, the fish outside the net are dead, while the live ones that have been caught on the net seem to be dying. The painting is striking but in a horrifying way. Lama had also won the National Fine Arts Award for the portrayal in 2017.
The artist also seems to dwell in the most ordinary realities of life where all humans are no different than the other. Take for instance his work that shows figures taking a dump. Besides showing a person relieving oneself, the work shows, ever so subtly, the idea of this reclusive space into which people go to enjoy their solemness.
It's interesting to understand how Lama's mind works to make meaning of his experiences. Lama immersed in this experience for three years, and perhaps that's why his work feels pensive.
The series, however, might take time to register with people, as his works are not as straightforward as paintings usually are. And although his work is powerful, certain things probably would have intensified his storytelling. Given that artists are creating a world in their exhibitions—Lama could have experimented a little with the idea of background music and personal photographs to give more life to his presentation. To give his series a more human flavour, Lama could have benefitted from revealing his own life a bit more, as he already makes bare his personal experience. Lama's works are beautiful and poetic but fall short of creating an experience. Nevertheless, the exhibition organised by the artist himself is worth your time and pondering. It's also an inkling of Lama's sweet fatherhood.
'Passage of Time' will be displayed until 31st January, at Nepal Art Council.
---
---