Kathmandu's metal sculptors have a new enemy—technology
The traditional art form is facing competition from Chinese market and technology.

Purna Kumar Awale works on a Buddha idol in his shop in Oku Bahal. Shashwat Pant/TKP
bookmark
Published at : January 22, 2020
Updated at : January 22, 2020 12:24
Lalitpur
In a small shop in Oku Bahal in Lalitpur, Purna Kumar Awale is laying the final touches on the head of a statue of Buddha. In a self-built workstation, the 43-year-old works carefully, the same way he has for the past 24 years.
But the more recent of those 24 years have been tough for Awale and others in the centuries-old metal-sculpting trade.
"Earlier, everyone who was into metal sculpting did really well. The money was really good. Within just three years in this business, I had managed to earn enough money to build a house and send my children to private school," said Awale. "But the business started slowing down from 2010."
That was around the time many artisans started heading to China to work there for businesses that manufactured idols. According to Bishram Singh, president of Lalitpur Handicraft Association, many artisans went to China to work because they were offered better salaries there. "When they get a better offer to provide food on the table for their families, no one is going to refuse a chance to do so," said Singh.
According to Ratna Jyoti Shakya, whose family has been in the business for more than four generations, metal sculptors earn around Rs10,000 to make an idol.
The problem for the local industry didn't just stop with the exodus of artisans to China. "On top of that, development of factories in China that produced idols from machines dealt a huge blow to the industry. While it took us days to make one statue, these machines were able to do it in a few hours," said Singh.
Both shopkeepers and artisans feel that the trade has been affected due to Chinese businesses using machines to make metal idols, and taking skilled artisans to work in their factories. The result has not only been lower prices for the pieces produced in Nepal, but it has also resulted in people giving up the traditional art form. It's simply no longer lucrative or sustainable. "I used to sell a nine inch statue for as much as Rs50,000, but now I can only fetch half of that amount for the same," said Awale.
These developments presented a huge problem because China is a major buyer of Nepali Buddhist idols. It was Chinese traders, Awale says, who bought most of his idols before then. He says it is something they continue to do, but the number of idols purchased is nothing compared to when he first started. "I remember selling as much as 50 pieces in a day to a trader. But the most I manage to sell now is around 2-3. The business has gone down," said Awale. "I never had time to work on sculptures of others. But now, people give me their sculptures to work on the face. I get paid an okay amount for it but I'd rather be doing things on my own."
The exact date of the earliest metal work from Nepal is uncertain, but many argue that it started before the 10th century. Some say it was before legendary artist Araniko's time, in the 13th century, while others argue it came after. But there is enough proof to say that the artform in Nepal started from two towns in Lalitpur—Naag Bahal and Oku Bahal.
"The metal sculpting trade was also only limited to members of the Shakya community," said 75-year-old Ratna Jyoti. "But that is a thing of the past, as everyone from the Newar community, after realising how lucrative the trade was, started doing it," said Shakya.
Awale and many in the trade work directly with the wax which is later melted and evaporated in the cire perdue or lost-wax casting process. Initially, they produce wax models—either uncovered or already encased in a mould. Once the rough sculpture has been cast, the sculptor hands it to another group of artisans, engravers, who smooth the rough surfaces and engrave the fine details.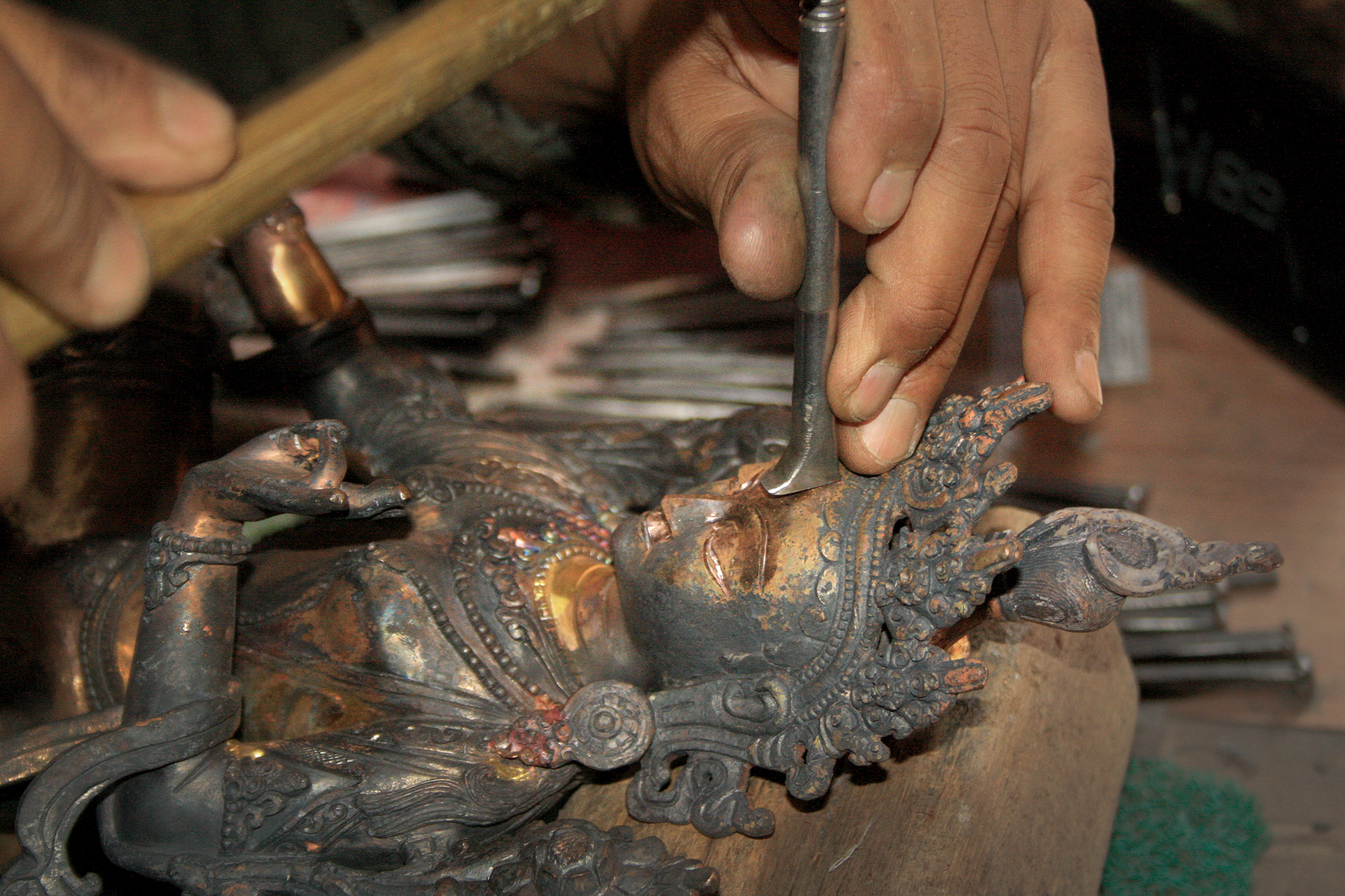 Shaswat Pant/TKP
Ratna Jyoti, who holds a Master's degree in Buddhist Studies, says that the people who buy the idols are mainly Buddhists from China. And as China gets a lot more tourists than Nepal, the foreigners also buy the idols from there.
This mechanisation of the idol-making process, according to Bishram Singh, president of Lalitpur Handicraft Association, dealt a major blow to the local industry.
"It takes an artisan a week to mould one wax idol which then takes further time to sculpt a metal idol. But these machines easily make around 20 idols a day. Now tell me what the artisans will do when these types of things happen?" said Singh.
Factories are not just popping up in China, however. One factory was established in Boudha last year. The factory, according to Singh, had a machine similar to ones in China.
"We were shocked when we first saw the output from the factory. Some of the work was so fine, it was better than what most make here," said Awale. "Many of us feared for our future. If a machine makes such fine products, who will buy the idols and sculptures we make?"
After complaints from artisans, Lalitpur Handicraft Association asked the Federation of Nepali Handicraft Association to do something. Singh says both the association and the federation could not turn a blind eye.
"We couldn't let that happen. What would that mean to the handicraft industry here? We, as a governing body, could not just sit and let that carry on," said Singh. "If we let things like this carry on, our traditional art form will suffer a lot. It's not easy as it is for artisans and that just made a lot of people panic."
Since the complaints were made, the factory has stopped operations, but many fear that things like that will resurface again in the near future.
"Automation is inevitable. This time we managed to stop it but who knows what is going to happen in the future," said Singh.
With business no longer as lucrative as it used to be, the younger generation are no longer interested in joining this line of work. Buddha Ratna says that his son has refused to follow in his footsteps. "I worry that the art of metal sculpting will disappear," he says.
Singh says that it's not too late to save traditional art in Nepal. He says that the government should include this in the curriculum of schools or have courses on it. "We need a university which teaches this craft. You don't learn how to cast sculptures by studying. You do so by practising. And unless those in power realise this, the future of traditional handicraft is dark."
"We are in a difficult situation now. Some want to sell momos, while others think that selling vegetables is the way to move forward," said Awale. "Handicrafts in Nepal are under threat and if people in power don't do anything about it, this craft will soon disappear."
---
---