Phosphenes' new EP 'Simit Yaad' is mellow and dreamy
The band, known for their soft music and eccentric videos, released their first Nepali language album in August.

Band members Prajwal Aryal (left), Aman Karna and Abhi Pokhrel. Photo courtesy: Phosphenes
bookmark
Published at : September 6, 2023
Updated at : September 7, 2023 07:54
Kathmandu
Independent music started as resistance. Back in the late 1970s, in countries like the US and the UK, record labels dominated every aspect of the music scene, from producing and mixing to creative rights. The artist, in that sense, was simply the face of the music—who lent their voices to something that was already manufactured.

It was in underground bars and shady clubs that young, disenchanted individuals found space. Their art-centric, honest, vulnerable take on music—which by the time had become incredibly commercial—resonated with the urban youths of the time.
Nepal, too, has seen a surge in independent, DIY style of music in the last decade. This was mainly prompted by the Internet, where young artists—who didn't have the resources (or perhaps the guts) to reach out to record labels—uploaded their tunes to YouTube or Soundcloud. These tunes were thus embraced by the urban young—familiar with Western music and yet still looking for something that connected to their lived experiences.
Phosphenes, an indie band (truly record-label independent, not just cool-independent) featuring Aman Karna, Abhi Pokhrel and Prajwal Aryal, was perhaps one of the earliest artists to cash in on that vacuum. In 2016, the band uploaded their first song 'Dust' on SoundCloud, which received much attention from urban listeners. Since then, Phosphenes has steadily grown their fanbase, attracting listeners with their initial indie-folk-inspired sound and more recent mellow pop/rock tracks.
Their most recent album (released in August), 'Simit Yaad,' features six songs, all in Nepali. A deviation from their previous albums, which largely featured songs in English, the album attempts to tap into a more inclusive Nepali demographic. This is an apt move, as the independent music scene in Kathmandu has been cited as elitist and promoting Western-centric ideals, especially through language.
'Simit Yaad' shows that Phospenes is capable of taking feedback and delivering aware, informed music. One could argue it started with the success of their 2020 song 'Yestai Nai Hola', which satired the hopelessly lethargic tendencies of government bureaucracy. Their sullen, dragging voices juxtaposed against the upbeat music, crafting a symphony of serene irony. This, complemented by an equally quirky 70s-inspired music video, catapulted them into the limelight—across Nepal and outside their friends-cum-fans bubble.
The songs in 'Simit Yaad' also follow similar themes of existential and societal angst. 'Simit Yaad', 'Najar' and 'Ma' have an art rock essence—think David Bowie's 'Heroes'—with fast-paced beat, strong bass, and soft, slow vocals. They carry a sense of urgency, transporting listeners into a whirlwind of melody.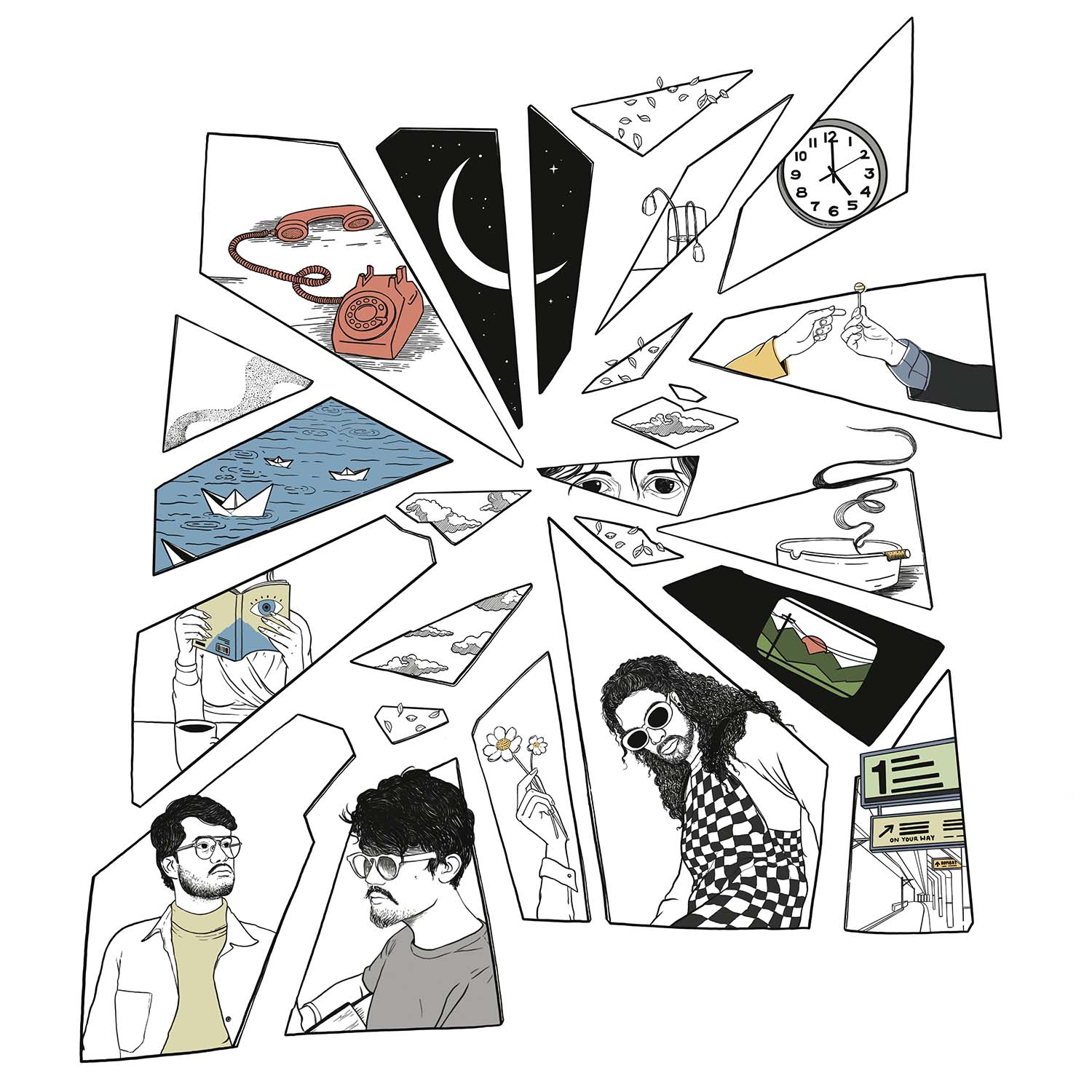 Photo courtesy: Phosphenes
Another song from the same album, 'Antya', is much more subdued, yet its tunes and lyrics linger in one's head for a long time. Collaborator Nirita Yakthumba lends her supple voice to the melancholic lyrics—one that reflects the fatigue (could be personal, societal, or existential) that has corroded modern lives. The music—mostly made up of sharp guitar riffs—is genuinely calming.
The last song—and the title track—'Drishya' falls somewhere in between. A pastiche of 80s rock, the tune is dreamy and mellow. Similarly, the music video is a foggy, nostalgic montage of different characters—it is interesting and eccentric but doesn't quite grasp what it wishes to achieve, faltering in depth and direction.
This argument can be drawn to their album as well. 'Simit Yaad' boasts pleasant tunes, but when you try and decipher what's being said through and within the music, it feels a little too vague and simplistic. 'Yestai Nai Hola' garnered applause because it was succinct and unambiguous in its satire. 'Drishya', however, lacks that sharpness.
Independent music has always been a platform to challenge normative music practices, which are often saturated with superficial lyrics and repetitive chord progressions. Thus, the novelty of indie music—which experiments with both music and lyrics—has been the staple factor in drawing listeners since the 70s.
Phosphenes, I believe, is capable of creating lyrics that are much more honest, raw and vulnerable. Their musicality and skills are clearly on par, but what the audiences now expect from them is a reflection—an antidote to the anxieties that youths, like the singers themselves, are battling with. What are the dark, deep troubles ail the artists (and subsequently their audiences)? What pushes them to make music? What makes them so relatable to the increasingly disenchanted urban youth? Perhaps it isn't their responsibility to answer these questions, but they did it once before, and it clearly resonated with their listeners. It is through this sincerity and vulnerability in their music—no matter how ugly—that the band will be able to leave a prolonged legacy.
'Simit Yaad' is available on the band's website.
---
---