Here's why you should watch Netflix's latest 'Indian Matchmaking'—ft Sima aunty
Sima aunty represents the typical Indian subcontinent nagging aunty who is fixated on making everyone tie the knot.

Screengrab via Netflix
bookmark
Published at : July 25, 2020
Updated at : July 25, 2020 08:19
Kathmandu
In a posh living room in Mumbai, Akshay and his mom, Preeti, greet Sima Taparia, one of Mumbai's biggest matchmakers. After a casual introduction, Sima aunty (who prefers to be called masi, which means aunt in Hindi) starts talking business. She has been given the task to find a bride for Akshay, and she jumps right into it: what kind of girls does Akshay prefer? While Akshay shares no specific requirements, Preeti is more sure of what kind of wife she wants for her son: a 'flexible' girl, she says.
This is how we're introduced to Netflix's latest docu-series, 'Indian Matchmaking', and from the start of the show, the intentions of the makers are crystal clear—to depict the matchmaking culture of arranged marriages among Indians, at home and abroad.
In the eight episodes, we follow Sima aunty's journey of finding romantic prospects for her clients who want to come out from their singledom or are forced to. From Texas to Mumbai, Delhi to New York, Sima aunty travels all the way to her clients and attempts to find a prospective partner for them.
The makers have shot the series in a semi-reality show format by taping the dates Sima aunty has fixed—not a very intriguing TV show idea, but what makes the show work is the seven characters and their family members and their very real stories that are both hilarious and honest.
Besides Akshay, an American return man-child, and his manipulative mom Preeti, there's the narcissist jewelry designer, Pradhyuman, whose closet is bigger than his views of what he wants in a partner, as he is more concerned about how they will look like. Likewise, we have Aparna, a lawyer from Texas (who Sima aunty thinks is stubborn), an independent woman whose laundry list of what she is looking for in a partner is peculiar.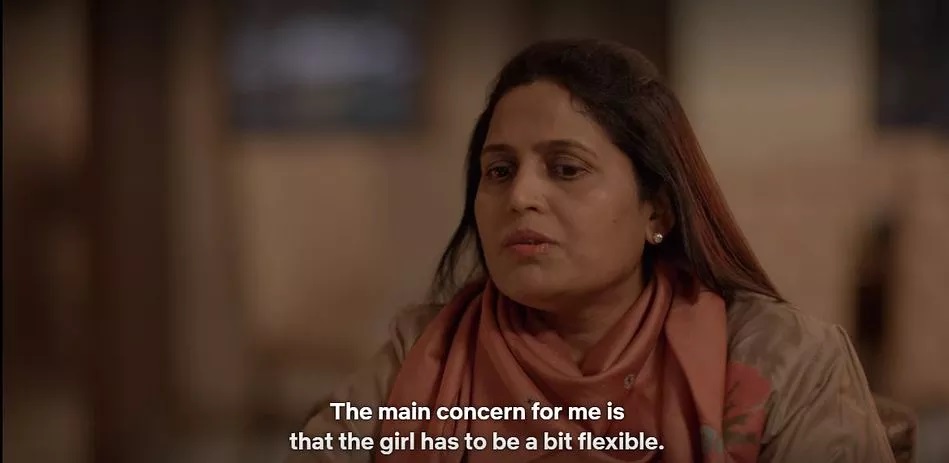 Screengrab via Netflix
But the show isn't only filled with personalities like them. There's Rupam, Vyasar, Ankita, and Nadia, with whom the urban young milieu can mostly relate.
The most interesting character, however, is the protagonist of the story, Sima aunty, who is reminiscent of the typical Indian subcontinent nagging aunty who is fixated on making everyone tie the knot (with people from their own caste and class). She's not just an ordinary matchmaker though. She's Sima Taparia of Mumbai Nagri, First of her name, Searcher of Flexible girls, Breaker of Exogamy, and Mother of Compromise and Adjustment, who has an array of elite clients who are ready to pay a hefty amount for the 'right person'. The character, even though it is problematic to its core, has an interesting persona, with abilities to make people cringe and laugh at the same time. And this is where the creator of the show, Smriti Mundhra, uses her skills to pander the show to a larger audience.

Everything Sima aunty says is meme material. Be it her constant mantra of 'adjustment' or 'compromise' (which is the 'life-tip' she is always giving to her clients) or her problematic yet blunt style of speaking—everything she says or does is entertaining, which is leading to the popularity of the show. Seema aunty is also the flagbearer of the 'Aunty Gaze', and her entire show is on how marriages should work and how it's always the women who have to compromise.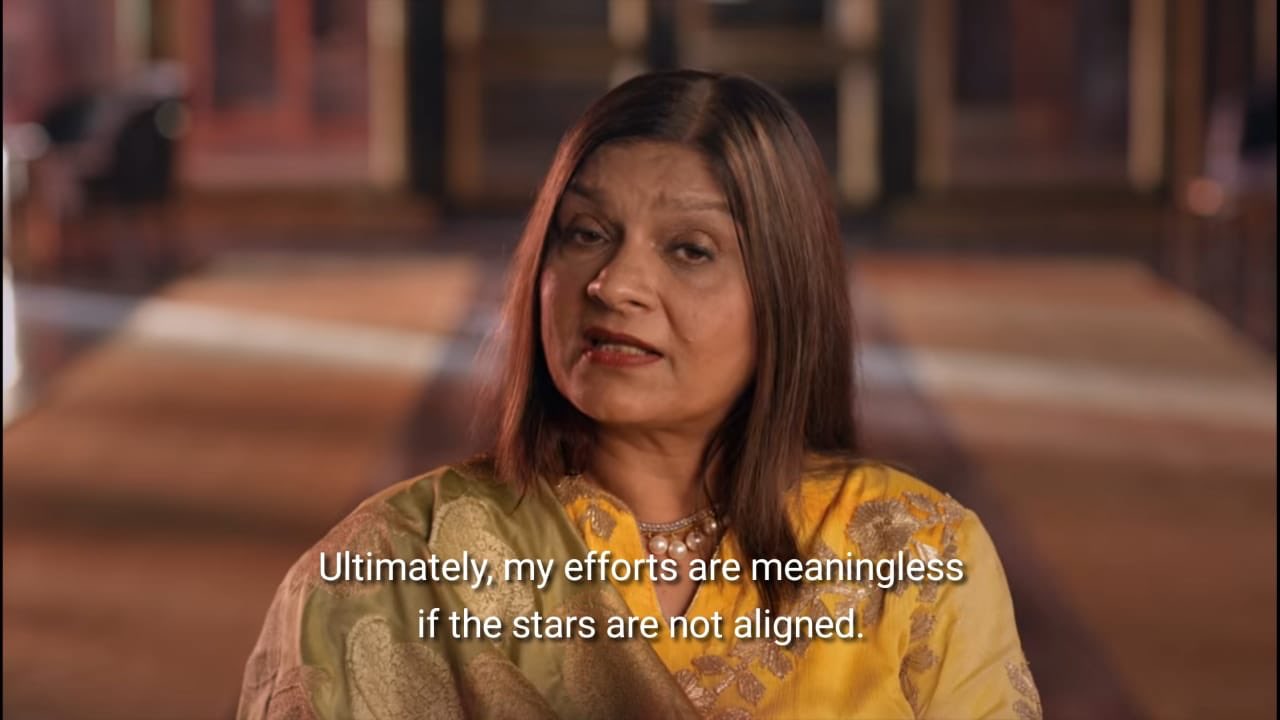 Screengrab via Netflix
The show also depicts how even the people who call themselves 'urban' and 'modern', who mainly live outside India, also rely on people like Sima aunty. Although Sima aunty and even her clients and their families reason that their aim of resorting to arranged marriage is to find a partner (and a family member) who can easily fit into their life, because of the proximity with their lifestyle, at the end of the day arranged marriage has always been used a tool to propagate both caste and class endogamy. This reluctance of people to transgress caste and class results in making alliances or fixing marriage within their small groups, and that is shown clearly through the show.
One of the insightful and interesting underlying themes of the show is also the reflection of how marriage is viewed and valued in India, a feeling which people from other parts of the Indian sub-continent can also relate with. In most societies of the Indian subcontinent, marriage is mostly regarded as a duty, where people tie the knot with another person so they can start a family life.
Likewise, the marital status of a person is so directly linked with their individual identity that singledom is considered as a personal failure and marriage is viewed as an end goal in life.
While the makers are somehow depicting the realities, one thing that should be critically analysed is how they are portraying the demands of Sima aunty's female clients, especially of Aparna. Yes, there's no fact that Aparna, who is a lawyer but hates being a lawyer, has a different and peculiar taste in men—she prefers men who aren't necessarily fun and hates those who love beaches.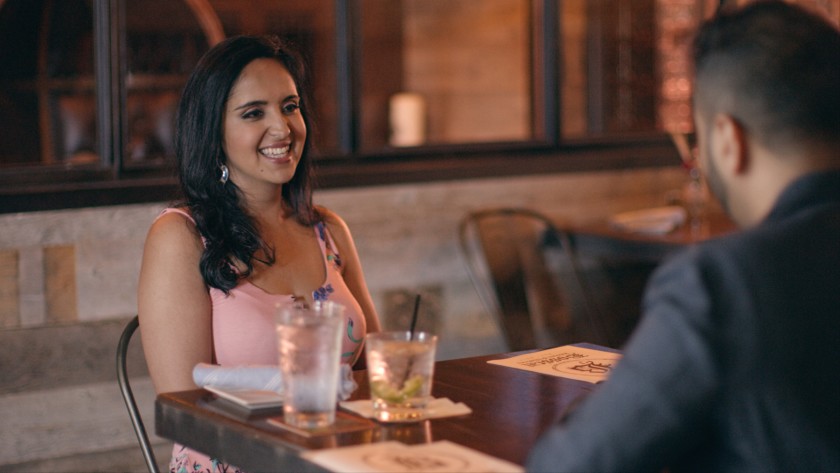 Screengrab via Netflix
But in the end, both Sima aunty's male clients, Pradhyuman and Akshay are a product of parochial and patriarchal mindset who set unrealistic and obnoxious standards of how a woman should be and behave like. Their criteria are both treated by Sima aunty and the makers as amusing and humorous, while Aparna (who's infuriating at times) is portrayed as bossy, nit-picky and difficult.
And this is where it becomes confusing to assess the maker's, Smriti Mundhra's, intention. At the starting of every episode, couples who were married in an arranged setting, share their experiences and joys of staying together for years and years. This particular use of montage which was popularised by 'When Harry met Sally' movie confuses the audience about whether the maker is intending to depict or promote arranged marriage, as she mostly highlights the joyful side of it, completely missing out the fact that arranged marriage in India can be a suffocating experience for most women.

Screengrab via Netflix
Likewise, Mundhra's depiction of Sima aunty and her work lacks nuanced portrayal as we never see her from an angle where the audience can assess her and the work critically. This might have occurred because of the director's close association with the subject: Sima aunty was once her matchmaker and also one of the characters of her previous documentary, 'A Suitable Girl'.
Nevertheless, there are characters like Ankita, Nadia, Vyasar, and Rupam who keep the series engaging through their humility and a strong willingness to not adhere to outdated norms that make people invested in understanding the facets of the institution of marriage that play a larger role in our society.
And this is why you should spend your five hours watching 'Indian Matchmaking'. It is a perfect cocktail of a flimsy, voyeuristic but real depiction of arranged marriages. It will make you laugh and cringe, but more than that it will help you reassess how marriage has been propagated as a tool to maintain caste and class endogamy and as a gateway to happiness.
---
---