South Korea's 'Parasite' beats Hollywood greats to make Oscar history
Bong Joon Ho won the best director Oscar for the same movie while Joaquin Phoenix took home the best actor award for 'Joker'.

Miky Lee reacts after "Parasite" won the Oscar for Best Picture at the 92nd Academy Awards in Hollywood, Los Angeles, California, U.S., February 9, 2020. Reuters
bookmark
Published at : February 10, 2020
Updated at : February 10, 2020 13:13
Los Angeles, California
Dark South Korean social satire "Parasite" won the Oscar for best picture on Sunday, making history as the first film not in the English language to win the movie industry's highest honor.

"Parasite," about the gap between rich and poor in modern Seoul, won a total of four Oscars, including best director and screenplay for Bong Joon Ho and best international feature. No film had ever won both international feature and best picture at the Oscars.
It was a remarkable outcome for a film that played with subtitles in the United States, beating movies by major studios and Hollywood veterans such as Martin Scorsese and Quentin Tarantino. The win also came at the end of an awards season that had been criticized for lack of diversity.
Instead, the Oscars stage was crowded with South Korean actors and filmmakers, who mostly spoke to the audience through an interpreter.
"I am speechless," said Kwak Sin Ae, one of "Parasite"'s co-producers. "We never imagined this would ever happen. We are so happy. I feel like a very opportune moment in history is happening right now."
When Bong got his first Oscar of the night - for best original screenplay - he gazed at the golden statuette in amazement.
He later paid tribute to his four fellow director nominees, saying, "I would like to get a Texas chainsaw and split the Oscar into five and share it with all with you."
Earlier in the evening, the ceremony, held without a host, was peppered with jibes and sarcastic remarks about the exclusion of women from the directing category and just one person of color in the acting nominations.
"I thought there was something missing this year," quipped comedian Steve Martin, opening the show with Chris Rock.
"Vaginas?" quipped Rock, to loud applause.
Joaquin Phoenix wins best actor Oscar for 'Joker'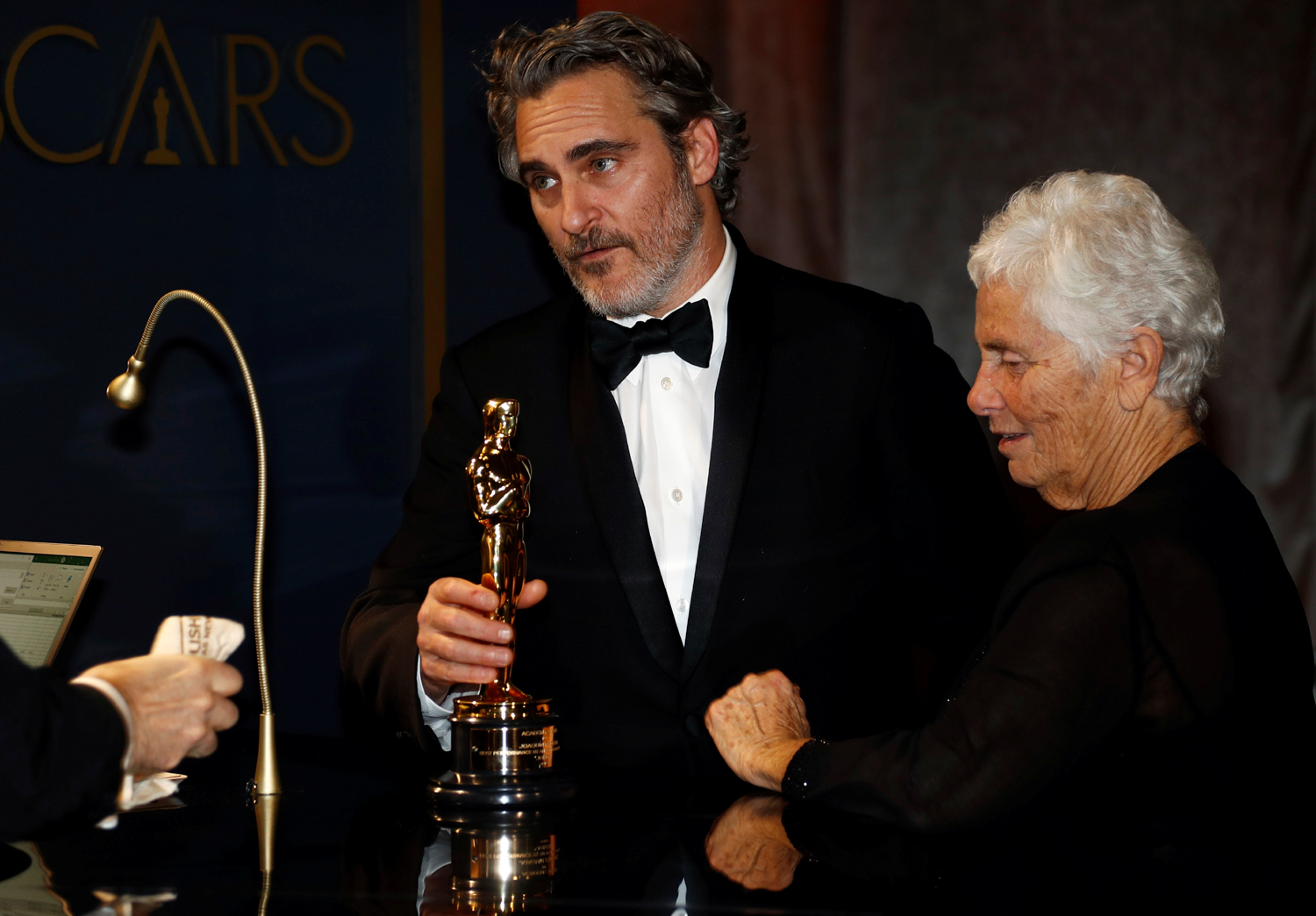 Best Actor Joaquin Phoenix, accompanied by his mother Arlyn Phoenix, holds his Oscar statue at the Governors Ball following the 92nd Academy Awards. Reuters
Joaquin Phoenix won his first Oscar on Sunday for his terrifying performance as an isolated loner who becomes one of the world's best known comic book villains in "Joker," and invoked his late brother River Phoenix in one of the most emotional acceptance speeches of the night.

Phoenix, 45, won the best actor Oscar after three previous nominations, crowning an awards season that has seen him sweep every major prize for his role in the standalone origin story of Batman's archenemy.
"I've been a scoundrel in my life, I've been selfish, I've been cruel at times, I've been hard to work with. I'm grateful so many of you in this room have given me a second chance," Phoenix said in accepting his award.
"When he was 17, my brother wrote this lyric, he said: Run to the rescue with love and peace will follow," he said in concluding his speech tearfully to a standing ovation.
River Phoenix died of a drug overdose at a Hollywood night club in 1993 at age 23.
The actor, known for playing brooding or emotionally troubled characters, dropped more than 50 pounds (22 kg) to play Arthur Fleck, an emaciated mentally ill clown who finds fame through a random act of violence in 1980s era New York City.
His Oscar win made Phoenix the second person to get an Academy Award for playing the Joker character. Heath Ledger won a posthumous best supporting actor Oscar in 2009 for playing the Joker in "The Dark Knight."
Dark and unsettling, Phoenix's Joker is far removed from the comic book characters traditionally seen on screen. Matthew Belloni, editorial director of the Hollywood Reporter, described it last year as "among the most chilling characters I have ever seen in film."
Publicity averse and intense, Phoenix has a reputation for completely inhabiting characters that have ranged from country singer Johnny Cash in "Walk the Line," to Jesus Christ in "Mary Magdalene" and an impressionable drifter who enters a cult in "The Master."
In 2010, he almost succeeded in fooling the world that he had given up acting to try to become a rapper in the fake documentary "I'm Still Here."
A strict vegan and advocate for the environment, Phoenix was born to missionary parents who traveled through Central and South America before settling in Los Angeles, where he became a child actor.
Bong Joon Ho wins best director Oscar win for 'Parasite'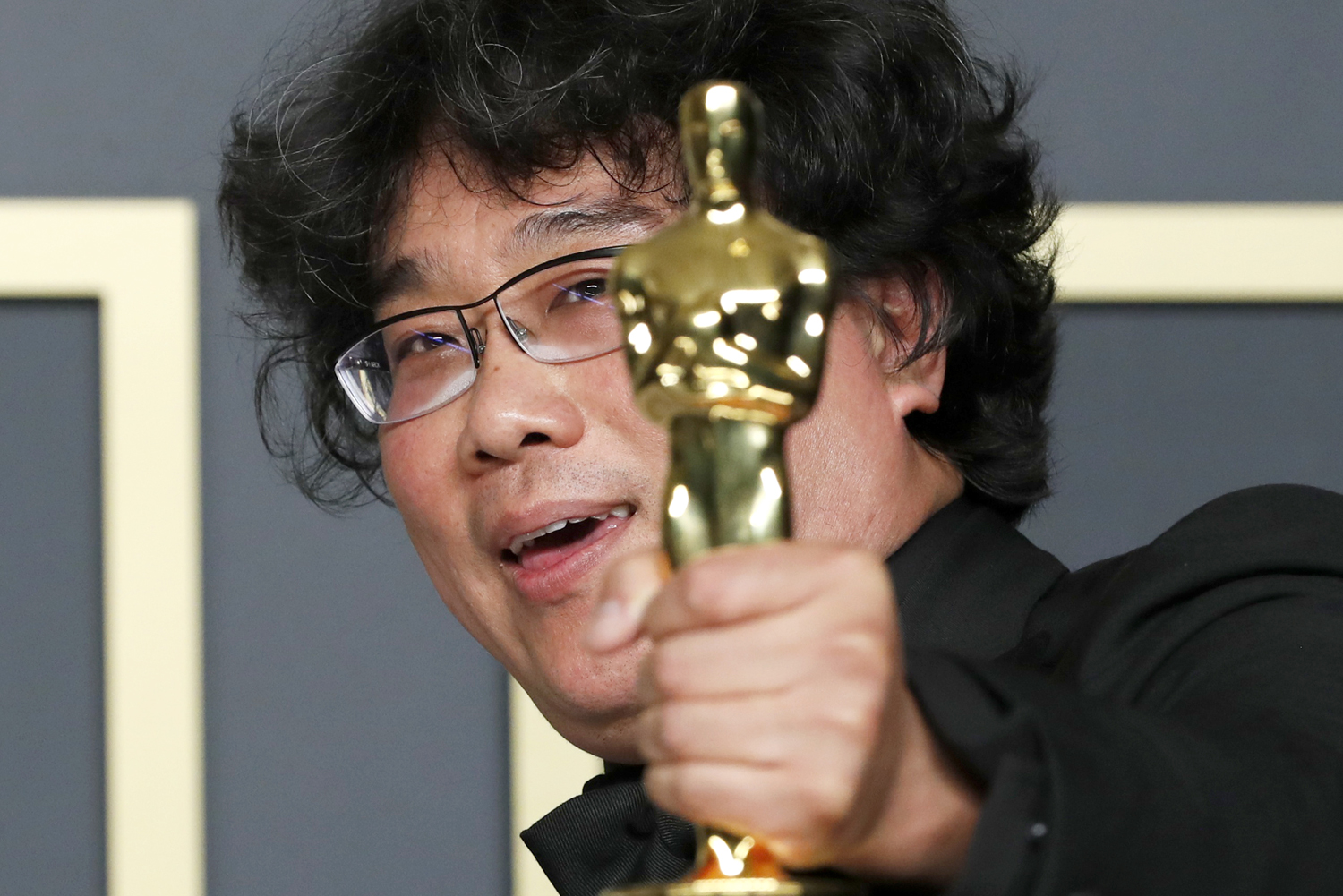 Bong Joon Ho poses with the Oscar for Best Director for "Parasite". Reuters
South Korean Bong Joon Ho won the best director Oscar for dark social satire "Parasite" on Sunday, becoming the first person from the Asian nation to win the award.

The film was one of the biggest winners at the Academy Awards, having already taken best international feature film and best original screenplay.
Bong, 50, beat Hollywood veterans including Martin Scorsese and Quentin Tarantino for his Korean language movie about the violent clash between haves and have-nots in contemporary Seoul.
In his acceptance remarks, Bong gave a shout-out to both directors.
"When I was in school, I studied Martin Scorsese's films. Just to be nominated was a huge honor. I never thought I would win," he said as the audience rose to its feet in applause.
"When people in the U.S. were not familiar with my film, Quentin always put my films on his list. He's here," Bong added. "Quentin, I love you!"
And then reprising a remark he made after winning, best international picture, he said: "I will drink until next morning. Thank you."
Bong is known for weaving social themes into stories that play as both comedies and thrillers. His movies include the surreal animal activist movie "Okja," climate change sci-fi drama "Snowpiercer," and serial killer drama "Memories of Murder."
"Parasite" is by far his most successful film to date, reaching audiences beyond his home country and winning the top prize at the Cannes Film Festival.
"I did know that it had its own strength and that it would provide a lot of food for thought for people but I didn't realize it would be so successful in the US and Japan and France," he said.
"A lot of American audience members have told us that Parasite was very unpredictable and I think that's what the audience really enjoyed," he told Reuters.
Bong has described the main themes of "Parasite" as "courtesy toward human beings, human dignity."
He began his movie career by co-founding a cinema club on the campus of his university in South Korea in the early 1990s and going on to write and making short films.
He is currently developing a limited television series based on "Parasite" for U.S. cable channel HBO.
This year's other directing nominees were Martin Scorsese for "The Irishman," Quentin Tarantino for "Once Upon a Time in Hollywood," Sam Mendes for "1917," and Todd Phillips for "Joker.
Renee Zellweger wins best actress Oscar for 'Judy'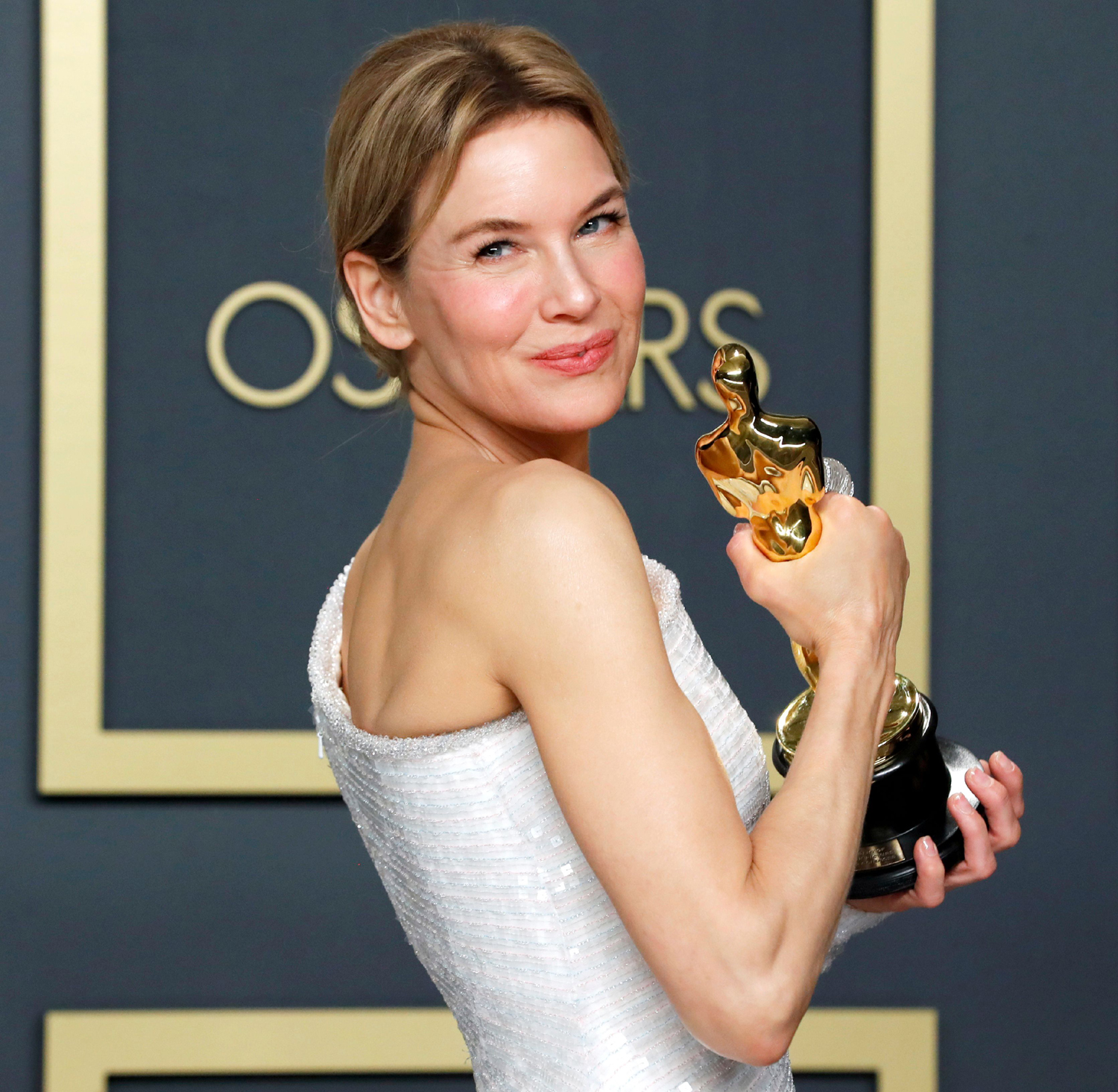 Renee Zellweger poses with her Oscar for Best Actress in "Judy" during the 92nd Academy Awards. Reuters
Renee Zellweger was crowned best actress at the Oscars on Sunday for her portrait of Hollywood legend Judy Garland in "Judy," a biographical drama exploring the singer's personal and professional turmoil at the end of her life.

It marked the second Oscar victory in four nominations for Zellweger, 50, a Texas-born performer whose immersion in the role of Garland also earned Golden Globe, Screen Actors Guild and BAFTA awards.
Taking the stage to accept her award, Zellweger saluted her fellow nominees in the best actress race - Cynthia Erivo for "Harriet," Scarlett Johansson for "Marriage Story," Charlize Theron for "Bombshell," and Saoirse Ronan for "Little Women."
"I have to say it is an honor to be considered in your company," Zellweger said.
She then paid tribute to Garland's "legacy of unique exceptionalism and inclusivity and generosity of spirit."
"Ms. Garland you are certainly among the heroes who unite and define us, and this is certainly for you," she added. "I am so grateful. Thank you so much, everybody."
Admittedly intimidated at the notion of playing one of America's most iconic show business figures 50 years after her death, Zellweger embarked on extensive preparations to transform herself for the role.
She took voice lessons for a year and worked with a choreographer to capture Garland's mannerisms. The movie focuses on a period when "The Wizard of Oz" star struggled with substance abuse, depression, insomnia, financial instability and a custody battle.
Garland arrived in London in late 1968 as part of a sold-out concert tour meant to help regain her economic footing. She died there at age 47 of an accidental drug overdose in June 1969, three months after her fifth marriage.
Zellweger's co-stars recalled being awestruck by her on-set metamorphosis for the role, while critics marveled at how she convincingly rendered the essence of Garland's persona and performance style without lapsing into mere impersonation.
Her "Judy" performance was a far cry from the scrappy, plain-spoken farmhand she played in the epic U.S. Civil War romance "Cold Mountain," a role that earned her an Academy Award for best supporting actress in 2004.
Her turn in "Cold Mountain" followed back-to-back Oscar nominations for her performance as Roxie Hart in the big-screen adaptation of musical "Chicago" and her title role as the British singleton in the romantic comedy "Bridget Jones's Diary."
A native of Texas, Zellweger got her start in several low-budget movies leading to a star turn in 1994 horror film "Texas Chainsaw Massacre: The Next Generation."
Her big breakthrough came in the role of the single mom who becomes the love interest of the struggling sports agent played by Tom Cruise in comedy "Jerry Maguire." Other credits include "One True Thing," "Me, Myself & Irene," and the dark comedy "Nurse Betty."
Laura Dern wins best supporting actress Oscar for 'Marriage Story'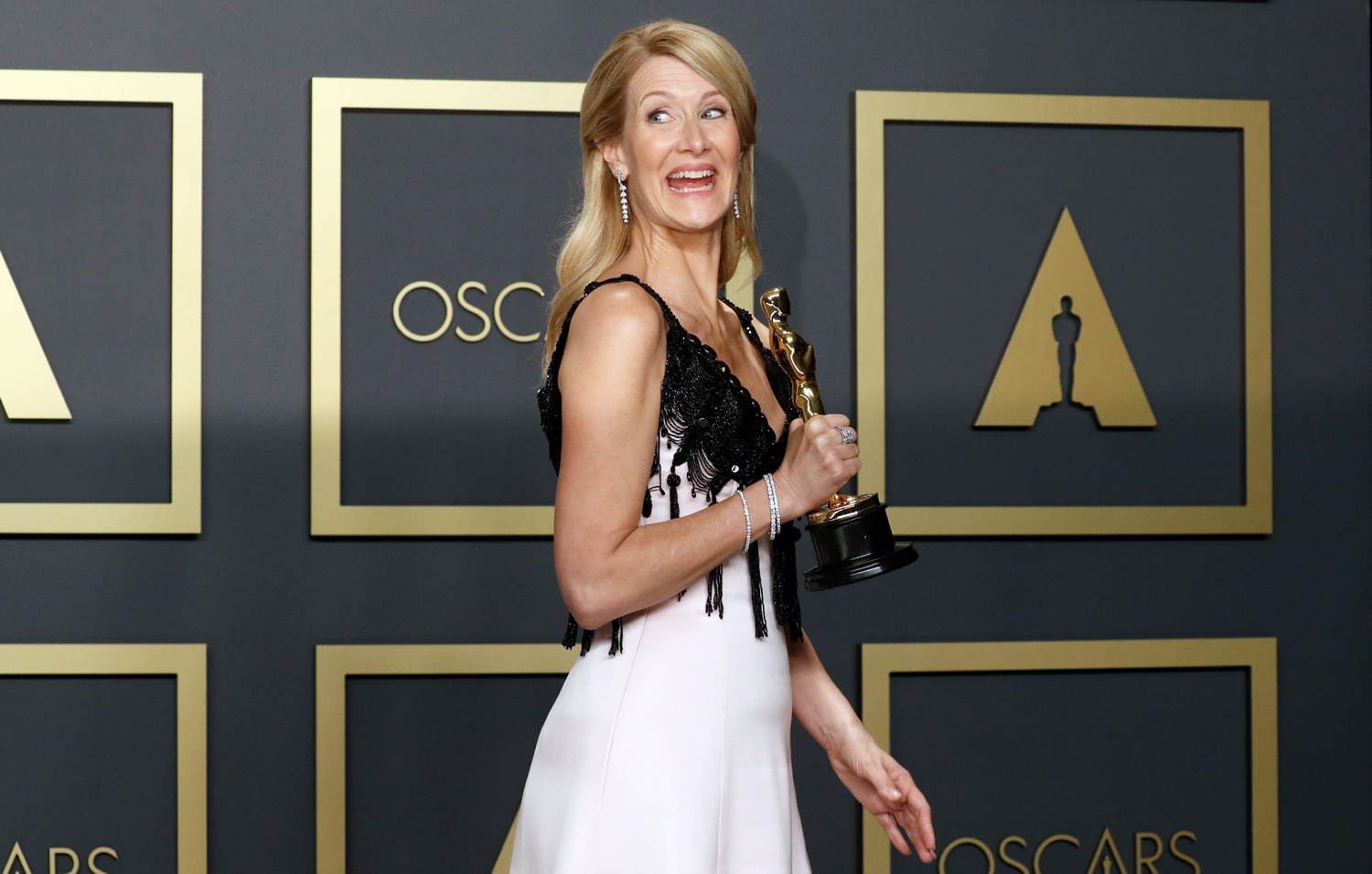 Laura Dern poses with the Oscar for Best Supporting Actress in a ``Marriage Story'' in the photo room at the 92nd Academy Awards. Reuters
Laura Dern, whose Hollywood career has spanned more than four decades, won her first Oscar on Sunday for her portrayal of a ruthless divorce lawyer in domestic drama "Marriage Story."

"This is the best birthday present ever," Dern, who turns 53 on Monday, said during her acceptance speech.
The daughter of acclaimed actors Bruce Dern and Diane Ladd thanked her parents while accepting her award.
"Some say 'Never meet your heroes,' but I say if you are really blessed, you get them as your parents," Dern said while looking at her 84-year-old mother, who accompanied her to the ceremony. "I share this with my acting heroes, my legends, Diane Ladd and Bruce Dern. You got game."
Dern had widely been considered a front-runner in the category after winning both a Golden Globe and Screen Actors Guild award last month for her performance.
Raised in Hollywood, Dern's first experiences on screen were in 1970s films starring her famous mother. She later rose to fame for roles in the David Lynch films "Blue Velvet" and "Wild at Heart."
Dern received her first Oscar nod in 1992 for best actress in "Rambling Rose" and was also nominated in 2015 for best supporting actress in "Wild."
In "Marriage Story," Dern's character, attorney Nora Fanshaw, fights on behalf of co-star Scarlett Johansson for custody of her son in her divorce from her husband, played by Adam Driver.
Dern received particular acclaim for her delivery of a monologue in which she tells Johansson's character that mothers are always held to a higher standard than fathers, in divorce proceedings and society as a whole.
In recent years Dern has been in high demand in both films and on television. She starred as a wealthy, career-minded mother in the HBO hit series "Big Little Lies," for which she won both an Emmy and a Golden Globe, and as a senior military officer in 2017's "Star Wars: The Last Jedi."
This year, she appeared in two best picture-nominated movies: "Marriage Story" and "Little Women," in which she played Marmee March, the mother of the four March sisters.
Brad Pitt wins supporting actor Oscar for 'Once upon a Time in Hollywood'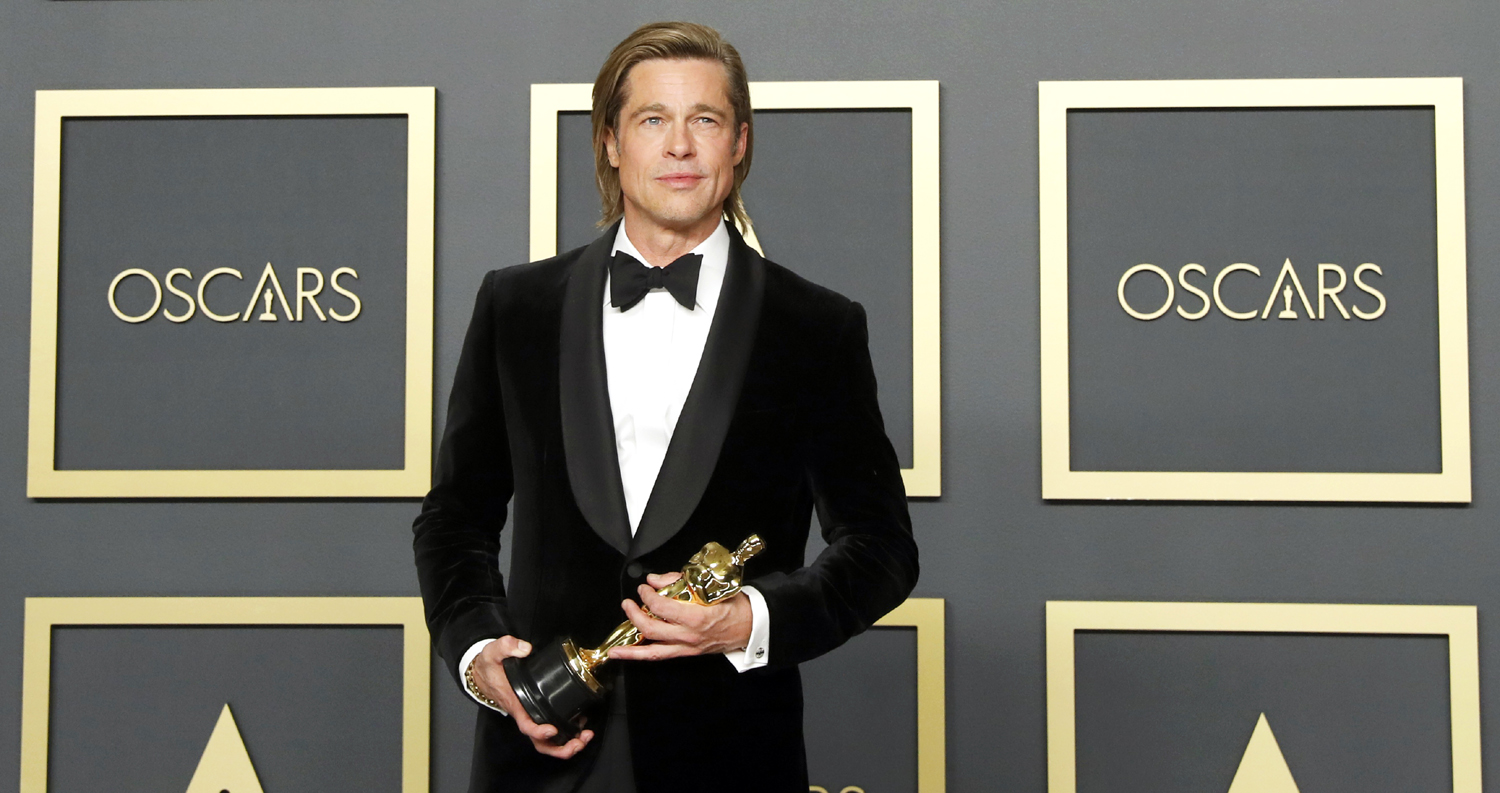 Best Supporting Actor Brad Pitt poses with the Oscar in the photo room during the 92nd Academy Awards. Reuters
Brad Pitt won the Oscar for best supporting actor on Sunday for his performance as a charming stunt man in "Once Upon a Time in Hollywood," director Quentin Tarantino's love letter to 1960s Tinseltown.

It was the first acting Oscar for Pitt, 56, after three decades in the movie industry. He previously won an Academy Award as a producer in 2014 for best picture "12 Years a Slave."
In "Once Upon a Time," Pitt played the laid-back stunt double and fixit man Cliff Booth to Leonardo DiCaprio's fading TV Western star.
"I'm a bit gobsmacked," Pitt said on stage as he accepted the award. "I'm not one to look back, but this has made me do so. I think of my folks taking me to the drive-in to see Butch (Cassidy) and (the) Sundance (Kid), loading up my car and moving out here ... to all the wonderful people I've met along the way.
"To stand here now, once upon a time in Hollywood. Ain't that the truth?" he added.
His performance, which has won numerous other accolades, was hailed by critics as the best of Pitt's career and included an extended shirtless scene that sent fans and celebrity media buzzing.
The Academy Award capped a comeback for the actor after a three-year film absence following flops "Allied" in 2016 and "War Machine" in 2017, and an extended period where he was portrayed as the bad guy in divorces from actresses Angelina Jolie and Jennifer Aniston.
Pitt had adopted a low profile as he and Jolie spent more than two years in a bitter custody dispute over their six children that involved accusations against the actor of child abuse, heavy drinking and drug use.
He was cleared by investigators in Los Angeles of abuse allegations, which stemmed from an angry altercation in front of his children toward the end of his marriage to Jolie.
In a 2017 interview, Pitt admitted a heavy marijuana habit and said his drinking had gotten out of control, but said that since the split with Jolie he had quit alcohol and was undergoing therapy.
Pitt first grabbed audiences' attention with a small part as in 1991's "Thelma & Louise," playing a seductive criminal who conned the character played by Geena Davis.
He went on to lauded performances in films such as "A River Runs Through It" and "Fight Club" and earned Oscar acting nominations for "Twelve Monkeys," "The Curious Case of Benjamin Button" and "Moneyball."
Pitt founded a film and TV production company with credits that include Oscar-winning movie "Moonlight," "The Big Short" and "Selma".
The complete list of winners:-
1. Best Picture: Parasite
2. Best Actor in a Leading Role: Joaquin Phoenix/Joker
3. Best Actress in a Leading Role: Renee Zellweger/Judy
4. Best Actor in a Supporting Role: Brad Pitt/Once upon a time in Hollywood
5. Best Actress in a Supporting Role: Laura Dern/Marriage Story
6. Best Animated Feature Film: Toy Story 4
7. Best Cinematography: Roger Deakins/1917
8. Best Costume Design: Jacqueline Durran/Little Women
9. Best Director: Bong Joon Ho/Parasite
10. Best Documentary (Feature): American Factory
11. Best Documentary (Short subject): Learning to Skateboard in a Warzone (If You're a Girl)
12. Best Film Editing: Michael McCusker and Andrew Buckland/Ford v Ferrari
13. Best International Feature Film: Parasite
14. Best Makeup and Hairstyling: Kazu Hiro, Anne Morgan and Vivian Baker/Bombshell
15. Best Music(Original score): Hildur Guðnadóttir/Joker
16. Best Music(Original song): (I'm Gonna) Love me again/Rocketman
17. Best Production Design: Once upon a time in Hollywood
18. Best Short Film(Animated): Hair Love
19. Best Short Film(Live action): The Neighbour's Window
20. Best Sound Editing: Ford v Ferrari
21. Best Sound Mixing: 1917
22. Best Visual Effects: 1917
23. Best Writing (Adapted Screenplay): Jojo Rabbit
24. Best Writing (Original Screenplay): Parasite
---