Creating good music is not easy, but these musicians persevere
Independent musicians in Nepal have a following on SoundCloud and YouTube but they barely make enough money to live on it. Why are they still doing what they do?

(From left) Sunit Kansakar, Rizu Tuladhar and Nikhil Tuladhar formed Kanta dAb dAb, a band that describes its genre as 'Asian fusion', in 2014. Photo courtesy: Arun Gurung
bookmark
Published at : December 30, 2019
Updated at : December 30, 2019 08:21
In the corner of a room inside a private home, three men are seated with their musical instruments in front of a small audience. The line up is unusual, mainly for its combination of the instruments—Rizu Tuladhar plays bass, Sunit Kansakar is on sitar and Nikhil Tuladhar plays drums and percussion. As the band begins to play, it is difficult to ascertain what the group's genre is. But the small crowd appears unbothered, swaying their bodies to the music, their eyes closed.
The scene describes an intimate session by Kanta dAb dAb, a band that describes its genre as 'Asian fusion'. They have been creating, and experimenting with, fusion music since 2014, but they remain relatively unfamiliar to many Nepalis.
The musicians, however, aren't new to the Nepali music scene. Among them, Rizu Tuladhar was part of the band 'Robin & Looza' from 1998 to 2004. The band released three albums, all of which topped the Nepali music charts, before the band parted ways with Robin Tamang, the lead vocalist, due to "musical differences".
It was the musicians' thirst to experiment more that led them away from their successful commercial stint. But that too wasn't enough for Tuladhar, and hence Kanta dAb dAb came into the picture. The band is much lesser known than Tuladhar's earlier stints, but it fulfills his desire to follow music passionately and experiment without commercial expectations.
In the 90s, a time when Tuladhar stepped into music, there were only a few avenues for independent artists. The only way to reach the audience, apart from live shows, was to be picked up by TV or radio channels. Today, with the availability of various internet platforms, musicians like Tuladhar, can upload their music directly to SoundCloud or YouTube to reach the masses, and this has led to a rise in a number of independent artists. But there is very little financial gain for the musicians. So, why do they do it?
"You can call it madness in our case," says Jason Kunwar, Night band's frontman, a new school folk band.
Night quickly rose to popularity after they released their single 'Basai Bagayo', in 2014. Since then, they have released three albums—Ani Ukali Sangai Orali in 2014, Jhalka Raya Buka in August 2017 and Ramite—The Music, Volume 1 in 2019. But when asked how do their albums fare in Nepal, Kunwar laughs.
"The only time we sell albums is during music festivals abroad," he says. "This year we sold around 300 in Germany, which is amazing. But that alone doesn't sustain us."
Kunwar was pursuing a career in Chartered Accountancy when he decided to quit and take up music. But following his passion hasn't been an easy journey. "I've had my highs and lows. But I guess it's part of being in a band in Nepal," he says.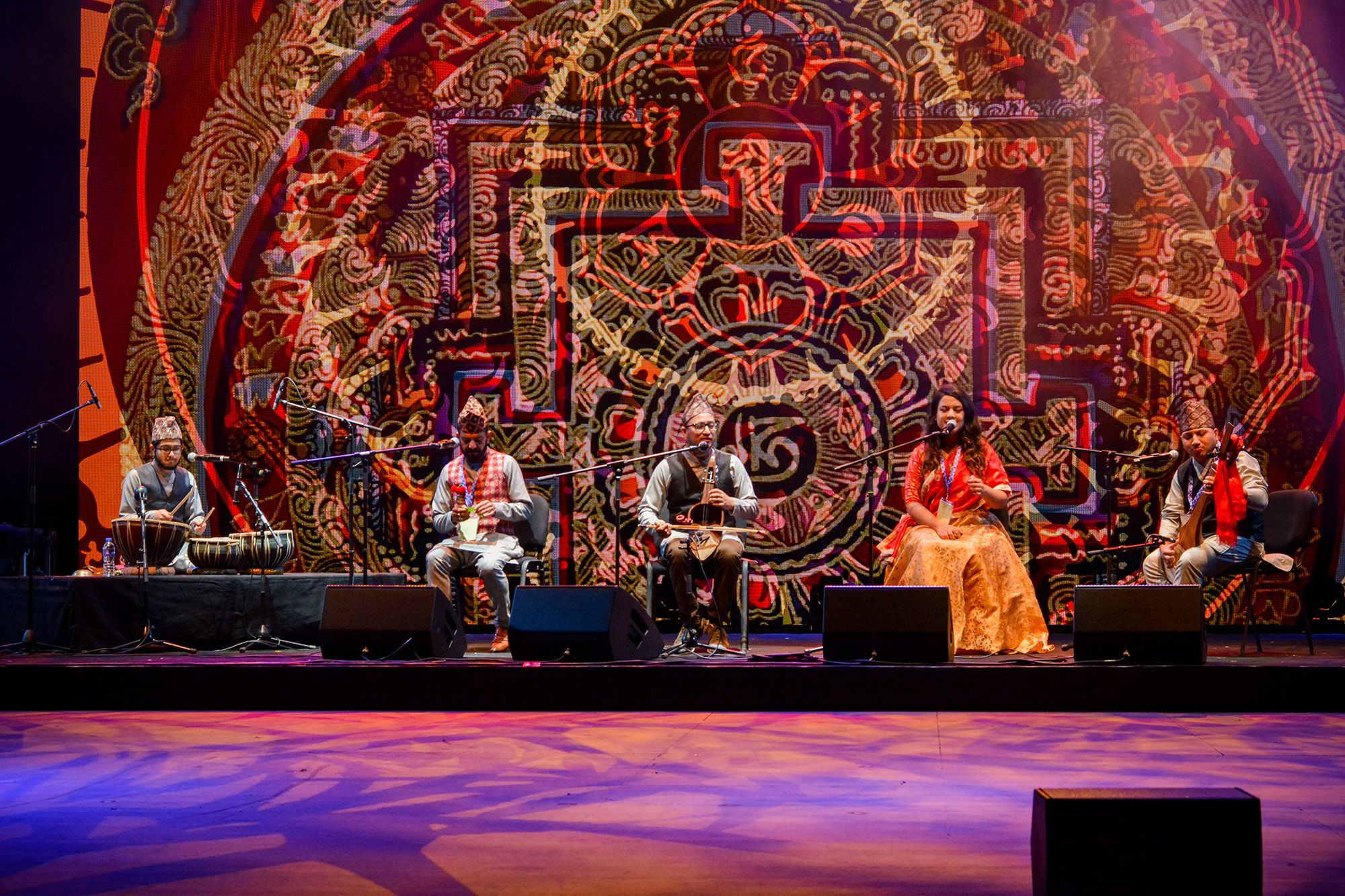 Night band performing songs from their latest album 'Ramite--The Music, Volume 1' at Macao, China in June. Photo courtesy: Bishwo Harsha Bajracharya
Even for Tuladhar, who has tasted commercial success, a career in music has been tough. The commercial success also came with baggage—they were expected to make similar music and that was constricting his creativity.

"Mainstream bands play in similar settings and cater to almost the same crowd," says Tuladhar. "And there is no opportunity to meet other musicians—great musicians. That limits our worldview and learning process."
But playing in festivals isn't easy either. "We only go if we earn enough from the festival to manage our travel costs. We have to do everything—from hotels to visas to air tickets," says Tuladhar. "Unlike other Nepali bands who play for Nepalis living abroad, we have to do the majority of the work ourselves."
Kunwar, on the other hand, says that his band goes regardless. "Sometimes we take loans from friends and go. Our reputation in the world music scene is quite good but the money we get from it isn't," says Kunwar.
Even a nonconformist band like Kanta dAb dAb too has to depend on festivals abroad for recognition. In Nepal, they don't have big masses, just an intimate space for a limited audience—a situation that is very different from when Tuladhar played as a part of Robin & Looza, or even when he first started jamming in the mid-90s in Thamel.
But one similarity he draws from his beginner days to his experience now, playing for Kanta dAb dAb, is the desire to explore diverse genres. "Back in the 90s, we used to make at least 10 new songs, which we used to play consecutively for hours," says Tuladhar. "Even on cover songs, we used to improvise the music in our own way." Even today, his band is constantly innovating and creating new music.
But it is one of the few bands who are doing so. Although the number of gigs and demand for live bands has increased significantly since the 90s, there is an absence of innovation, which is what's dragging down the quality of music for fresh bands, says Luv Jung Chhetri, drummer and percussionist of Pahelo Batti Muni, an Indie/rock band. "People have started choosing money over originality," he says. "If you are earning money by doing covers, why will you make originals?"
Resources—especially financial—are important if the band is to function and to keep experimenting with music. Every band member, therefore, has to look for an alternative outlet when it comes to making money, he says. And that is perhaps adding stress to the music-making process.
"I think every band is struggling in that sense. Everyone has a side job," says Tuladhar. "I own a restaurant with Sunit and teach music. Nikhil also teaches and plays in four other bands. Life is quite tough."
The same is the case with the members of Pahelo Batti Muni, who say they can neither hold a 9-to-5 job, nor can they rely on their music to sustain their livelihood.
"Creating good music is not easy. All of us have had to make sacrifices in one way or the other," says frontman Rochak Dahal of Pahelo Batti Muni. "But the goal is to keep going and hope that all of this pays off in the future."
---
---