Legendary singer Asha Bhosle to perform in the Capital
Bhosle, who has sung hundreds of songs, including many Nepali songs, will be performing at Hotel Soaltee Crowne Plaza.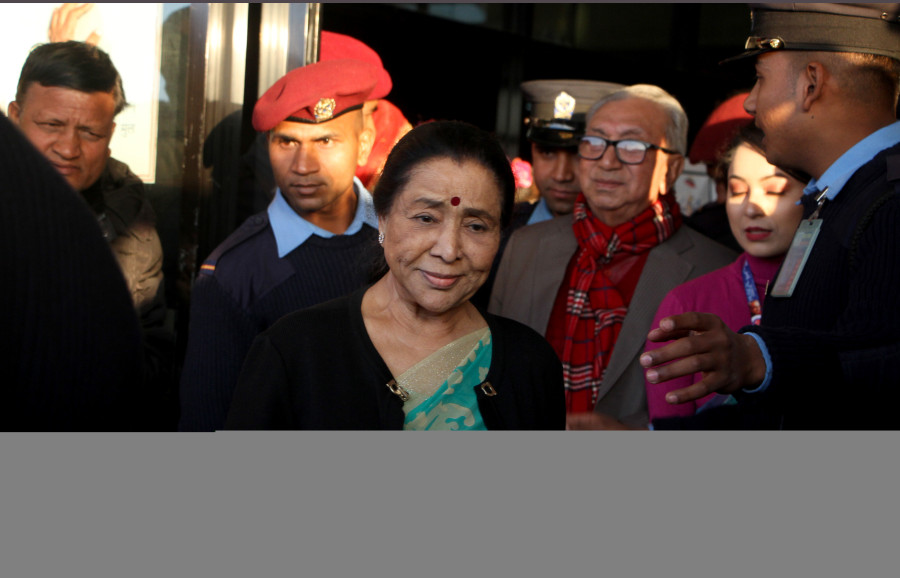 Asha Bhosle arrives in Kathmandu on December 25. Post Photo: Beeju Maharjan
bookmark
Published at : December 28, 2019
Kathmandu
India's legendary singing sensation Asha Bhosle is going to perform today at Hotel Soaltee Crowne Plaza, Kathmandu. Organised by Sadhana Kala Kendra, Bhosle is going to collaborate with renowned Nepali music director Ranjit Gazmer, who has given music for famous movies like Kusume Rumal, Saino, Samjhana and Chino.
Bhosle holds the Guinness World Record for the most recorded artist in music history and has been ruling the Indian playback scene for decades. 'Tu Tu hai Wahi', 'Chura Liya Hain', 'Piya Tu Aab to Aaja', 'Rangeela Re' and 'Radha Kaise Na Jale' are some of her biggest hits that have been enjoyed from generations to generations.
"Asha Bhosle's contribution is not limited to India. Her effort to uplift the Nepali music scene by lending her voice to Nepali songs is something that deserves an hour," says Asha Gautam, event coordinator of the programme.
Bhosle has lent her voice for iconic Nepali songs like 'Maitighar', 'Gairi Khet ko Sirai Hanyo', 'Mohani Lagla Hai', 'Aage Aage Topai ko Gola'—to name a few.
Along with her, renowned Nepali artists like Prem Dhoj Pradhan, Deep Shrestha and Ram Krishna Dhakal are also going to perform in the event.
The ticket price is Rs10,000 per person, which includes dinner. The programme will start from 4:00 pm.
---