Secret to winning the Chinese singing contest: not speak a word of Mandarin
Two event management groups partnered with Chinese media to organise a singing competition, which the organisers say can help bring two countries closer.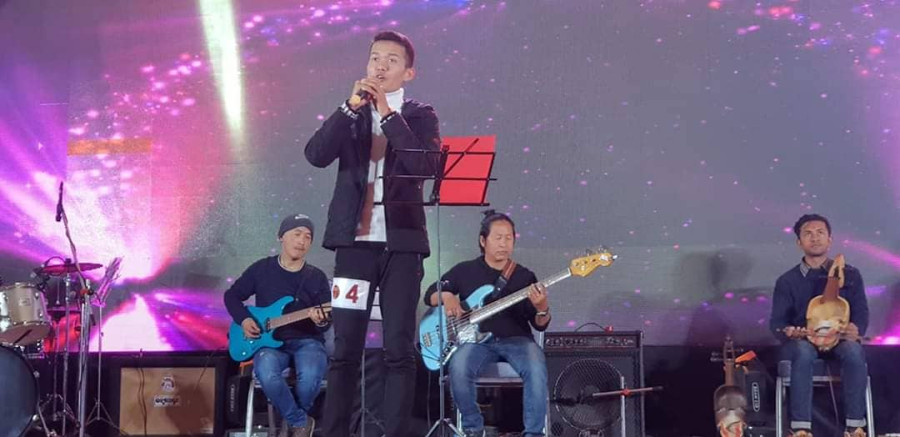 Pemba Sherpa performs during Chinese Singing Competition in Kathmandu. He secured second place in the competition. Photo Courtesy: Sandesh Sapkota
bookmark
Published at : December 24, 2019
Updated at : December 24, 2019 07:35
Kathmandu
When Dorjee Sherpa was pursuing his hotel management internship in 2016 in the Chinese city of Sanya on the country's southern coast, he picked up a few melodies he heard playing around him. When he returned to Nepal in 2017, some of it stayed with him.
Sherpa had never thought that those Chinese songs would come in handy; that is, until last week, when Sherpa won the Chinese Singing Competition held in Kathmandu.
"I was only hoping for a fun experience. I didn't even expect that I'd get to the finals," said 27-year-old Sherpa. "But it feels good to win."
His doubts about making it to the finals weren't unfounded. Sherpa cannot speak Mandarin or any other Chinese language. He just remembered the words and melodies from his time in Sanya.
Sherpa wasn't the only participant in the singing competition who didn't know any Mandarin. Pemba Sherpa and Nima Yangchen, who took second and third place respectively, can't speak Mandarin either.
The singing competition, which was organised by China Radio International along with two Nepali event management companies—JG Production and Ray Media Group—was open for Nepalis singing in Mandarin. China Radio International is the state-owned international broadcaster based in Beijing.
The organisers had expected a middling number of participants but the interest far exceeded their expectations.
"I was hoping that maybe 50 people would show up for the audition. But when 300 people showed up, I was pleasantly surprised," said Jibesh Gurung, managing director of JG Production.
According to Gurung, the competition was a pilot project by China Radio aimed at bringing Nepalis and Chinese closer to each other. The winners were awarded Rs200,000, Rs100,000 and Rs50,000 for first, second and third place, respectively.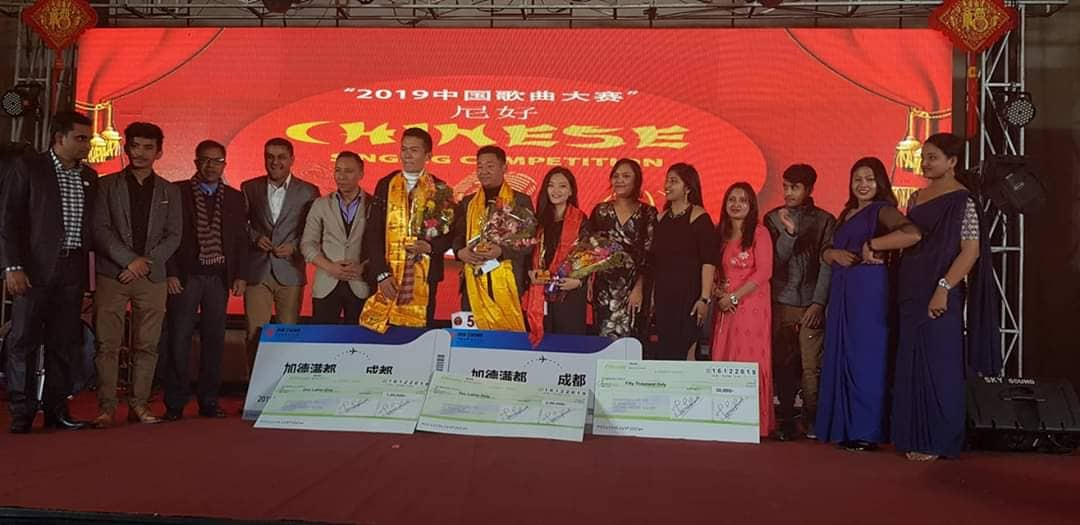 The winners of the first ever Chinese Singing Competition pose with the organisers. Photo Courtesy: Sandesh Sapkota
Gurung doesn't see the participants' inability to speak the language as a problem.
"The competition wasn't about their fluency in the language. It was just about singing in a foreign language, which in this case is Chinese," he said. "I can also sing some verses in Nepal Bhasa, but that doesn't mean I can hold a full conversation."
Pemba, Dorjee and Nima all admitted that they were able to sing the songs by memorising the lyrics and melodies. To make it easier for non-Chinese speaking contestants, the organisers even allowed them to look at the lyrics while singing.
"I like the melody of Chinese songs and had sung a few times before. It's fun to sing in a different language," said Pemba.
Even though a singing competition like this is the first of its kind, Chinese influence in Nepal is growing. The Chinese are investing in everything from hotels and restaurants to roads and hydropower projects. More and more Chinese tourists are visiting Nepal and more Nepalis are going to China to study or work.
This increased exchange has brought with it Chinese culture—music, dance, films, art, literature and language—aided by the Confucius Institute and the growing number of Chinese language institutes across the country. Various schools are also offering Mandarin as a foreign language in school.
Earlier this year, Chinese Ambassador to Nepal Hou Yanqi danced to a song in full Nepali attire. The video went viral on social media, as ambassador Yanqi introduced herself to Nepal in style.
Dhiraj Khanal, chairman of the Chinese Language and Culture Centre, says that programmes like these are positive steps that will lead to a better understanding of the two cultures.
"I always believe that singing helps one understand a lot more about a country's culture," said Khanal. "Many Chinese language institutes have included singing in their curriculum for this same reason."
Khanal too had no qualms about participants not being able to speak the language they were singing in.
"Many young Nepalis are now attracted to K-pop, but they rarely know the language," he said. "These artforms transcend such barriers."
Apart from being an introductory step for participants to learn the Chinese language and culture, Khanal says that engaging in culture programmes like a singing competition can also serve as a networking platform. The contestants agree.
"I met a lot of people who asked if I would be interested to sing in their restaurants or events. The response was amazing," said Yangchen. "I was able to meet many like-minded people."
---
---