Dying Candle, a Nepali movie set in the Himalayas, receives int'l accolade
Director Naresh Kumar KC, a proponent of realistic approach to filmmaking, talks to the Post about his motivations and inspirations behind Dying Candle. Excerpts: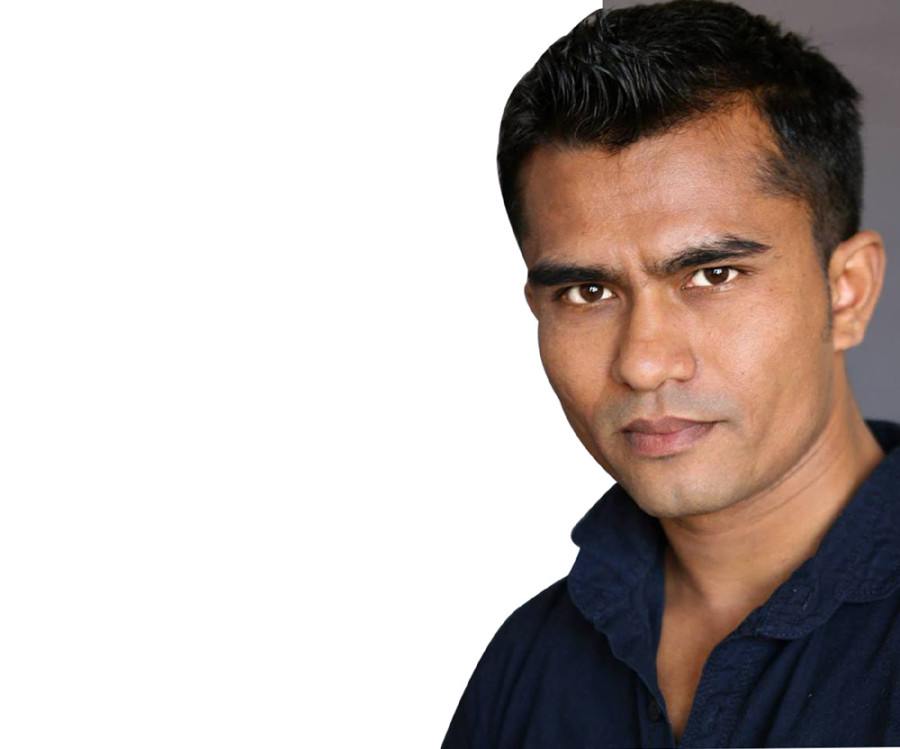 bookmark
Published at : March 17, 2016
Updated at : March 17, 2016 09:47
Kathmandu
Dying Candle (Nibhna Lageko Diyo), a Nepali feature film, that documents the story of the love between two siblings in Nepal's upper Himalayas, has been nominated under three categories at the prestigious Queens World Film Festival, New York, scheduled to take place on March 20. The film has received nominations for the Best Actress Award (Srijana Subba), Best Film, and Best Cinematography.
The film, written and directed by Dr Naresh Kumar KC, features actors Srijana Subba, Saugat Malla, Arpan Thapa, Bidhya Karki and Lakpasingi Tamang, among others, and has Deepankar Sigdel and Raveen Acharya as cinematographers.
Director Naresh Kumar KC, a proponent of realistic approach to filmmaking, talks to the Post about his motivations and inspirations behind Dying Candle. Excerpts:
What inspired you to come up with such a unique storyline?
I wanted to write an original concept, something not yet explored in world cinema. Like western countries that celebrate Father's Day, Mother's Day, Teacher's Day, Veteran's Day, Lover's Day, Friendship Day, we do have our own special day that celebrates siblinghood-Tihar. I thought this is something very ours. This prompted me to create original characters and I came with this story.
Who is the target audience for the film?
Anyone with a sibling or a loved one. Our hope is that it touches global audiences of all ages, ethnicities, religions and nationalities. Our biggest target, however, is our own Nepali audience, who don't get to see such relationships on screen very often. I hope that those with siblings will be touched by the film and those without siblings will be touched even more by seeing what they are missing.
Why should the audience watch Dying Candle? What's so unique about this film?
Story, and story only. We have a plethora of melodramatic love stories and escapist dramas in Nepali cinema. However, there are only a handful of filmmakers who take risks with non-mainstream ideas and settings. We have remained honest with the story, and it's characters, at the expense of cheap entertainment, in order to make the film as real as possible. The entire story happens within one day, in one house with a few characters; so it's experimental approach is one strong reason that young audiences shouldn't miss it. The film will hit Nepali theatres in Shrawan, 2073.
Any filmmakers whose work have influenced your work?
Satyajit Ray for his realist approach in cinema. Of course, Vittorio De Sica, who brought realism in cinema for the first time. Hrisikesh Mukharjee for his low budget, yet gripping dramas. Iranian Master-director Majid Majidi, I look up to him. Martin Scorsese is my all-time favorite Western director: he is a true artist when it comes to cinema, be it of any genre.
What is your take on the current Nepali film industry?
We are in a transitional phase—kind of between two generations of filmmakers. On one hand, we have escapist mainstream films that are far from realism and are made to entertain and garner whistles and applause in dark theaters; and on the other hand, we have films like Black Hen (Kalo Pothi) and Pashupati Prasad that are entertaining, genuine, and real, and are also winning hearts of the masses and succeeding in box office. We can clearly see that our audience is changing and that's a green signal for emerging filmmakers to change and come up with more original and compelling stories instead of masala movies. I can see that the upcoming new filmmakers are pushing the envelope and making more meaningful, informative, and educative movies in addition to entertaining audiences.
Any projects in the pipeline?
I have a few screenplays brewing up. Let's see where they land up. I also wish to make a period drama of Medieval Nepal before the unification. For some reason, I'm constantly driven to our history. The Malla era is one of those subjects that I want to make a film about in the next five years. As for films in other than Nepali language, I have a dream project—a biopic trilogy of Albert Einstein: Einstein and the Miracle Year, Einstein and the Manhattan Project and Einstein and the Unified Field Theory.
This is something that keeps me focused in this field, regardless of so many odds that I have to fight as a filmmaker. Einstein had such a great personal journey as a government clerk, father, husband, philosopher, musician, and a lover, in addition to what people think of him as a physician and mathematician. I wish to explore his world through my lens.
Any other thoughts on filmmaking?
My mom told me, 'There are many battles within a war. So, no matter if we lose a few battles, it's the final war that counts.' With the completion and successful screening of Dying Candle, which took three years to make in the midst of severe financial issues, I believe, I have at least won this war. Post Dying Candle, I will have one more privilege, in addition to my passion for filmmaking: experience. Dying Candle is a project whose experience will shape my career. If I pulled off Dying Candle with $400 in my pocket, and it has found appreciation like it has, there is still hope; for me and for other aspiring filmmakers.
---