Her trail to triumph
Sky and trail running sensation Mira Rai has achieved international acclaim through victories in renowned races across the globe, breaking records and earning accolades such as the 'National Geographic Adventurer of the Year'.

Keshav Thapa/TKP
bookmark
Published at : September 18, 2023
Updated at : September 18, 2023 10:10
Kathmandu
Mira Rai, renowned for her trail and sky running prowess, reveals she has been good at running from a young age. As the eldest daughter of her family, she was often tasked to travel up and down the hills to gather water and food for their cattle. Her running skills only improved when she became a child soldier at 14. She received karate training and had to rely on her running skills to navigate life-threatening situations numerous times during this period. This indomitable spirit, forged through her experiences, remains a defining trait even in her current life and occupation.
Rai hails from the Bhojpur district, the ancestral land of the Kirat Rai tribe, famous for its exceptional metalwork—particularly for producing excellent khukuri and karuwa. It is also home to many middle-class families who live in small huts by the riverbank and often face flooding during the monsoon season. Growing up in these huts with farmer parents, an older brother, and three younger siblings, Rai displayed her hard-working nature. Dubbed the fastest worker at home, she enthusiastically took charge of household tasks and finished them in no time. However, due to limited educational opportunities in Bhojpur, her formal schooling ended after the eighth grade. Nevertheless, she harboured a dream to provide her family with a proper home.
Although she wasn't sure where life would take her, Rai decided to explore opportunities that would take her outside of her hometown. This was during a tumultuous period marked by civil unrest in Nepal, and her family was struggling financially. At the age of 12, when the People's Liberation Army (PLA) began recruiting new members, she saw an opportunity. Despite the risks and gender biases entrenched in Nepali society, Rai had made up her mind and was resolute in pursuing her dreams. She left her family with the promise of returning in a week but did not return home for three years, having joined the PLA.
The physically demanding tasks Rai did during her childhood came in handy here as they had prepared her for the challenges that awaited her. She was accustomed to intense physical activity and possessed the stamina and determination to excel. In the army, she participated in a running competition and came first among all her peers. This made her seriously consider running as one of her strengths. Training in karate and various other sports during her time with the PLA further honed her physical prowess.
Unfortunately, Rai wasn't qualified to join the army after completing her PLA training. While the recruiters didn't tell her the reason for the rejection, she later heard from her friend that it was because they deemed her too young for service. Although she was upset by this, it did not deter her from wanting to forge her own path ahead. She didn't want to return to her village and live a predictable life bound by societal restrictions. So she moved from one barrack to another as a child soldier. This took her to Sindhuli, and while living there, she was granted a scholarship from the United Nations Development Project to pursue further studies. She got her SLC (now SEE) degree here but didn't reveal this to her family. Instead, she told them she had been selected for military service. For the next two years, she claimed to be working in the army and only visited home during the Dashain festival.
Later, Rai started looking for job opportunities abroad, but as she prepared to leave for Malaysia, a friend from her PLA training days, who was impressed by her athletic abilities, asked her to train as an athlete at his sports facility instead. She then cancelled her flight to Malaysia and joined her coach's training sessions instead. This choice would shape the course of her entire career.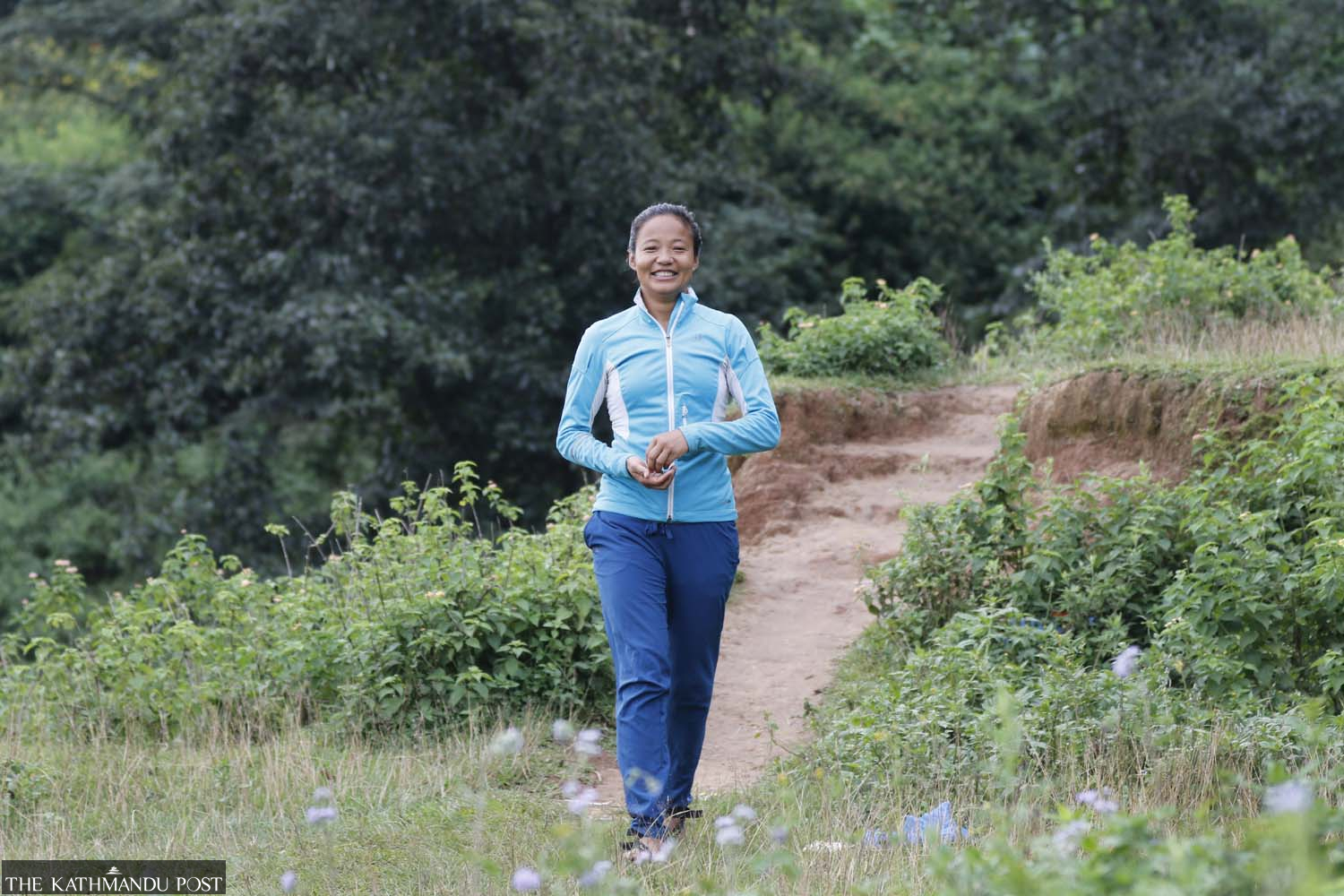 Keshav Thapa/TKP
As Rai began training again, she decided to focus on running instead of karate. She liked running in general, and practising it wouldn't hurt or injure those around her. Back then, she hadn't heard of trail or sky running before.
In 2014, Rai unknowingly entered a race while joining friends for what she thought was a casual training run. She was financially strained and lacked the essential supplies runners carry—including food. But, again, undeterred by these challenges, she ran the Himalayan Outdoor Festival 50k, conquering hail, rain, and any obstacles that crossed her path. This marked the start of her rise in ultrarunning. Richard Bull, the race coordinator, recognised the exceptional nature of her victory, and he soon became her coach. Just a month after her debut race, she emerged triumphant in The Mustang Trail Race, initiating a streak of victories in numerous competitions.
Rai's winning streak extended to international races, including those held in Scotland and France. She clinched first place in many races, including Trail Degli Eroi (83 km), Sellaronda Trail Race (57 km), Manaslu Trail Race and MSIG HK Vertical Kilometer (50 km). She even won the coveted Mont-Blanc 80 km in 2015, breaking the previous record of Pau Bartolo from Spain of 28 minutes in 2014 by completing the race in mere 22 minutes. She also secured athletic sponsorships and was honoured as Adventurer of the Year by National Geographic in 2017.
In 2017, she established the Mira Rai Initiative, an NGO dedicated to supporting the training of female Nepali athletes. One of the most prominent programmes run by the initiative is the 'Exchange and Empower' partnership with Hong Kong Trail Running Women, an organisation that aims to advance trail running as a sport in Hong Kong. "Now, my true motivation lies in inspiring young girls," she reveals.
At the age of 14, Mira left her family in search of adventure. Today, running has become an inseparable part of her life, but her greatest joy lies in the happiness of her loved ones. She fulfilled her lifelong dream by building a sturdy concrete house for her family in Bhojpur, starkly contrasting their former riverside home. "What I cherish the most is their contentment, and seeing them happy makes me believe I've lived a successful life," says Rai.
---
---