'Actors are fighting a rigged system'
How Binita Thapa Magar, an actor with over 14 years of experience, is only just catching her big break.

Keshav Thapa/TKP
bookmark
Published at : June 19, 2023
Updated at : June 19, 2023 07:48
Kathmandu
I've always dreaded phone calls. It feels too confrontational. A text helps me take control; the spaces, the tone, I can manufacture my answers and request. But this time, it was a little too late for a text. I'd reached out to a friend to get me the number of Binita Thapa Magar—whose role as 'Mia' in the indie production 'Halkara' was lauded by many. But what stood out to me was that she'd been in the acting business for 14 years—both theatre and movies—but it was only now that she had gotten her 'big break.' Wondering what it feels like to finally get that recognition after working as an actor for over a decade, I decided she would be the perfect character for my next profile.
I took a deep breath. "You have to call her; that's how this works," I told myself. Prepping my 'journalist voice,'—as the other line said 'hello'—I breathed out my performative 'Binita ji' dialogue (perhaps I could catch a break as an actor myself.) Magar was ready to meet me within an hour, and I hoped to set a date a few days later. Well, why not? We decided to meet in Jhamsikhel at noon on a Thursday.
A petite woman wearing a soft blue chikan kurta with bobbed hair walked over to the table. Her silver Marwari earrings peeked out occasionally as she turned to talk to me. Magar was accompanied by her husband, Beekeey, a sound engineer. They met while working together on films. "We've been married for a few months now, but we dated for four years," says Magar.
Born in Pokhara, Magar moved to Kathmandu to study. In grade 9, a few theatre artists from Actors' Studio came to her school, Bhagyodaya Secondary, looking for young actors. Something urged her to participate. "I overcame my shyness and jumped in," she recalls. Magar was cast in the play as 'Simone'—an artist.
"Even as a child, I wanted to become so many things—teacher, doctor, pilot. And at that point in my life, I had no idea what I wanted to delve into," she says, revealing that the little stint in Actors' Studio gave her perspective because as long as she was an actor, she could be whoever she wanted.
After that, the plays kept on coming. Small roles or big ones, Magar took them all. She enrolled in Sarwanam Theatre's first training programme. Her next gig was the now-defunct Gurukul Theatre's 'Inside The Brain.'
For her, the reach of the character doesn't matter. Her idols, actors like Naseeruddin Shah, Meryl Streep and Robert DeNiro, all started with smaller roles, she recalls. "But they played each part with such depth, and that's what I want to emulate," she says.
So, what has been a role you enjoyed playing the most? I ask. Without a moment of hesitation, Magar says, "The nightingale in 'The Conference of the Birds.'" The play, directed by Anup Baral and shown in Shilpee Theatre, personified different birds to show how aerial beings also have a life and a journey of their own. Nightingale, a bird known for singing, was Magar's character. 'Jureli' encouraged other birds to explore, sing and live beautifully. "That character has stayed with me for a long time. The freedom I felt was something incredibly special," she says.
Eventually, Magar's career also made its way into movies. But the movie world wasn't as giving as the theatre. The camaraderie and sincerity she was used to in theatre gave way to a sort of harshness, a more mechanical atmosphere of the cinema world. It didn't help that despite going through multiple auditions for a role that felt perfect for her was often given to those with no prior experience but familial or other ties with the directors or producers.
Nonetheless, Magar found comfort in independent cinema. She starred in Diwas Gurung's music video for 'Laijau', as well as in Bisbhushan Basnet on 'Room Tone'—a witty short film on the lack of appreciation for sound in Nepali films. 'Yet Another Winter'—a short film by Kiran Shrestha—where she plays a mother fighting for her deaf child, was an official selection for Busan Film Festival in 2021.
However, short films, no matter how well made, rarely get to compete with feature films and, thus, are limited to festivals and screenings, privy only to those with a more serious interest in cinema.
At one point, all the auditions started feeling like a rigged game, says Magar—one with the result already decided. "It became disheartening after a while. If one wasn't related to anyone or knew anyone important, they could never catch a break," she says.
As I continued talking to her, I noticed a type of rage—sometimes bordering on the irrational—against the industry. Magar often reiterated that working in cinema made people frastu—a colloquial slang for frustrated. This hinted towards a wounded and frustrated psyche one feels having to work within a space that doesn't value them. And yet, having dedicated so much of her life to actings, giving up isn't so easy either.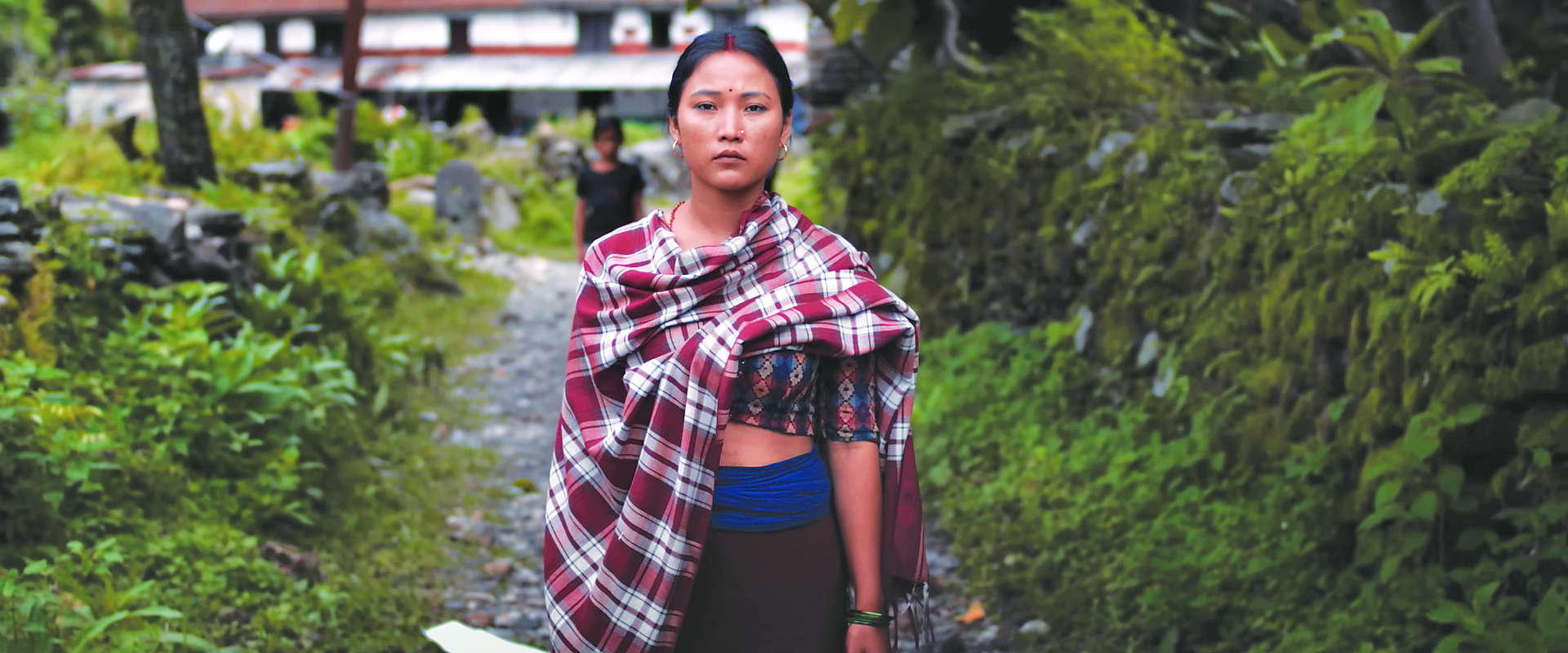 Magar in a still from 'Halkara'. Screengrab via YouTube
As we talk more, she talks about the dreams of her friends and fellow actors who could barely afford a bus ride to an audition (I was one of them, she recalls), whose hopes were always shattered as roles went to the same people repeatedly.
"Once, I auditioned for a role of a woman from the Himalayas. I thought this one I could get, or at least someone who looked like me could get," she says. "But they cast a Bramhin actress from the Hilly region for that role. She looked nothing like what was mentioned in the script."
Nepali films are so bogged down by the constant reshuffling of 90s Bollywood stories that it rarely has time to be sensitive about matters like historical accuracy or representation. Magar says there is greed within the very small cluster of Nepali cinema, where actors and actresses don't have the courage (or perhaps the luxury) to say, "No, this role isn't for me."
But that doesn't excuse the many misgivings of Nepali films. "There is bravery in realising when to back off," says Magar.
With 'Halkara,' Magar found a team that put back some faith in the art form. "We had over three months of pre-production preparations—script reading, dialect training, and locations visits," she says.
After the shoot was over, Magar was expectant of the film's release in 2019. However, months gave into years, and her worst fears turned real. 'Halkara' was shelved due to post-production difficulties. It was only in 2023 that 'Halkara' made its way to the theatres.
"I was afraid this movie would rot away like so many others," she reveals. Released in May this year, 'Halkara' opened with positive reviews. Magar's acting was particularly appreciated by many.
Even after the film's success, Magar doesn't want to rely on others anymore. She's formed her own team—Admin Films—under which she has already acted and directed multiple music videos. She plans to collect all the underdogs, from actors to sound engineers to video editors, and create a team that can work together, free from external pressures.
The idea of forming a team with synergy is always good. But it also feels like a form of shield for Magar and those like her. Because even after 'Halkara,' she is yet to receive a film offer (or even a request for an audition) from mainstream film producers. "Movies are art. When properly made, they can be profound and touching," she says. "But as long we consider it a platform to launch our relatives, we won't ever move forward."
---
---