Painting womanhood
Erina Tamrakar has devoted her entire life to the delicate art.

A big reason why Tamrakar's paintings are centred on women is that she wants to portray the different faces and sides of women as they are. Photos Courtesy: ErinaTamrakar
bookmark
Published at : January 30, 2023
Updated at : January 30, 2023 08:06
Kathmandu
Erina Tamrakar is a household name in the Nepali art scene. Even those who are not necessarily keeping up with the happenings of the art industry have probably seen one of her paintings that display both her finesse and her perspicuous intentions. She is considered one of the biggest Nepali artists of her time—having dedicated the last 30 years of life to the field.

Tamrakar's foray into the art world began as a mere curiosity. She states that she used to view art as a fun past time but soon enough she was immersed in the field and graduated with a Bachelor's and a Master's in Fine Arts from Lalitkala Campus and Tribhuvan University, respectively. Even when she was studying Fine Arts, Tamrakar was still unsure on whether she really wanted to pursue art as a full time career. But having seen her talent and drive for art, the late artist Prashant Shrestha encouraged her to focus on being an artist.
In 1994, under the leadership of Prashant Shrestha, Tamrakar and a few other artists banded together to form the Kasthamandap Artist Group. Everyone in the group focused solely on painting and creating high-quality art for a good two years and hosted an exhibition which took the art world by storm. The exhibition received rave comments from critics and art enthusiasts alike.
Since then, Tamrakar has gone on to hold over 20 exhibitions of her own including 'Touch of Purity', 'Women nature', 'Salutes and time', 'Umbrella Series', 'Women and Moon'—with 'Reflection of life' being her first solo exhibition.
A trademark of sorts of Tamrakar's art is the inclusion of a "third eye". This, she claims, represents women and their strength in conquering this planet. She adds that it is also meant to depict women as powerful goddess. In fact, Tamrakar always has had a propensity to drawing goddess. "When I was young, my family owned a store in Mangal Bazar, where I spent most of my free time. One day, I was sitting there bored when I suddenly got the urge to draw a portrait of Radha Krishna. It wasn't until much later I realized that I only drew a picture of Radha because she was the one (in that pair) who fascinated me," she states.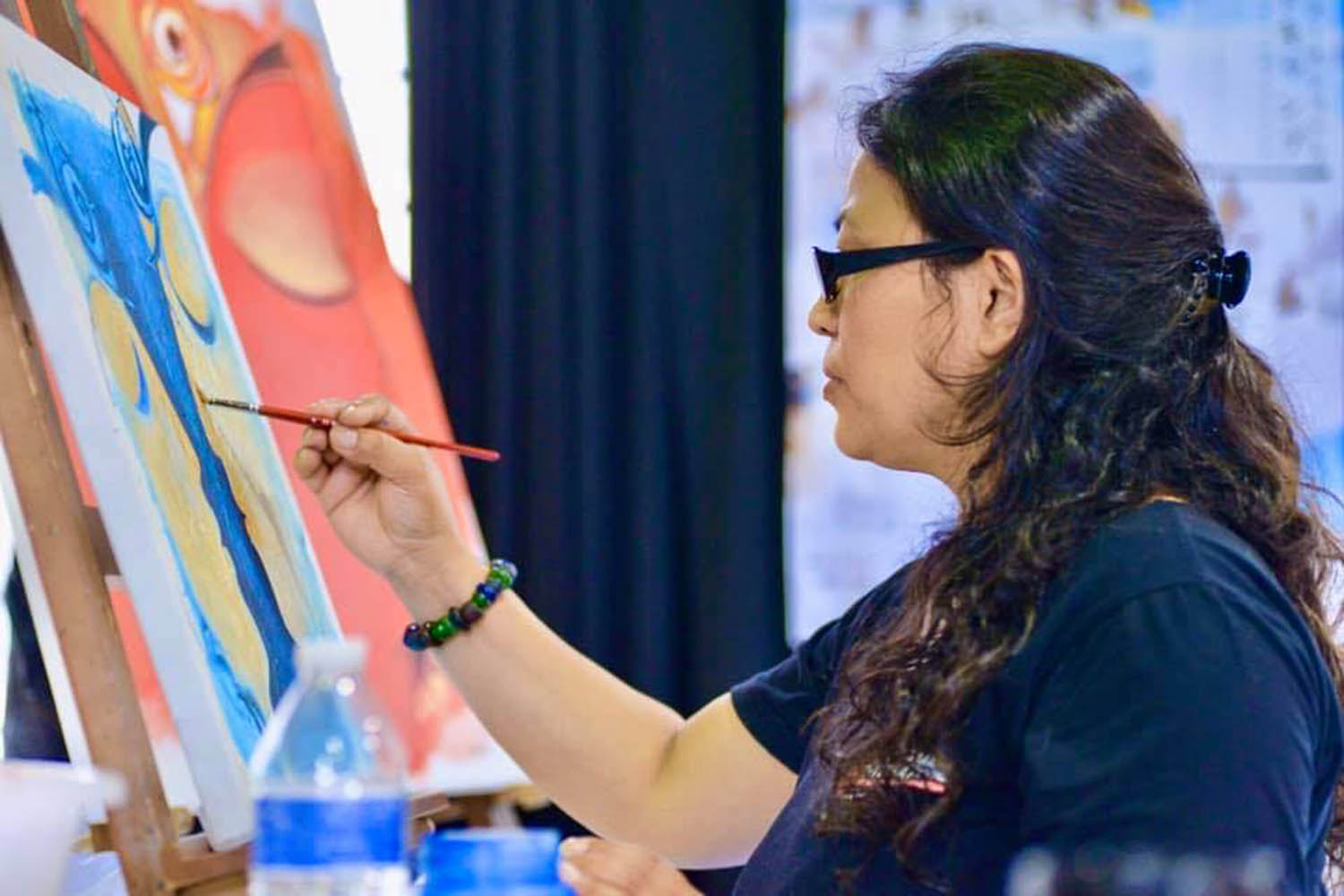 Photos Courtesy: Erina Tamrakar
A big reason why Tamrakar's paintings are centred around women is because she wants to portray the different faces and sides of women as they are. She claims that because a large percentage Nepalis still consider women and their work—particularly house work—as insignificant, so, their life is not depicted much in our media and art.
Throughout her long career, Tamrakar has garnered numerous accolades. Her work has been recognised on both national and international scale. She also founded E-Arts Nepal, an online art gallery was established in 2010 to promote contemporary Nepalese art. Her artworks have been displayed in over 18 countries across the world including India, China, USA, Vietnam, Indonesia, Malaysia, Japan and South Korea among others.
And even with all these years of working (experience) under her belt, the artist still holds an enthusiasm to learn and create more. She states that every experience she has gives her a deeper insight into the ever elusive concept of life and the universe as a whole. Tamrakar also goes on to state that she wants to die creating art, with a paintbrush clutched in her paint covered hands.
"One life as an artist has not been enough for me. I want to be reborn as an artist in another lifetime too and explore the world of art more extensively," concludes Tamrakar.
---
---