Expect the unexpected with Kta Haru
Many know Kta Haru either for their song 'Bagaicha' or their latest hit 'Jhamjham Paryo Pani' but they have been in Nepali music scene for five years already, making original songs.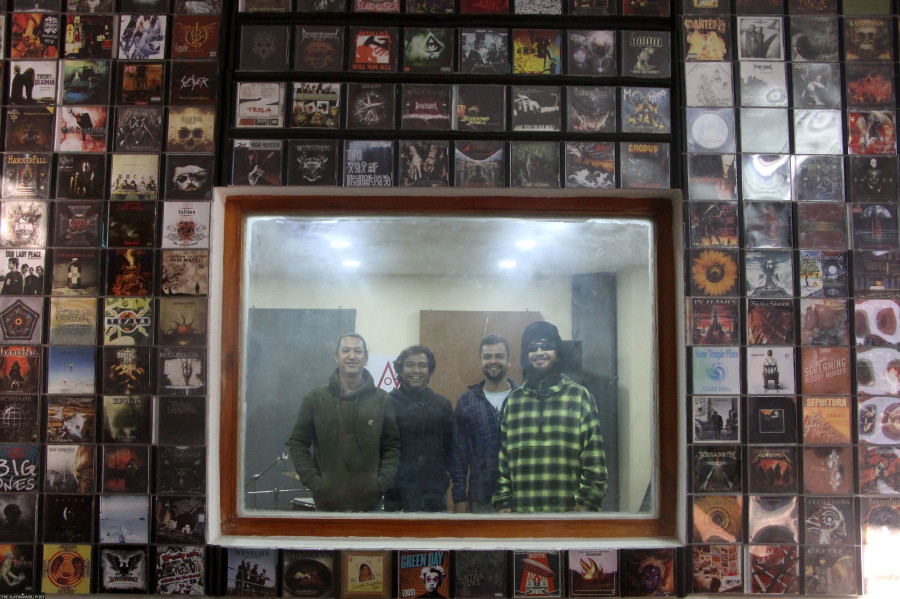 Kta Haru, a boy band based in Kathmandu, has four members. Beeju Maharjan/ TKP
bookmark
Published at : November 26, 2022
Updated at : November 26, 2022 08:59
Lalitpur
Back in 2017, when most artists and bands were singing cover songs, big names of contemporary Nepali singers like Bartika Eam Rai, Neetesh Jung Kunwar and Swopna Sooman were just starting out with their original songs. Concurrently, Kta Haru, a boy band based in Kathmandu, were also making their original songs and carving their own niche.

Many know Kta Haru from their song 'Bagaicha' or their latest hit 'Jhamjham Paryo Pani,' which has been trending for the past two weeks, since its release on Youtube. But their niche has been following them since the release of their singles, from their first album 'Galat Nirnaya' in 2018.
Their songs and the complementary videos are light-hearted, bizarre, fun, appeasing, experimental, and at the same time hauntingly catchy—something that is rare among the melancholic and romantic Nepali songs on the market. This rarity of light-heartedness, the band believes, is what works with their young listeners.
But their journey from being an underrated band to a household name isn't as light-hearted.
Like the literal meaning of their name, Kta Haru is a group of four boys, all in their twenties—Milan Neupane on the vocals, Nischal Shrestha on the bass, Prasanna Shah on the guitar and Manish Naubagh on the drum. Initially, it started out with three band members during their university days and was then extended to five. But in the last two years, much of which was marred by the Covid pandemic, their numbers shrank to four and the group was also on the verge of disintegrating.
They knew that consistency was the only way to keep moving further, but being underrated artists, the financial challenges made it harder for the band to survive.
"In 2019, when we did live shows and gigs in and around the pubs at Jhamsikhel, we would only get paid Rs10,000, each one of us getting Rs2,000," said Neupane.
The money they would invest in the practice rooms could hardly be recovered from the amount they were getting from their shows.
"In music, if you are an instrumental artist and are best at what you do, you get invited to play at concerts of big artists. But when you are trying to succeed together as a band, it becomes twice as hard," Neupane added.
Although making high-budgeted music videos isn't the band's priority, financial constraint is also one of the factors why their videos are simple and minimalist.
The band members say if they had the money, they would rather focus on their audio. "At the end of the day, it is the music we want to excel in," said Neupane.
The band claims that they have enough material for their next album, but finance has been a challenge. So, when they decided to give it a shot with one more song, they made a strategic move of going with 'Jhamjham Paryo Pani', which is a blend of western and folk music.
"We had a feeling that this song would work. This song not only targeted the urban listeners, but was also a tune familiar to general listeners. This was something closer to our roots," said Neupane, who seems to be influenced by organic folk music, sung by singers like Prakash Dudhraj.
The newfound success of their comeback song has kindled a sense of security among the band members.
"The song's popularity will keep us busy at least for the next few months. People have already started inviting us, and this has become an encouragement for us to focus on our new creation," Neupane said. "Now, at least, we know we have something to fall back on."
All four band members are full-time musicians pursuing a career in music and are simultaneously earning a living from music. They all know that making money via music is a challenging job, especially as a band, but the love for creating art keeps the members going.
"Rather than the demand, the supply of musicians is higher in Nepal. If we decide to charge more money, people have enough alternatives to replace us. But, now with this song on the trending list, the scenario will be different," said Neupane.
Meanwhile, the band members are basking in the love they are getting from their audiences.
"We want to continue creating different music. Because we want our music to always be relevant, we focus on the content and the music we are delivering," Neupane added.
---
---