Remembering Lain Singh Bangdel
The artist's first solo posthumous exhibition in Yeh Art Gallery, New York is all set to put the spotlight on Nepal's international art history and how modern art made it to the country.

Lain Singh Bangdel with his wife, Manu Kumari Thapa in 1953. Photo courtesy: Bibhakar Shakya
bookmark
Published at : November 18, 2021
Updated at : November 21, 2021 17:59
Kathmandu
In 1962, when Lain Singh Bangdel put up his first solo exhibition at Tri-Chandra Campus, Kathmandu, it was a surprising and uncommon affair. When modern art was still unheard of in Nepal's art pedagogy, Bangdel's modern artwork collection, inclusive of abstract depictions, was baffling, obscure, and incomparable, all at once.

Yet his artworks had felt profound to those who visited the exhibition. During the show, the story goes, King Mahendra had even insisted on buying Bangdel's atypical works.
But with just that first exhibition, Bangdel had opened a whole new dimension of making and understanding art. He was a gregarious personality, always keen to propel the discourse of art. After returning from London in 1961, it was only a matter of time before he would be recognised as the 'father of modern art' in Nepal.
"Those who went to see his first exhibition could not help but question what they had seen. His artworks felt incomprehensible to many of us. People didn't realise that Bangdel had commenced a paradigm shift in Nepal's art scene at that moment. His contribution to Nepal's art is indelible," says professor Abhi Subedi, a literary icon.
Bangdel is a preeminent name in Nepal's art and culture history, not just for being the trailblazer of modern art but for the immense works he left behind and the lives he has touched. However, 19 years since his passing, a lot has changed in the world—while those who remember him know the significance of the life he led, others, along with the young generation, have little idea about why Bangdel's name and his oeuvres should be recognised and preserved in the times to come.
But come January next year, Bibhakar Shakya, the son-in-law of Bangdel and the founder and chair of the Bangdel & Shakya Foundation with the Yeh Art Gallery of St John's University in Queens, New York, is set to reaffirm the artist's life and his abstract works in a posthumous exhibition.
Curated by Owen Duffy, the director of the gallery, the exhibition aspires to reintroduce the life and works of Bangdel through an international avenue for what is going to be the first time after his passing.
For Shakya, a consultant based in Richmond in Virginia, US, this is one of his many efforts to keep the memory and legacy of late Lain Singh Bangdel alive. The journey had started a few years ago with his beloved wife Dina Bangdel, Lain Singh Bangdel's only daughter.
But after her demise, Shakya has always felt that his efforts to remind people of Bangdel have been his promise to keep.
"The idea for an exhibition was conceived while working on an art book to document his works. I had started cataloguing his art that was not just in my collection but those that many people had in their collection. But after going through his works that were over 600 pieces in different genres for the book, it hit me that this magnitude of work also needs to be shared with people not just in Nepal but with the world, which is still not aware of his contribution to the art history," Shakya told the Post over a Zoom interview.
Professor Subedi, who has also heard about the exhibition, has been delighted to know that Bangdel is finally receiving the recognition he deserves.
He laughs at old memories he recalls with the man and shares how he has always looked up to Bangdel's work with reverence. He alludes to how Bangdel's groundbreaking studies 'Stolen Images of Nepal (1989)' and 'Inventory of Stone Sculptures of the Kathmandu Valley (1991)' are still integral to identifying the lost and stolen idols of the country.
"It's a good thing that the exhibition is happening; Bangdel needs to be remembered," he says.
Over the years, Bangdel's works' value with the profound life he led in his time has strengthened and upscaled. Those who own his works today know how invaluable his works are. And although some of his works, in comparison to the finesse contemporary artists today achieve, can be observed as raw, Bangdel's history and life itself have made these works exceptional and noteworthy and subsequently, the art collection in the exhibition as well.
Shakya believes the exhibition will also be significant in putting a spotlight on Nepal's own international art history and how modern art made it to the country.
"When people think of art from Nepal, they still think of traditional paubha, thangka or watercolour landscape paintings. But this exhibition will finally acknowledge how our country has explored modern and contemporary art, and Bangdel built that foundation for many years. I consider myself lucky to host the show in New York, which is an art centre for the world itself," says Shakya.
"With this show, we want to reintroduce Bangdel to the Western world as an artist. Most people know him here [in the US] more as a writer and an art historian," he adds.
And it perhaps is relevant that the exhibition is happening at the Yeh Gallery, which is part of St John University's learning space. The gallery itself has a history of supporting South Asian studies, and over the years, has exhibited many scholarly works.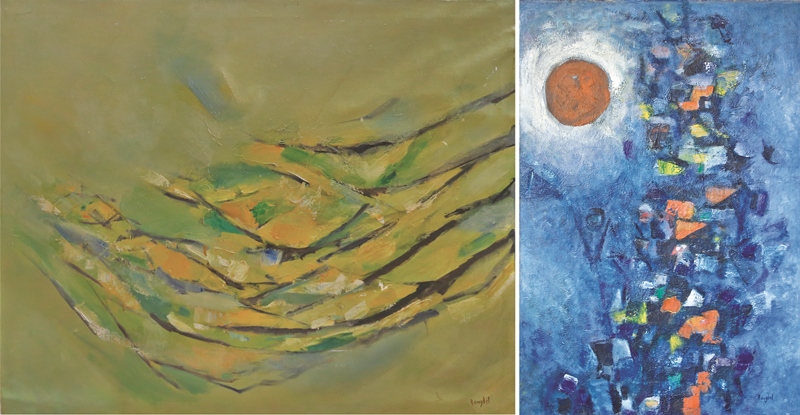 Lain Singh Bangdel's abstract oil paintings of Kathmandu Valley titled, 'Kathmandu Valley, 1973' (left) and 'Moon over Kathmandu, 1962'. Photo courtesy: Yeh Art Gallery
Bangdel's work also brings a unique art historical context to the Gallery, says Owen Duffy.
"There is a lot that visitors will be able to connect with, in Bangdel's work, even if they have not been to Nepal. I think this exhibition will be fascinating to the art audience in New York because they are keen in expanding the canon of art history to include luminaries that might have been overlooked from the predominant threads of our history. I hope this exhibition will unfurl an important conversation of the international modern art history of South Asia," says Duffy.
The upcoming exhibition will primarily focus on Bangdel's abstract works that he considered an art form that gives freedom to the artist and opportunity to the viewers, who can take liberty in interpreting the works with their own experience.
"Although his abstract works represent just one aspect of his whole artistic practise among many others, and this is just the first exhibition of Bangdel's work in the US, we wanted this genre to be the beginning of hopefully a larger reintroduction. We thought it would be the best way of reintroducing his work by putting a deep focus on just one trajectory of his work," he says.
One of the ways they are telling the story of Bangdel's development as an artist is by discussing what kind of works Bangdel made, where he was at the time, and how that led him to make some of his high abstract paintings, says Duffy.
"A lot of his abstraction works are connected with his earlier works when he was in Kolkata studying with South Asian modernist Zainul Abedin. His watercolours are influenced by the then suburbs of Kolkata, and in these works, he looks at the everyday vernacular of the architecture and ordinary people. His works also include the Himalayas that separated and at the same time connected him to his country: Nepal. Bangdel lived in Darjeeling for much of his early life, but he always identified as a Nepali. This exhibition will allow people to see bits and pieces of Bangdel's life," says Duffy.
With so much time put into studying and understanding Bangdel's work, both Duffy and Shakya have come to realise many of Bangdel's paintings explore his relationship and connection with places and his artworks were influenced by his experience in an Asian diaspora. For example, one can observe a deep longingness for the idea of 'home' in his abstract painting, 'Moon over Kathmandu' that shows an aerial view of perhaps tight-knit houses in Kathmandu, where the moon's glow lights up the sky and the colourful world below.
Bangdel's works are simplistic but have their own nuance that one would feel only when they would allow themselves to understand his pursuits. Many will be able to see Bangdel's motivation in life was to do something meaningful and that his paintings were also a way of putting his feelings on canvas.
The task of tracing Bangdel's works was taxing initially for Shakya but once he started, he says, the way forward unfolded on its own. "One person led me to another and from there to another. As word got around that I was trying to bring together the history of Lain Singh Bangdel, many people wanted to help me towards that end. He has touched so many lives, and people were welcoming of the idea. Through a friend of a friend, I learned that his work is also included in one private collection in France. Some of his works are also with the University of Oregon and the Fukuoka Art Museum in Japan. And just about a month ago, a friend who studied in Budhanilkantha, helped me to find one of his earlier paintings that was in the collection of his school's principal, whose son now lives in the UK," says Shakya. "This has been an overwhelming journey."
As the exhibition nears, Winnie Lam, a graphic design student at St John's University who has been helping with the preparation of the exhibition, is looking forward to seeing people's experience with Bangdel's works. Lam has often been part of the team's discussion over the importance of this exhibition in diversifying the history of modern art, she says.
"As an Asian-American woman, [I feel] it's important that art museums are diversified. Bangdel's exhibition matters to gallery visitors and the art world because Bangdel will be one of the first modern Nepali artists with a solo museum exhibition in the United States. In addition, Bangdel's work offers a glimpse into the relationship between modern Nepal and the world after its self-imposed isolation," says Lam in an email interview.
There is no doubt that for Nepal's art community, the exhibition will be an important event. After all, Bangdel is synonymous with Nepal's art. For Shakya, this event will mean one more step towards ensuring the legacy of his family.
"I am just happy that this is finally happening," says Shakya. "So many people from the Nepali community are already looking forward to the show."
'Lain Singh Bangdel: Moon over Kathmandu' will open on Thursday, January 27, 2022, and remain on view through April 9, 2022, at Yeh Gallery inside St John's University in Jamaica, Queens (New York).
---
---