In the high spirits of doing what you love
Ulrich von Schroeder, a Swiss art historian, first came to Nepal in 1965 as a hippy trying to find his life's purpose and fell in love with Nepal's stone sculptures and his most recent books are a tribute to them.

It was in 1965 when Ulrich von Schroeder first came to Nepal. He has since visited Nepal more than 50 times. Srizu Bajracharya/TKP
bookmark
Published at : May 6, 2021
Updated at : May 6, 2021 23:14
Kathmandu
When Ulrich von Schroeder looks at his own books—his eyes glint with joy and his sincerity towards his work and love for documentation of sculptures is clearly visible.
On a recent warm, sunny afternoon, Schroeder, who was lodged at Kathmandu Guest House, turns the pages of 'Nepalese Stone Sculptures-Volume 2- Buddhist', one of his new books, to show the documentation he has done over the decade. The Swiss art historian looked like a lover reading his own love letter in relish that his lover, perhaps his readers, will feel what he feels.
Schroeder came to Nepal at the invitation of the Museum of Nepali Art, which is part of the Kathmandu Guest House.
He turns the pages gently and keenly.
"I love what I do. I do nothing else but this. For me, this is not work, this is life. Documenting sculptures is my secret to happiness," says Schroeder.
When he turns the pages of 'Nepalese Stone Sculptures-Volume 2- Buddhist' to show one of his favourite images—an image of Avalokiteshvara Padmapani, the embodiment of Buddhist compassion—he shudders expressing the beauty of the sculpture.

"Look at the tones of the sculpture—it's just beautiful, isn't it? It's hard to describe in words what I feel. All I can say is I get so excited and happy from within," he says, smiling.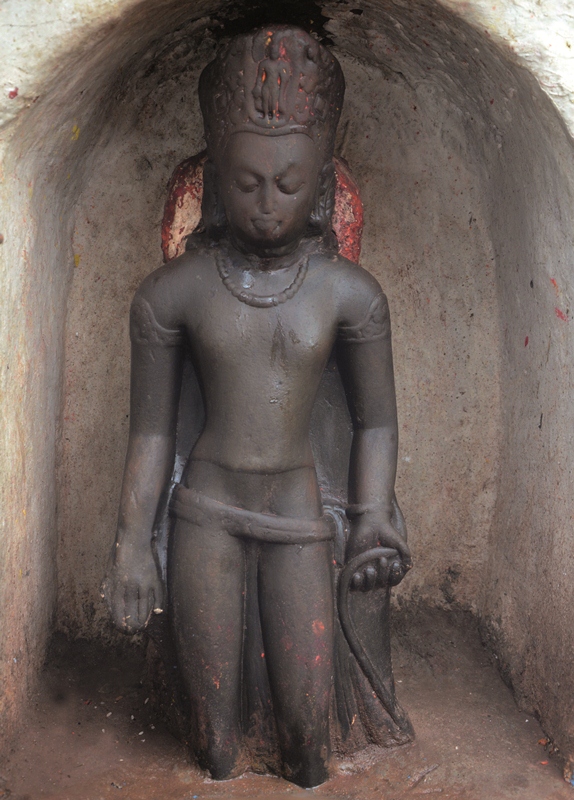 The image of Avalokiteshvara Padmapani in 'Nepalese Stone Sculptures-Volume 2- Buddhist' is one of Schroeder's favourite images. Photo courtesy: Sunil Dongol
Schroeder understands that his way of looking at sculptures is different from how a local would look at the sculptures. To him, the deities are artistic in ineffable ways.
"To the locals, this is their 'bhagawan', god. They're not looking at it as art, creation or to understand its history. They look at them with reverence—as something that belongs to them. But how I look at sculptures is different. For me, it's important to know more. I look at the artistic aspect of sculptures—their details, iconography and stylistics," he says.
His most recent book Nepalese Stone Sculptures is divided into two volumes: Hindu and Buddhist. Together, the two volumes cover about 3,000 holy images of Kathmandu Valley with an additional 15,000 digital pictures stored on the SD card at the end of Volume two.
The books contain details of the sculptures' stylistics, iconography, material-used, size, inscriptions, their timeline and location. They also give references to the literature of the images' studies, making them handy and invaluable books for many future students and researchers of Nepali culture and heritage.
"He has created an enormous inventory that no one will be able to beat—the quality and the standard of the book is incomparable," says Sunil Dongol, the photographer whose photographs of sculptures are also part of the books. "But it's also sad that our Department of Archeology couldn't come up with the kind of collection he has brought together in these years. After all, it is their work that Schroeder has done so beautifully and giving-ly."
Ram Bahadur Kunwar, the spokesperson of the Department of Archeology, says that his organisation has also compiled many photographs of different sculptures located in different neighbourhoods of Kathmandu Valley.
"It's just that the public doesn't know much about this. But we do have such collections with us. Regardless, works of documentations of any kind are important for further research studies, and Schroeder's work should be useful to many even though I haven't really had the chance to go through his work yet," says Kunwar, over the phone to the Post.
Schroeder's documentation of Nepali stone sculptures however is like no other and perhaps no one else will have to make a feat like this ever again as the book covers almost everything that needs to be documented on Nepali stone sculptures. The books are also ten times bigger than the biggest books on Nepali stone sculptures.
What's also interesting to know is that the sculpture Laxmi Narayan of Patan, which was recently repatriated from the Dallas Museum of Art, is also part of his book. The book also features many other deities that have been stolen from the country.
In a way, Schroeder has now ensured the safety of the deities in the Valley—making his work significant and also troublesome to those who are in the trade of selling and collecting stolen deities.
"If you want to know about Nepali stone sculptures, you will need this book, and if you need any pictures, you have it all here," says a confident Schroeder. "For the next few decades, I don't think anyone will think of making an exhaustive book on Nepali stone sculptures because such a book already exists now. The documentation is a testimony of where the sculptures belong and the information in the books provide the evidence. Regardless of where the sculptures featured in the books are today, they are at least documented. And as long as they are documented, we will know where they belong."
Perhaps, that is why the book, priced at $750, is expensive. But given the significance of the book's content, the price is maybe, even acceptable.
Schroeder considers his documentation a gift to Nepal that will with time become more meaningful and significant. He has gifted the two volumes to many institutions—the Lumbini Buddhist University, which is the institution that helped import the books into the country; Tribhuvan University; National Archives; the DoA; and many people who supported his endeavour.
He dedicates his book to Sukra Sagar Shrestha, the archaeologist, scholar and cultural expert who dedicated his life to the study of Nepal's archaeology.
"I don't exactly remember when I met him but I do remember he was a pivotal person who really supported me in my journey to document the sculptures in the Valley. You see I was not allowed to enter many temples, people would look at me sternly and chase me away," he says. "It was also Sukra Sagar Shrestha who introduced me to Sunil (the photographer). Sunil wanted to take pictures of sculptures and record them by uploading them on the web. Our goals were common and we went on to collaborate."
Schroeder first came to Kathmandu as a hippy in 1965, and little did he know that the city would inspire him to spend his life documenting sculptures around the world. In 1965, he was just another eccentric foreigner who rejected the materialism of the world. That year, he went around the Valley on a bicycle with his Bronica 6*6 film camera—capturing the cultural settings of the valley and the deities the locals revered. He has since visited Nepal more than 50 times.
"I was looking for something that would give my life a purpose. As hippies, we had little money with us, and we slept wherever we could. But now documentation has become my life's purpose," he says.
Schroeder describes himself as a visually-oriented person who fell in love with sculptures as he travelled from India to Nepal and many Asian countries.
"The fascination was beyond infatuation—it was deep and magnetic," he says.
As an art historian, Schroeder has also helped build the collection of Berti Aschmann in Zurich's Museum Rietberg, Tibet Museum of the Alain Bordier Foundation along with other museums. He has also published many books like Indo-Tibetan Bronzes, Buddhist Sculptures in Tibet, Empowered Masters: Tibetan Wall Paintings of Mahasiddhas at Gyantse, 108 Buddhist Statues in Tibet, Buddhist Sculptures of Sri Lanka, etc.
And at 78, he still plans on bringing more books to people. At present, he is working on two projects—one on Chöying Dorje, the tenth Karmapa of the Kagyu school of Tibetan Buddhism, and another one on Nepali copper images.
Nothing, he says, makes him happier than getting to work on his books and discovering images.
"I think it's important that we find what we love to do. There are many like me. It's not an uncommon story. So many people who love what they do have done wonders in their fields," he says. "I have been able to do what I do for such a long time because I love doing what I do."
For all the immeasurable contribution that Schroeder has made to Nepal's archaeological landscape, he says that he expects nothing out of his works.
"I just think it's extremely crucial to document things," he says. "If there's no documentation, we will never know the roots of things. What I do is document the past for the future."
---
---