She picked sarangi out of necessity. Now she is a musical maestro
One of the first female artists from the Gandarbha community to pursue a professional musical career, Barta Gandarbha talks about her journey and doing what she does in a world gripped by the pandemic.

Barta has collaborated with many renowned artists, released heart-touching songs, and taught sarangi to upcoming artists. Photo Courtesy: Nhooja Tuladhar
bookmark
Published at : April 28, 2021
Updated at : April 30, 2021 17:23
Kathmandu
Barta Gandarbha is tired from the five-minute uphill walk to Kritipur's Bagh Bhairab Temple. After every five steps she took, she rested for five seconds.
"During the lockdown, I didn't get much physical activity so nowadays it's difficult for me to walk quickly," says Barta, resting beneath a tree next to the temple.
However, during her childhood in her village in Bhojpur, a mere five-minute uphill walk like this didn't make her tired. There were days when she, her mother and younger sister would walk for hours to remote villages of Bhojpur. Barta would sing and play sarangi in villages and in exchange, the villagers would give her food and grains.
"There were days when we would walk the entire day and reach our destination only at night. We would take shelter at other people's homes," she says.
Born in Mangding, a remote village in Bhojpur district, to a family of Gandarbhas, Barta is one of the first females from her community to pursue a professional musical career.
For years, singing and playing the sarangi have been the traditional role for those from the Gandarbha community. Known for their talent in singing and playing sarangi, Gandarbhas would travel from villages to villages singing and in return for their services, they'd be offered rice and grains. The community has played a significant role in contributing to the development of music in Nepal.
Traditionally, this role of a travelling musician was mostly limited to the men from the community. And even if women from the community were interested in taking up singing, they were discouraged from doing so.
However, in Barta's family, things were different. She was only seven when she picked up a sarangi and started playing it. Singing and playing the sarangi like her forefathers did was neither her passion nor interest. But what got her to take up the art and follow in the footsteps of her father was her family's financial desperation.
When Barta was seven, her father left for Darjeeling in India to make a living.
"He was gone for almost a year, and during that period, our family didn't have a breadwinner so my mother handed me a sarangi and that was how I got into this," says Barta.
Barta recalls walking for hours along with her mother, who carried her newborn daughter, in a doko to far-flung villages during her childhood.
"Since nobody really taught me how to play the sarangi or sing, I used to feel so awkward performing in front of people," she says. "It didn't help that I was a very shy kid. I didn't enjoy performing at all but I had no choice."
Another thing that posed a lot of challenge to the family whenever they travelled to perform was the discrimination they had to endure.
"In the Hindu caste system, Gandarbhas are considered a so-called 'lower caste' and that's why when we reached villages late at night, many would refuse to offer us shelter, and that made it extremely difficult for us to manage a safe place at night," she says. "But interestingly people never hesitated to welcome us into their courtyards to perform because it was believed that Gandarbhas brought luck wherever they sang and played sarangi."
After a year of absence, Barta's father returned bringing with him food, grains and clothes for the family. After that, Barta started accompanying him. But this time, instead of visiting villages, the duo started travelling to cities to perform. City dwellers gave them money, which Barta says was more helpful for her family than getting the usual food and grains.
But little did she know that performing in the city would change her life forever. During one of her performances in Tumlingtar, she caught the attention of Gopal Siwakoti Chintan, a prominent human rights lawyer.
"Gopal sir really liked my singing and he brought me to Kathmandu and enrolled me in a school here so I can pursue my studies," says Barta.
At the age of 10, Barta released her first album, Guras Fulyo. After completing her schooling, she joined the Lalit Kala campus to study vocals. It was during this time that she met Nayantara Kashyapati and Bhusan Shilpakar, the founders of Photo Circle, who have immensely helped her in her musical journey, she says.
After completing her studies at Lalit Kala Campus, she got a scholarship to study at Nepal Music Centre. Studying under the supervision of the centre's great musical talents helped her to improve her art, she says.
"I used to think that I was a great singer with a magical voice because the audience always appreciated my performance. But after I started studying music and vocals, I became aware of my artistic flaws and started working on them," says Barta.
At Nepal Music Centre, under the guidance of Shyam Nepali—a well-known sarangi player— Barta was able to perfect her sarangi-playing skills.
Growing up, Barta says there were many times when she felt embarrassed for being a Gandarbha because of the stigma attached to her community and its profession.
But going to college and studying music, she says, made her realise the significance of the Gandarbha tradition and her culture.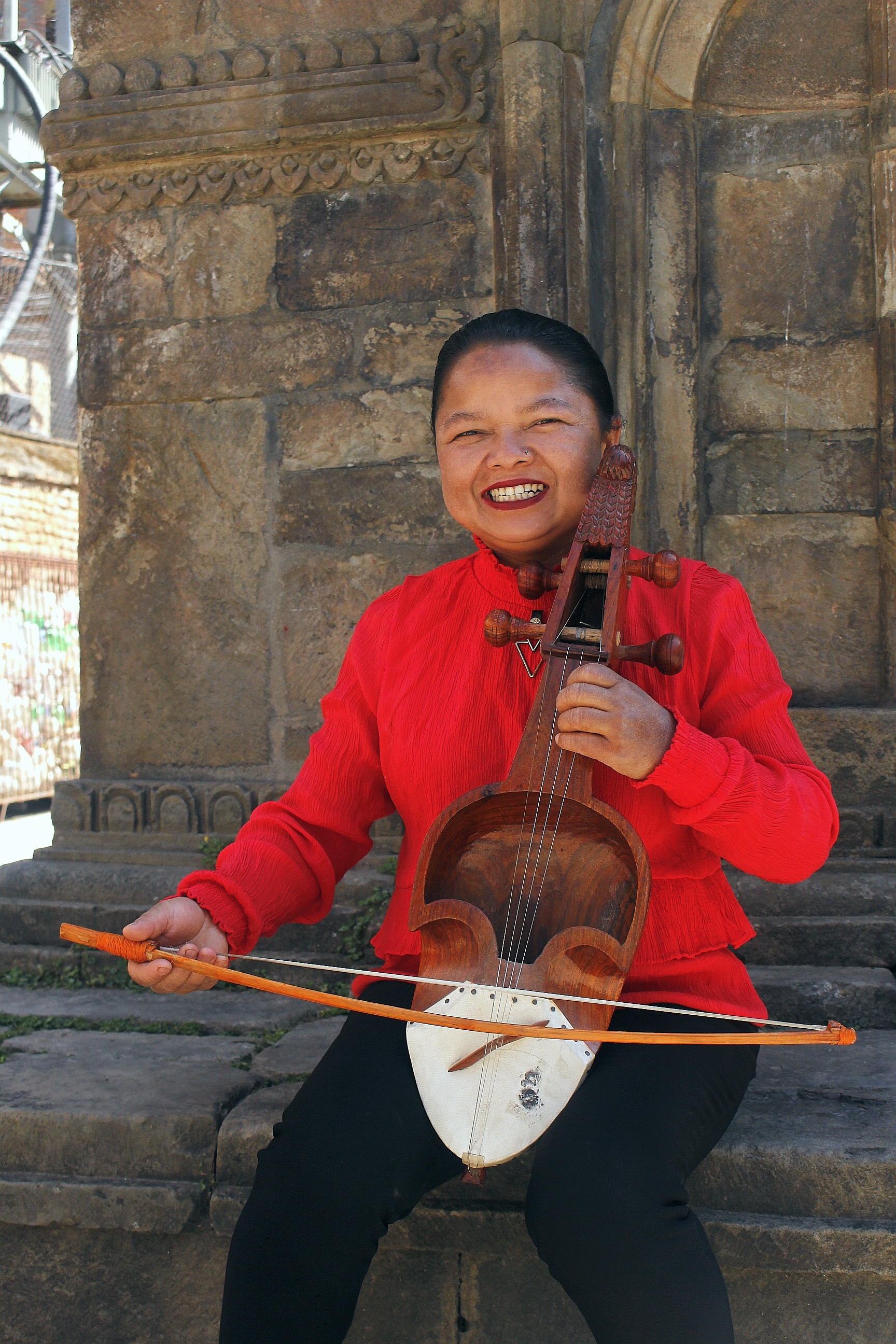 Ankit Khadgi/TKP
"For years, we have been seen as musicians, who sang and played sarangis for a living. And due to this commonly accepted concept, I also understood that we, Gandarbhas sang only for our living. However, when I started studying sarangi, I realised that we are actually storytellers who through songs tell stories of grief and joy that many people could resonate with," says Barta." I realised we are actually preservers and protectors of folk culture and tales, and it's because of the community's work, thousands of stories of people and their culture have been preserved."
After completing her studies at Nepal Music Centre, Barta's career took off. She received many opportunities to perform at various venues. But for Barta, the most memorable opportunity she received was getting the chance to perform with the band Kutumba, she says.
"I have performed with the band on a few occasions and I thoroughly enjoyed each and every performance. Before every performance, the band would conduct practise sessions, which were great learning experiences for me. And since Kutumba is a really popular band, there was always a huge audience, which made things all the more special. Thinking about the performances with the band still gives me goosebumps," says Barta, with a wide smile on her face.
She has also collaborated with many renowned artists, released heart-touching songs, taught sarangi to upcoming artists, and was even a member of Shree Tara, an all-female folk band.
In 2018, Fuzz Factory Productions' show Fuzzscape featured Barta and her hometown. For the show, she collaborated with artists like Rohit Shakya and Rajan Shrestha and produced a song titled, Bhojpur Bazar.
That same year, Barta participated in the first season of The Voice of Nepal, a singing reality show. Although she failed to secure a spot in the Top 10, which she had expected, the show did make more people aware of her talent, she says.
But since last year, things haven't been easy for the acclaimed performer. The pandemic has taken a toll on her career, and these days, she rarely gets opportunities to perform, which has affected her both artistically and financially, she says.
"Before, my schedule used to be packed and I was constantly invited to perform at embassies, concerts, and programs. Earnings from such performances allowed me to make a living. But such opportunities are now few and far between, which has put me in a difficult financial position. Similarly, because of the mental stress we all had to endure last year, I am still finding it difficult to write and compose music," says Barta.
For Barta, music has been her biggest form of expression and it is in the tunes of her sarangi and the melodies of Gandarbha music that she finds peace and happiness. And whenever opportunities to perform come to her, she does everything to make her performances memorable.
Her latest performance was in January this year for a television show Ainna. She composed the song, written by Mahabir Bishwakarma, which detailed the harrowing tales of girls, who were raped and killed. She gave a heartfelt performance.
"The song was an emotional one and it wasn't easy for me to sing. But as a Gandarbha, my role is to tell the tales of people, be it happy or sad, through songs in the best possible way," she says.
Today, Barta is proud to be doing her part in keeping alive the Gandarbha tradition. She says that all she can do is do her part and hope that the tradition is preserved, and the caste-based discrimination is eradicated, so that aspiring musicians from her community will be encouraged to take up the artform. But due to the grim situation caused by the pandemic, Barta isn't sure where the future will lead her, her art and her tradition.
"I am a performer and I enjoy doing what I do. Even if I don't get invitations to perform at events and concerts, I will travel to villages and towns and perform for people there so I can make a living and get the energy to compose and sing more impactful songs," says Barta.
---
---