Not only chicken dinners, this Nepali PUBG team is also scoring a lot of money
One of the first registered PUBG teams of Nepal, DRS gaming is paving a path for aspiring gamers to make a full-time career in eSports.

Although PUBG as a game is relatively popular in Nepal, only a few players are stepping into the professional realm. Among them is Da Real Soldiers (DRS) gaming. Keshav Thapa/TKP
bookmark
Published at : March 24, 2021
Kathmandu
Just a year ago, when the team of DRS gaming had formed in March, the players had anticipated that they could make a career out of PlayerUnknown Battlegrounds Ground (or PUBG as it is more commonly known as), as professional players earning good money.
"We all saw a potential in making a career in PUBG, which encouraged us to pursue and play it passionately," says Ugyen Lama, a 20-year old who started playing PUBG two years ago.
However, what the group hadn't expected was the kind of success they would meet and the money they would be making within a year after forming a PUBG team.
Founded by Ashesh Rai and Rijan Khatri, who are also professional PUBG players, Da Real Soldiers (DRS), which is currently headed by Victor Paudel, who's the CEO, is one of the first registered PUBG teams in Nepal, consisting of five professional PUBG players—Ugyen Lama, Ajay Shrestha, Pemba Gyalzen Lama, Nima Tamang and Anjan Rai.
Although PUBG as a game is relatively popular in Nepal, only a few players are stepping into the professional realm.
And one such team is DRS gaming, which in its first year of operation, has already won many international PUBG competitions, even bagging a whopping cash prize of Rs 4.1 million, making them one of the leading PUBG teams of the country.
"One of the main reasons why we decided to register DRS gaming as a company was because we want eSports (electronic sports) to be recognised for its worth in Nepal as well as to make the gaming industry in the country more systematic," says Sangin Bhattarai, head of the operations at DRS gaming.
All members were previously part of different teams. After judging the performances of the players individually, the founders decided to recruit them and formed a new team, consisting of the best players of Nepal, says Bhattarai, who's also the manager of the team.
"What we saw in them was the potential they had. They were the best professional PUBG players in Nepal, and that's why we decided to form a new team, consisting of them, as we were sure that their gameplay and techniques would be superior," says Bhattarai.
And the expectations and motivation that drove them to form a new team turned out to be true, as within a year, DRS gaming has been able to participate in many international and national tournaments like PUBG Mobile Club Open: South Asia, PUBG Mobile Pro League: South Asia, and PUBG Mobile Global Championship, where they have been able to secure positions as well as earn cash prizes, competing against international teams.
But for the team members to reach this stage, they went through a lot of hard work. Although eSports is often not taken seriously, as people are often guided with the belief that eSports is just like video games, according to team members, their field also requires equal grit and determination, they say.
"We practise almost for seven hours daily to perfect our skills," says Lama.
But only hard work and practice are not sufficient if one wants to make a career in eSports. There's an equal role of a supportive environment required from all parts of society, for the development of the sector, say the players.
"From the government to parents, if anyone is interested in making a career in eSports, they need constant support that encourages them," says Shrestha, a member of the team.
However, in Nepal, both state and society fail to acknowledge the hard work that goes behind being an eSports player as Nepal's gaming sector is still in a nascent stage.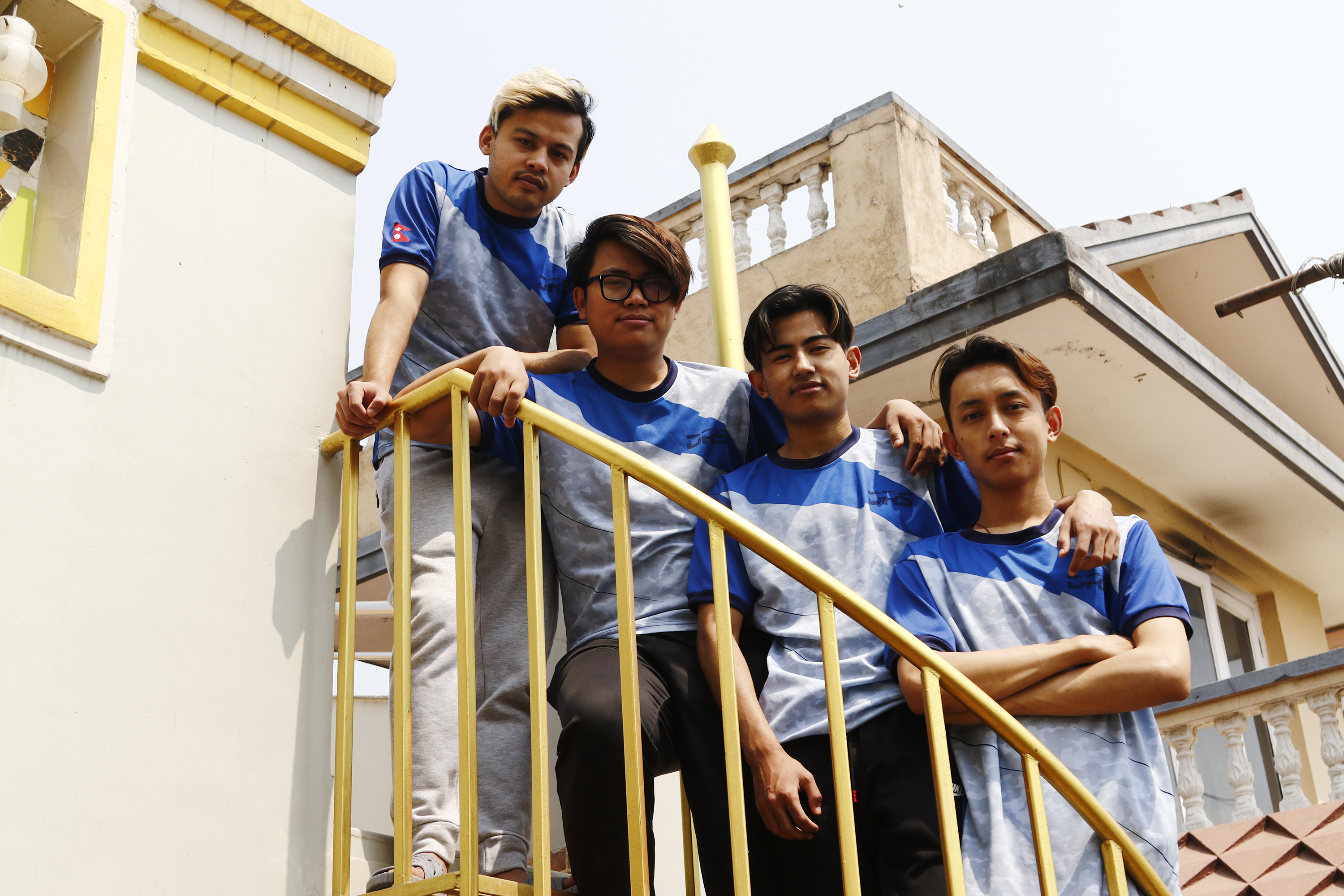 Keshav Thapa/TKP
And this is the area where DRS gaming is creating a supportive environment for players with a motive to make the sector more lucrative and appealing to people, so more aspiring gamers can pursue their passion for playing games and make a full-fledged career out of it in Nepal, says Bhattarai.
"In Nepal, most parents are driven by the ideology that eSports spoil children. They are completely unaware of the scope and possibilities eSports can have for those who are passionate about playing games. We want to change such beliefs through our organisation and make the eSports sector mainstream in our country," says Bhattarai.
All of the five players in the team receive a monthly salary from the company. Likewise, like every other athlete, they are also provided with many facilities including housing, fooding and other services, and they all stay together in a boot camp, in a separate house in Mahankal, Boudha.
And that's why for professional players, who in the past, regardless of their hard work didn't receive appreciation for their skills, what DRS gaming is offering is a good start for the eSports sector.
"Right now I don't have to think about sponsors or managing the team as I have people who are there to guide me and look after such issues. And due to this, I can completely focus my time and energy in my game," says Lama.
But in a landscape where even dreaming about being a professional gamer is impossible, for eSports players, what DRS gaming is offering is really inspiring. However, in Nepal, eSports, especially PUBG, is still taken as a nuisance.
In 2019, the Government of Nepal had banned the game, citing that its violent contents can adversely impact the mental health of its users, especially children. While the ban was lifted within some days, there have been many reports and incidents in a couple of years of its launch, that indicate the mental impact it can have on its users, due to the addictive nature of the game.
However, according to Bhattarai, the players aren't given much pressure that can affect them mentally.
"A day is separated in a week of their routine, where an instructor visits the boot camp so they can meditate. Likewise, we have provided them with all the facilities they need that can help them to comfortably play as well as live peacefully without disturbance," says Bhattarai.
The players, who are in their early 20s, also say that they have been able to carry out their life and the game parallelly, without any negative impact on their mental health. "I completed my Bachelor's degree along with following my career in eSports and I believe everyone can do that if they can manage the time and fight the right balance," says Shrestha, a native of Pokhara.
Although for the company, the initiative they have shown in itself is a big step, as they are probably the only brand in Nepal to systematically pursue and manage an eSports company in the country, according to Bhattarai. He adds the company has more plans in the future to expand to other mobile, PC and gaming consoles as well.
"Unlike physical sports, eSports only requires a proper setup, with good internet access and a supportive environment. We believe our initiation can also inspire other people to start an eSports company with proper management, as there's a big scope in our country for many inspiring gamers to make a full-fledged career in this field," he says.
---
---