How this college is opening the gates to better hospitality education
Making sure that students from disadvantaged socio-economic backgrounds have equal access to quality hospitality education, Kathmandu University and GATE College rolls out a one-of-a-kind apprenticeship degree in Nepal.

Students at the orientation programme of KU-GATE BPH degree in GATE College, Kathmandu. GATE College
bookmark
Published at : March 12, 2021
Updated at : March 12, 2021 13:37
Kathmandu
On the morning of February 7, as 21-year-old Sunil Ray, who works as a domestic worker for a family in Kathmandu, took a seat inside Global Academy of Tourism and Hospitality Education (GATE) College's auditorium hall, he scanned the faces of 23 other students like him who had gathered there.
The students had come to participate in the orientation programme of Bachelors in Professional Hospitality (BPH), an industry-focused apprenticeship degree provided in collaboration between GATE College and Kathmandu University (KU) that allows students to learn while they earn and vice versa.
"Unlike other bachelor's hospitality programmes, the KU-GATE BPH programme focuses heavily on apprenticeship, which begins from the fourth month of the course, and the best part of the course is that students also get paid," said Ray, a native of Sarlahi.
For Ray, this provision of being able to earn while studying was extremely important.
Financially unable to send him to school, Ray's parents sent him to Kathmandu to work under the condition that his employers send him to school in the city. He was only 12 years old. After working as domestic help for nearly a decade, last year Ray passed Grade 12 in hotel management from a government school in Kathmandu.
"I have always loved cooking, cleaning and taking care of people, and that's the reason why I decided to study hotel management," said Ray.
But Ray says he was aware that if he were to become a professional in the hospitality industry he will have to have a degree and experience.
"Of course I wanted to attend a good hospitality school and learn all there is to learn about this field but I have always been aware that good hospitality schools are expensive and that I won't be able to afford to study," said Ray. "Then one day, a friend of mine told me about the KU-GATE BPH course and I immediately came to GATE College, got all the details, and applied."
But GATE wasn't always a college that students from Ray's economic background could afford to attend.
In 2008, when GATE College started offering a Swiss-accredited bachelor's degree in hotel management, it became the first in the country to offer a Swiss degree. The college is one of the leading hospitality schools in the country but that quality and the Swiss degree isn't what everyone could afford.
In January 2021, GATE College became a part of the network of Switzerland-based Ecole hôtelière de Lausanne (EHL), one of world's top hospitality management schools, certified schools. The EHL connection further raises the standard and reputation of the college's Bachelors in International Hospitality Management (BIHM).
On the one hand, GATE College becoming a part of the EHL network of school makes the institution more exclusive than it has ever been. On the other hand, the KU-GATE BPH programme is making the institution more accessible to the masses.
While for many, the diverging paths the college has taken might seem odd, but for Khem Lakai, GATE College's founder and CEO, the paths are exactly what he has always envisioned for his institution.
"When I informed the college's board members of the plan to start BPH, some questioned the need of doing so because we had already earned a reputation for our Swiss hospitality degree," said Lakai. "One of the board members even asked whether providing the BPH degree would mean creating a competition to our Swiss-accredited bachelor's degree in hotel management."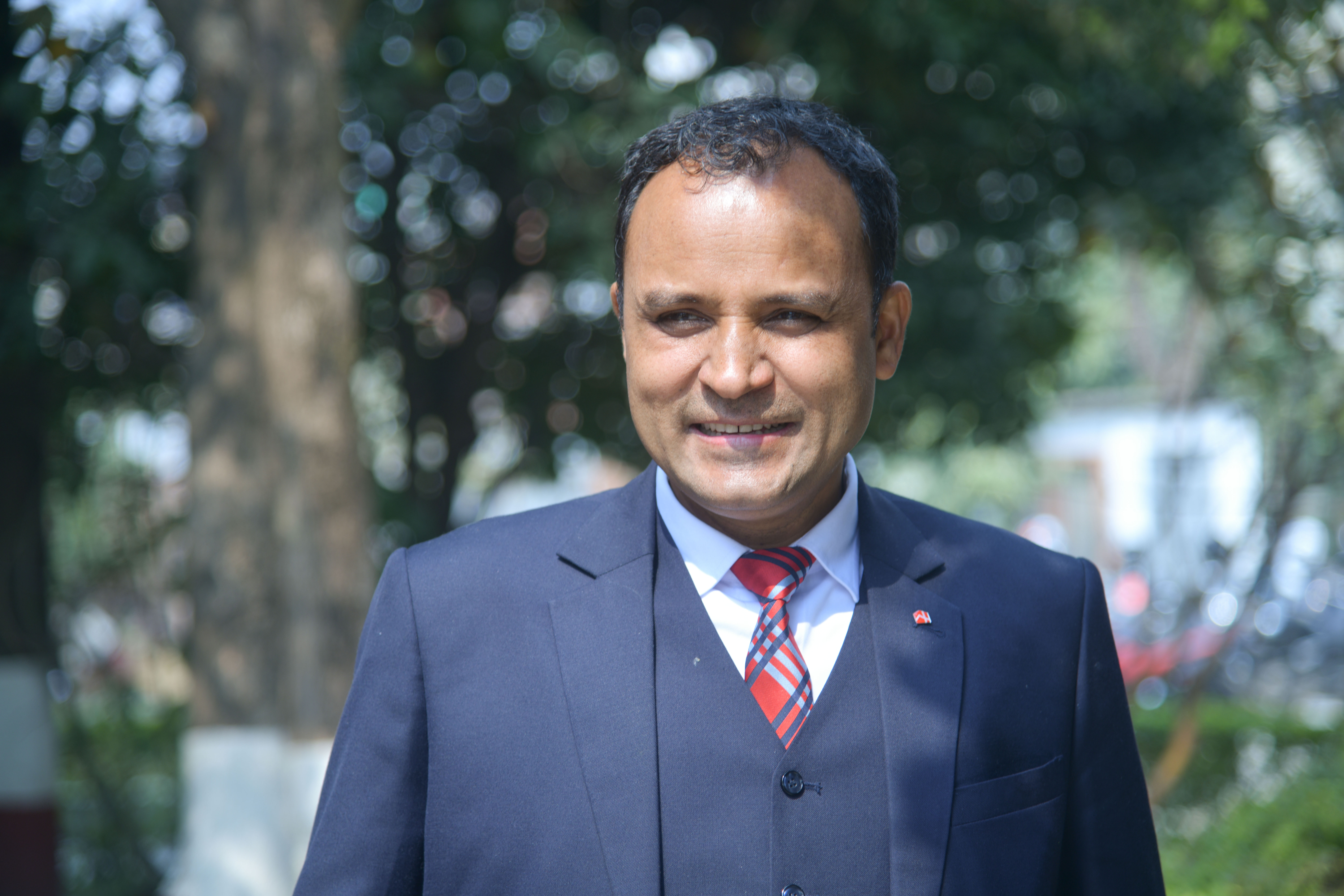 Khem Lakai is the founder/CEO of GATE College. Deepak KC/TKP
Born and brought up in Sailung in Dolakha, Lakai came to Kathmandu when he was 12 years old, the same age Ray entered the city. Like Ray, Lakai enrolled in a government-run school in Kathmandu. While studying in high school, Lakai started working at a restaurant.
"The job allowed me to pay my bills, and most importantly, it introduced me to the hospitality industry," said Lakai. "Back then, there was no such thing as a hospitality degree so after passing grade 12, I enrolled in a Saraswati Multiple Campus, a government-run college to pursue a degree in commerce."
It was during that time that Lakai got selected for a year and a half food and beverage training programme by the then Hotel Soaltee Oberoi (currently Soaltee Crowne Plaza Kathmandu).
"The hotel provided the course to selected students for free. Had it not been free, I wouldn't have applied in the first place because I didn't have money," said Lakai. "I ended up topping the course and then I was offered a job at the hotel with a monthly salary of Rs 3,200."
This experience was the foundation upon which Lakai built his hospitality career.
"Thanks to the hotel free-of-cost vocational course, money didn't act as a barrier for me to get the proper training and education required to enter the industry," said Lakai.
But for many students, Lakai believes, even today money is the barrier stopping them from getting the right training and education to enter the hospitality industry.
Making sure that students from disadvantaged socio-economic backgrounds have equal access to quality hospitality education, says Lakai, is the guiding principle behind coming up with the KU-GATE BPH programme.
"When I approached KU to collaborate for the programme, they agreed to come onboard because they felt the need of the programme in the country, and after two years of rigorous work, it gives me great joy for that dream to come to fruition," said Lakai.
According to Lakai, the first three months of the BPH degree will be theory classes aimed to train the students to become ready to enter the hospitality industry.
"After the first three months, the students will start apprenticing in the hospitality industry where they will learn as they work and get paid as well. In between, students will also attend classes conducted by KU," said Lakai. "That Hotel Soaltee Oberoi vocational course changed the course of my life 20 years ago, and I hope that our BPH course will do the same for our students."
Another defining moment for Lakai came in 1998 when he got a partial scholarship to study at Swiss School of Tourism and Hospitality in Switzerland.
"In Switzerland, I was introduced to world-class education and hospitality, and when I left the country after finishing my studies, I started harbouring this dream which was to introduce Swiss quality of education in Nepal. In 2008, I achieved that when GATE College started offering a Swiss hospitality degree at GATE College in 2008," said Lakai. "By becoming a part of the EHL network of schools from January 2021 onwards is a testament to our commitment to always work to bring the best of Swiss hospitality education into the country."
Lakai hopes the EHL collaboration will also help him make the case for something he has always strongly believed in—Nepal's potential to become a hub for international hospitality students. Even before this year, GATE, says Lakai, has had a few international students mostly from other Asian countries.
"We have a temperate climate, beautiful landscape, and people who are naturally warm and hospitable, and now with our link with EHL, one of world's top hospitality institutions, we hope this will convince more international students to come to Nepal to study with us," said Lakai.
For more than 10 years now, GATE College, says Lakai, has served as a platform for me to bring to fruition his deeply held beliefs regarding quality education and its accessibility.
"The journey hasn't been easy but it has been rewarding," said Lakai. "And that is what it all matters to me."
---
---