'Dancing gives you strength'
Keshav Thapa talks about his experience of working as a choreographer in Nepal, his approach to choreography and why he believes that everyone should dance.

Trained in ballet, contemporary, Bollywood, Salsa and Jazz dance forms, Thapa is one of the most versatile dancers in Nepal. Screengrab via YouTube
bookmark
Published at : February 4, 2021
Updated at : February 4, 2021 06:32
Kathmandu
When Keshav Thapa starts dancing, he doesn't just move his body to the beats of the song. It's as though every inch of his body comes to life, and he dances like there's no tomorrow. It is clear when one watches him perform that dance is not only his profession. It's also a form of expression, something that gives him inner strength.
Born in Surkhet, Thapa today is one of the most versatile choreographers working in Nepal, who specialises in many dance forms. But to get here, he has had to get past many ups and downs.
One of his most recent accomplishments is his participation in Dancing with the Stars, a dance-based reality TV show, where he along with his dance partner, Shristi KC, founder of Blind Rocks, received appreciation from both judges and the audience for their amazing performances.
In an interview with the Post's Ankit Khadgi, Thapa talks about the experience of working as a choreographer in Nepal, his approach to choreography and why he believes that every person should dance. Excerpts:
How did you start your career?
Ever since I was young, I have loved dancing. In my hometown, Surkhet, I often exhibited my talent for dancing in various programmes. But it was only when I turned 14 that I decided to seriously pursue dance as a career and I moved to Kolkata to study dancing.
I had received a scholarship at one of the best dance schools, Calcutta Dance University, and I started learning ballet, contemporary, Bollywood, Salsa and Jazz. After training for a few years, I moved to Delhi in search of more opportunities. However, in India, the competition was really tough. So, I decided to return to Nepal, as I believed that I could use my training and learnings better here and introduce people to new dance forms.
I then opened a dance studio called Irish Dance and Fitness Studio in 2013 and started teaching many dance forms as well as Zumba to fitness enthusiasts in various fitness centres. Slowly, I started expanding my network and then I went on to receive many offers to choreograph songs for movies. I also got the opportunity to be the official dance choreographer for Miss Nepal winners as well.
How has the experience been like working as a choreographer as well as a dance instructor in Nepal?
To be honest, in the beginning, I wasn't sure how my career would take off in Nepal. I was unsure about whether there was a scope of dancing in Nepal or not.
We were years behind in terms of the boom of dancing that was happening in India. Likewise, I also saw a dearth of good dance instructors who could actually teach people properly. Because of a lack of good teachers, I believe the perception towards learning how to dance was affected. But sooner or later, things started getting a bit easier with the rise of health consciousness among people who resorted to dancing to keep them fit.
Likewise, working as a choreographer in Nepali songs was also tough at the beginning. Our industry is plagued with filmmakers and producers who do not pay the crew on time and because of that it becomes difficult to completely depend on choreography to make a living.
When I started out, I too faced such problems. And at the time, I was too scared to fight for such issues, as I feared not getting projects in the future. Our industry is really small. So, I thought that if I asked questions, the makers could jeopardise my career by spreading rumours that I am difficult to work with.
But now after years of experience, I have learnt how to deal with such issues. I have also learned how to make a living by diversifying my income sources. That's why I regularly organise events, groom and train pageant winners and take part in shows, so I can follow my passion for dancing.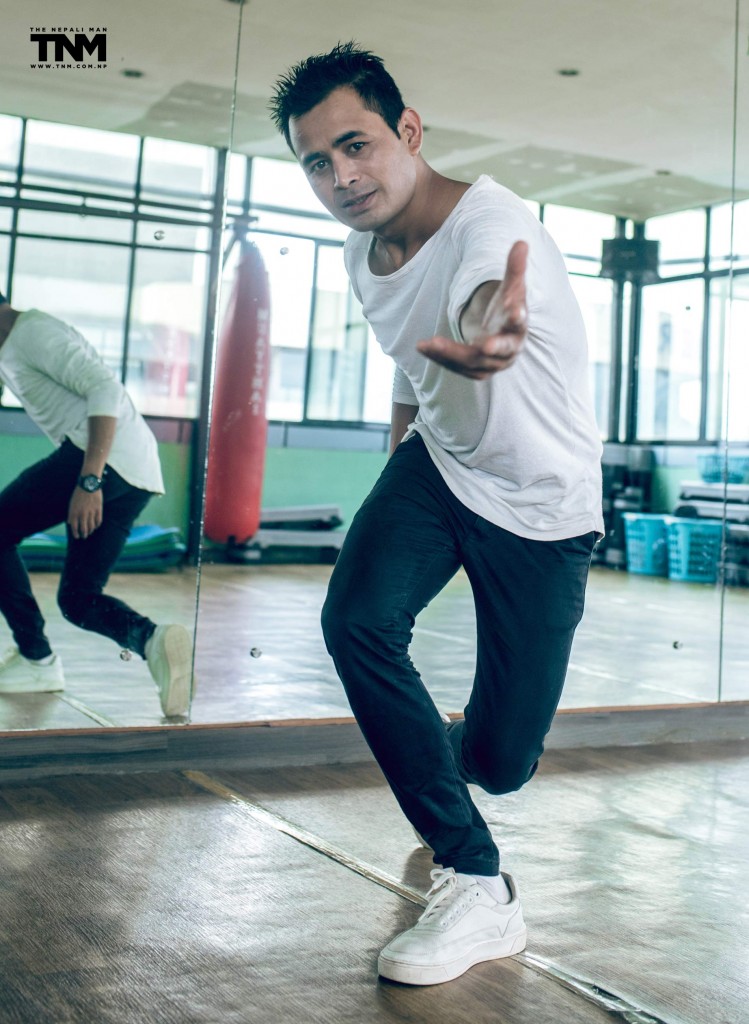 Photo Courtesy:TNM
How do you approach your choreography?
There are many approaches to how I choreograph a song. Most of the time, the steps I create depend on the lyrics. Sometimes the steps come naturally to me in the moment and I immediately incorporate them in my choreography.
Similarly, I also get inspiration by watching other songs on screen. But as a choreographer, I usually prefer to play with expressions.
Just a few months ago, you also participated in a popular dance reality show Dancing with the Stars. What was the experience like?
I had a great experience participating in the show. It was an eye-opening experience for me, as I got to learn so much from my dance partner, Shristi KC. Her motivation and determination to fulfil the tasks given were so inspiring that it changed my perception towards life—encouraging me to stay strong in every circumstance.
However, in the early stage, it was difficult for me. I specialise in Latin forms whereas her specialisation was in other forms. However, we both gave our best as we tried to learn from each other. We used to train for hours.
Since she couldn't see how I was moving my body or giving expressions, we employed tactile techniques of learning. Her focus was on the movements of my body and expressions, which she replicated.
I am really thankful to get her as a partner because her talent for dancing and determination was really motivating.
What are the challenges of working as a choreographer in Nepal?
Like I said earlier, it's not possible to survive and sustain oneself while working as a choreographer in Nepal. While things are definitely improving, still, the crew aren't paid as per their hard work by the filmmakers and producers. I am still struggling to get paid for my projects which I did 2-3 years ago.
So, if one is thinking of becoming a choreographer or a dancer, I would suggest they put extra effort to sustain them financially because, to be honest, there's isn't much you can earn through dance.
In your opinion what does it take to be a choreographer?
In my view, not every dancer can be a choreographer. It takes a lot of experience, skills and aptitude to teach dance to others. The first and foremost skill is gaining mastery over techniques.
A choreographer should be fully trained and be well-versed in techniques because dancing is all about using various techniques of moving one's body. Similarly, another skill that one must have is a commanding voice. Whenever they are teaching someone, they must have the innate ability to make sure that the one who's learning will follow them.
Also, perseverance and patience are the greatest virtues for a choreographer. At the end of the day, they are the ones teaching others about how to move their bodies to the beats of the song. If someone finds it difficult to catch up on their teachings, they can't lose their patience and feel demotivated. They always need to pull their socks off and teach others patiently.
Lastly, according to you, what values can dancing add to people's lives?
Dancing has the power to make people mentally, physically, and emotionally strong. When you are dancing, you channelise your energy into a form through which you stay fit and improve your mental and physical health. It can be really therapeutic, as it can give strength to people to endure their difficulties. Whenever I feel low, I dance and rejuvenate myself as dancing makes me happy.
Dancing can be fun. You can incorporate it in your workouts. You can derive entertainment from it. That's why I strongly believe that people should allow themself to dance often.
---
---