Miss Nepals take a tour of the city to understand the Valley's heritage
As part of promoting cultural tourism for domestic and international tourists, The Hidden Treasure organised a heritage walk for winners of Miss Nepal 2020.

Sandhya Sharma, Miss Nepal International, was among the participants of the heritage tour around Patan. Sanjog Manandhar/TKP
bookmark
Published at : January 31, 2021
Updated at : January 31, 2021 08:07
Lalitpur
The Hidden Treasure on Saturday organised a 'Lalitpur Heritage Walk' in association with Nepal Tourism Board and Museum of Nepali Arts (MoNA) to promote cultural tourism.
This was the second heritage walk the 2020 Miss Nepal batch participated in, after their first heritage tour in Kathmandu last Saturday. This time, the pageant winners were guided through the inner alleys of Patan leading to different cultural sites that have not been explored with the tourism aspect before but have great cultural significance.
"It was a delightful experience, and the walk made me realise that I was unaware of so many things of our own culture," said Riya Shrestha, Miss Tourism 2020. "I believe participating in such walks helps in sparking the conversation of preservation of our culture and heritage and such participation helps spread the knowledge from one person to another," said Shrestha.
The heritage tour started from Patan Dhoka and from there the participants were led into different chowks and bahas of Patan. They were also introduced to the living intangible traditions of the different bahas to the stories behind the ancient structures.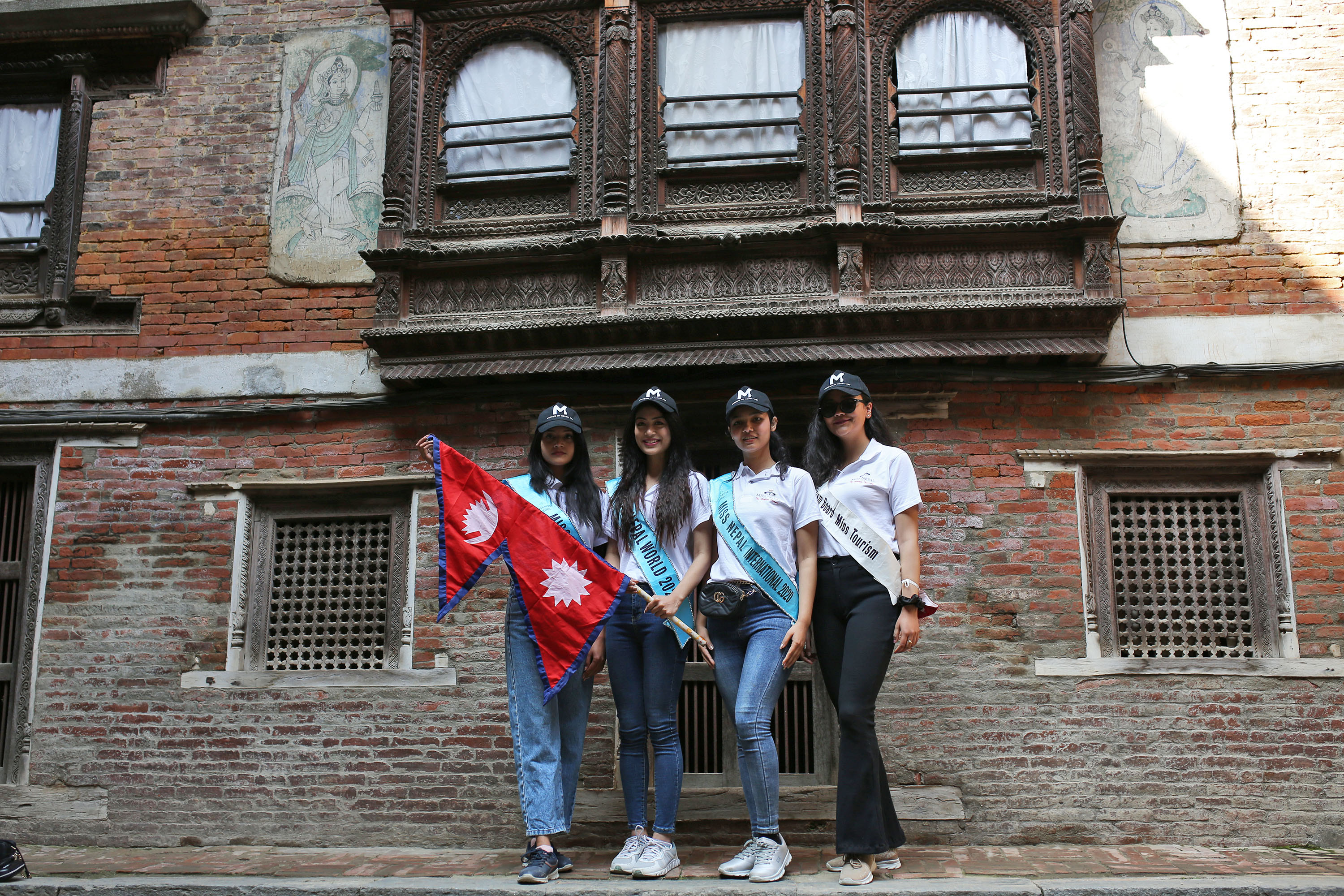 Sanjog Manandhar/TKP
"I enjoyed visiting Hiraṇyavarṇa Mahāvihāra, the Golden Temple. It was my first time and I could see the influence of Buddhism in the architecture of the place and in their cultural practices," said Shrestha. "In the architecture and social aspect of Patan I could see more influence of Buddhism, and understanding the nuanced connection was invigorating," added Shrestha.
Around the world today, heritage walks are regarded to be significant in strengthening the interaction of people with their heritage, to instil in people the idea of conserving culture and traditions. Such tours are also recognised to give the participants an opportunity to understand the diverse cultural practises.
According to Diwakar Rajkarnikar, chairman of The Hidden Treasure, they wanted to engage the winners in such activities to promote the culture and tourism of the country through their interactions in the future. "Most people think that we are creating models, but what we aspire to do is bring to people role models who can inspire positive changes. And we believe our Miss Nepals, with the knowledge of our culture and heritage, will be able to reach more people for sustainable tourism," said Rajkarnikar.
"This initiative hopes to reach out to more youths to promote tourism and start a meaningful conversation of culture through the channels of our Miss Nepals. It's high time that our tourism also focuses on domestic tourism as well besides international tourism," added Rajkarnikar.
The Lalitpur Heritage Walk, however, was an exclusive tour with only about 25 participants that focused on enriching the experience of the participants through a closed-group interaction and was targetted mainly for the Miss Nepals who will be representing Nepal in their respective international platforms. Participants included Namrata Shrestha, Miss Nepal World, Supriya Shrestha, Miss Nepal Earth and Sandhya Sharma, Miss Nepal International.
Going forward, the organisers are planning to take the winners to various other heritage sites across the country to support their experience in representing the country and its culture and traditions.
"Our country is very rich artistically and culturally and I think if we are able to give our Miss Nepals this hands-on experience of different cultures of different castes, we will be able to promote our country in a better way," said Rajkarnikar.
---