How this all-female band aims to make Nep-Hop more respectable
Formed in 2017, Faithom has released four singles, combining pop and rap, which have struck a chord in the heart of many listeners.

Screengrab via YouTube
bookmark
Published at : October 8, 2020
Updated at : October 8, 2020 06:44
Kathmandu
The stage is set. The crowd starts chanting their names. The louder the chants, the faster their heart pounds. Hundreds of thoughts start gushing on their minds. Will we forget our lyrics? Will we be so nervous that we won't be able to synchronise?
All of these thoughts are shared by the band members of Faithom—a band formed by Suprina Ghalan, Monalisa Shrestha, and Bhumika Buddhacharya—whenever they perform in front of an audience.
But when they step on stage, the fear melts and a 'different' kind of energy runs through their body, they say, which makes them sing their hearts out like there's no tomorrow.
Originally a four-member band, Faithom started in 2017, and till date have released four originals in their musical career. While Ghalan, 24, is the lead guitarist, composer, and writer, Shrestha, 20, and Buddharcharya, 20, are the rappers, who through their rhythmic and smooth flow of lyrics add a different flavour to their creations.
"It was our love for music that united us. For all of us, music provided peace, power, happiness and was always a medium of our expression and healing," says Buddhacharya.
But forming a band with no formal connection with anyone from the music industry, that too at a young age, came with its own struggle, says Shrestha. "In the beginning, we were kind of lost. We were confused about how to interact, get gigs and even handle the crowd while performing," she says.
Likewise, since they were an all-girls band and rapped in their songs as well, opportunities seldom came their way, they say.
"Performing gigs late at night wasn't an option for us due to our family reasons. Likewise, whenever you are entering a realm beyond what society expects of you, the way people view creates another layer of challenge, which happened in our case," says Shrestha.
But the struggles never shook their spirit. Even when they had ups and downs, they knew that being an artist in Nepal itself is a difficult task, and instead of waiting for opportunities to knock on their door, they started looking for opportunities themselves by increasing their digital presence and releasing their original songs on YouTube.

Photo Courtesy: Faithom Band
In three years of their career, Faithom has released four singles; 'Chori', 'Khel kasto yo paisa ko', 'Suti Sake Nepali', and 'Jeevan' on their YouTube channel, along with few cover songs, which has helped them to get almost 14k subscribers.
"Through our music, we want to express our emotions. We want to create songs that can resonate with a larger audience who can feel like their emotions are being expressed by us through the songs," says Ghalan.
"Chori bhayi jane ma, riti riwaz le dhakeko... Dui paila chale maile dekchu jaanjir le badeko" (which translates to: born as a girl, the norms engulfed me... I took two steps and noticed the shackles that were tied to.) In this second verse of their song 'Chori', which was released last year, the band depicts the collective experiences shared by all women, whose legs are trapped in the name of norms in the shackles that prevents them from taking any step independently.
Likewise, in their other songs, 'Khel kasto yo paisa ko', 'Suti Sake Nepali', and 'Jeevan', the band have also underlined many other issues like the rise of materialism, the tendency of Nepalis to become apathetic to wrongdoing, and the existential life-crisis looming over the heads of every people.
"As a band, we like to experiment with genres. We like to bring our uniqueness by mixing Nepali and Western as well as writing heartfelt lyrics," says Ghalan.
But according to the band, except Suti Sake Nepali, all of their songs were recorded in their home studio, through an iPhone. Likewise, even the music video of these songs and the composition were done through their phone, which according to them is because of the lack of financial resources restoring them to use available resources.
"No one of us has a 9-5 paying job. We all are studying due to which there is a constraint of financial resource. And that's why we haven't been able to deliver high-quality songs and music videos and even release some of our other songs," says Shrestha.
Likewise, even the gigs and their stage performances aren't sufficient for them to make a living out of their music. "The programmes are mismanaged most of the time. We aren't even paid the price we are promised," says Buddhacharya.
However, despite the meagre income, the exposure is important to them to create more meaningful music. "There's no lying that money has its own value and with financial resources, we can achieve so many things. However now we want to chase our dream of music, not dreams of loading our pockets with cash," says Buddhacharya, who along with Shrestha is studying business.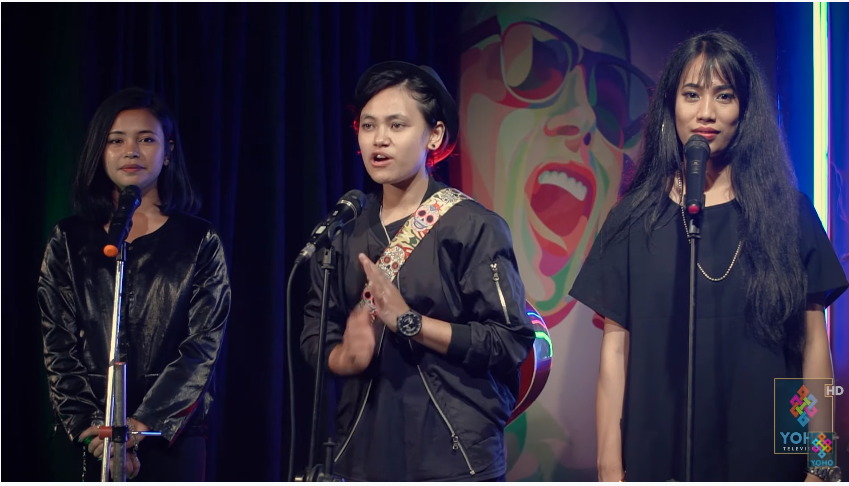 Screengrab via YouTube
To fill such gaps, their focus is more on making the lyrics heartfelt that can evoke many emotions, they say. "Whenever I am writing the lyrics, my main goal is always to pen down songs where we can talk, sing and reflect our life, feelings, experiences as well as tell our personal stories that many people can also relate to," says Ghalan, who mostly writes the lyrics for the band.
Likewise, since rap is an integral part of their songs, they also have been able to create their own niche identity of being a music band. But rapping in Nepal, especially when you are a woman, comes up with its own challenge, they say.
Last year, V-Ten, a popular rapper, was arrested on the grounds of promoting anti-social behaviour. Likewise, he was also attacked by stones during a concert, which reflects how Nepali society views rap, as for them rap is more of a nuisance that sets a bad example and influence in society than a mere expression or an art form.
And because of this same mindset and misconception, working as a rap artist in Nepal is filled with many challenges, says Buddhacharya. "Due to the misconception about rap music in the Nepali context, we are constantly asked if we also use 'vulgar' and 'obscene' words in our songs," she says expressing her annoyance at the misunderstanding of her art form.
That's why one of the major objectives of the band is to challenge these preconceived notions and show the Nepali audience that rap can also be a respectful art form. "Rap is not about using abusive language. Through rap we can talk and express so many important issues that can be catered to people of every age group," says Buddhacharya.
Last year, the band had performed in an all-female led musical event. And for them, more platforms are required as such concerts function as repositories to promote and exhibit their talent, they say.
"For any artists, nothing can give happiness, except seeing their audience dance, sing along, and enjoy their performance. The reaction we have received from the mass when we are performing on the stages is motivating," says Shrestha.
And that's why even when their work is not yielding any money or the fame and exposure they should get for their talent, they want to continue their journey in creating music as for them their faith in music beats all the odds, which is also reflected in their band's name, Faithom an amalgamation of two words— Faith and Om ( a spiritual and religious symbol of faith).
---
---