Communities come together to respond to the Covid crisis
In an inspirational display of humanity, several groups around Kathmandu are making sure the most vulnerable in our society have food to eat in this time of crisis.

Angad Dhakal/TKP
bookmark
Published at : April 28, 2020
Updated at : April 28, 2020 08:11
Lalitpur
The air inside Lagankhel Samaj has a strong smell of cooking cauliflower and turmeric. Dilip Man Shrestha, a member of the committee, is busy mixing vegetables with masala in a big kadai; around him, rice is simmering in giant pots. There's a bucket full of ground tomato and coriander beside him, and freshly peeled and cut onions before him. Stacks of rice sacks are pushed against the walls.
"About 150 people usually come to eat here these days. We had started preparing lunch for people starting April 5 after realising that the lockdown was harsher to some people," he says. "People were surviving on empty stomachs and that tore our heart." The menu they have come up with is gratifying and simple: the staple dal, bhat, tarkari, and sometimes chicken, says Shrestha.
To put together the meals every day, Shrestha and his friends have been working in a makeshift kitchen—beyond their kitchen setup, cupboards are filled with files, corners are stacked with scraps of bus parts and tin shades. But it's not just this community that has come forward to help people who are most vulnerable to the current pandemic. A number of communities and individuals, along with people from private and non-profit organisations, have come together to make sure that there is food for everyone in Kathmandu.
Seventeen-year-old Bijay Tamang, a bus conductor who has been sleeping in his bus ever since the lockdown began, says he was relieved when Lagankhel Samaj started distributing food. "I don't have much savings and due to the enforced lockdown, there weren't any khajaghars open to go and eat. The meals the community has been providing has at least satiated our hunger," he says.
The Lagankhel Samaj, which consists of five different wards (5, 6, 12, 15 and 19) in the Lalitpur Metropolitan City, has been providing the free meals from their own funds and from donations from individuals and institutions within the five wards. "On a daily basis, we have been spending about eight to nine thousand a day," says Shrestha. "We haven't actually looked for outside donors, as that is also a lot of hassle. There needs to be transparency when we are working for the people. And so to be organised, we only collect money from inside our communities," adds Shrestha.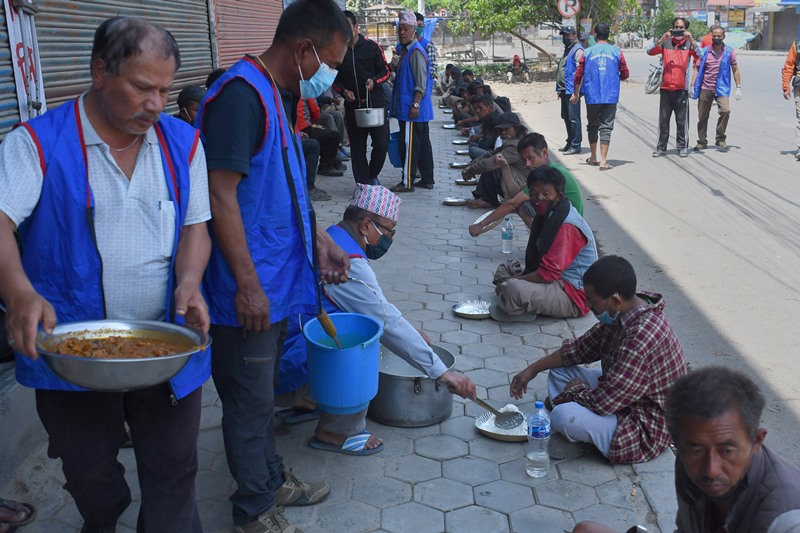 Anish Regmi/TKP
At Boudha, Geshe Sonam Wangchen, a monk, is working in collaboration with a local club called Naya Basti Club and with authorities of wards 5 and 6, to provide two meals a day to more than a thousand people, many of whom are from the street and are homeless. The meals are supported by individual donors, Meta Hope and Challenge for Humanity, a non-profit organisation, other institutions, and Wangchen's network of people.
"I remember this man who was having chuira [beaten rice] and water because he had nothing to eat. And that's why we wanted to bring people food, no one should have to stay hungry," said Wangchen over the phone to the Post. "Anyone can come here and eat," he says.
Every morning at nine and at four in the evening, people come to the Naya Basti Club and Lord's Light Academy in Boudha to get a warm meal. "We check the temperature of the people before they come inside for food, and if anyone has a fever we hand them packaged food for safety reasons," he says. Wangchen has about 30 people helping him with the preparations, he says.
"It's a wonderful feeling when you can make someone happy. And warm food can always make people happy," he says. As people grapple with fear, anxiety and uncertainty, Wangchen believes that compassion and empathy are what will help people get through these overwhelming times. "In these trying times, it's important that we show kindness to each other; you don't want to add to people's suffering," says Wangchen.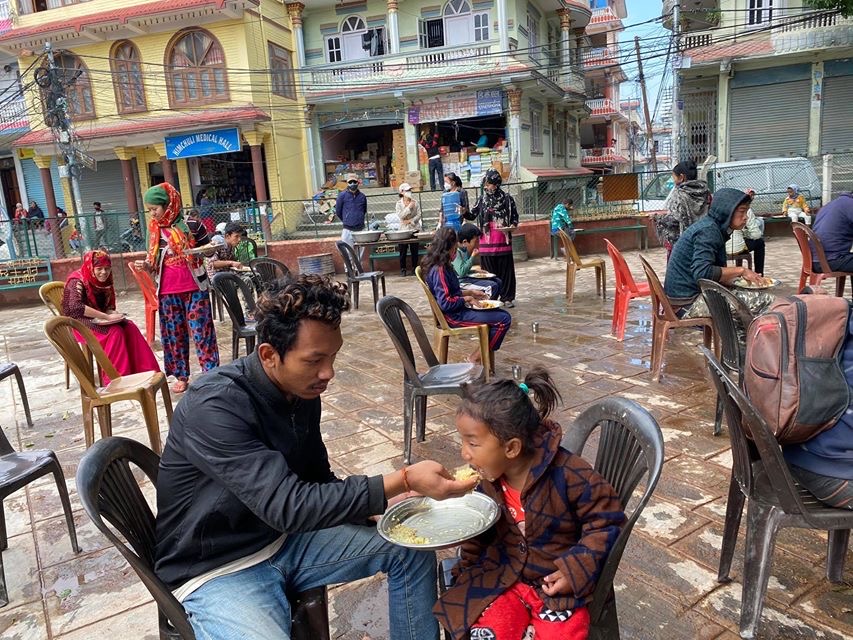 Photo courtesy: Sonam Wangchen
When the lockdown began on March 24, no one knew how long the emergency movement restriction would last. But days extended to weeks, and the most vulnerable became subjected to another crisis: starvation. And while the government is working on relief distribution, the contribution of these communities has also been crucial in tackling the crisis. In fact, some groups have come together just to do their part in supporting this response to fight the crisis.
In the second week of April, at Om Bahal, Kathmandu, a group of youngsters came together to distribute food packages to daily wage workers and their families after the countrywide lockdown extended again to curb the spread of Covid-19.
"Initially we had started by handing out biscuits, noodles and water but we realised that what we were providing was not fulfilling and enough," says Anup Sthapit, one of the members of the Mitrata Samuha that was formed after the lockdown. "Then we hired some cooks to prepare veg-fried rice, which we go around to distribute in our bikes," he says.
Sthapit and his friends prepare around 400 to 500 food packages to distribute around Makhan, Hyumat, Swoyambhu, Wonde, Pashupati, Sitapaila and Khula Maanch. "The idea is to be able to provide food to people until the lockdown lasts, but since we are an informal group, we haven't asked for funds from anyone," says Sthapit. "We have been trying to come up with the money by ourselves and the people from our locality. Occasionally when we do receive help from the outside we make sure to inform the person how we have used the money."
The lockdown has revealed many social dynamics and inequalities, and it has also proved to be more imperilling to the poor, with the pandemic deepening class division. But despite the exhausting social implication, the solidarity of individuals to help each other has been giving hope to many people, says Sthapit. "We know everyone is living through a difficult time," he says. "And it's good to see people come forward to help, and this shows that we all understand each other and that is what is important," he says.
---
---