A Nepali artist traces her cultural identity through photography
Born in Dharan and raised in the UK, this artist's work combines contrasting themes from her childhood.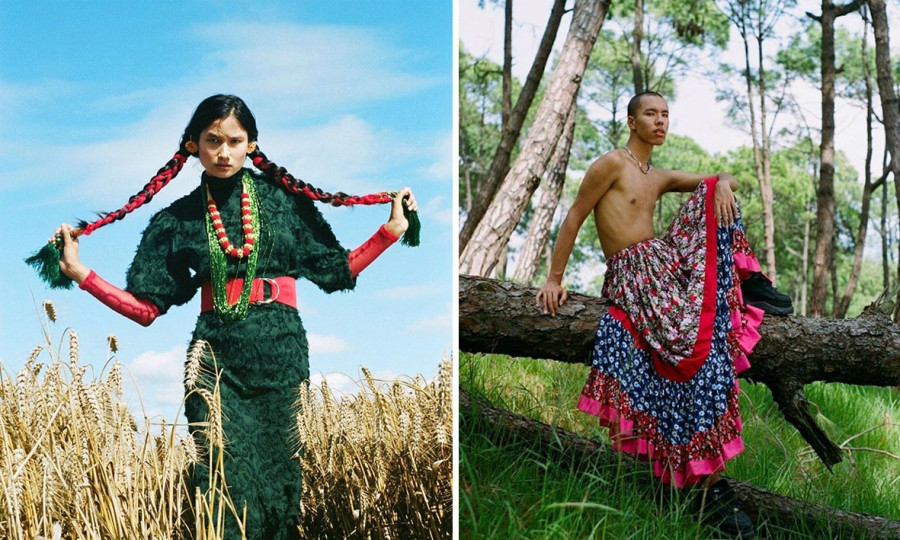 bookmark
Published at : February 8, 2020
Twenty-five-year-old Sujata Gurung's photographs exude a certain confidence. Her bold subjects, who swirl and dash every way in the pictures, evoke a sense of timelessness and ephemerality; the cool undertones conjure up a striking effect on her audience. And although each picture is unique, they are all unified, in theme and style.
Born in Dharan and raised in the UK, Gurung is a visual artist currently based in the UK, who from a young age was subject to two contradicting cultures. "I was born in Nepal but moved to the UK at a very young age; there, I experienced an identity crisis," she says. Her multicultural upbringing greatly influenced her and her outlook in life, she says, and that is what brought about Pahichan, her Instagram page where she artfully displays the coming together of Western elements that are tied to the Nepali spirit—the coming together of her own two distinct cultural identities in a subtle way.
"I always knew I wanted Nepali elements for my project. I was looking up at other diaspora artists and I wanted to infuse heritage in my work the way many others have," she says.
Through the ensemble of less than a hundred posts, Gurung effectively displays her unique blend of western and eastern elements through fashion and photography. The photographs have subjects clad in outfits that are unconventional, which attracts viewers, but what draws you in is her compelling visual storytelling. "The works in Pahichan reflects a mix of 'Nepali-ness' with Western techniques in presentation," Gurung says.
Gurung strongly believes for a visual artist to be successful in connecting with their audience, the artist's persona needs to be reinforced through their work. That is why, she adds, her work centres around creating a parallel between the East and the West.
"Growing up, there was a part of me that wanted to dress up like the way my subjects have been. But I have always been conscious, so I used the models as a prop to how I wanted to be seen," she says.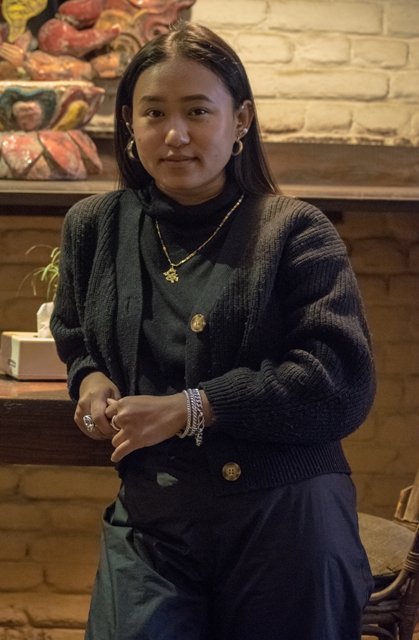 Sujata Gurung, the visual artist based in the UK.
A graduate in fashion photography, Gurung says she isn't yet technically adept in handling a camera. "I call myself a visual artist but I don't only focus on cameras. I use an analogue camera, and most of the photographs are captured hand-held," she explains.
The composition and lighting of the imagery, where Gurung's subjects appear almost as if lit by stage lights, is the result of her innate fascination with the people she photographs and how they are different from each other. "I am pulled to capture the subtle individuality within each subject and their culture," she explains.
Most of Gurung's subjects are women in languid poses and unbound clothing. She believes such imagery embodies the exoticised multifaceted identities that exist among women, especially Nepali women, and is a testament to how perceptions of beauty standards are misrepresented and reduced to one-dimensional tropes of women in the Nepali society. "In the Nepali fashion industry, there is a predominant scale of beauty standards. I chose to go against it," she says.
"I get inspired by seeing people from diverse cultures. I have been blessed to travel to many different countries and every culture I have witnessed just becomes an inspiration, which is why I find myself mostly doing portraits," she says.
Initially, the idea behind Pahichan was strictly female identity but it evolved to include wider sphere. "I wanted to shoot people who are not afraid to be themselves. People who are bold, who stand up for themselves and are exploring their identities. That's the message I want to give to the Nepali people—to be yourself," says Gurung. But her art isn't limited to cultural identity. Pahichan endorses some faces from the LGBTIQ+ community as well, and that she will be showcasing her work with them in her upcoming exhibition, which is going to be held in September, either in Nepal or the UK.
"This exhibition is going to be an opportunity for me to not only learn about ourselves, but also other norms of our society, and to appreciate other points of view," says Sujata
---
---