Here's the man who wrote the viral song Kanchi Hey Kanchi 2.0
BT Kancha, the YouTube persona of Biswas Timshina, is here to tickle your funny bone through parody songs, but not in the usual frivolous way.

Screengrab via YouTube
bookmark
Published at : October 15, 2019
Updated at : October 15, 2019 14:40
Kathmandu
The cover picture of BT Kancha's Facebook, an upcoming YouTuber, is a serious mugshot with a wrapped text that reads 'Ama, baba (mom, dad) I want to be a YouTuber'. The punchline of this not-so-serious picture is not so subtle: he is asking parents to see a career path in an unconventional profession, far from what he was expected to be—an engineer.
BT Kancha, is a YouTube alter-ego of Biswas Timshina, whose parody music videos have been recently making the rounds on Nepali social media. In the latest parody of Shawn Mendes and Camila Cabello's 'Senorita', BT Kancha rants about being bro-zoned by girls with his witty lyrics, "I hate you when you call me on Bhai Tika." The song is catchy and has been viewed more than a hundred thousand times.
"All men have been victims of bro-zone, and I thought it would be fun to address the issue as it's very relatable," says the YouTuber.
Another popular parody on his channel is that of DJ Snake's 'Taki Taki', which he has parodied to 'Baki Baki', with the song's chorus as 'Baki Baki deuna malai sathi' (Please lend me some of your remaining money), that tells Kancha's story of his monthly cash crunch, and how he calls up people to borrow money, but in vain because they ignore his calls.
"Oh my god this is so funny its makes my day (sic)," one YouTube comment said on the video.
But Timshina isn't just an emerging YouTuber, he is an author with a collection of short stories titled Naive and Beautiful. He also worked as a scriptwriter for actor Priyanka Chopra's film production company, Purple Pebble Pictures' Pahuna: The Little Visitors.
"I wouldn't say that my ultimate goal is to be a YouTuber; it's more of a hobby that pumps my creativity," says Timshina. "I don't take this as a career, at least not right now." Like his videos, his Facebook timeline photo, he says, is there just in the spirit of humour.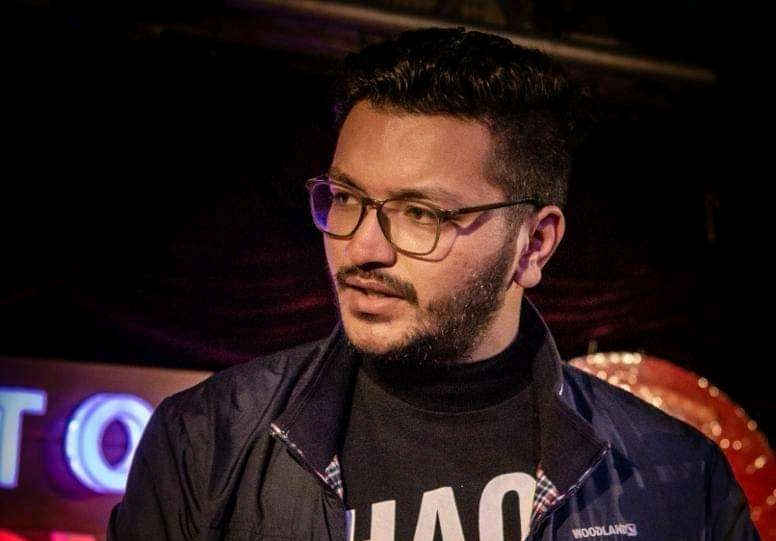 Madhu Shahi/TKP
Timshina was born and raised in Gangtok, Sikkim, and was studying engineering when he started writing and making YouTube videos, which at the time were more like online diary entries and experiments of what he was learning in filmmaking and editing. "But I stopped making videos, as I started working on other projects. It was in 2017 that I got back to it more seriously after my mentor Pakhi A Tyrewala said it will help me with my creativity," says Timshina.
Before 2017, he says he used to publish online content only when he had time, but now he regularly uploads videos, mostly oriented towards Nepali viewers.
"When I started out, I didn't know what I was trying to do, I was more focused on making numbers work," says Timshina. "I thought if I did stories in Hindi I would have more traction, but I realised that it's more about content. And so I decided to make videos in Nepali as I am more comfortable in the language, and the humour it allows me is more natural."
A lot of Timshina's YouTube videos are comedy skits, parodies of hit songs, funny Nepali-dubbed interviews, stand-up comedy sets. His videos are occasionally also about women's issues in which the humour is carefully subdued. Timshina's videos are varied; they jump from one subject to another. And although Timshina paints his personality as that of a funny Nepali man, one can tell that Timshina is much more than just a comedian.
Like many youths, 25-year-old Timshina is still discovering himself and is unrestrained when it comes to what he wants to do in life. He has a bucketful of aspirations: to pen books, make movies and perform stand-up comedy. And although he has already started on the journey, he knows there is more he wants to get good at and experiment with.
"Everyone has a lighter and darker shade in their personality, I would say BT Kancha shows my lighter side, but that's not me entirely," says Timshina. "My other works tell a different story."
Timshina looks quite free-spirited and welcoming in almost all of his videos, although he says he is quite reserved in reality. And although for many, his online outlook may come across as a frivolous YouTuber with a lot of time in his hand, he says it takes discipline for him to make contents for his page. Timshina usually separates his Sundays to work on the content for his YouTube page while he spends his time writing and freelancing for other projects on weekdays. "I am actually a loner; I don't really socialise and this is what I do in my free time. I like observing people more than engaging in conversations," says the YouTuber.
Most of Timshina's content is packaged with humour, but some deviate from his usual light-hearted parodies and skits. And in almost all his funny videos, he also makes it a point to talk about women's issues and it is visible that it is not so to gain traction for his content but rather because of who he is.
In Timshina's recent content 'Kanchi Hey Kanchi 2.0', a lyrical cover sung by Bidhan Thapa and Pranita Chhetri of the Nepali classic 'Kanchi hey Kanchi', he uses humour to talk about gender equality. The lyrical words are compelling with insights into how women feel in their own homes, "Chhori ra cheli birsera pani raati niskunu hudaina; Raat ko daara, na dekhau Kancha, ghar bhitrai janawar dekhya chhau."(Daughters shouldn't come outside of their house during the night, even by mistake; Don't scare us about darkness Kancha, we have seen animals inside our own homes.) The video received much praise online and was shared by more than 23,000 people on Facebook. In one of his videos, Timshina also talks about why it's important to talk about menstruation.
"I am really close to my mother and sister and I understand what they go through," says Timshina. "It's important for me to talk about issues concerning women in my videos."
His YouTube channel BT Kancha at present has 40,600 followers on YouTube, which is a relatively good number he could be considered as a micro-influencer in social media terms.
But numbers are low on the list of his priorities, says Timshina. For him, his videos are more of a platform where he spontaneously dabbles ideas based on what he is going through in life. "The ideas that I explore are very random; sometimes it starts with one word and sometimes it is based on a feeling," he says. "I came up with the idea for 'Bahun estai nai ho ni bro' when I was taking a shower."
But when it comes to making comedy sketches, it needs more preparation, says Timshina. "I have to think of other variables as well, such as time, resources and scripts that I can accomplish on my own," he says.
One of the reasons for Timshina's resolute dedication to keep making videos he says is the reaction of his followers, of their engaging comments in his feeds. "It feels nice to know that people are enjoying watching my videos. While some of them are occasionally negative, I still like reading them," says Timshina. "But I don't yet feel like a social influencer or a commenter, I am just myself."
Although he has been publishing content online for over five years, Timshina says he has never thought much about how the audience will perceive his videos. "It's all for fun, but maybe someday I might get a criticism that will make me think about my audience and the impact that these ideas have when shared online. But for now BT Kancha still is a personal and informal space," says Timshina.
While Timshina is still wary about his future plans, he rests assured that his next venture will be something he believes in just as his other life decisions. "Currently I am exploring screenplay writing, but I still don't know what I will be in the next five-years," he says. "But I can say that I will keep making people laugh."
---
---