Structures without a soul
Bidhata KC's abstract renditions of Mustang homes appear fascinating from afar, but on a closer view, there is little that is interesting.

Bidhata KC's paintings reflect her take on Mustang's unique buildings. Kabin Adhikari/TKP
bookmark
Published at : August 21, 2019
Updated at : August 21, 2019 13:58
Kathmandu
Bidhata KC first visited Mustang in 2014, and was completely enchanted. While she's had a difficult time forgetting her trek in the shadow of snow-capped mountains, it's Mustang's whitewashed homes, with splashes of red and orange, that stuck with KC the most.
"I felt as if the walls of the homes had their own spiritual auras," said KC.
KC has since returned to the region several times, venturing into new areas around Mustang—from Lo Manthang to Kagbeni. As an artist, painting became a form of remembering her trips and it was only natural that she would one day exhibit the art that was piling up.
To bring Mustang to Kathmandu, KC has since put up four exhibitions on Mustang's structures (including a prequel of the same series last year). Currently, KC's Structural Beauty, her series on Mustang, is on display on the narrow space of the Dalai-la Boutique Hotel. Six canvases are put up, shaped in circles, rectangles and squares.
In one, against a clear blue sky, is an abstraction of a house from Mustang. However, due to a lack of dimension and shadow, it appears as a two-dimensional broken wall fixed upon a circular canvas. The same image is circulated on the invitations and posters of the exhibition; it's clean, clear and pleasing to the eye.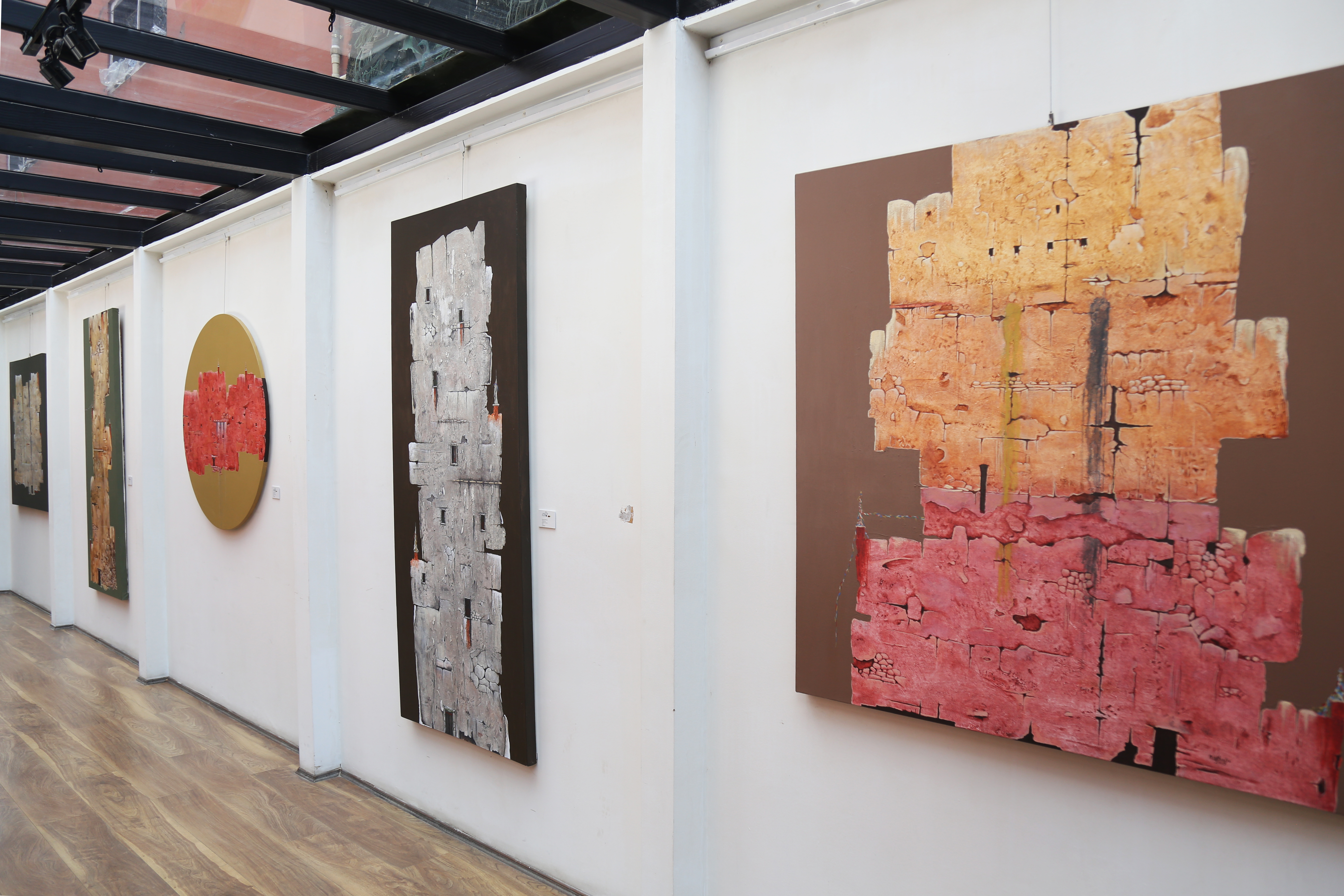 Kabin Adhikari/TKP
The five other acrylic paintings are similar. From afar, the images are captivating: a broken house placed at the bottom of the frame or a soft orange on roofs that subtly complements the blue background. They exude calm.
But upon observing the paintings closer, the images are confusing. And because all the images play with the same theme—and while consistency is a good thing—the repetition of paintings in KC's paintings make the visual experience a little disappointing.
Had there not been meticulous work done on the cracks, holes, stones, and overall compilation of the textures on the walls, the paintings would look flat and one wouldn't be able to identify the house as the entity they're supposed to relate to. On some of the paintings, even the source of light seems to come out of the blue. The rays of light aren't diagonal, if their source is supposed to be the sun. On others, there is a rather abstract touch to their characteristics, mainly due to the selection of flat colours in the background.
According to KC, her art is supposed to be a little vague. "I went for abstract over a familiar experience," said KC. "Rather than a direct imagery of the place, I want them to be indirect and based upon my art style."
KC's colour palette for this particular series explores flat neutral tones, along with a few of the five colours of Buddhism. According to KC, holy colours extracted from nature are methodically dripped onto houses to protect families from evil spirits.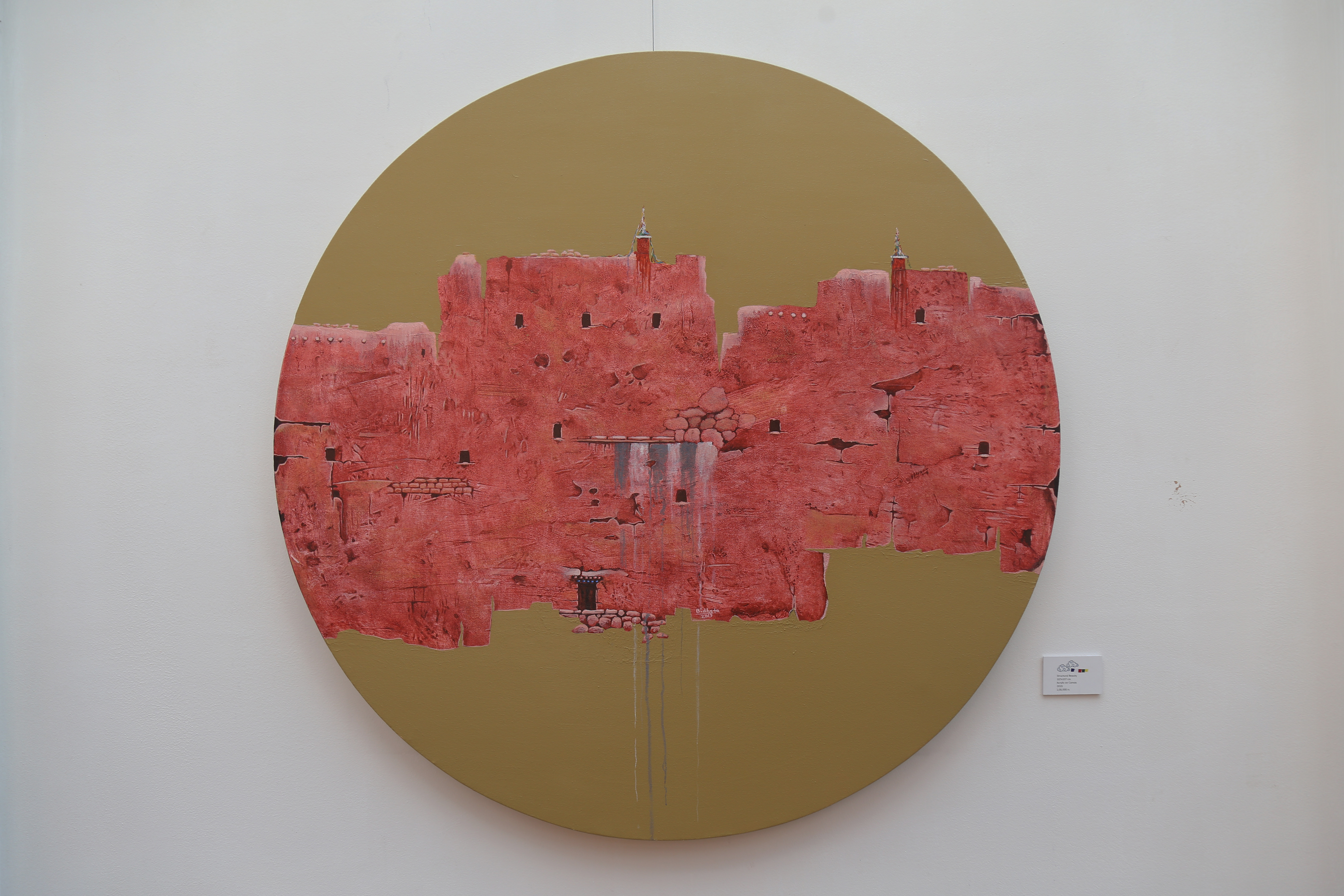 Kabin Adhikari/TKP
KC's dominant colour is blue, associated with purity and healing; white with learning and knowledge; red with life force and preservation; and yellow with rootedness and renunciation. Green, associated with balance and harmony, isn't found in Mustang.
"I have not changed the colours," said KC. "They have been presented the way they are being used."
In Mustang, KC says, even new houses appear fragile, accumulating cracks right after they have been constructed. Many houses are broken and provide a different visual aesthetic for viewers. While KC adores the old houses, she has made them an essential part of her travelogue by studying their structures and capturing them visually through her abstract paintings.
Through the depths of her textures, some cracks and paint stains feel familiar. But when observed carefully, they too appear broken, like the houses her canvases are attempting to represent.
"One needs to talk to the artist to completely understand what they're trying to imply," said KC, emphasising her works as inherently personal.
Art has always existed as a subjective form of expression. Audiences may not want to shift their perspective towards that of an artist's, rather preferring to dwell on their own imagination and interpretation.
KC's artworks, therefore, may be lacking, given her limited approach and the presentation of her artwork. By her own account, KC's art draws upon her personal perspective of Mustang and she expects her audience to do the same. Hence, her paintings don't evoke feelings of familiarity within someone who hasn't been to Mustang. For some, her pieces might just appear to be a block of broken walls built out of stone. But for travellers like KC, the paintings could be a reminder of the houses that rest on the mountains.
The exhibition might not offer much that is interesting, but the paintings provide abstract renditions of what might be familiar to some, but alien to others. That might be the exhibition's only redeeming factor.
'Volume IV: Structural Beauty' by Bidhata KC is on display at Dalai-la Art Space, Dalai-la Boutique Hotel, Thamel till August 31.
---
---