As monkeys menace Gandaki Province, locals turn to innovative methods of control
Locals are setting up traps, hiring trappers, blasting music, and even domesticating monkeys to prevent them from running amok.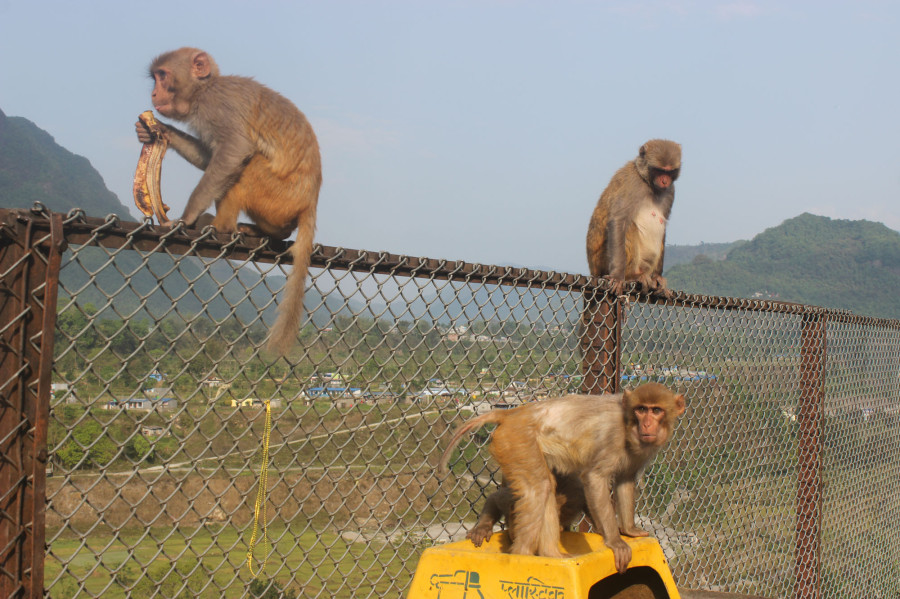 Monkeys invade fields and houses for food and tend to attack people when confronted. Post Photo
bookmark
Published at : December 12, 2019
Updated at : December 12, 2019 07:37
Pokhara
In July, a troop of monkeys invaded the cornfield of Sudarshan Paudel in Kundule, Baglung. Paudel, while chasing after the primates, fell off a cliffside and died. Again, earlier this year, four women from Khoriyapani in Kaskikot, Pokhara, were injured while trying to fend off a barrel of monkeys. In November last year, Laxmi Jaishi of Dhairing, Parbat, was critically injured when monkeys entered her home and attacked her.

In recent years, the districts of Gandaki Province are increasingly coming under siege from a growing population of monkeys, according to Manohar Kadarya, an agriculture development officer at Pokhara Municipality.
"Given the rise in the number of complaints filed by locals from various districts at their respective ward offices, we have concluded that there has been an increase in the monkey population," said Kadarya.
The primates invade fields and houses, looking for food and tend to attack when confronted by humans, forcing locals to resort to drastic measures, like setting traps and hiring trappers.
According to Satyaraj Subedi, a farmer from Hansapur in Kaski, monkeys are becoming more than just a nuisance, as they are destroying his crops.
"It is becoming increasingly difficult to protect vegetables and crops from monkeys," said Subedi. "Earlier, they left chilli peppers alone but these days, they destroy that too."
The situation has become worse now, as unlike in the past, the monkeys aren't easily scared away, say farmers.
"There was a time when all we had to do was create a ruckus and they would run away into the forests but these days they don't budge," said Krishna Prasad Poudel, a farmer from Kushma Municipality in Parbat. "I don't know if the monkeys' activities have escalated due to fewer people in the villages or they've grown in number."
Experts attribute the growing monkey invasion to the shrinking forest cover, which is making it difficult for the primates to find food, leading them to enter human habitats to scavenge for food.
Mukesh Kumar Chalise, a retired Tribhuvan University professor and primate researcher, points out a lack of food and an increase in fallow land, especially closer to forests in rural areas, as some of the primary reasons behind the monkey menace.
"They enter people's houses in search of food since the lands near the forests are now uncultivated. Outside the forests, the primary source of food for monkeys was crop fields but cultivated lands are also shrinking now," said Chalise.
Kedar Baral, chief of the Tanahun Division Forest Office, Tanahun, agrees with Chalise but also points to the sparse population in villages.
"Earlier, if one monkey entered the settlement, the entire village would turn up to chase them away," said Baral. "But now, with decreasing population in the villages, the monkeys freely move about, leaving destruction in their wake."
Baral further noted that shortage of fruits preferred by monkeys, including bayar (Indian plum), katus (dwarf chestnut), and ainselu (golden Himalayan raspberry), is driving them towards humans.
"It's unfair to just blame the monkeys," he said. "Locals collect fruits for their own consumption or to sell in the market. This leaves monkeys with few options for food in the forests."
A monkey in its natural habitat spends 10 to 14 hours foraging for food but when they are near human settlements, finding food takes only about 10 minutes, said Chalise. The change in food habits is also affecting reproduction, triggering an explosion in monkey numbers.
"Primates usually give birth between one-and-a-half and three years in the wild, but near settlements, they are reproducing biannually, as there is plenty of food," said Chalise, who conducted an extensive research on the rhesus macaque from 1995-2012.
Primates were giving birth to twins, which Chalise first recorded in 1995, and in 2012; he even documented quadruplets. These active changes in reproductive patterns that have also significantly contributed to their population, said Chalise.
Locals are now urging their local representatives to take measures to control the monkey menace. However, no plans have been put in place so far at the province level, leading local units to take the matter into their own hands.
Rupa Rural Municipality in Kaski brought in trappers from India to capture the monkeys. They managed to trap 525 monkeys, which were then released in forests far from settlements. Locals tried other measures as well, like playing loud music and planting molasses grass in their fields. Molasses grass releases a strong odour similar to that of cumin, which irritates monkeys. But these efforts have had little effect—the monkeys appear unstoppable.
Syangja's Galyang Municipality even decided to trap the monkeys and domesticate them, allocating at least one monkey to each household as a pet. But they soon discovered that keeping monkeys as pets was not easy, said ward chairman Dhruva Pangeni.
"Feeding them wasn't the problem but giving them a bath was a different story. We just couldn't keep up," said Pangeni. The villagers were eventually forced to release the monkeys.
Syangja's Waling Municipality is now considering an ultrasonic machine to chase away monkey, according to mayor Dilip Pratap Khand.
Others from the province are proposing more drastic measures.
"About 30 percent monkeys should be left in the forests while 70 percent should be killed," said Kalidas Subedi, Gandaki Province chairman of the Federation of Community Forestry Users Nepal. "We can dry their meat to make sukuti and export it to foreign countries. This will have a two-pronged effect—the government will be able to collect some revenue and the monkey menace will also be controlled."
Ramkaji Shrestha, chief at the division forest office in Pokhara, admitted that there was a problem but that solutions needed to more practical.
"Neutering the monkeys after capturing is one of the best ways to control their population," said Shrestha.
Pratikshya Kafle, Bina Thapa, Samjhana Rasaili and Hariram Upreti contributed reporting.
---
---