Say goodbye to lockdown mess of a hair
If you're still not sure about how safe your trusted barbershop is, a set of electric hair clipper will be your best friend until you're ready to go see them again.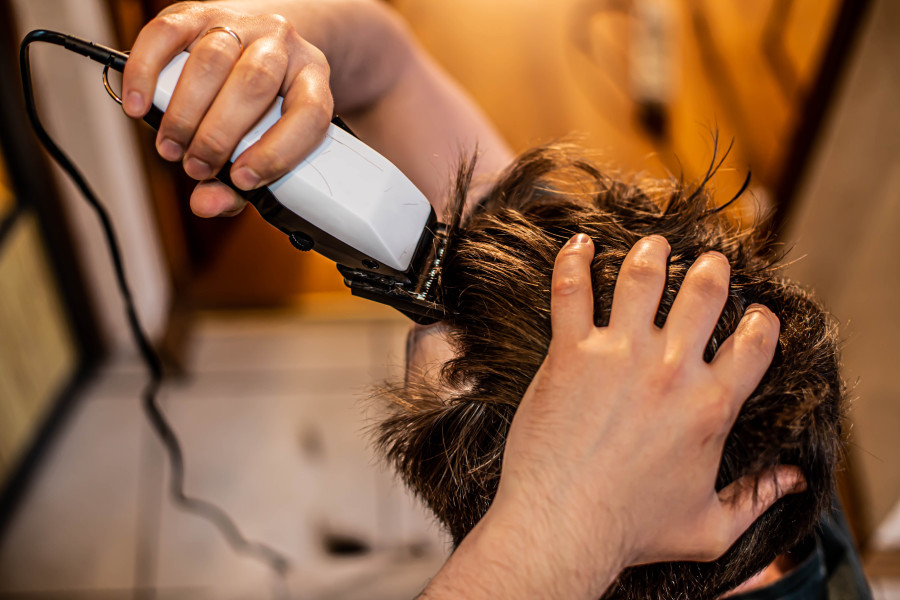 Shutterstock
bookmark
Published at : July 24, 2020
Updated at : July 24, 2020 08:06
Kathmandu
Prakash Regmi, 37, has been working from home for the past four months given the coronavirus pandemic and the subsequent lockdown that followed. His everyday hairstyle pre-Covid days was a pompadour version of side parts. But getting his haircut at his regular barbershop became out of the question which gradually led to his perfect pompadour to head south. And, he would have lived with it if not for the many virtual meetings he attends on a daily basis. "I was conscious of my long unkempt hair covering my ears and wanted to make it short," he said, "The barbershops were closed for almost three months, and it would have been unwise to go even if they were operating."
So what did he do? You've guessed it. "I braved up to give myself a trim," he said. "The end result was nowhere close to how I imagined it would be. I ended up with distinctly uneven patterns at the back and sides of my head." He wouldn't dare show up in his staff meeting the next day with patchy spots on the sides so he begged one of his close friends to mend the damage. "Fortunately, my friend, who lives just a few minutes away from my place, and knows how to use a trimmer, came over to help eliminate the patchy spots. Unfortunately, I had to settle with a crew cut that I didn't like."
He could do nothing but wait. The next month when his hair grew back, he went to the same friend and fixed it. "This time, not only did I have my hairstyle back but had the idea to trim hair evenly; to use different guide combs for the desired length of hair; to fade; and to clean up an arch, sideburns, and neck," Regmi said. The third month, with whatever he learned from his friend, he trimmed his hair on his own.
Now that the lockdown has been lifted and the country is slowly heading towards normalcy, your trusted barbers are back in business too. Sure they might have 'improved level of hygiene and cleanliness', but it will still be unwise to consider going to the barbershop; wait for your turn and have your haircut—despite the fact that you and the service provider both are wearing masks, there's still a chance for coronavirus transmission. So what can be done to the long unkempt hair before you show up at work or social events? Here's how you can give yourself a haircut at home.
Hair clipper is a must-have tool to give yourself a haircut. Then you need a comb and a couple of mirrors—one up on the wall and another hand-held. Jamsed Wasta who runs a hair salon—Firoj Hair Cutting Salon—at Shurya Bikram Gyawali Marga, Baneshwor, said, "It's easy to give oneself a haircut with the help of a hair clipper; even amateurs can operate it easily."
There are a variety of hair clippers—of different brands and price tags, ranging from Rs 500 to more than Rs 10,000—available in the market. Despite different brand names and models which are associated more with sophistication and durability, all hair clippers have the same function. However, experts recommend not using beard clippers, which can be easily mistaken for a hair clipper, to give yourself a haircut. "Beard clippers come with less power and are not meant to be used on long thick hair," said Wasta. "Plus, most of the beard trimmers come with up to 1.5 mm guide combs whereas you may need a 10-centimetre guide comb to get the hairstyle you desire," he said.
Wasta points to a picture of a buzz cut hairstyle and says it is the easiest haircut one can get at home. "Set a guide comb of 1-to-2-mm on the clipper; comb through the hair so it falls into its natural direction. Start by trimming the sides from the bottom upwards, and repeat around the sides and back of the head—it's easy," he said. "Then, using a zero-mm guide, clean up the arch around the ears, sideburns, and neck—then it looks clean and professional."
In the first try, Regmi had ended with patchy spots on his scalp. And this could happen with any first-timer. So to get it right the first time itself, Wasta suggests you hold the clipper lightly against the hair, with the teeth of the guide comb pointing up flat against the head. Slowly lift the clipper up and outward through the hair, cutting only a small amount at a time. "For uniform cutting, allow the clipper to cut its way through the hair; do not force it through at a faster rate," he said.
Uniform cutting is a skill that comes with practice. The next to learn is styling. As experts say hair styling is all about fade, lines, direction, and the length of the hair. "For the trendiest looks, you can give lines and fade cuts on sides and back by using different guide combs, while moulding the hair on top you can give different styles ranging from classics like side part and pompadour to fashionable quiff and faux hawk," said Wasta.
---
---