Indra Jatra observed amid fanfare
Chariot processions of Ganesh, Bhairav, and Kumari, the living goddess, took place during celebrations.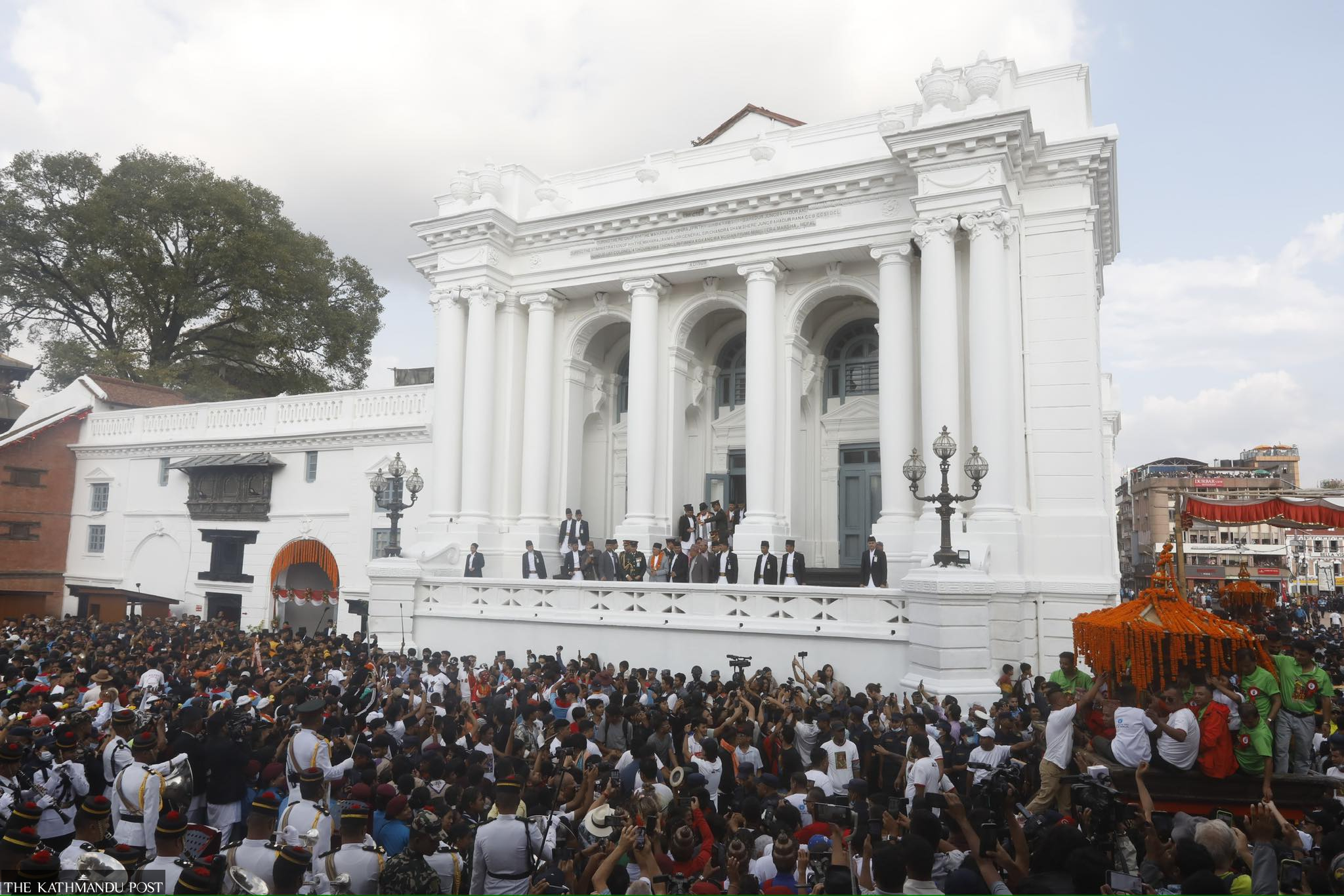 Published at : September 28, 2023
Updated at : September 28, 2023 17:54
Indra Jatra, one of the most celebrated festivals of Kathmandu, was observed with fanfare on Thursday.

The eight-day festival, celebrated mainly in the three districts of Kathmandu Valley, Dhulikhel and Dolakha, formally began with the installation of lingo (a sacred wooden pole) at Hanuman Dhoka Durbar Square on Tuesday morning.

The wooden log, called Ya Sin in Nepal Bhasa, is worshipped during Yenya (Indra Jatra) after it is installed outside Hanuman Dhoka Palace amid a ritual that marks the beginning of the festival. Ya Sin travels to Hanuman Dhoka from a forest in Suryabinayak, Bhaktapur, called Lingo Guthi Community Forest, formerly known as Nala Ban.

President Ramchandra Paudel, Vice President Ramsahay Prasad Yadav, Chief Justice Bishowambhar Prasad Shrestha, Speaker Devraj Ghimire and National Assembly Chairman Ganesh Prasad Timilsina among other dignitaries participated in the festival celebration at Hanuman Dhoka.

Various ceremonies including the chariot processions of Ganesh, Bhairav, and Kumari, the living goddess, which is the most popular attraction of the festival, took place during the celebrations.
Here are some photos of people celebrating Indra Jatra by Post's photojournalist Elite Joshi.

---