Far off the road, Sisne is in the slow lane
Residents of the rural municipality grapple with a lack of roads, limited educational opportunities and persistent electricity outages, encapsulating their ongoing struggle for connectivity and development.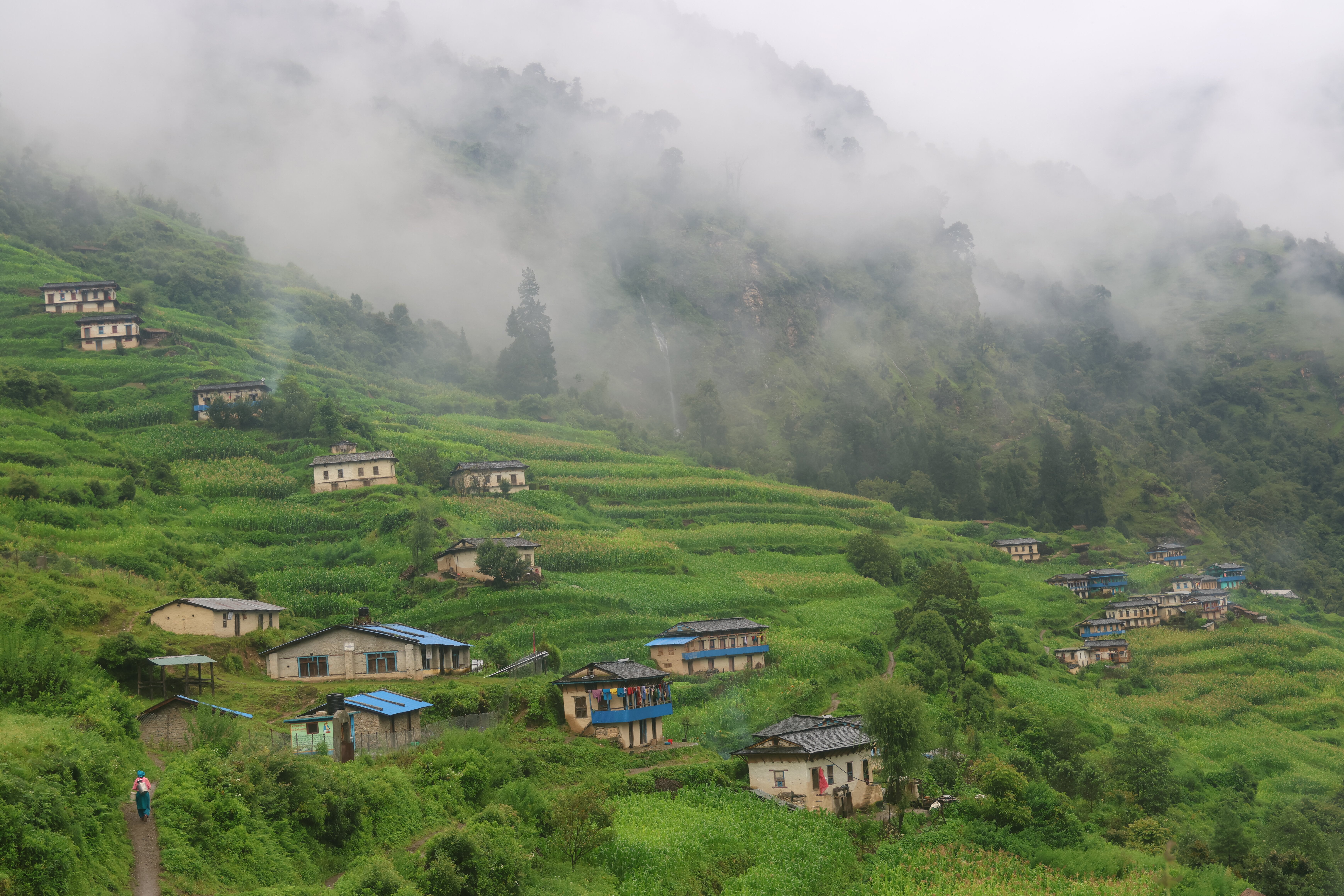 The settlements in Thulo Sisne and Bhattechaur. Mahesh KC/TKP
Published at : September 16, 2023
Updated at : September 16, 2023 10:25
Mount Sisne is a looming presence in Sisne Rural Municipality. It is both an emblem of Rukum district and the pride of the municipality. Six villages make up Ward 1 of the municipality.

Baliram Budha from Bhattechaur, Ward 1 of Sisne Rural Municipality, reveals that it takes residents of his village a whole day to reach Deukhola, the closest town from where vehicles are accessible. "Sometimes we get there too late and can't find vehicles going out of town. So, no matter our emergency, we have to stay overnight and only resume our journey the next day." Most travellers are looking to reach the district headquarters, Rukumkot.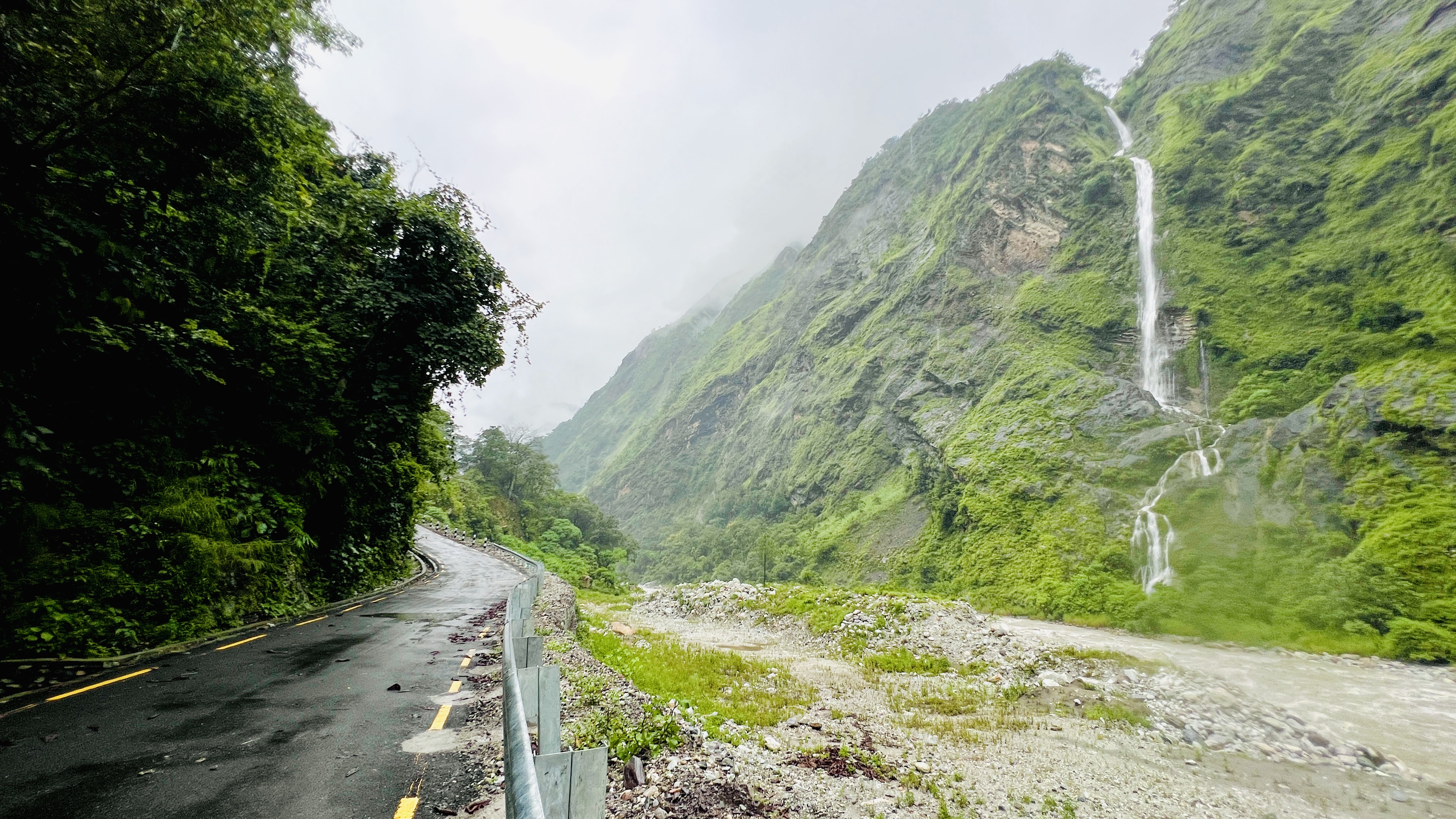 The Dhaune-Deukhola road section leading to Sisne. The incomplete road construction has made life difficult for locals. Mahesh KC/TKP
And they return the same way. From Rukumkot, Sisne residents have to switch vehicles thrice to reach Deukhola in Putha Uttarganga Rural Municipality Ward 14, crossing Baluwa in Bhume Rural Municipality Ward 5 along the way. However, it's not until one leaves Deukhola and approaches Nayagadh in Ward 2 of Sisne Rural Municipality that the real trial begins, says fellow Sisne resident, Dhanmaya Budha. Here, a daunting uphill path emerges, which must be walked on foot. The travellers also need to keep an eye out for huge chunks of rocks falling from above. "Our feet are firmly planted on the earth, but our eyes are cast upward to watch out for falling rocks. Sometimes the rocks fall continuously, and groups of travellers get separated--half on this side and the rest on the other--as the road gets blocked," she says, adding that the way is pretty risky at all times.
Two other rural municipalities that are also crossed on the way from Rukumkot to Sisne village are Bhume and Putha Uttarganga. The road from Baluwa in Bhume to Deukhola in Putha Uttarganga is approximately 10.8 kilometres and has been blacktopped, but that isn't enough to connect Deukhola to Sisne. The road needs to be constructed another 11.6 kilometres from Deukhola to Triveni in Putha Uttarganga.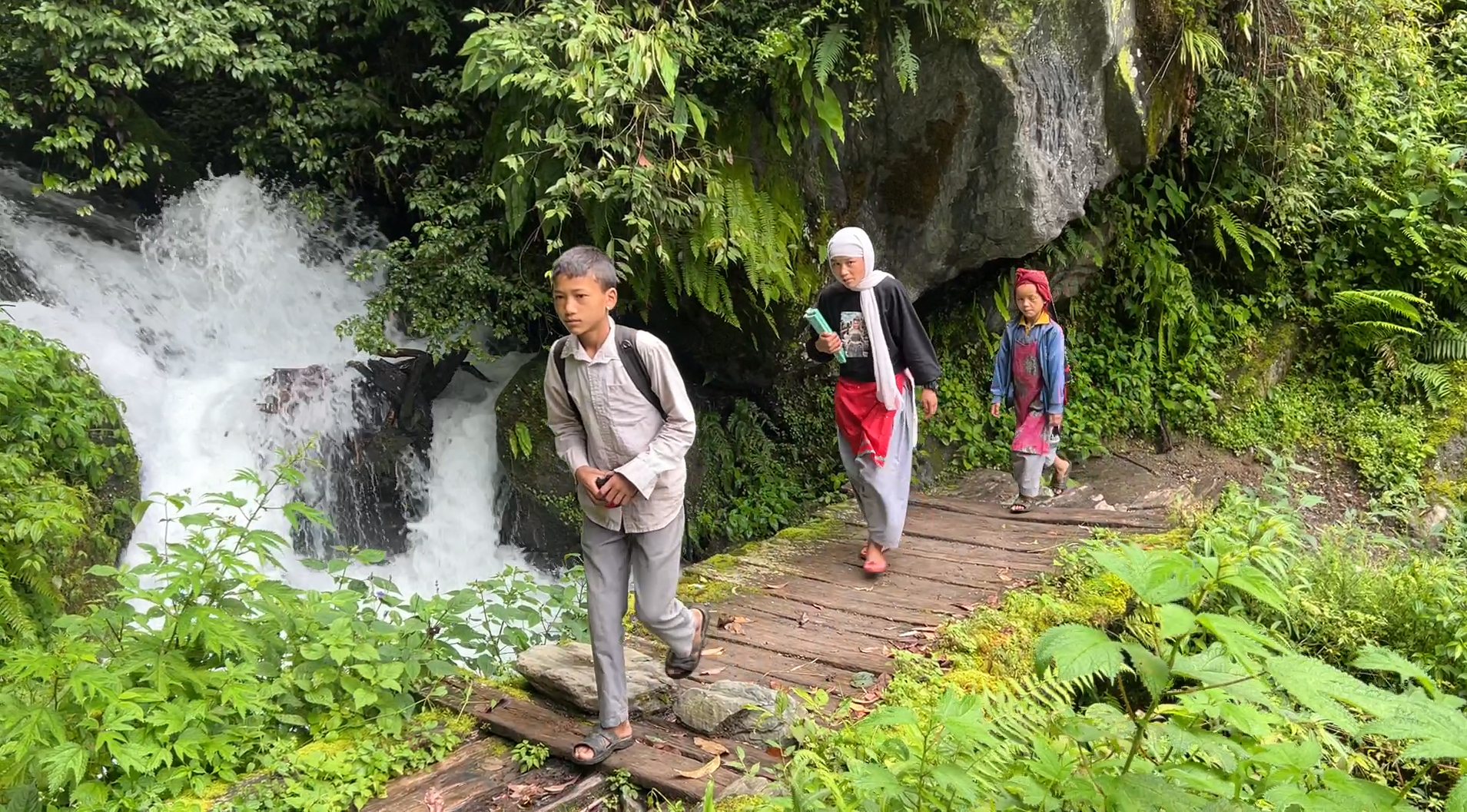 Children of Sisne Rural Municipality on their way to school. Mahesh KC/TKP
According to engineer Ram Ashish Shah from the Gramin Sadak Sanjaal Sudaar Ayojana in Rukum West, an agreement was made on June 9, 2018, with the construction company Shankarmali Nirman Sewa to build a blacktopped road, by July this year. (This is the extended deadline negotiated by the parties involved after the initial agreement.) Although the deadline is already over, the construction work hasn't even begun. Shah added that he is currently in the process of terminating this contract.
For the residents of Sisne, the dream of a road connecting the village to the rest of Nepal has remained just that—a mere dream. Although there were plans to construct a bridge across the Sanibheri River and extend the road from Sisne Ward 2 Nayagadh to Sisne village, this, too, never even got started. Ward Chairperson Rajbahadur Budha revealed that there was an attempt to open a track in Koldanda across Sanibheri River to Surdi, covering a distance of about 10 kilometres. A bulldozer was even brought from Taksara for this, and they were successful in opening the track, however, the team found it impossible to proceed further. "Until a bridge is built across Sanibheri, there is no possibility of our village getting a road," explained Chairperson Budha.
A woman from Sisne travelling barefoot carrying a load. Mahesh KC/TKP
He stated that education is another significant concern for children in Sisne. Although there are six schools in the area--that run classes from grades 1 to 10, reaching the schools--particularly those in Pakhapani and Bhattachaur--are very difficult.
Bakhat Bahadur Budha, a Thulo Sisne local, expressed concerns about children walking this way to school every day as it gets very slippery and difficult to walk, especially in the rainy season. Students studying in sixth grade and above have to travel to Pakhapani and it takes them over two hours to get to and back from the school. "There are many rivers along the way, and we don't always have the time to accompany our children. We pray to the gods, hoping they won't let anything happen to our kids during this journey, every day. It is that dangerous," he said.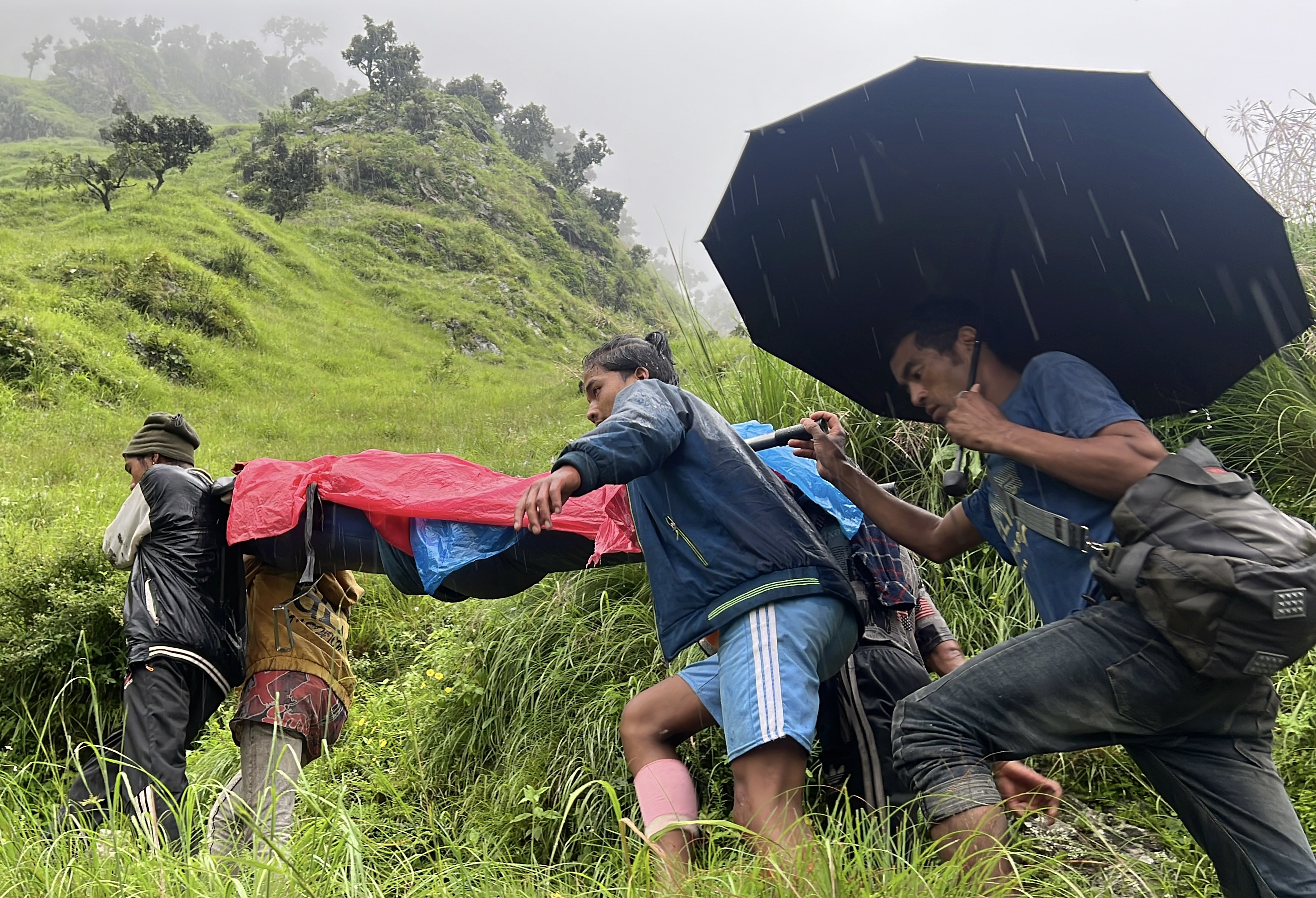 Pakhpani residents carrying a pregnant woman on their way back from a hospital at Chaurjahari. Mahesh KC/TKP
As the population is scattered across the municipality, it isn't feasible to establish secondary schools in every locality. Ward Chairperson Budha mentioned that after SEE, students have to move to Nayagadh of Ward Number 2 or the district headquarters for further studies.
"The economic condition of the people here doesn't allow them to send their children to study outside. This is why many students do not pursue higher education all together," he added.
Sisne also grapples with an ongoing electricity problem. The villages endure frequent and prolonged blackouts, lasting for days. This disrupts their communication--as even though Nepal Telecom offers telephone and 4G services, these services rely on a consistent supply of electricity to function.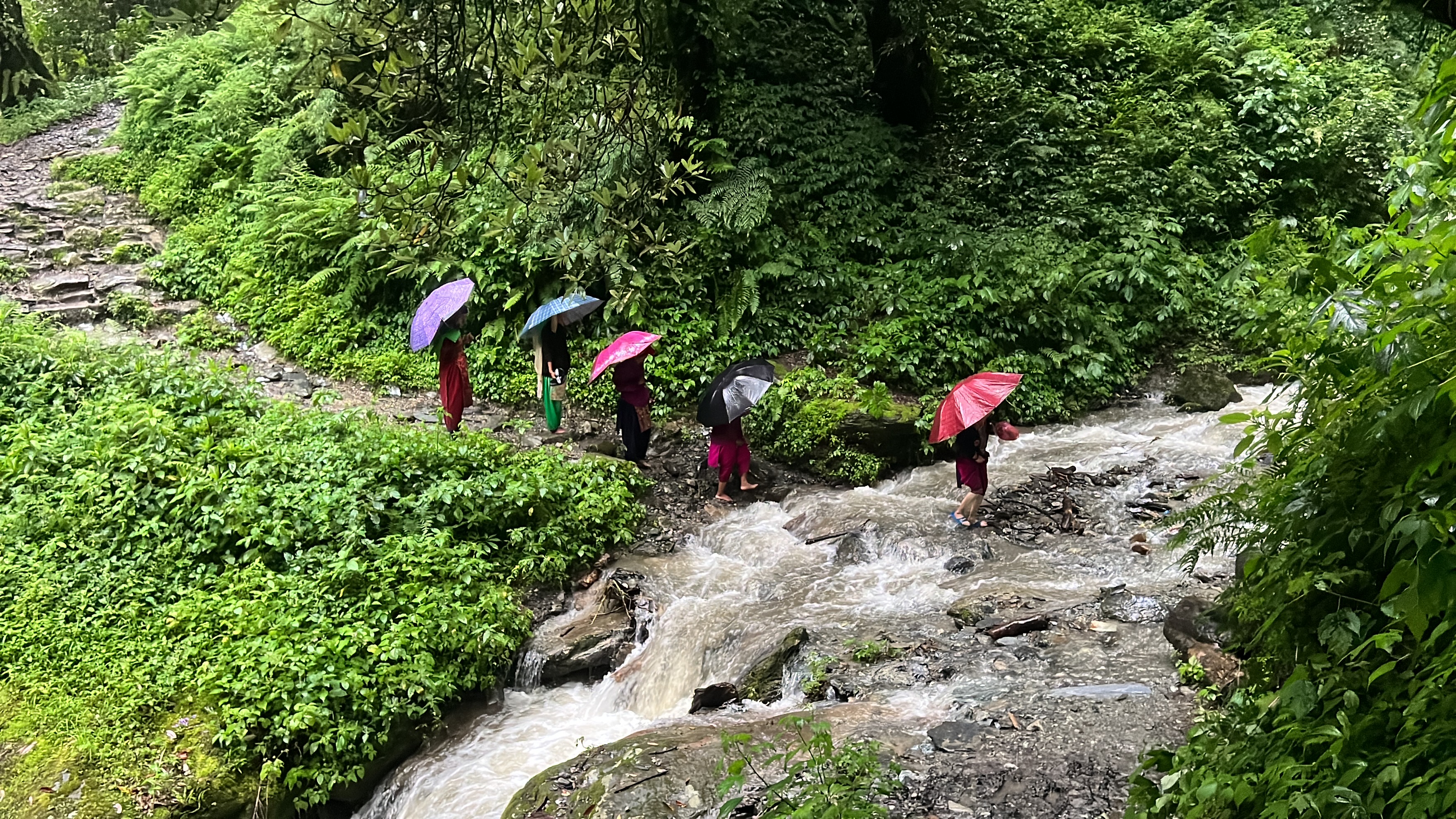 Sisne residents crossing a river during the monsoon. The lack of roads and difficult walkways make it difficult for locals to travel anywhere outside their villages. Mahesh KC/TKP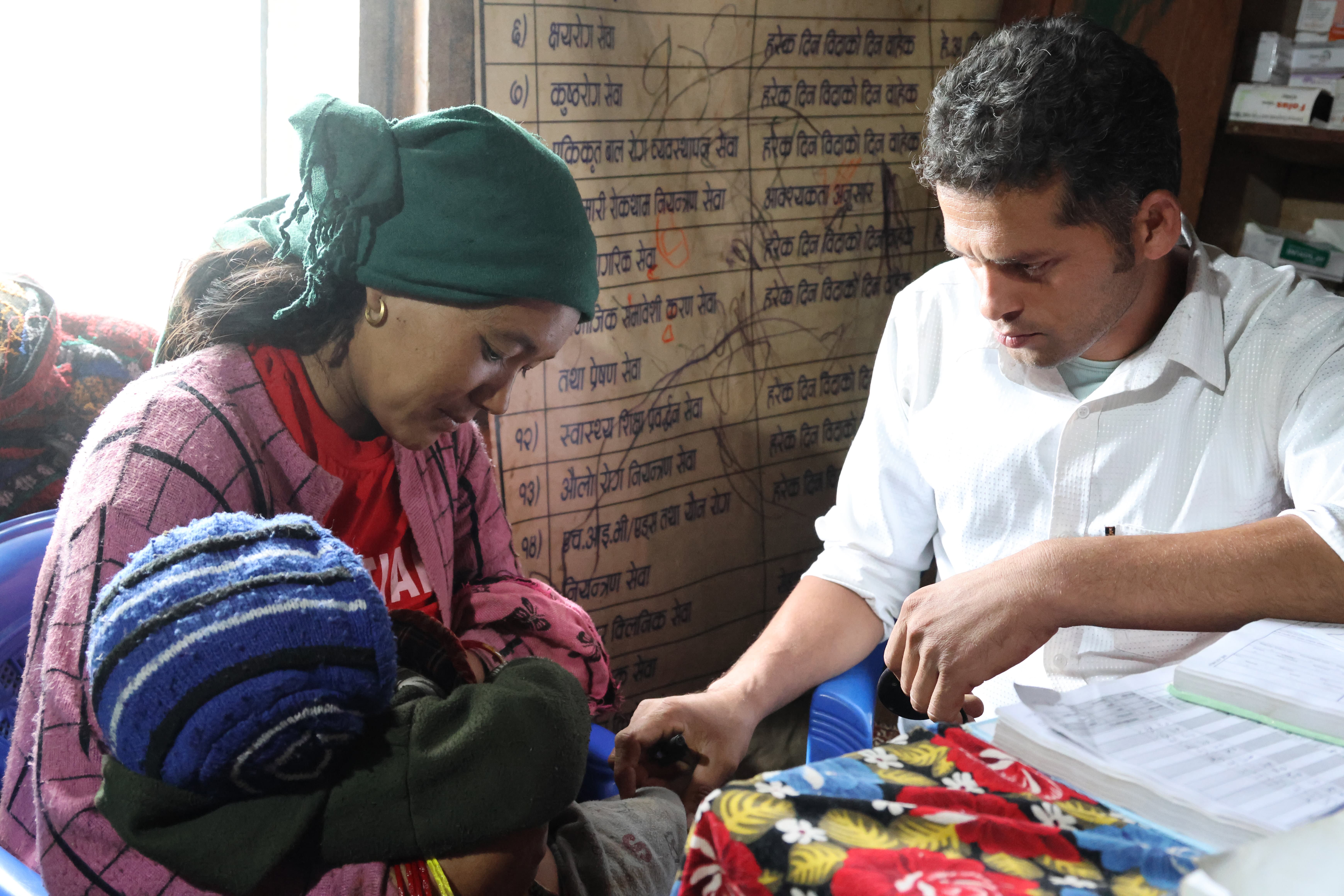 Residents can only get healthcare services by visiting a single health post or attending camps like this one, held once in a long time. Mahesh KC/TKP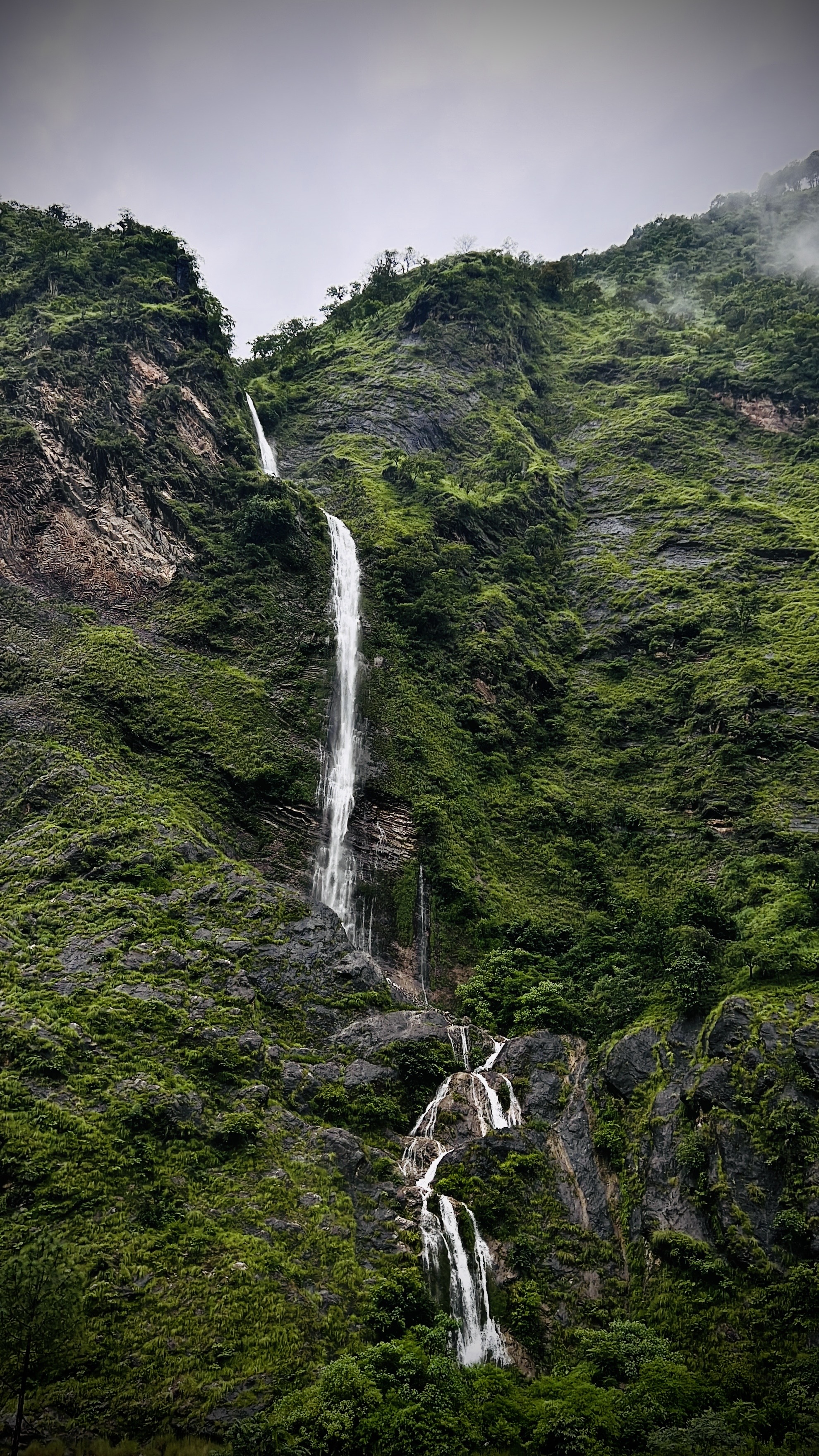 The Kapgar River waterfall. Mahesh KC/TKP
---