Flocks of sarus crane spotted in Tulsidihawa, Rupandehi
Tuesday's sighting of the birds is a good indicator of their population thriving, say ornithologists.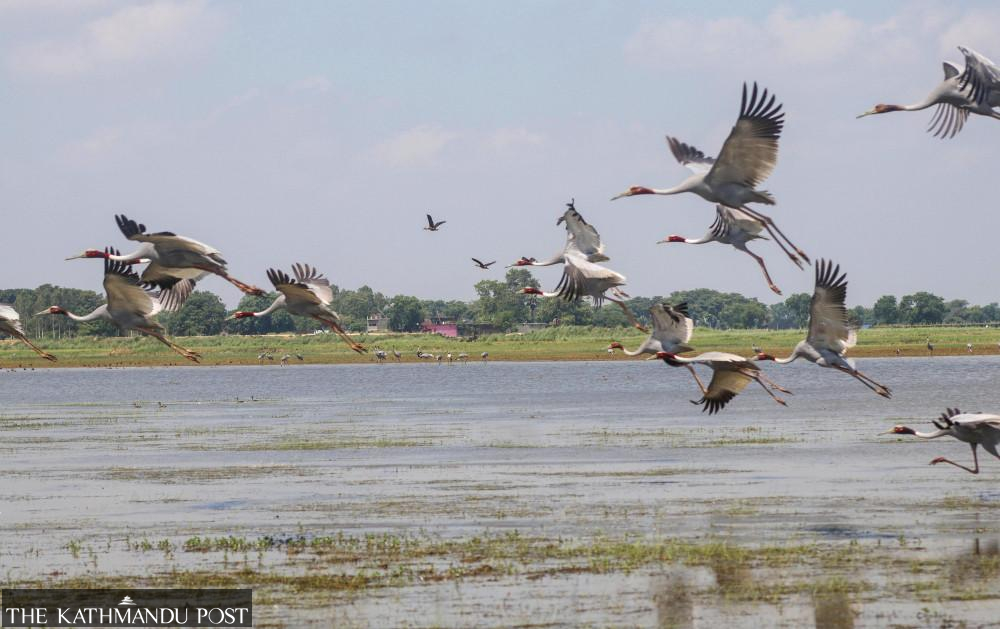 Manoj Paudel/TKP
Published at : July 19, 2022
Updated at : July 19, 2022 19:53
A large flock of sarus crane (Grus antigone), the tallest flying bird, was seen at Mayadevi Rural Municipality-4, Tulsidihawa, Rupandehi on Tuesday.
"When I saw the flock I stopped the car and started counting the birds," said Jaiprakash Pandey, chairperson of the Tilaurakot Collaborative Forest Management Committee, "They are a rare sighting. It was an exciting spectacle. I saw four to five flocks of sarus cranes. There were at least 25-30 birds in each flock."
Lumbini province is one of the major habitats of the sarus crane in Nepal and Tulsidihawa is an ideal spot for the birds to take sanctuary because of the numerous lakes and forest cover, said Pandey.
According to senior ornithologist Dr Hemsagar Baral, Tuesday's sighting of the birds is a good indicator of their population thriving.
Sighting many flocks of the bird in one place means that the birds are preparing to nest. "This is their pre-breeding time," senior ornithologist Dr Baral said, "They will stay here until their eggs hatch."
He said that sarus cranes have been seen in small flocks in Tilaura, Gobari, Ramapur, Niglihwa and Srinagar of Kapilvastu municipality.
Local Abdul Rashid Khan said five to six to 12-14 adult sarus cranes are seen in the fields around the villages including Jahadi, Bandihuli, Araurakot and Burmeli Tole. These places are located near Jagdishpur Lake, which is listed in the World Wetland Area.
The large non-migratory bird was enlisted in the IUCN red list of threatened species in 2000 after its population dwindled.
According to conservationists, the number of sarus crane has been decreasing in the country in recent years. They said live electricity wires and stray dogs are major threats to the birds. The birds are at risk of being electrocuted when they come in contact with live electricity wires and become prey to stray dogs while on the fields foraging for food.
"It is good to know that the biological diversity of that area is protected. This shows that the ecological system is turning healthy," said Baral.
The breeding season for these birds begins with the monsoon season. They wait for rainfall to start building their nest. "They are currently looking for a place to nest," said ornithologist Tikaram Giri.
Awadhesh Kumar Tripathi, Vice President of Lumbini Development Fund, said the large flocks of sarus crane in the area indicates their pre-breeding season.
"It should be understood that this means they are preparing to breed," he said, "You can witness the unique and beautiful dance of the sarus crane if you are in Lumbini this time of the year." According to him, the eggs will start hatching babies by September.
"It is good to see sarus crane in flocks in one place," said ornithologist Ramesh Chaudhary. "It is a sign of biological diversity protection there, although, the climate is affecting birds worldwide, the ecological system here is good."
Sarus prefers a higher place in the middle with water bodies to nest.
Sarus is one of the nine bird species protected by the National Parks and Wildlife Conservation Act, 1973. It is estimated that there are 500 sarus cranes in Nepal. Ornithologist Dr Baral said that there are more than 300 storks in Kapilvastu, Rupandehi and Nawalparasi alone.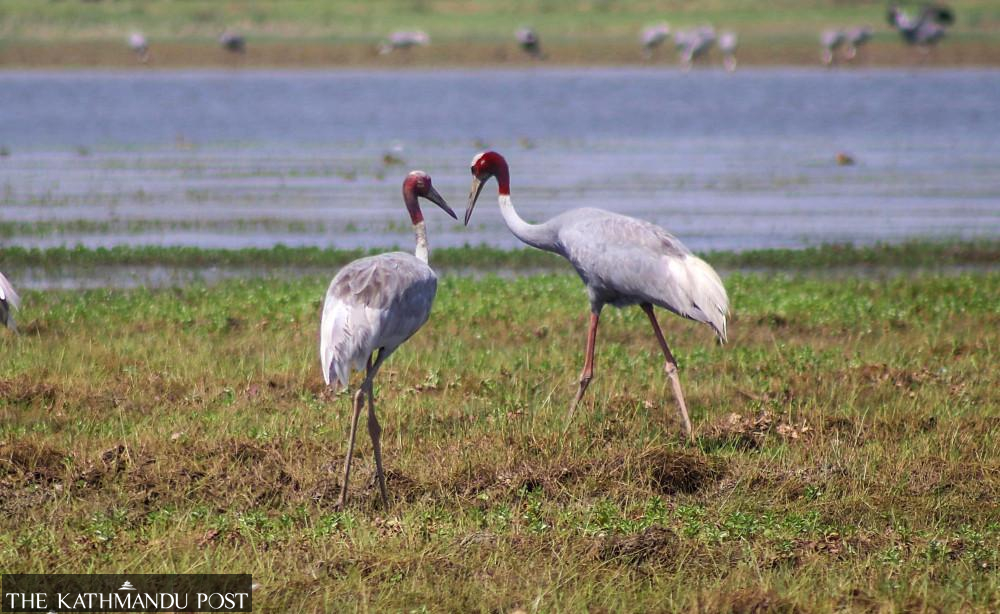 Manoj Paudel/TKP
Manoj Paudel/TKP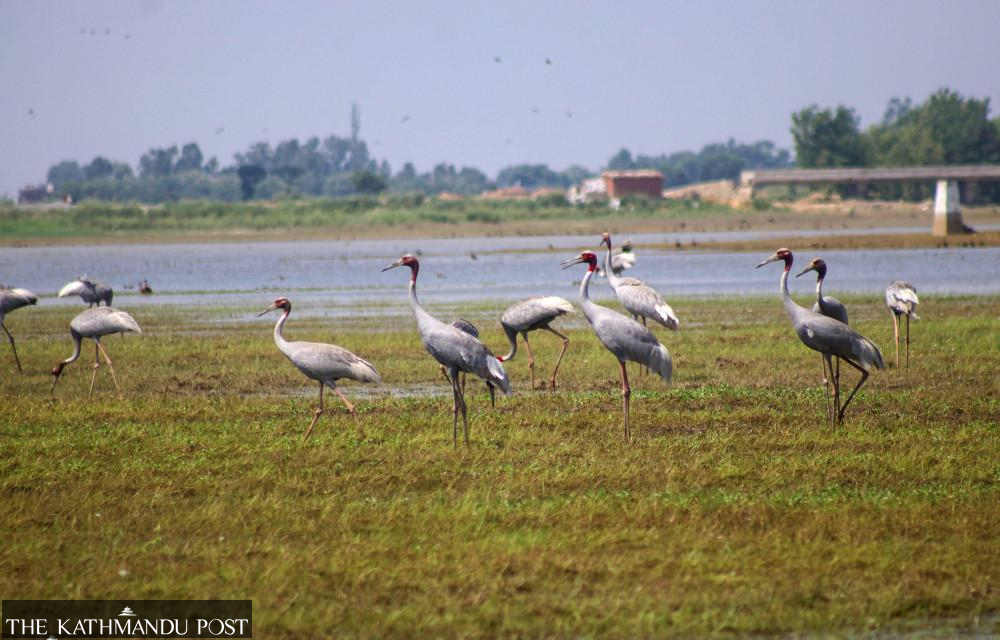 Manoj Paudel/TKP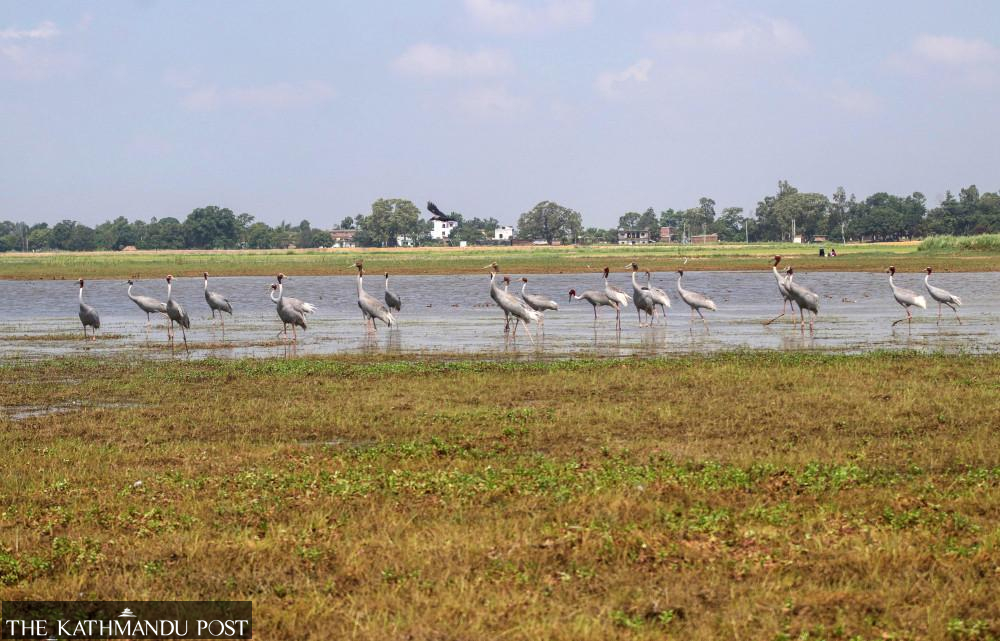 Manoj Paudel/TKP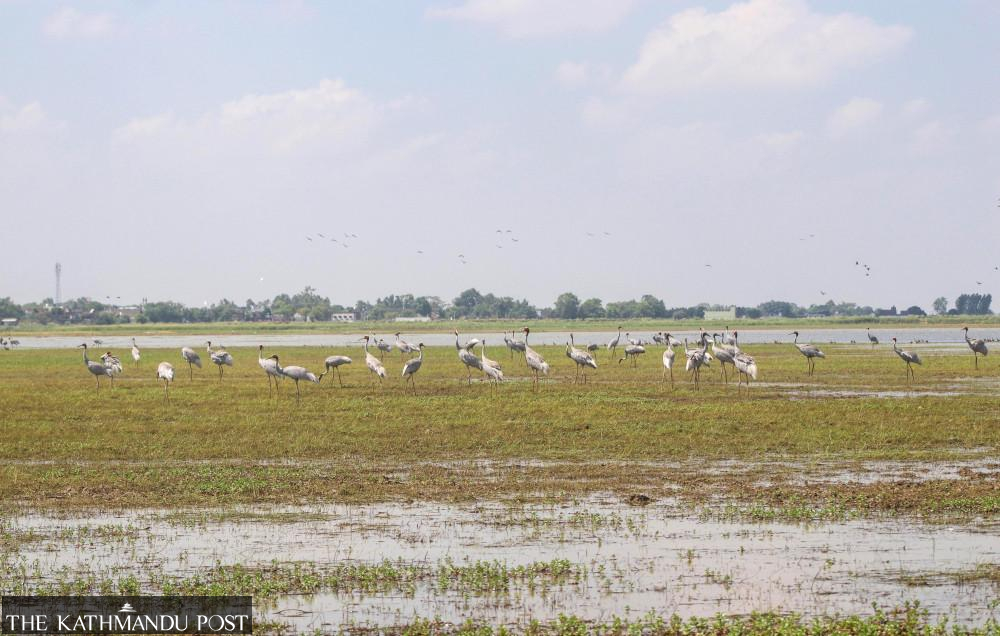 Manoj Paudel/TKP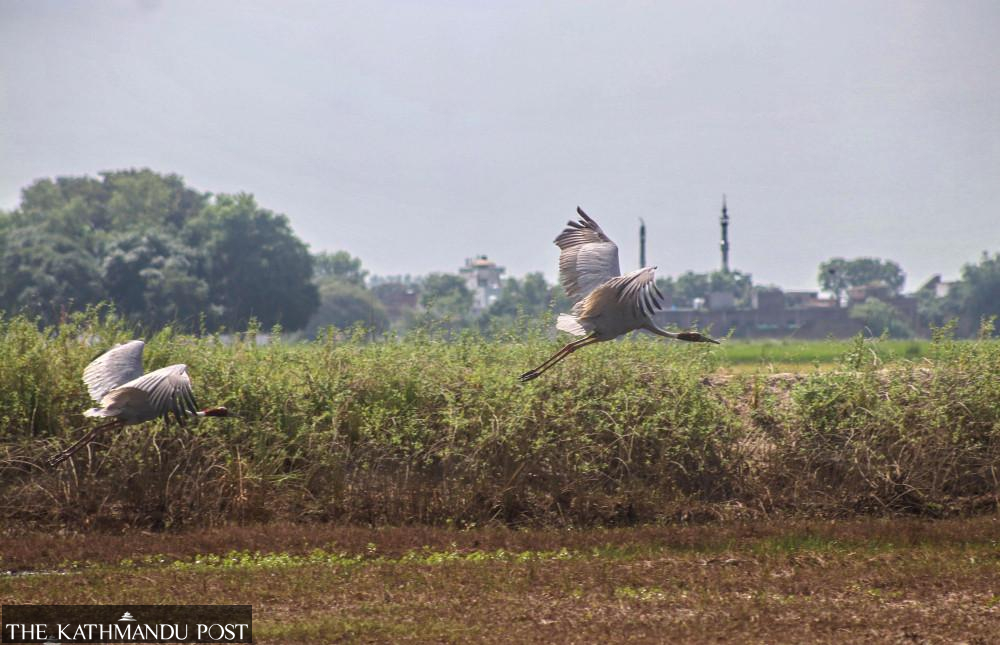 Manoj Paudel/TKP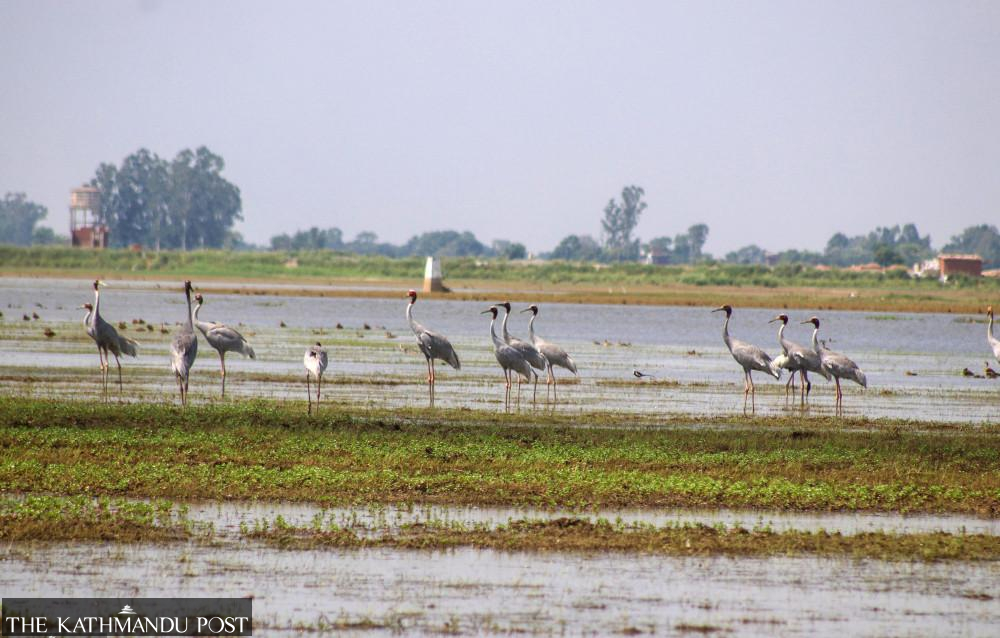 Manoj Paudel/TKP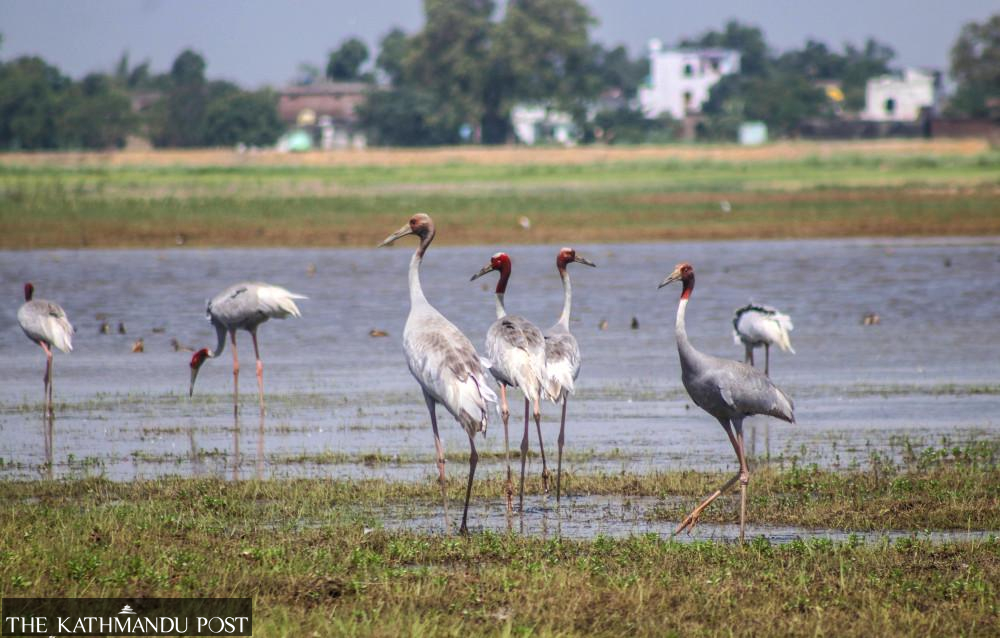 Manoj Paudel/TKP
---