Life on the move
Every year for three to four months, people from the Bhote community migrate to the lowlands with their sheep and goats to survive the bitterness of winter.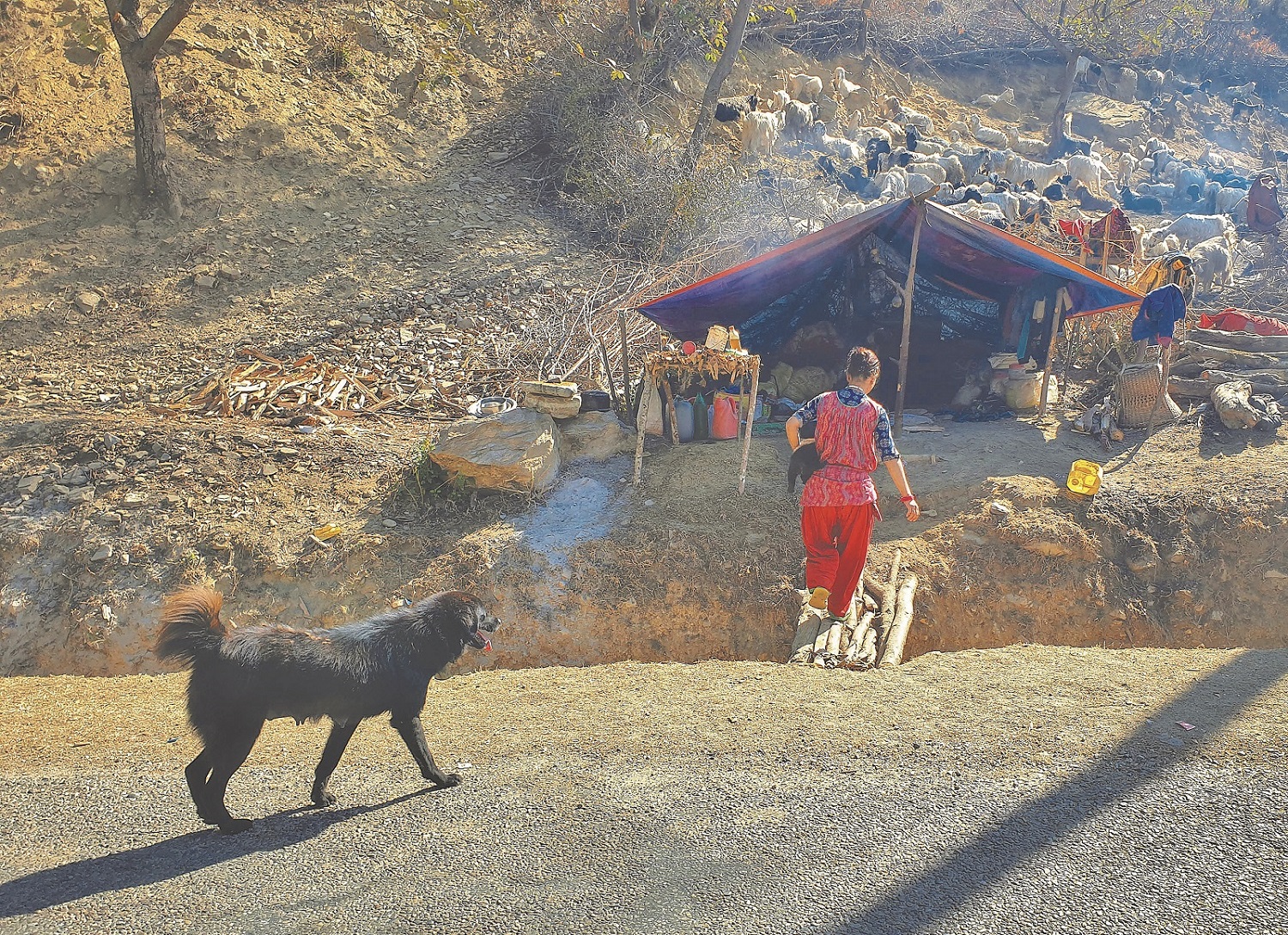 Dinesh Regmi/TKP
Published at : March 6, 2021
Updated at : March 6, 2021 10:13
Rearing sheep and goats has been the occupation of the people of the Bhote community for generations. As livestock farming has been their way of life for as long as they can remember, when they move to lower regions to avoid the cold in the winter, they take their cattle with them.
A group, consisting of closely related five families, was found living in a community forest near Silgadhi, the district headquarters of Doti, recently.
They had left their homes in Aangaupani of Budhinanda Rural Municipality Ward No. 9, Bajura, in November last year with around 400 sheep and goats for the lower regions. Before arriving at the community forest near Silgadhi, the group had travelled and temporarily stayed for 12 days in parts of Bajura, Achham and Doti districts. They spent three months in the community forest.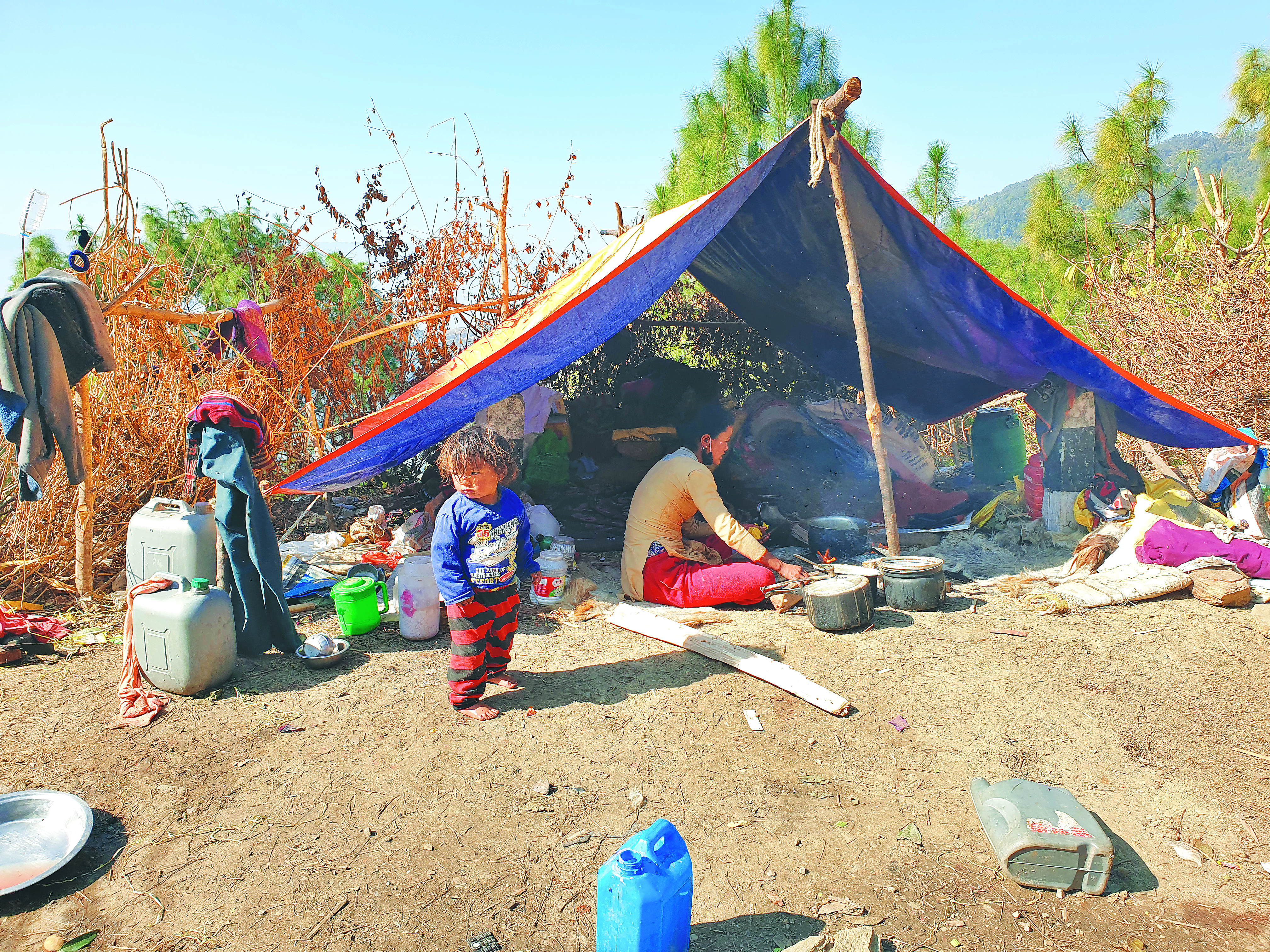 Dinesh Regmi/TKP
Last week, they moved to a place called Chaukhutte which lies in the borders of Doti and Achham. They have planned to return home in mid-March.
"There is extreme cold and scarcity of fodder in our area during winter, that's why we have been migrating to graze our cattle," said 50-year-old Man Singh Thapa, a resident of Aangaupani. "Our community has been involved in this profession for generations."
Thapa said he was 10 years old when he migrated with his family and sheep and goats for the first time. "Our group consists of five families, which are closely related," he said. "Of 400 goats and sheep we have, 80 are mine."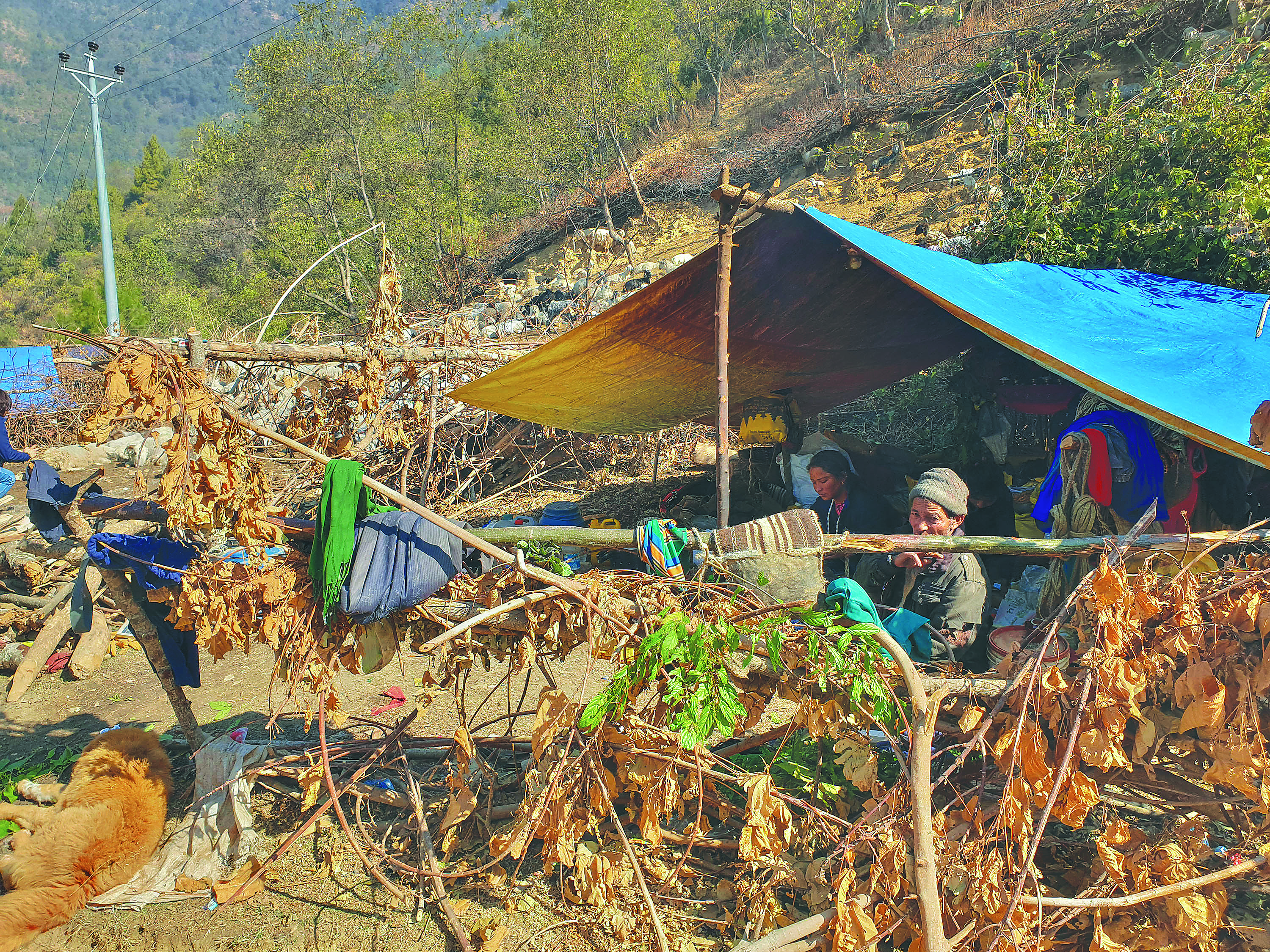 Dinesh Regmi/TKP
While Man Singh and his wife had left home with their animals earlier, they were later joined by their son and daughter who study in grade six and nine respectively. The children travelled with their relatives.
The families carry all their essentials during their travel and buy the rest on their way.
"It is difficult to live like this away from home, but we have been continuing it since it has been going on for generations," said Aayusma Thapa.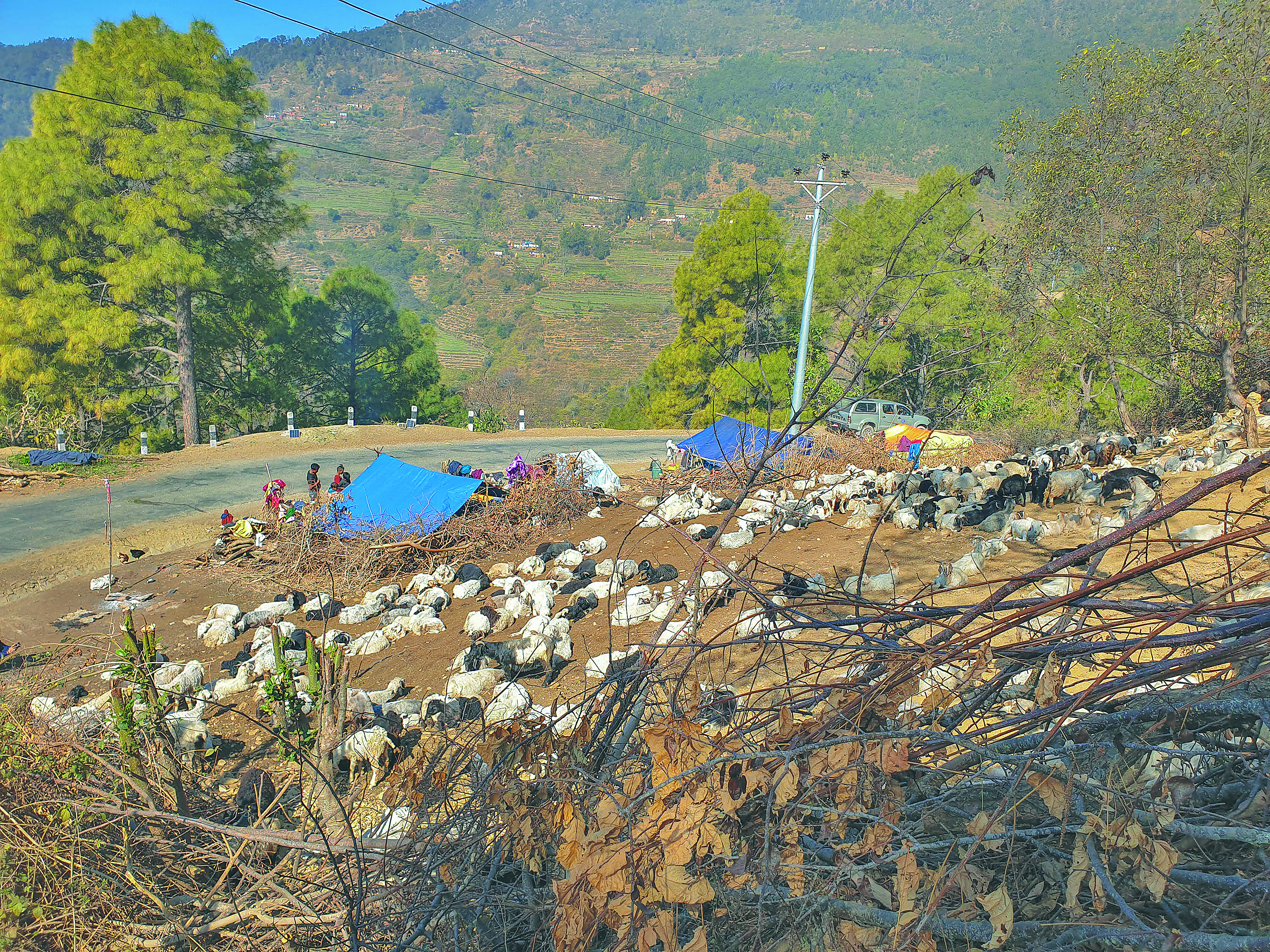 Dinesh Regmi/TKP
Pabitra Thapa, from another family, said that it was her second trip. She has 100 goats and sheep, and also has a dog named Kalchi. "Kalchi informs us about the presence of wild animals," she said. "However, our profession is difficult, sometimes wild animals kill our goats and sheep, other times they get lost or stolen."
Man Singh said that they paid Rs50,000 to the community forest in Doti for their three months' stay and Rs20,000 to the community forest in Achham for a month-long stay.
"We have to pay whatever the community forest users' demand," Thapa said. "It is becoming more difficult to sustain our traditional occupation, but we cannot rear them by keeping them at our home either."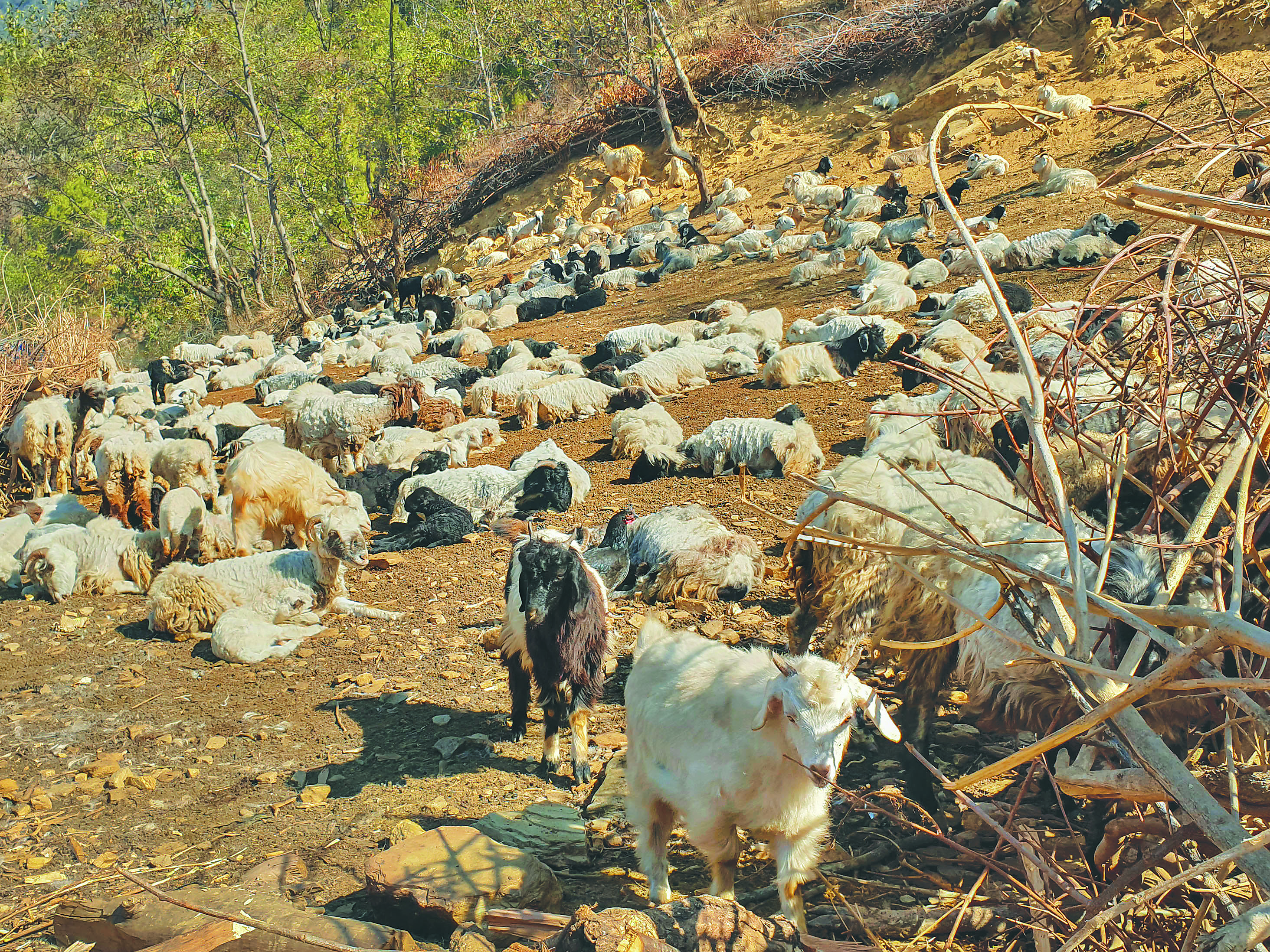 Dinesh Regmi/TKP
But it is not just people from Bajura who come down to Doti. People from Mugu, Humla and Jumla also used to come to Doti with their cattle for seasonal migration in the past.
The migrators consult astrologers before leaving and returning home. This season, they are expected to return home sooner as there was less snowfall this winter in their home compared to the previous times.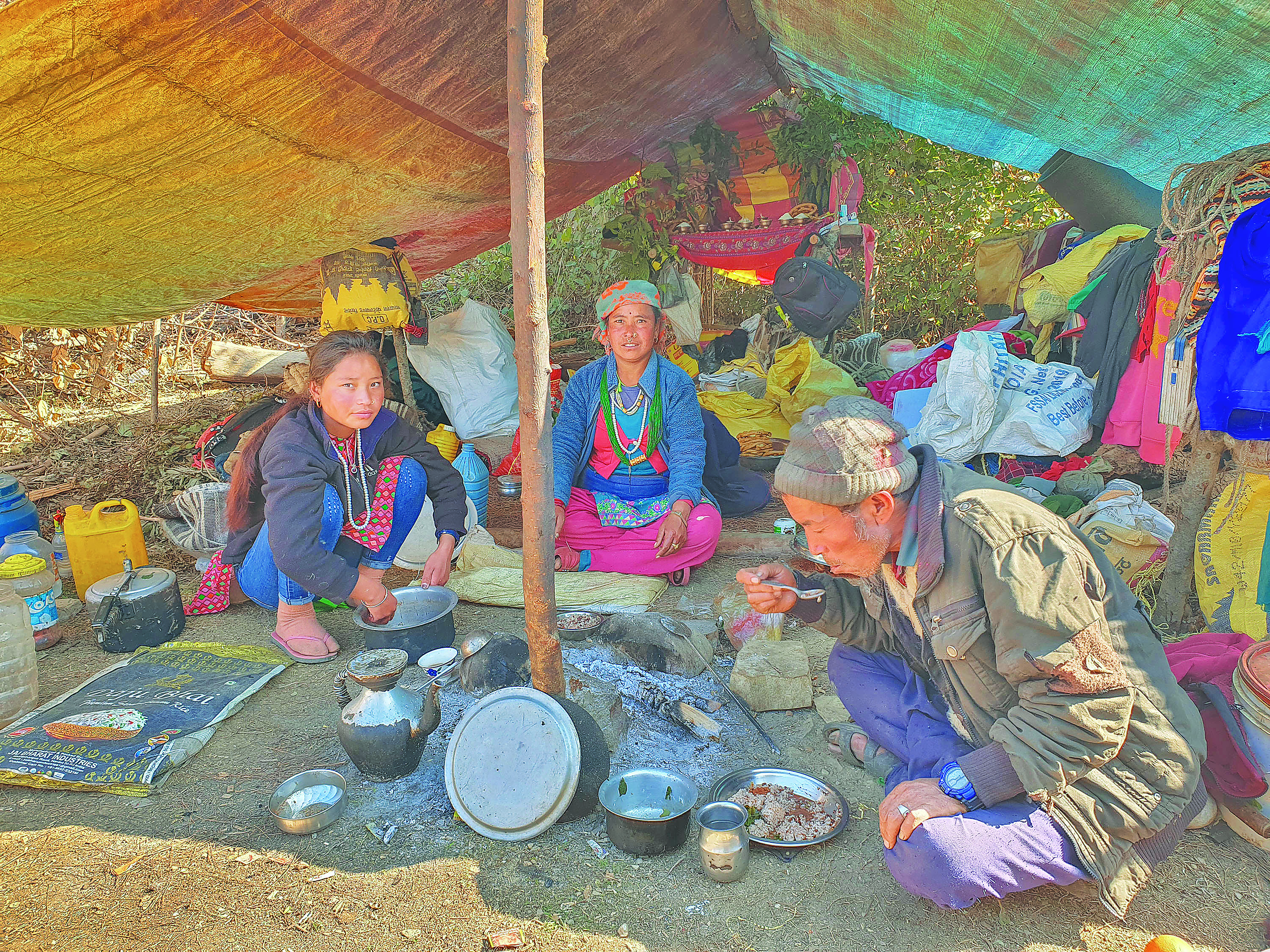 Dinesh Regmi
"Since there was less snowfall in our area this winter, some people will be returning home earlier than they used to," said Khadak Bahadur Bohara, the ward chair of Budhinanda Rural Municipality-9. "There are around 150 Bhote families in our ward involved in sheep and goat farming, however, due to the lack of pastures they migrate for three to four months with their animals in winter every year."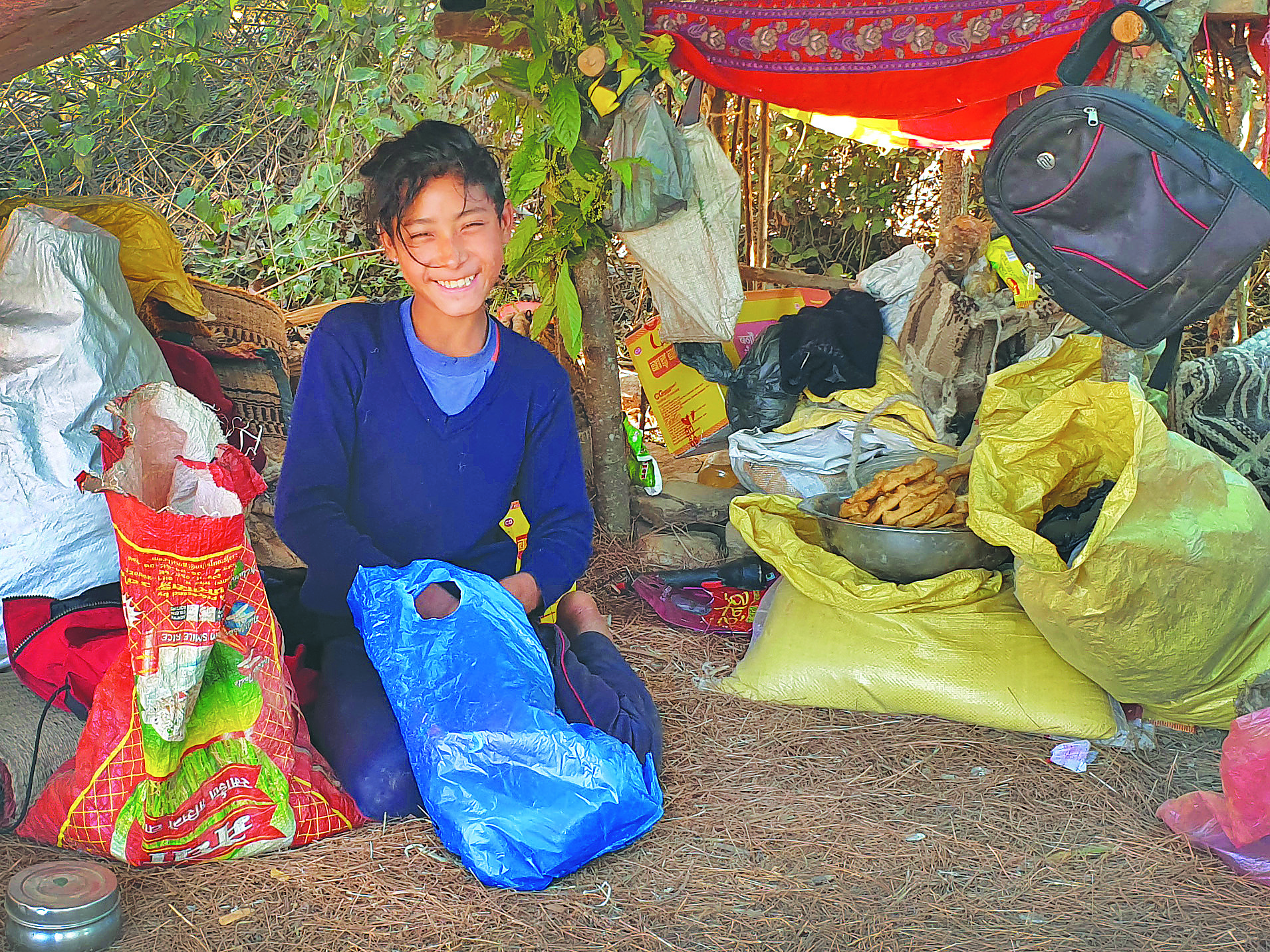 Dinesh Regmi/TKP
---