This sports club provides free workout sessions to community members to counter the stress caused by the pandemic
Norbulingka Sports Club at Tibetan Refugee Camp in Jawalakhel, which began work out sessions from May 17, provides face shields and gloves for free and social distancing is maintained during the workout.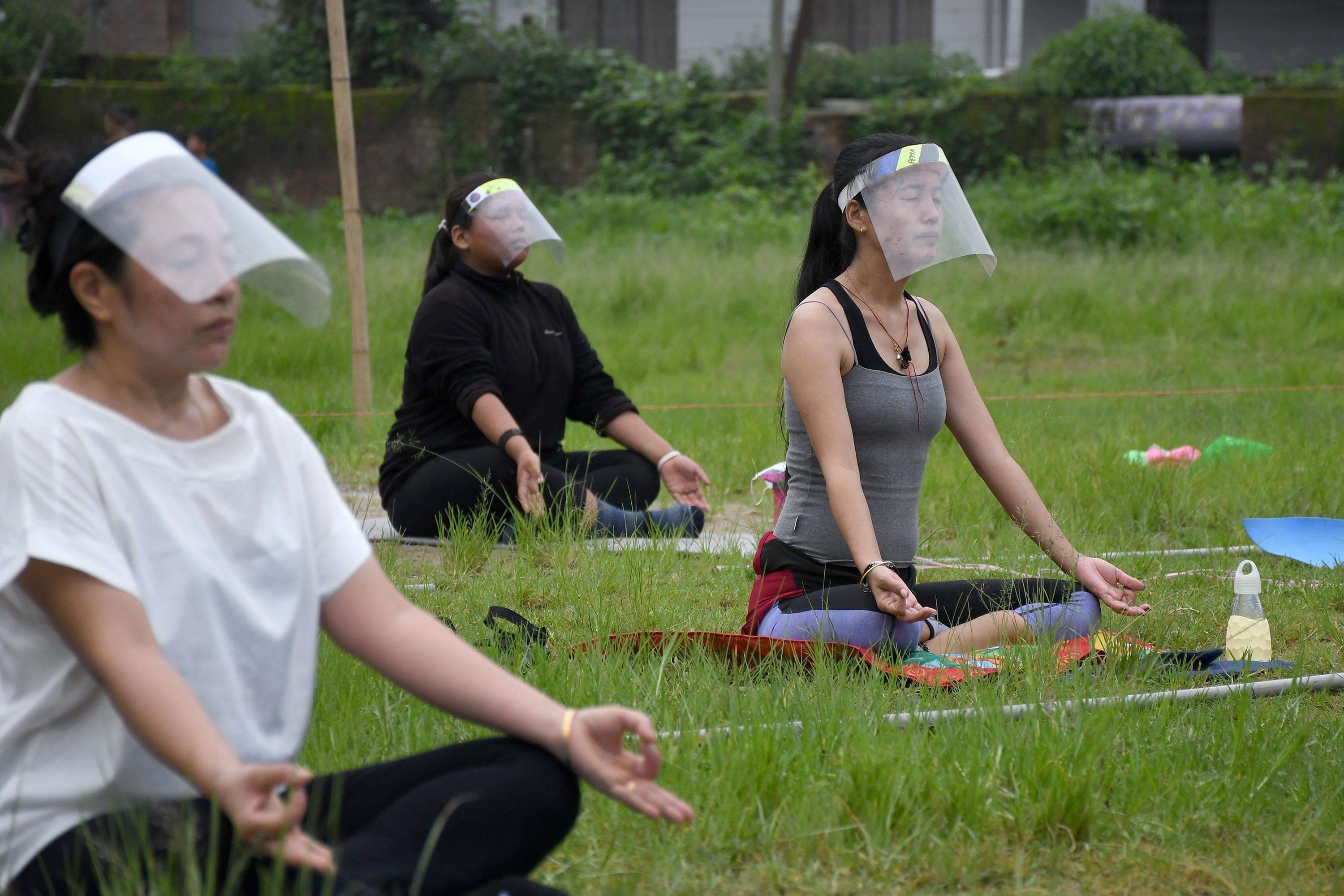 Anish Regmi/TKP
Published at : July 1, 2020
Updated at : July 1, 2020 16:41
Every day around 50-70 people come to the Tibetan Refugee Camp in Jawalakhel, Lalitpur early in the morning to participate in the workouts sessions orgnaised by Norbulingka Sports Club.
The club, established in 1972, has been providing free workout sessions at an open ground of the camp for people from the Tibetan Community since May 17. However, people from other communities have also begun participating.
Health clubs and fitness centers have remained closed since March 19, five days before the country went into lockdown, following a government order to control the spread of Covid-19.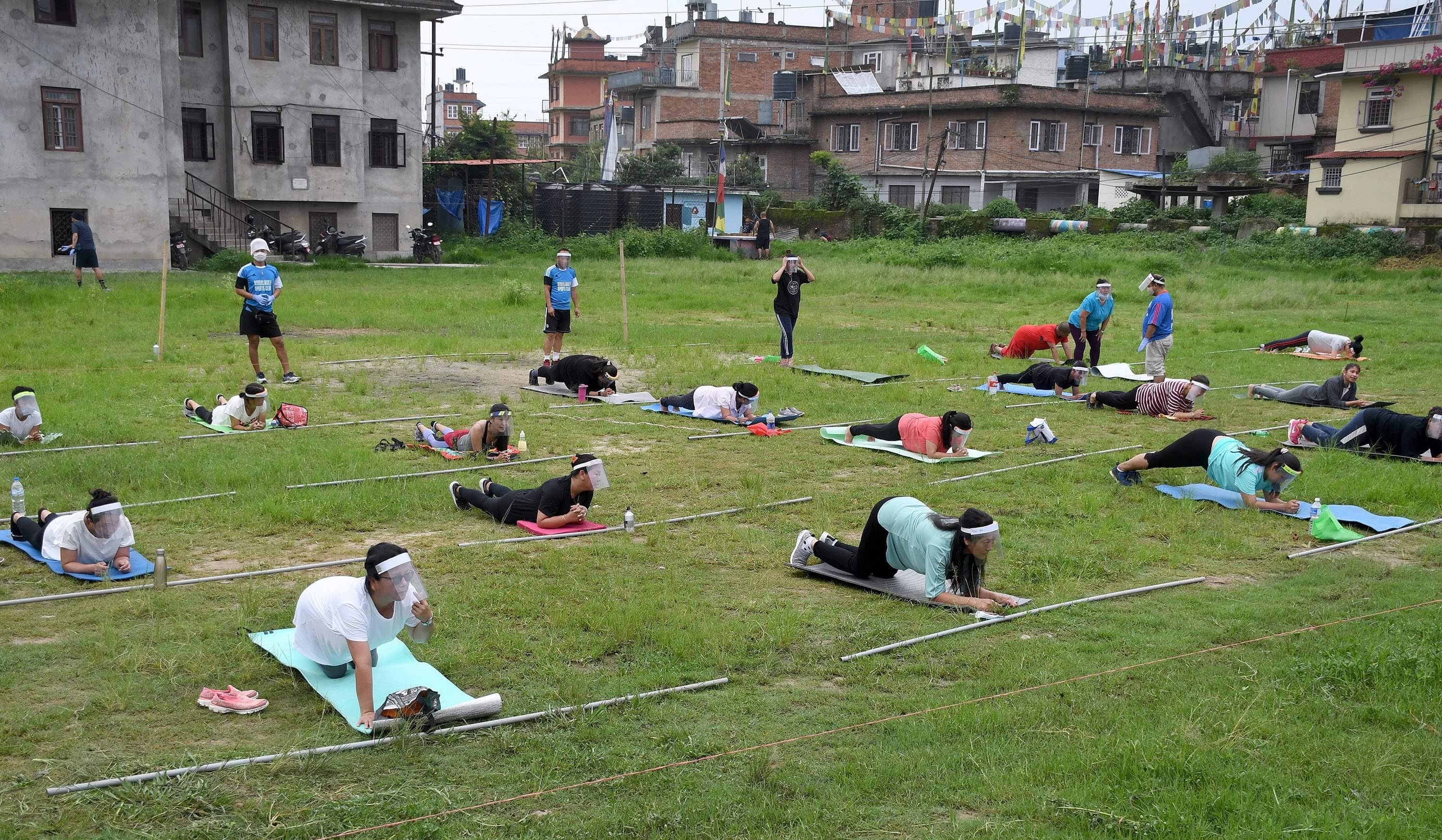 Anish Regmi/TKP
Abiding by the government order, the club shut down its services and has remained closed since. However, people have been coming to the camp grounds every morning to get some exercise. This prompted the club to organise various workout regimens for different age groups while ensuring every safety measures against the Covid-19.
"People from the community used to come to the ground here and do some exercises on their own. Seeing this, our club came up with an idea to design some workout structures and train the interested people for free," said Sherpa. "Thus we designed the one week transformation programme and started training people."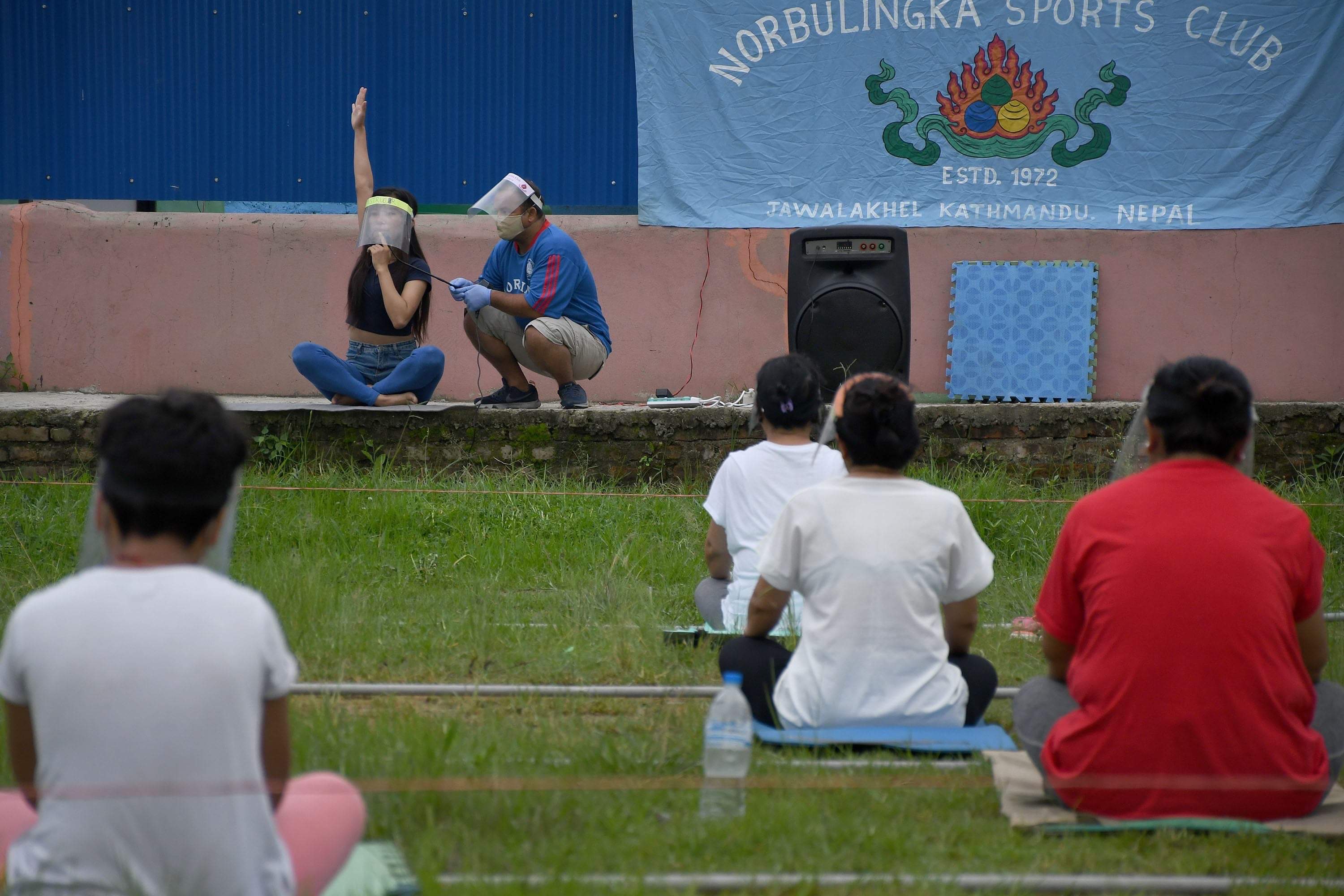 Anish Regmi/TKP
In order to materialise their idea, the club started conducting workout sessions in the very open ground strictly adhering to physical distancing rules and provides face shields and gloves for free to participants and there is a strict policy that they wear them during the entire workout sessions.
"We ourselves have made these face shields and we also made masks and distributed it to the community for free," said Pema Sherpa, a committee member of Norbulingka Sports Club. "We make sure that people coming for workout sessions wear the face shields and maintain social distance during the sessions."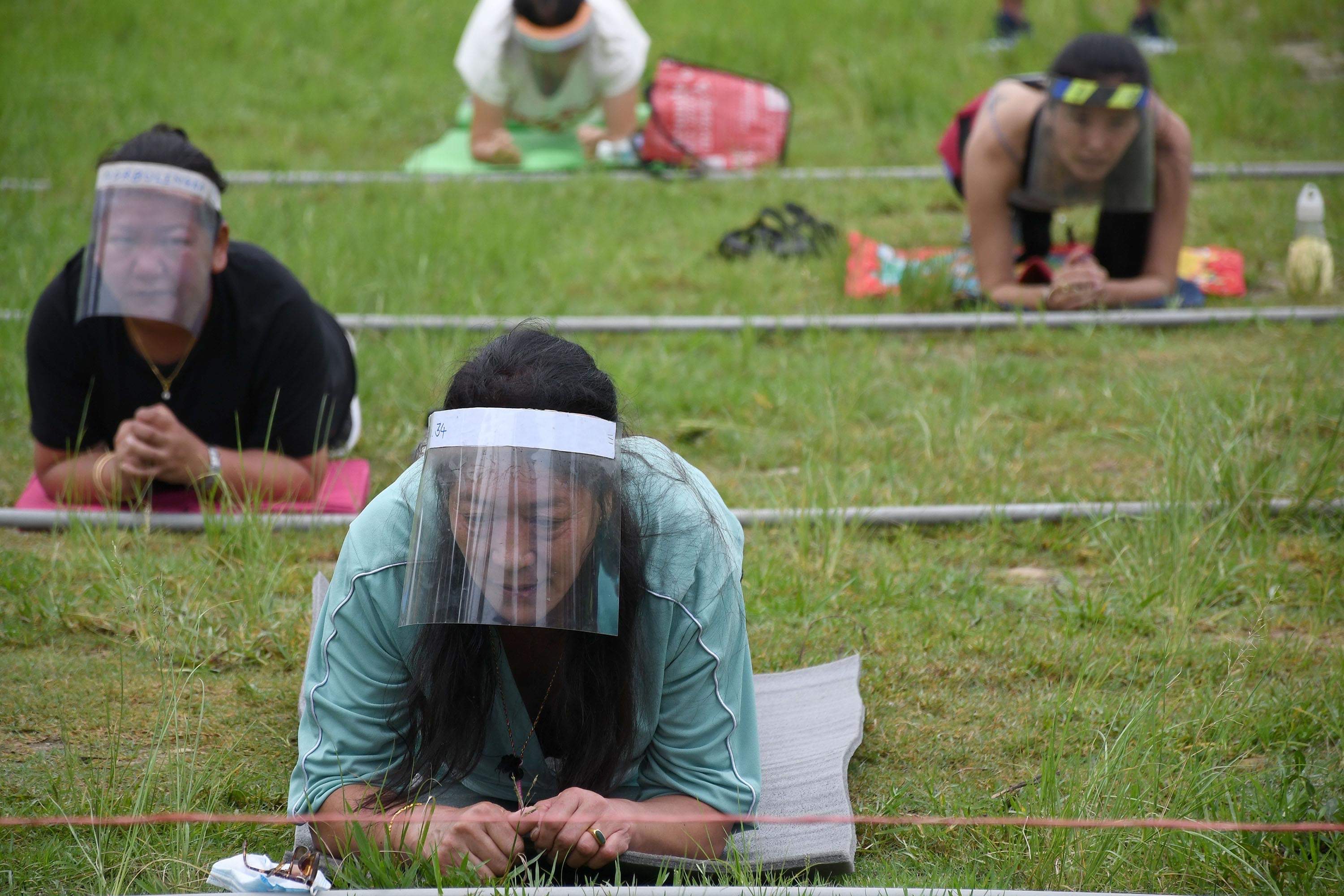 Anish Regmi/TKP
The workouts session starts 6:30 am sharp and is divided into two categories based on the age of the participant. There are separate workouts for those above 60 and those below the age.
According to the club, people below 60 years of age are provided high intensity interval training, zumba and yoga. These various workouts are done for one hour every day, except Saturdays and as per the availability of the instructors.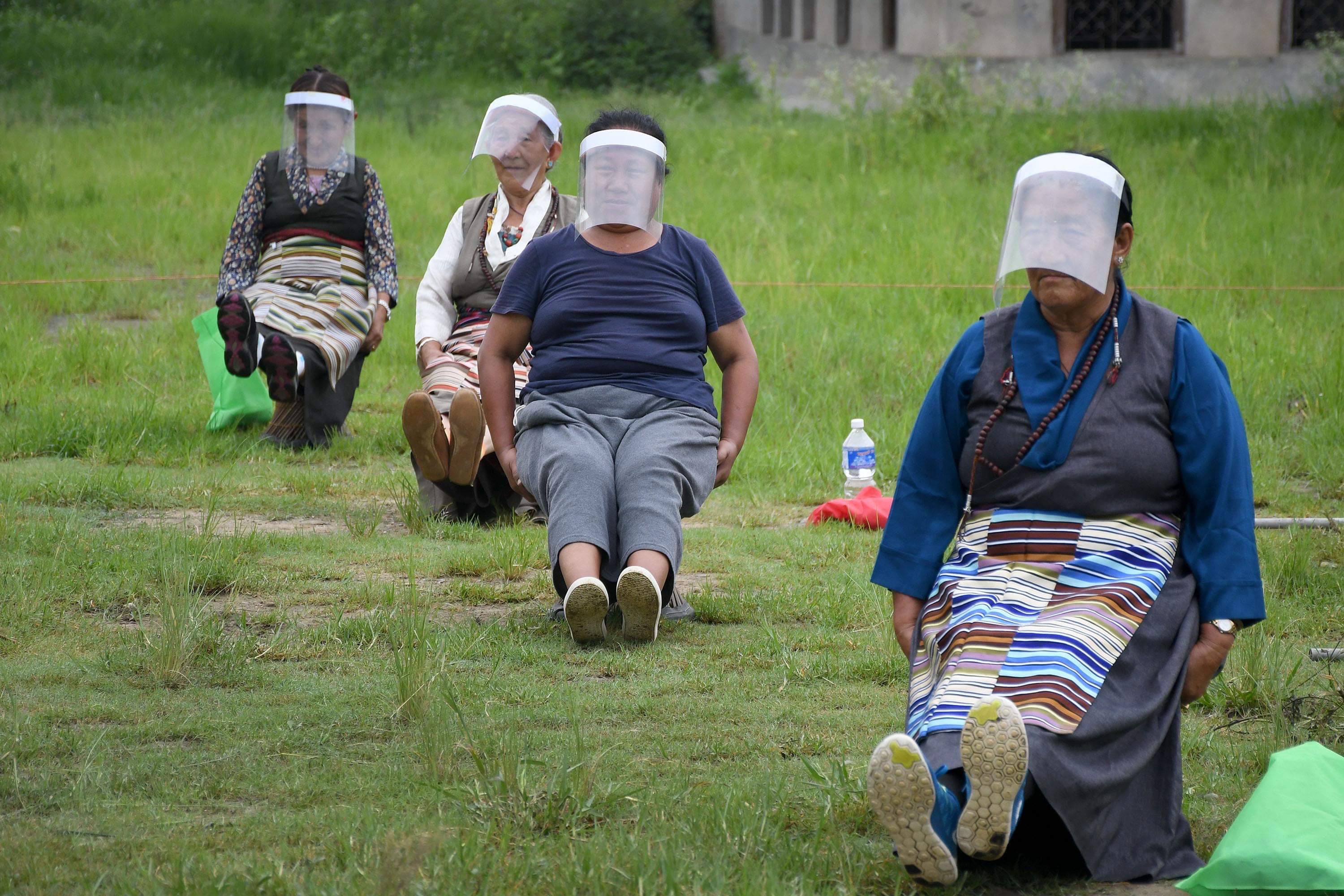 Anish Regmi/TKP
Similarly, people above 60 are trained with functional movement workouts and yoga. They trained for 30 minutes. Normally around 19 elderly people participate daily in the workouts.
These free workout sessions have not only helped the fitness conscious community members but also the instructors and in-house nurses who had been out of work following the closure of the club.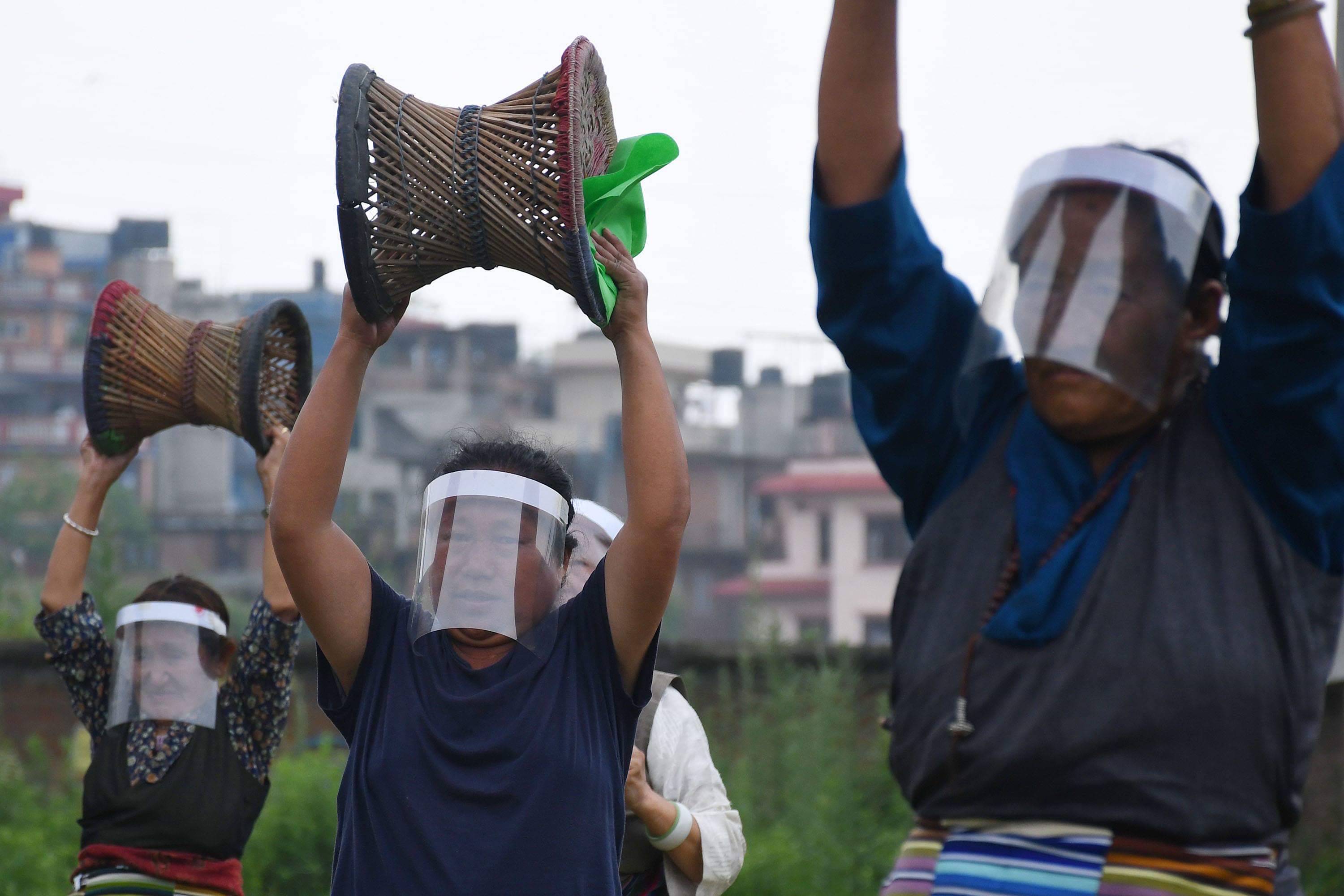 Anish Regmi/TKP
"We have our own fitness instructors and nurses in our 16-member committee", said Sherpa, "They were just sitting idle since the lockdown came into effect, now they have something to engage themselves in."
Besides using modern workout equipment, the club uses tools such as stools, water bottles among other items during workouts.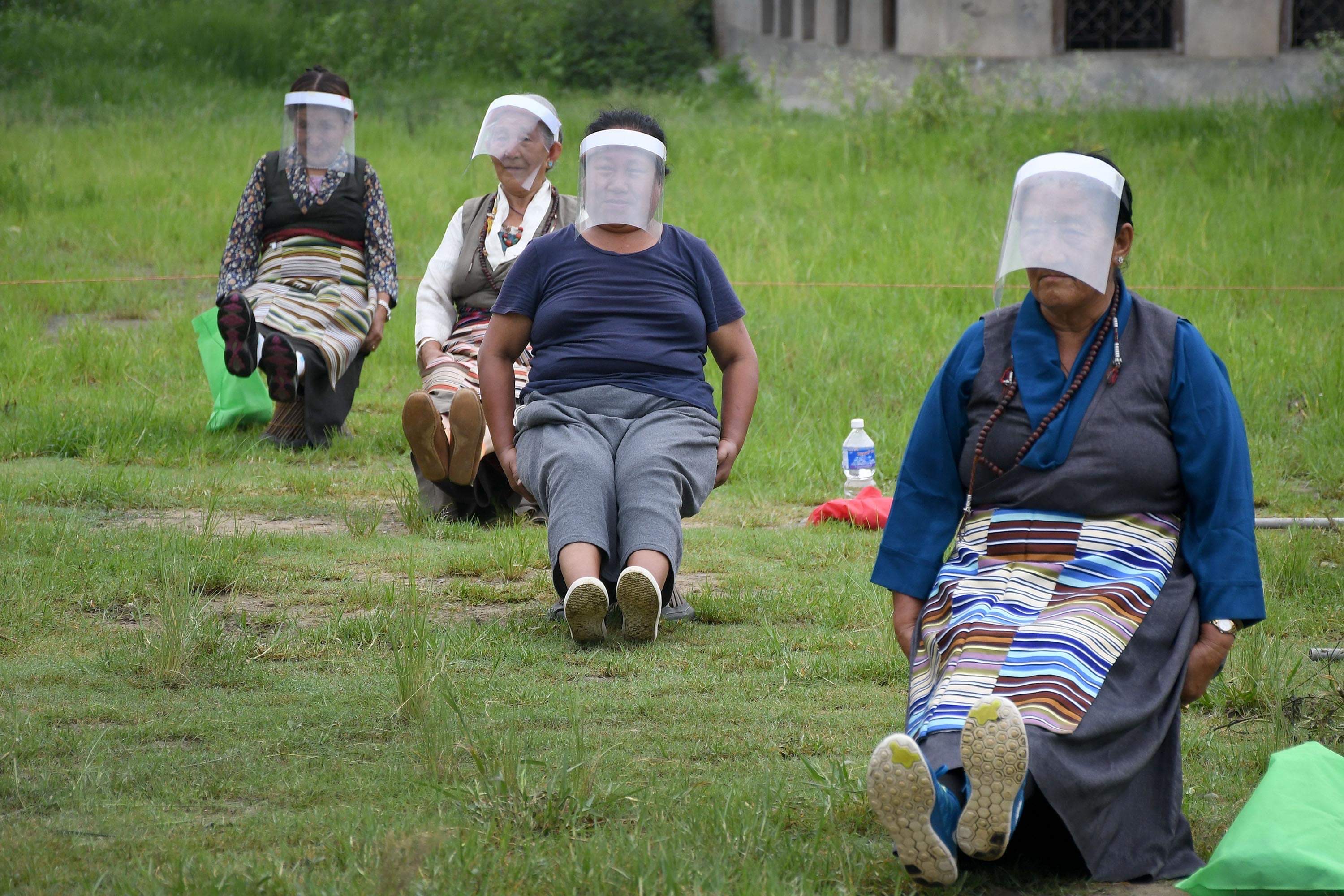 Anish Regmi/TKP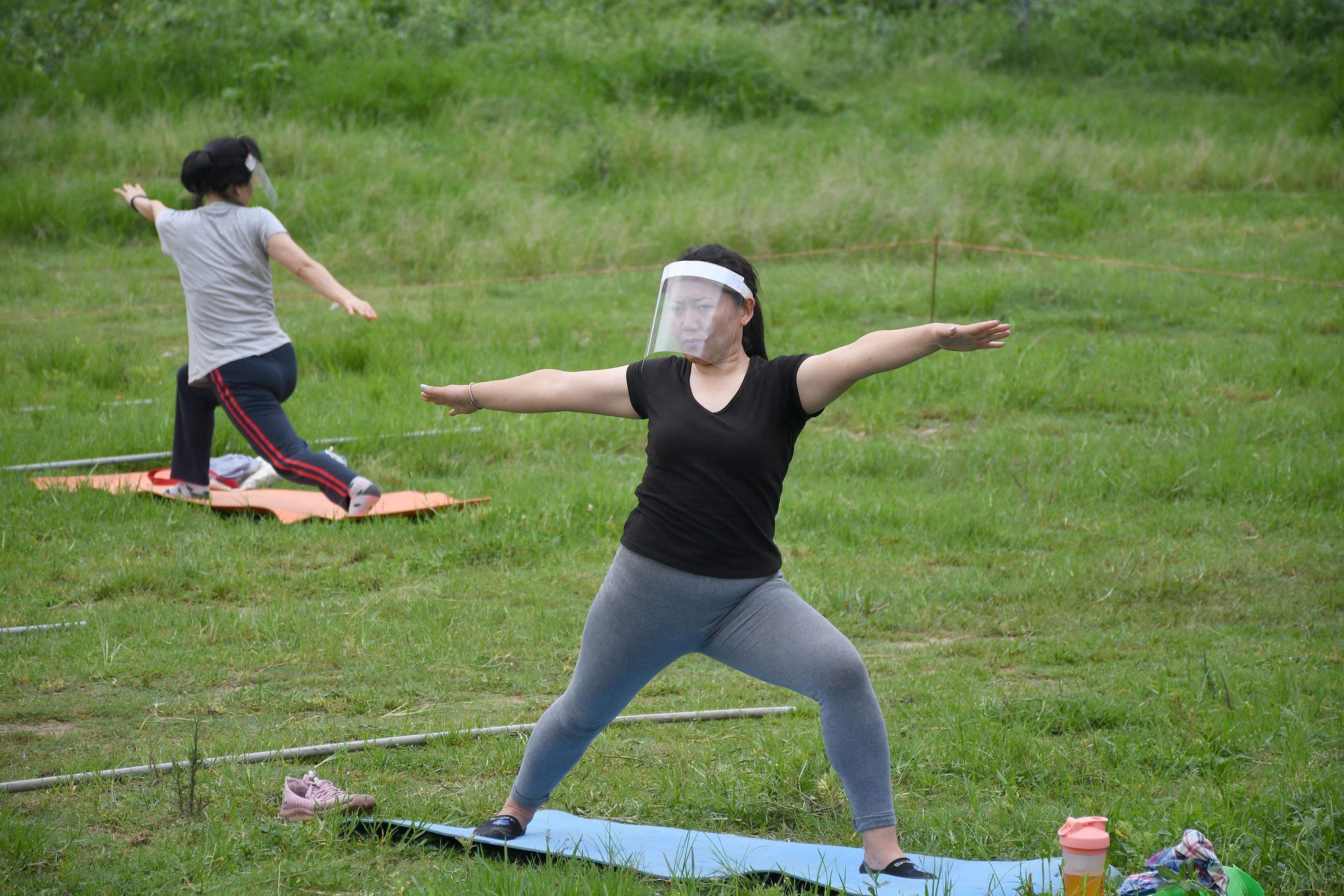 Anish Regmi/TKP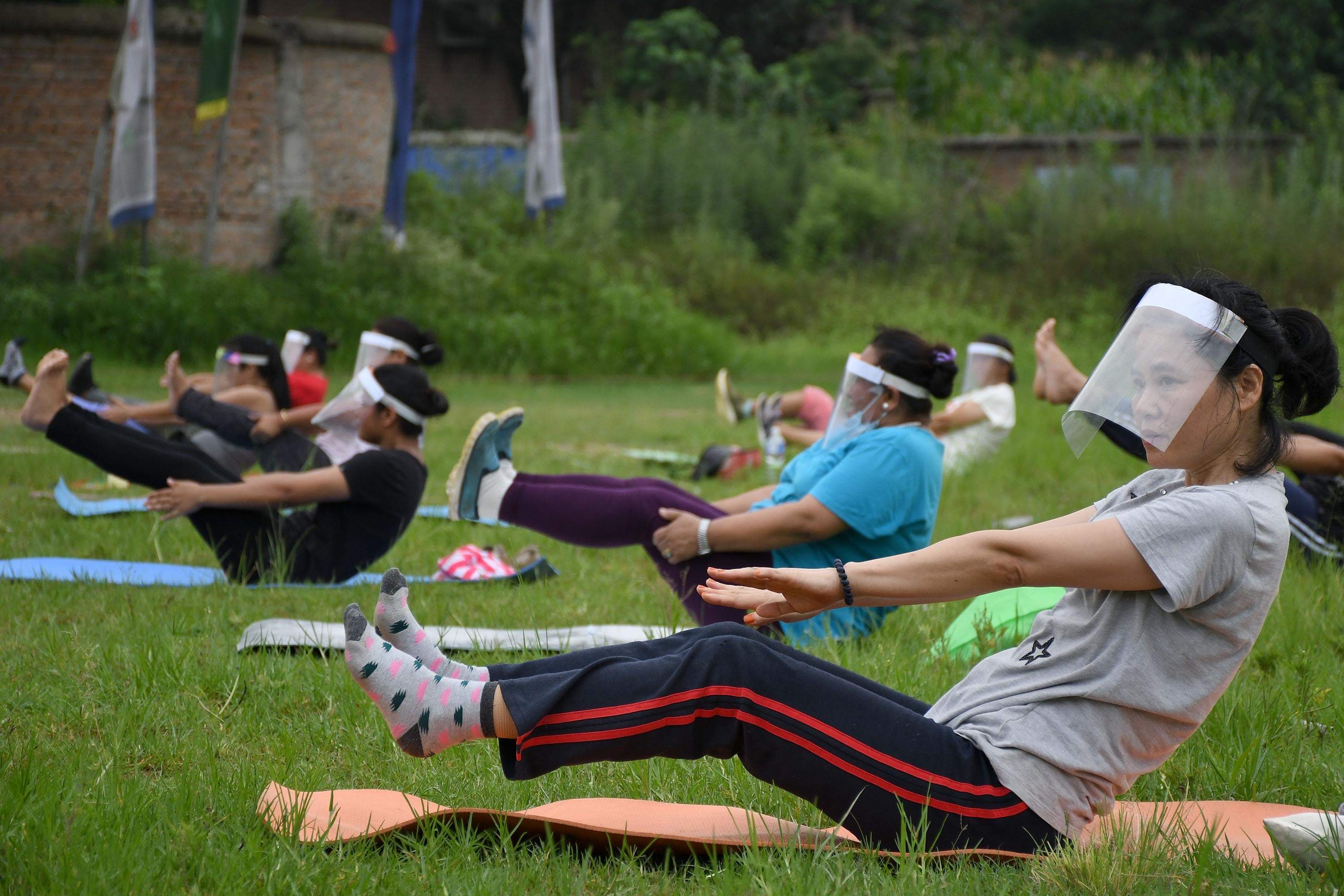 Anish Regmi/TKP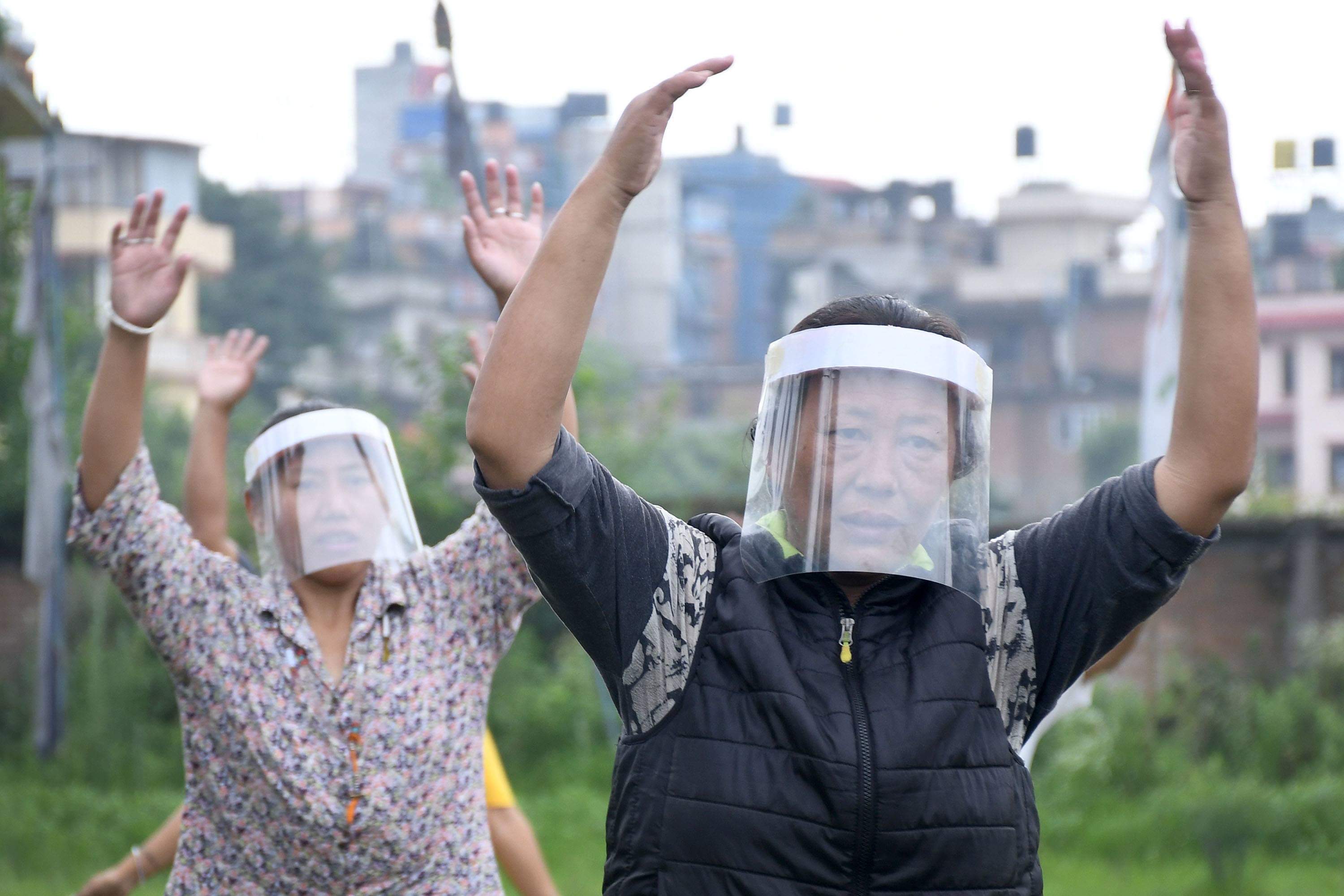 Anish Regmi/TKP
---