These 16 photos of Indra Jatra will transport you to another era
Experience old Kathmandu in a trance of revere, music and feast.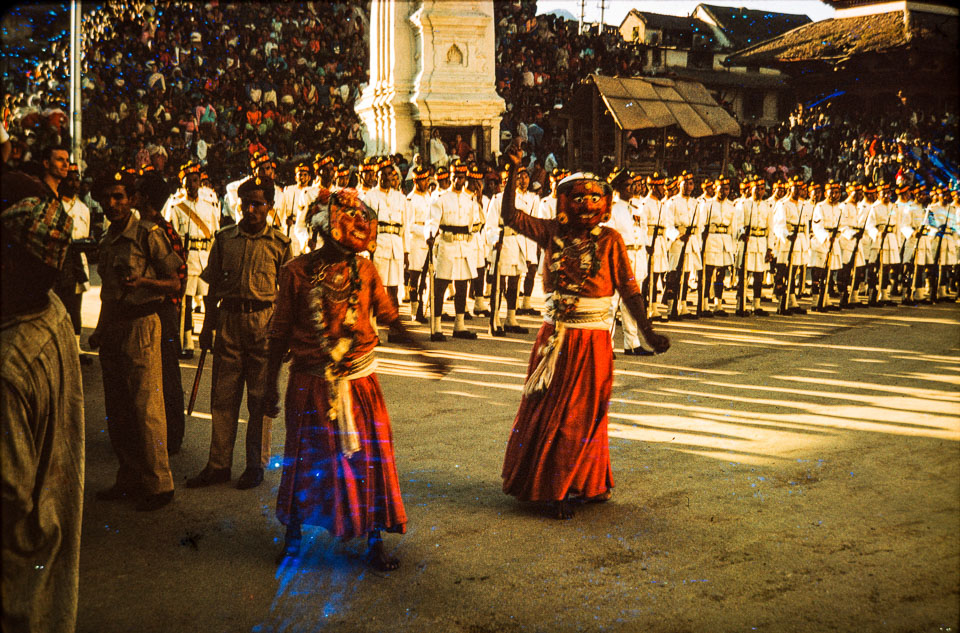 Military and dancers at Indra Jatra festival at Hanuman Dhoka Durbar Square in 1969. Nepal Photo History Project/Peace Corp
Published at : September 11, 2019
Updated at : September 13, 2019 13:00
From the open fields of Kathmandu to the unpaved streets in Pokhara, this photo essay series will take our readers to a more organic period in the country's history. In the next few months, the series, based on photographs from Nepal Photo History Project, will transport you to towns and villages across the country while they were still decades away from the modern world the photographers who captured these images hailed from.
Like most processions in the Kathmandu Valley, Indra Jatra also has a story.

At the beginning of autumn every year, an effigy of Lord Indra is placed on a high platform in front of Akash Bhairab, or Aju Dya, in the local tongue. As the legend goes, Lord Indra was put on trial after stealing the Parijat flower from the garden of the king of Kathmandu. So, every year, the natives re-enact the trial. The junction where Aju Dya remains, Indra Chowk, is named from this very legend.
Locally, Indra Jatra is called Yenya—'ye' meaning Kathmandu and 'ya' meaning festival in Nepal Bhasa. During the eight-day-long festival, everyone from Kumari, the living goddess, to Dangi, mother of Lord Indra, to Majipa Lakhey, the protector of children of Majipat, the local neighbourhood, everyone makes their annual appearance in the streets of Kathmandu.
This centuries-old vibrant festival follows a disciplined and organised ritual: each divine entity has a specific time and route they follow throughout the eight days, while different guthis within the Newar community are responsible for the execution.
Here are some classic photographs, taken by Peace Corp volunteers during the 1960s, of the celebration of Indra Jatra.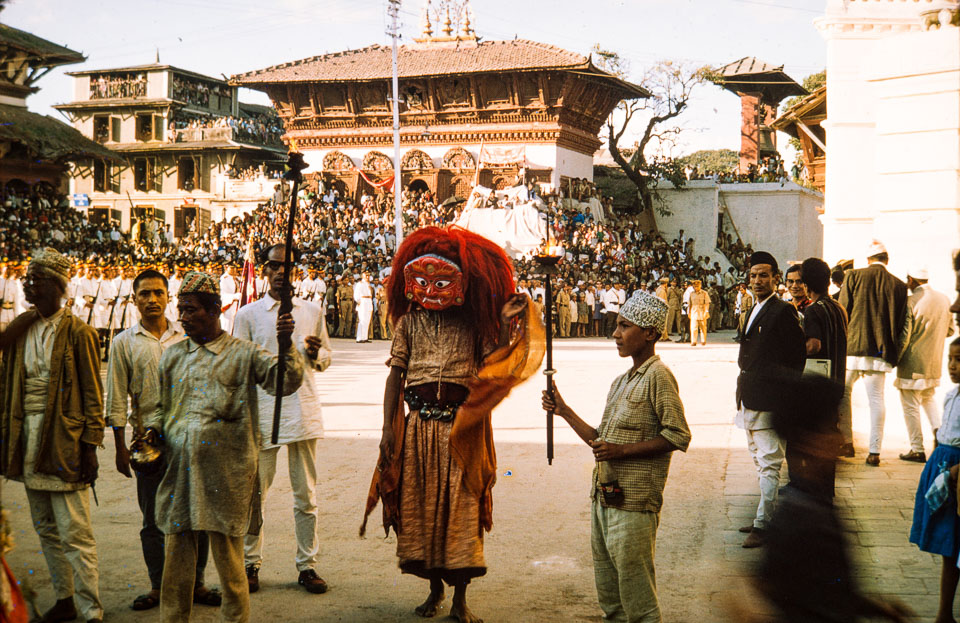 A man donning cultural attire of Majipa Lakhey takes part in Indra Jatra at Basantapur Durbar Square, Kathmandu in 1969. Nepal Photo History Project/Peace Corp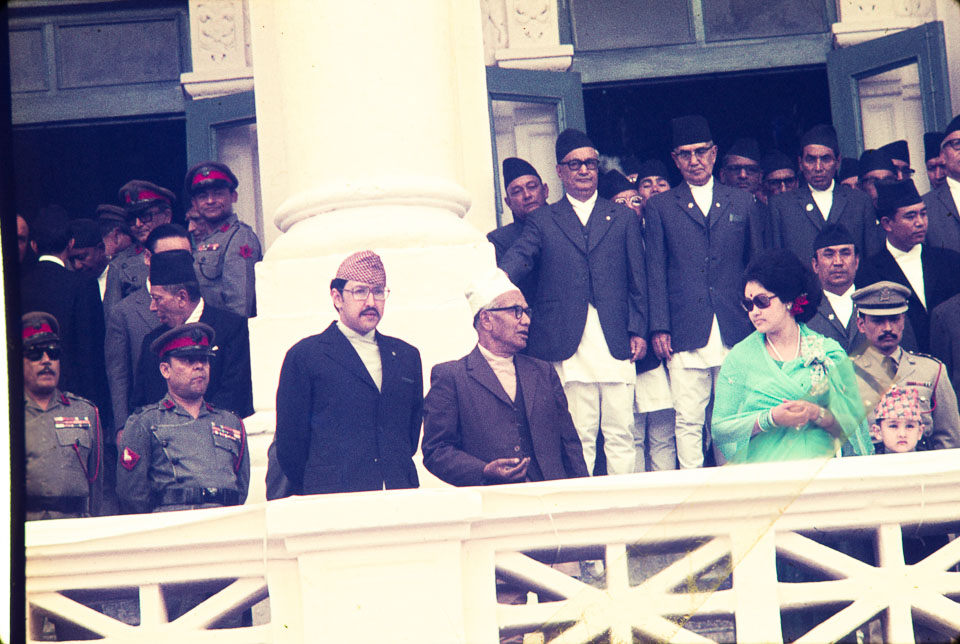 King Birendra, Queen Aishwarya and Crown Prince Dipendra with ministers behind and aides observe Indra Jatra festival before paying homage to Living Goddess Kumari in 1975. Nepal Photo History Project/Peace Corp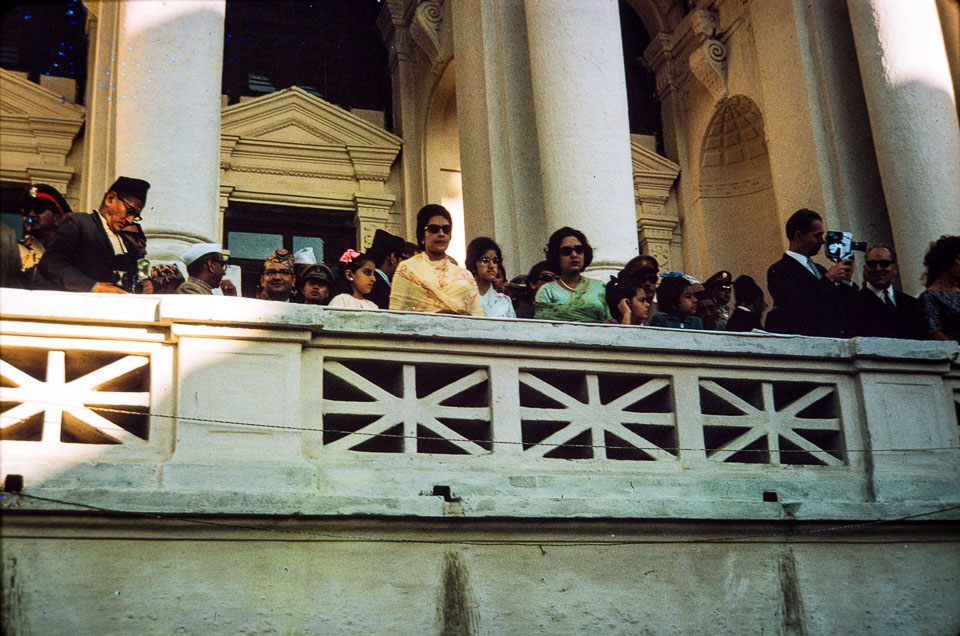 The then queen Ratna, royal family members and entourage review the festivities at Durbar Square during Indra Jatra in 1969. Nepal Photo History Project/Peace Corp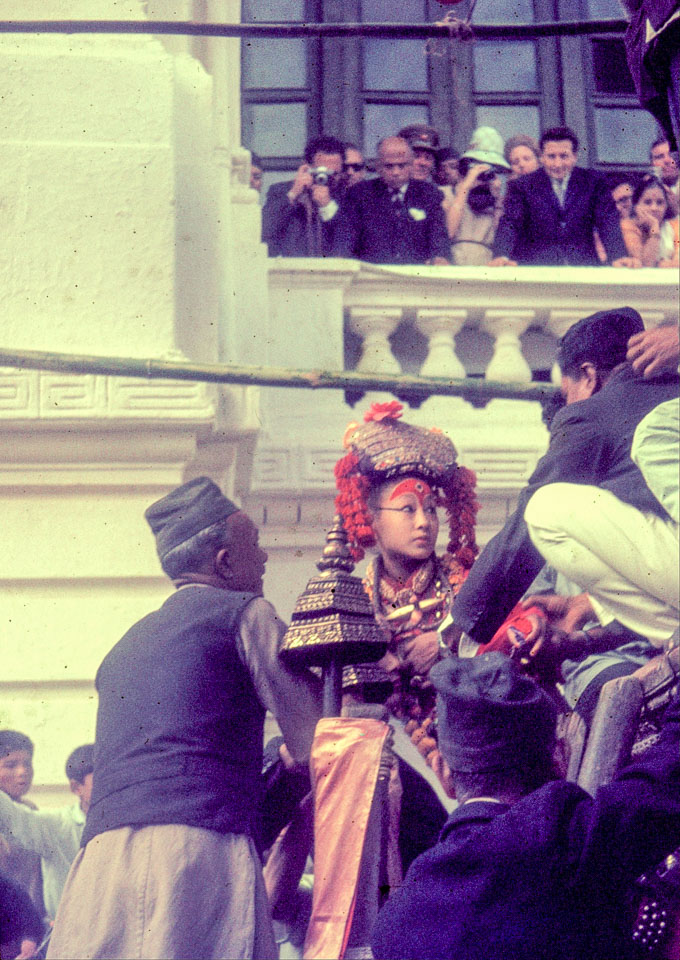 The living goddess Kumari during the Indra jatra festival. Nepal Photo History Project/Peace Corp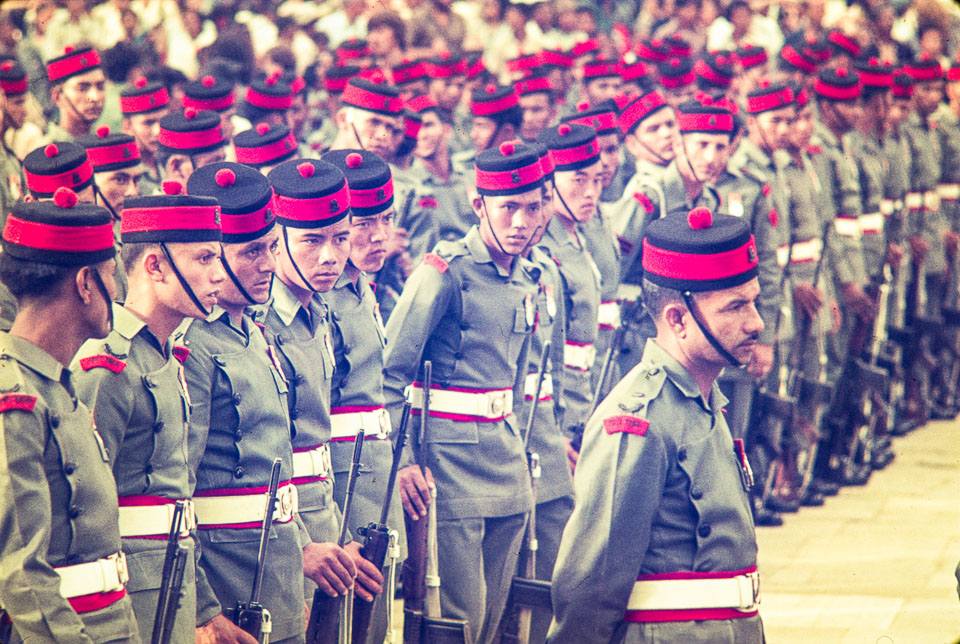 Soldiers stand guard during Indra Jatra celebration at Kathmandu Durbar Square in 1975. Nepal Photo History Project/Peace Corp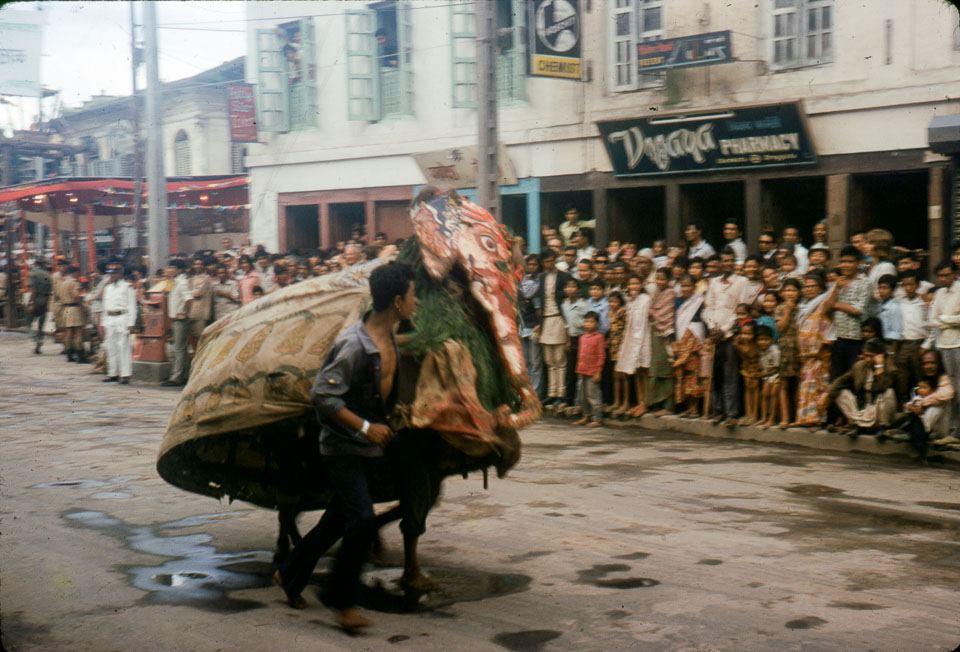 Performers don a figure of an elephant as they take part in the festivities of Indra Jatra in Kathmandu (1972). Nepal Photo History Project/Peace Corp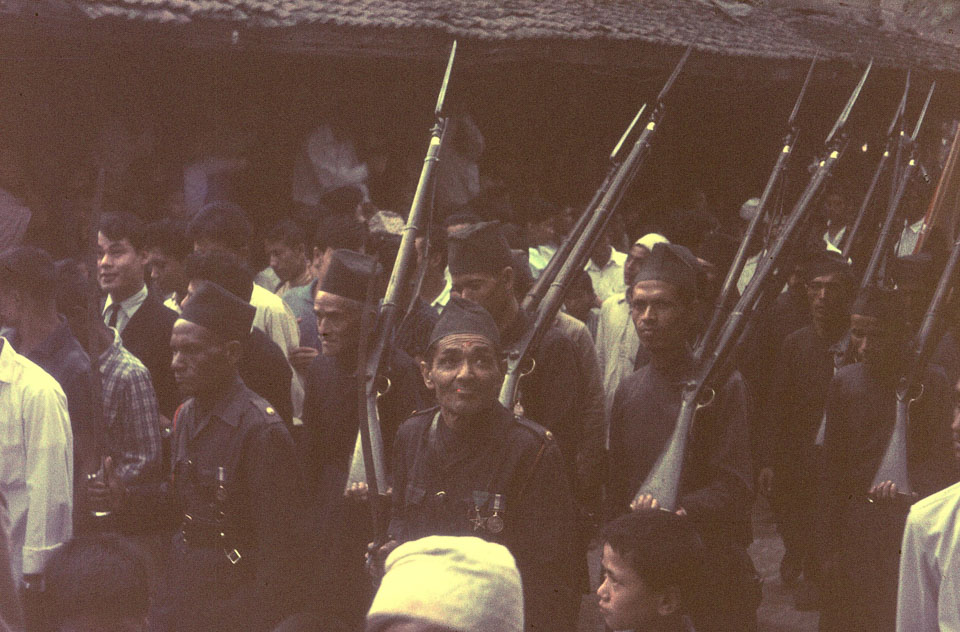 A group of armed guards take part in Indra Jatra procession at Kathmandu in 1970. Nepal Photo History Project/Peace Corp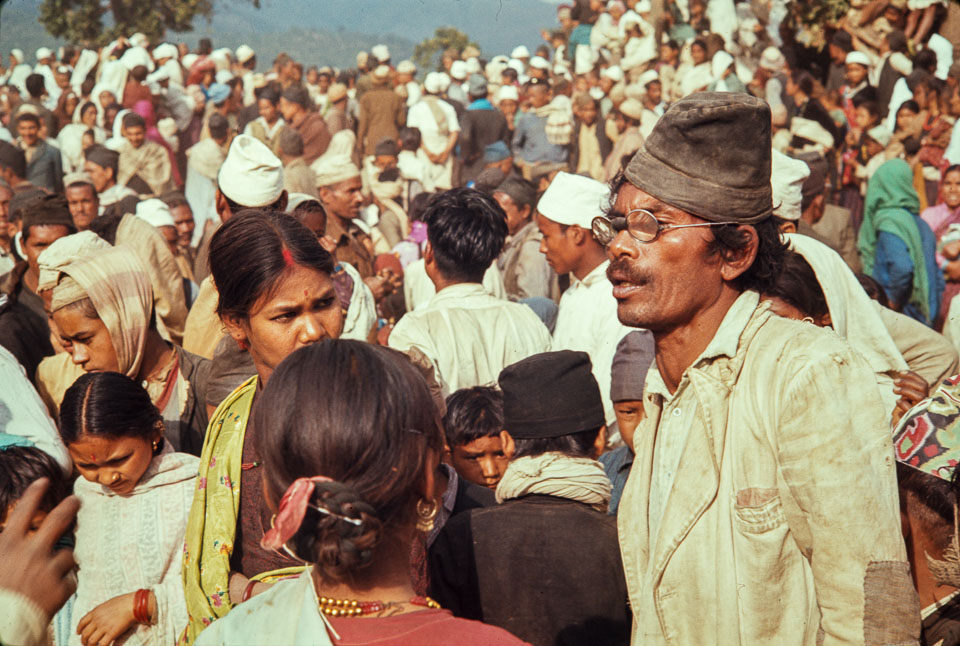 Crowd gathers to celebrate the Indra Jatra festival in Birendranagar, Surkhet (1968). Nepal Photo History Project/Peace Corp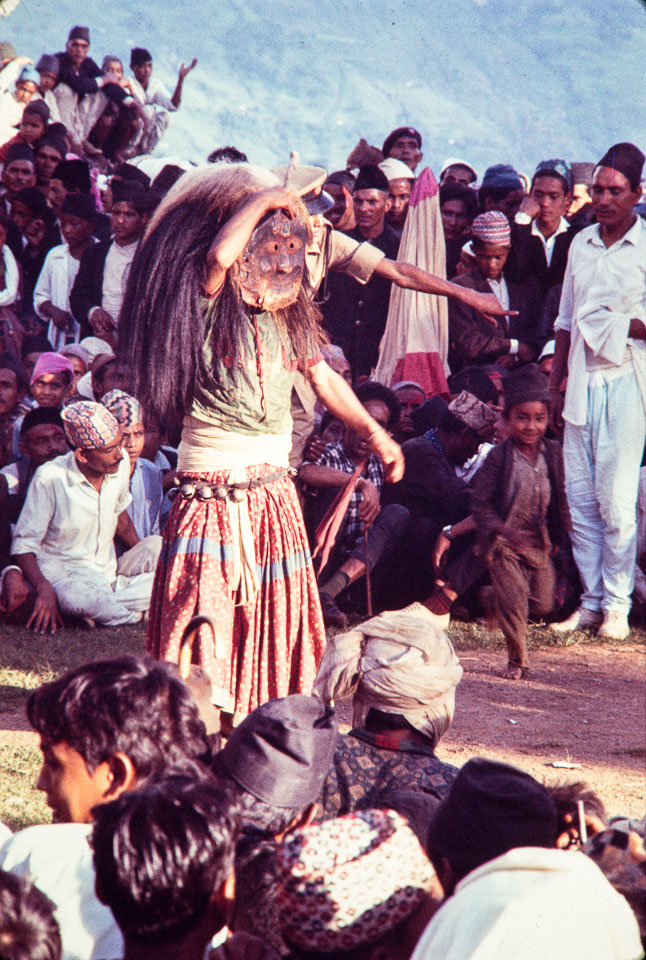 A man dressed up in the costume of Lakhey performs at Indra Jatra Festival. Nepal Photo History Project/Peace Corp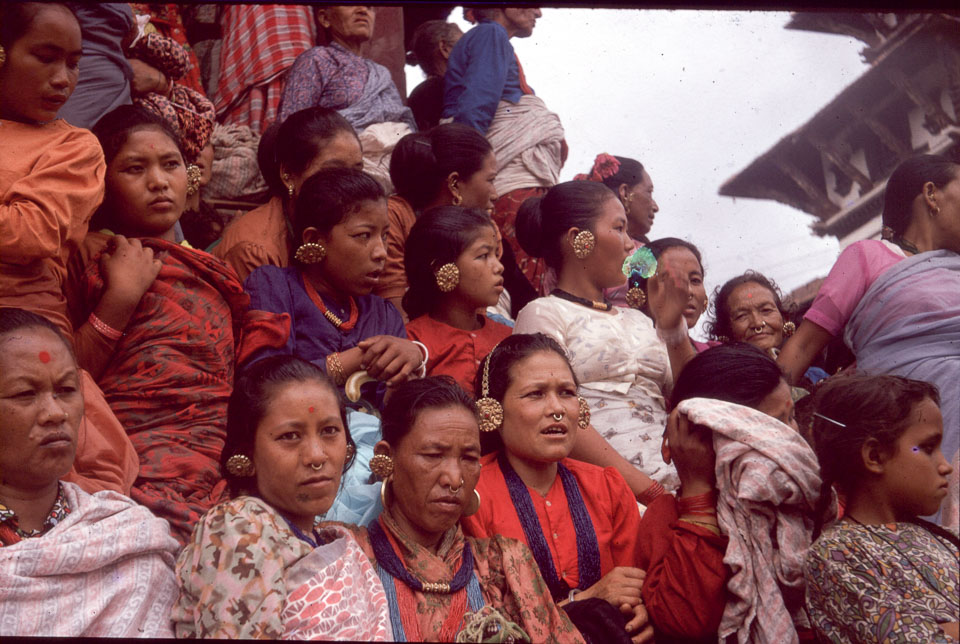 Spectators in Kathmandu Durbar Square during Indra Jatra. Nepal Photo History Project/Peace Corp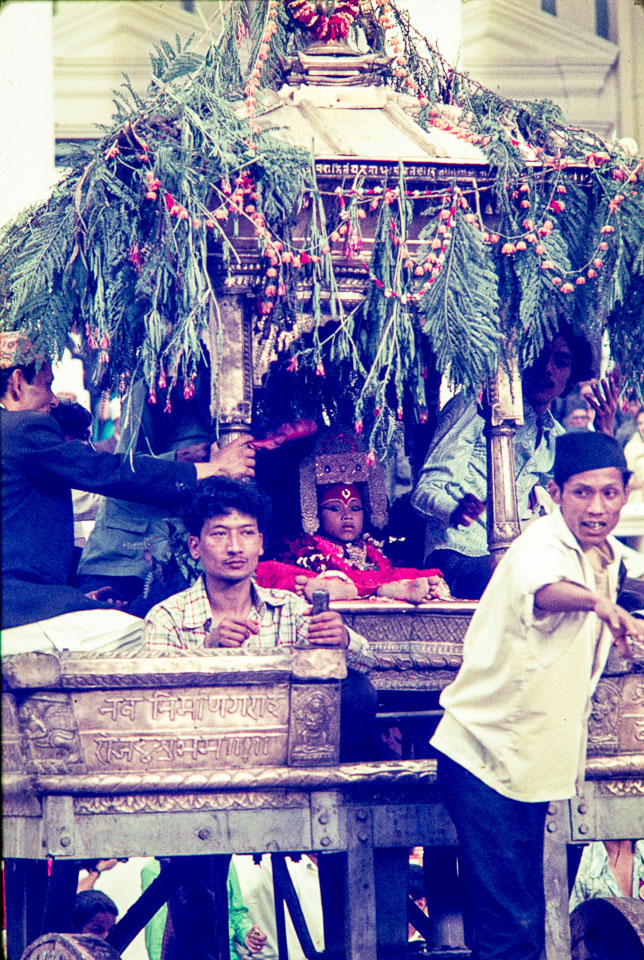 A chariot carrying Kumari during the Indra Jatra festival in 1969. Nepal Photo History Project/Peace Corp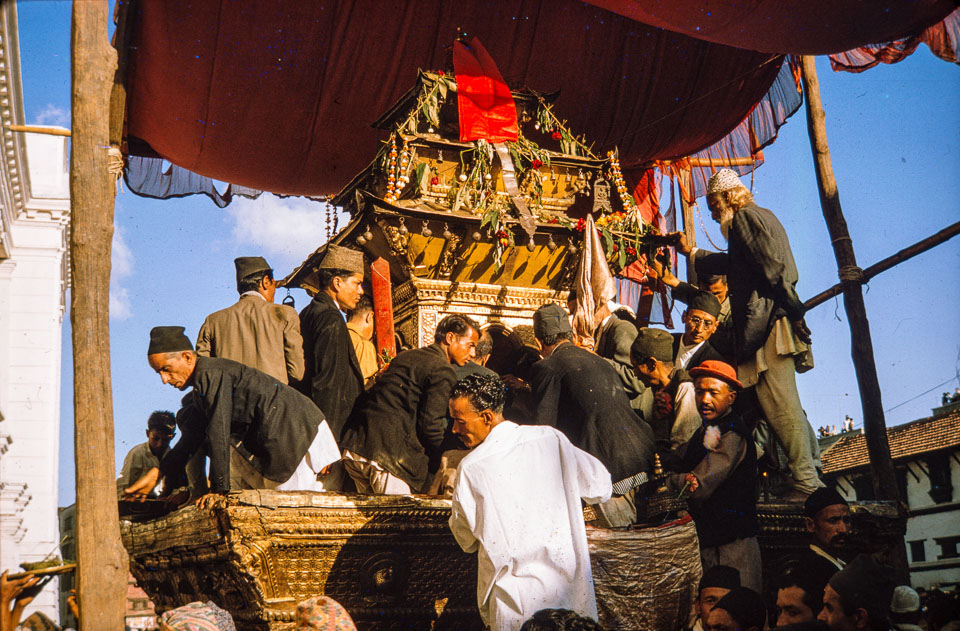 A chariot carrying Kumari during the Indra Jatra festival. Nepal Photo History Project/Peace Corp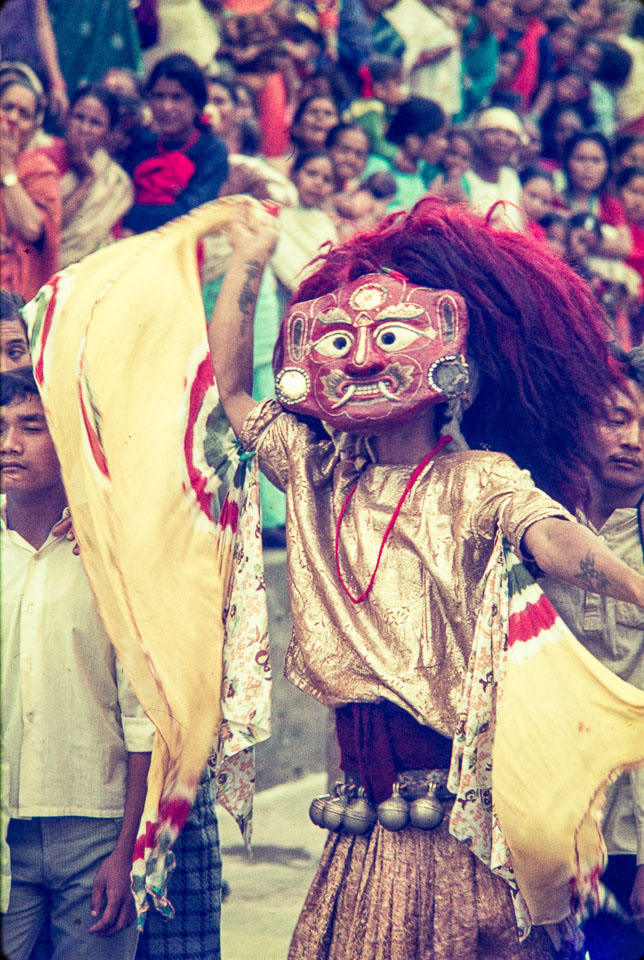 Majipa Lakhey dances during Indra Jatra Festival at Kathmandu Durbar Square in 1975. Nepal Photo History Project/Peace Corp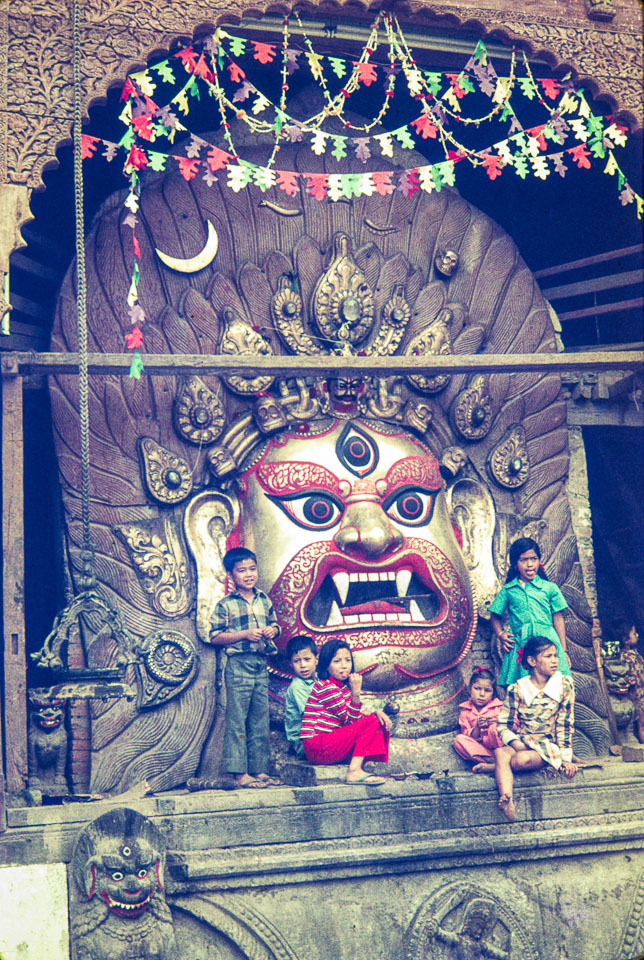 Children sit in front of a giant mask of 'Swet Bhairav' at Basantapur Durbar Square in 1975. Nepal Photo History Project/Peace Corp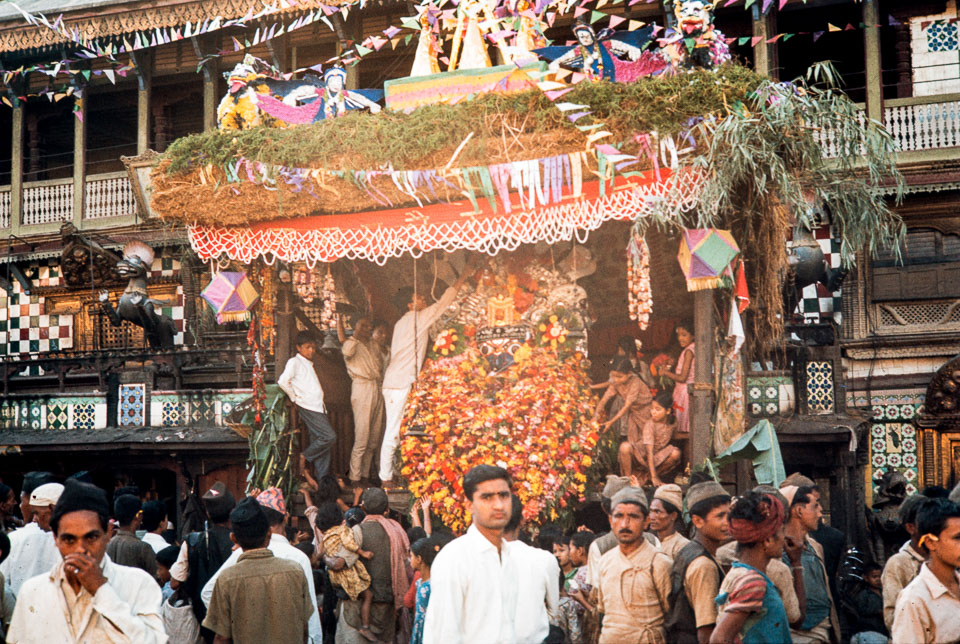 The statue of Akash Bhairab (Aju Dya) decorated with flowers in Indra Chowk during Indra Jatra. Nepal Photo History Project/Peace Corp
---