After Kathmandu, Lalitpur suspends its services. Bhaktapur to decide today
Both district offices say issuance of citizenship cards, birth certificates, national IDs stopped until further notice.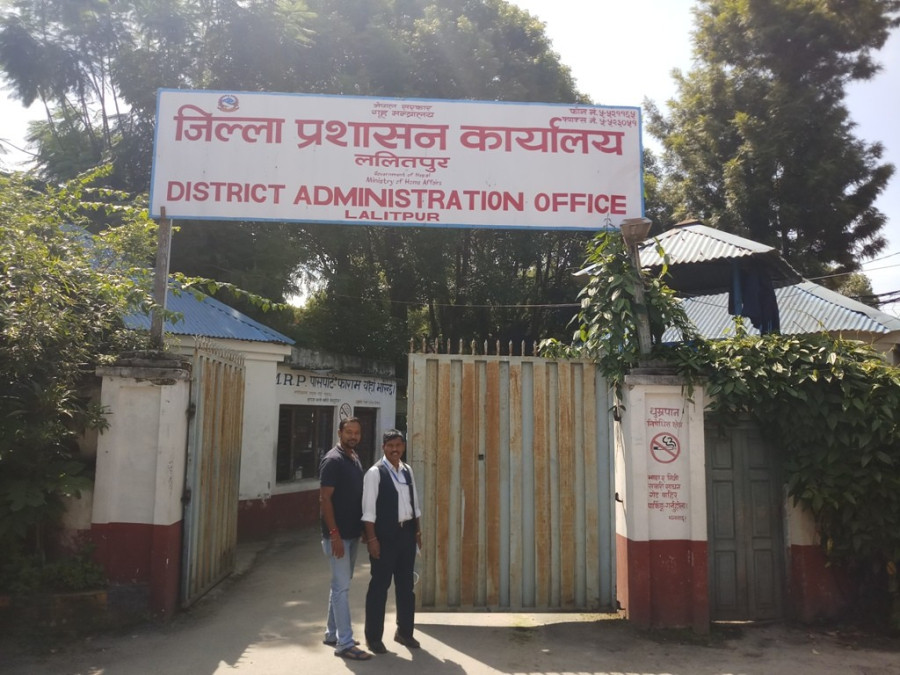 Photo via District Administration Office, Lalitpur website.
bookmark
Published at : January 19, 2022
Updated at : January 20, 2022 08:13
Kathmandu
A day after Kathmandu District Administration Office decided to halt services except for 'extremely essential' in the wake of rising number of coronavirus cases, Lalitpur District Administration Office on Wednesday issued a similar notice.

In a notice published on Wednesday, Lalitpur District Administration Office said that it would provide only security related services and services related to important legal issues.
The Kathmandu CDO had made a similar announcement on Tuesday.
"We have decided to halt all our regular services from Wednesday until further notice. This is going to have a great impact on the public, but we are left with no other options," said Ghanshyam Upadhyaya, chief district officer of Lalitpur. "More than 25 officials working in different departments at our office are infected with the virus as of Wednesday. That's why we had to limit our services."
On Tuesday, Nepal reported 10,258 new cases of Covid-19, the highest number of cases recorded in a single day since the start of the pandemic.
Kathmandu Valley alone saw 5,549 positive cases in the past 24 hours, which is over 54 percent of the national tally. Of these, 4,004 cases were confirmed in Kathmandu, 975 in Lalitpur and 570 in Bhaktapur.
According to the Health Ministry, the countrywide death toll has reached 11,624 and the number of active cases stands at 39,044.
Meanwhile, the Chief District office in Bhaktapur has not come up with such an announcement but is likely to publish a notice on Thursday.
"Five of our staff including administrative officers are down with Covid-19 in our office. The flow of service seekers is still high but we may need to postpone our services from tomorrow," said Sita Pariyar, deputy chief district officer at Bhaktapur. " We will analyse the situation and decide tomorrow," said Pariyar.
All the three District Administration Offices of Kathmandu Valley have already put in place a slew of restrictive measures in the wake of rising coronavirus cases. Gathering of people more than 25 have already been banned and only vaccinated people are allowed to go to public places and get services from January 21.
Authorities have also closed cinemas, gyms, clubs and swimming pools. All kinds of functions and gatherings that attract huge crowds have been restricted.
---
---