Tempo drivers are driven to despair as not many are using these three-wheelers over Covid-19 fears
Valley's ubiquitous safa tempos are back on the streets after the lockdown was lifted but safety protocols require them to have just four passengers and drivers are not even getting those.

Safa tempos at a stop on the link road near Bishnumati River in the Capital. Sanjog Manandhar/TKP
bookmark
Published at : August 1, 2020
Updated at : August 1, 2020 08:46
Kathmandu
After the government decided to lift the nationwide lockdown on July 21 and subsequently allowed public vehicles to operate, businesses slowly returned to normalcy. Shops pulled up their shutters for customers, eateries opened doors for their patrons and public vehicles, including safa tempos, were back on the Kathmandu streets.
But for Sumisha Lama, lifting of the lockdown has not made much of a difference.
The 19-year-old drives a tempo on the Satdobato-Jawalakhel-Thapathali-New Baneshwor-Koteshwor route.
"People are hesitant to take tempos these days. I believe it's because of safety concerns over the virus," said Lama earlier this week as she waited for passengers at New Baneshwor chowk. "This disease has meant a drastic reduction in my income."
Before the lockdown, Lama used to earn enough to sustain her family.
"After deducting all the expenses, I managed to send around Rs4,000 a month to my parents who live in Koltar of Kavre district," said Lama. "Over the past 10 days, I am struggling to earn enough for battery charging and vehicle maintenance."
She needs to charge her vehicle overnight for which she needs to pay Rs1,000. "Then some kind of maintenance is needed regularly."
During the four months of lockdown—from March 24 to late July—Lama could not earn a singly penny.
"I hoped that things would be fine after the lockdown was lifted," Lama told the Post. "But I am increasingly concerned now."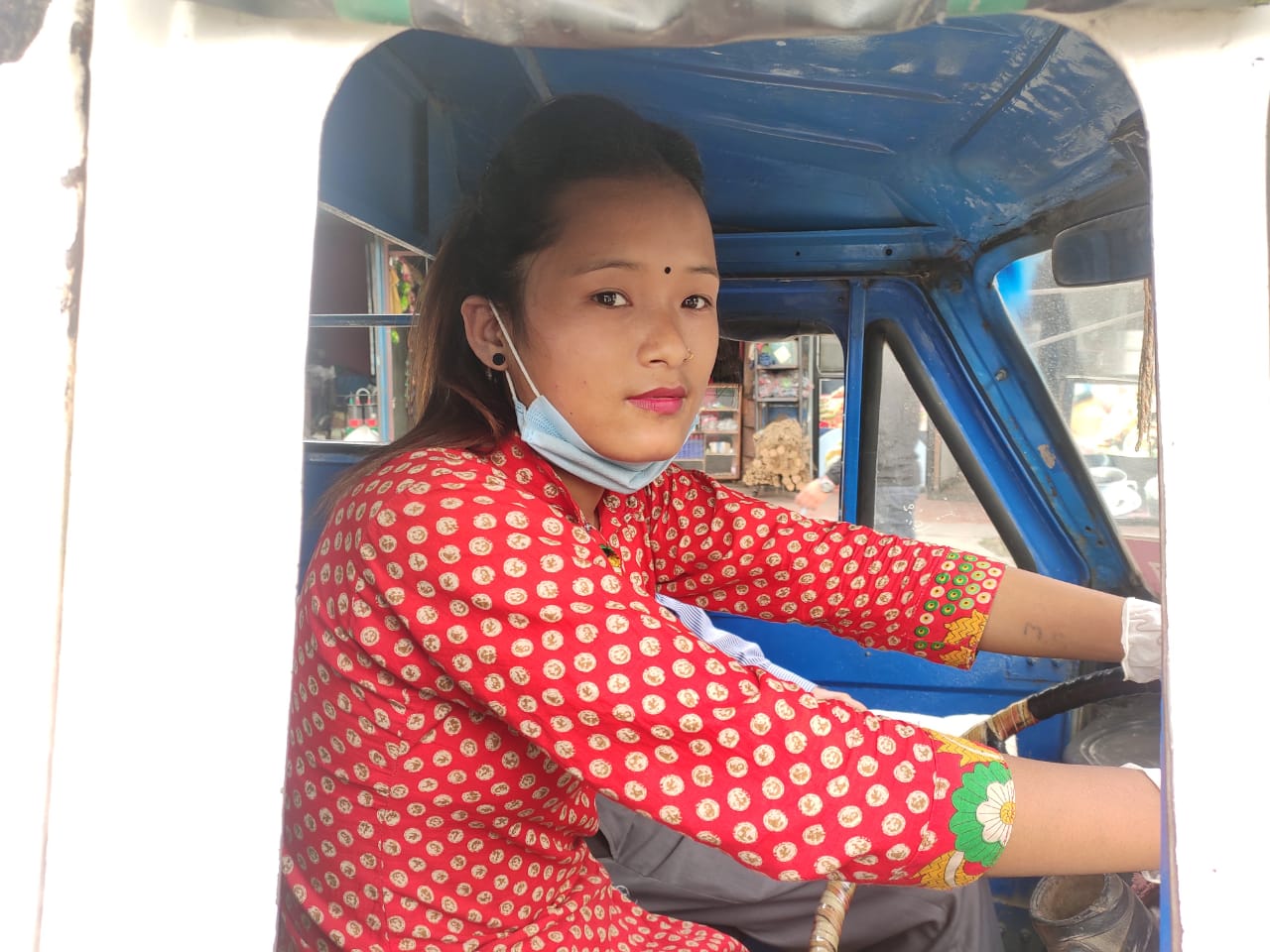 Sumisha Lama Anup Ojha/TKP
There are around 1,000 safa tempos—battery- and LPG-powered—across the Valley that ply on different routes.
Most of the safa tempo drivers are facing similar problems like Lama.
Each tempo normally has a carrying capacity of 11 people, five in two rows and one in front, next to the driver.
The government has said public vehicles can operate but they need to follow strict safety protocols—the passengers should maintain safe distance from each other.
The World Health Organisation protocol on physical distancing is even tougher—it prescribes at least one metre (3 feet) distance between people.
If the tempos are to follow the protocol, they can carry just four passengers.
"But people are reluctant to take tempos these days," said Dhurba Ghimire, 47, who has been driving a tempo on the Kalanki-Koteshwor route for the past four years. "Before the lockdown, I used to make around Rs4,500 a day, but my income has gone down by a third now."
Tempo drivers admit that the situation is tricky and they themselves would not carry more than four people.
"But it's difficult to get even four passengers," said Ghimire.
Fifty-three-year-old Sita Devi Bhusal, who lives in Bafal, was a regular tempo user before the lockdown.
"These days I prefer to walk. I am afraid to take a tempo as I have heard we should not sit too close to other people due to the disease," Bhusal told the Post.
Safa tempos have been a reliable and cheap means of transportation in Kathmandu Valley, serving people from different walks of life, especially those who have to commute on a regular basis but cannot afford the Capital city's expensive taxis. Those who want to avoid crowded public buses also prefer these tempos.
Safa tempos were introduced in Kathmandu valley in 1993. The tempos provide services on 17 different routes in the Valley.
Over the years, the ubiquitous environment-friendly vehicles (hence the name safa tempo meaning 'clean tempo) have not only emerged as a popular and reliable mode of public transport in this city of over four million people but also a symbol of women empowerment.
According to Nepal Free Transport Workers Association, an organisation that also works for the rights of tempo drivers in the Valley, around 60 percent of safa tempo drivers in Kathmandu Valley are women.
Eliza Tamang, 43, who drives a safa tempo on the Tripureshwar- Mangalbazar- Imadol route, said she is even struggling to pay the vehicle owner.
Like Tamang, most of the tempo drivers do not own the vehicle and they have to pay around Rs700 to the owner.
"Nowadays, we don't even earn enough to pay the owners," Tamang told the Post. "We are struggling to earn even Rs 700 a day which we have to pay everyday to the owner whether or not we earn it."
Tamang is now the only breadwinner in the family of five. Her husband, who used to work at a garment factory, is now unemployed as the factory is closed due to the pandemic.
"My husband is jobless now and we have three children," said Tamang. "And our income has gone down."
Safa tempo drivers are now wondering whether the pre-Covid-19 days will ever be back for them.
Of late, Kathmandu Valley has seen a steady rise in coronavirus cases. As of Friday, 566 people in Kathmandu Valley have tested positive for the virus–415 in Kathmandu, 95 in Lalitpur and 56 in Bhaktapur.
Thirty-eight new cases have been reported in Kathmandu Valley in the last 24 hours.
Public health experts say safa tempos are not a very safe mode of transportation these days.
"Compared to other means of public transport, safa tempos are risky because they do not offer enough space," said Dr Sher Bahadur Pun, a virologist at the Sukraraj Tropical and Infectious Disease Hospital in Teku.
Pun concedes that it's a tricky situation. "People should avoid safa tempos due to safety reasons but if there are no passengers, safa tempo drivers will struggle to make their ends meet," Pun told the Post.
When Lama left her parents and siblings in her village home and came to Kathmandu in 2018, she had hopes of becoming an independent woman. And it was working fine until the virus hit the country. Then the country was on lockdown.
The Covid-19 pandemic has not only robbed her of her income but also her independence.
"I had thought that I would become an independent woman and support my poor family back in the village," said Lama. "If the current situation persists, I can no longer stay in this expensive city. Maybe I will go back to my village."
Frequently asked questions about the coronavirus outbreak
UPDATED as of September 22, 2020
What is Covid-19?
Covid-19, short for coronavirus disease, is an illness caused by the coronavirus SARS-CoV-2, short for severe acute respiratory syndrome coronavirus 2. Common symptoms of the disease include fever, dry cough, fatigue, shortness of breath and breathing difficulties. In severe cases, the infection can cause pneumonia, severe acute respiratory syndrome, kidney failure and even death.
How contagious is Covid-19?
Covid-19 can spread easily from person to person, especially in enclosed spaces. The virus can travel through the air in respiratory droplets produced when a sick person breathes, talks, coughs or sneezes. As the virus can also survive on plastic and steel surfaces for up to 72 hours and on cardboard for up to 24 hours, any contact with such surfaces can also spread the virus. Symptoms take between two to 14 days to appear, during which time the carrier is believed to be contagious.
Where did the virus come from?
The virus was first identified in Wuhan, China in late December. The coronavirus is a large family of viruses that is responsible for everything from the common cold to Middle East Respiratory Syndrome (MERS) and Severe Acute Respiratory Syndrome (SARS). After an initial outbreak in Wuhan that spread across Hubei province, eventually infecting over 80,000 and killing more than 3,000, new infection rates in mainland China have dropped. However, the disease has since spread across the world at an alarming rate.
What is the current status of Covid-19?
The World Health Organisation has called the ongoing outbreak a "pandemic" and urged countries across the world to take precautionary measures. Covid-19 has spread to 213 countries and territories around the world and infected more than 31,405,983 people with 967,505 deaths and 22,990,260 recoveries. In South Asia, India has reported the highest number of infections at 5,557,573 with 88,943 deaths. While Pakistan has reported 306,304 confirmed cases with 6,420 deaths. Nepal has so far reported 65,276 cases with 427 deaths.
How dangerous is the disease?
The mortality rate for Covid-19 is estimated to be 3.6 percent, but new studies have put the rate slightly higher at 5.7 percent. Although Covid-19 is not too dangerous to young healthy people, older individuals and those with immune-compromised systems are at greater risk of death. People with chronic medical conditions like heart disease, diabetes and lung disease, or those who've recently undergone serious medical procedures, are also at risk.
How do I keep myself safe?
The WHO advises that the most important thing you can do is wash your hands frequently with soap and water for at least 20 seconds or use hand sanitizers with at least 60 percent alcohol content. Avoid touching your eyes, nose and mouth with unclean hands. Clean and disinfect frequently used surfaces like your computers and phones. Avoid large crowds of people. Seek medical attention if symptoms persist for longer than a few days.
Is it time to panic?
No. The government has imposed a lockdown to limit the spread of the virus. There is no need to begin stockpiling food, cooking gas or hand sanitizers. However, it is always prudent to take sensible precautions like the ones identified above.
---
---