Taxi drivers protest outside transport department, accuse officials of forcing them to 'kill themselves'
Ever since the government eased the lockdown rules from the second week of June, taxi drivers have been raising their voice demanding that they too be allowed to work.

Elite Joshi/TKP
bookmark
Published at : June 30, 2020
Updated at : June 30, 2020 16:51
Kathmandu
Taxi drivers demonstrated outside the Department of Transport Management Office, Minbhawan demanding that the government allow them to return to work.

The protests come as traffic police continue to impound hundreds of cabs everyday for flouting the government's Covid-19 lockdown rules that ban all forms of public transport.
"It's been over three months, we haven't earned a single penny, but we have a family to feed and loans to repay," said Birendra Bista, 38, one of the taxi drivers at Tuesday's protest.
Ever since the government eased the lockdown rules from the second week of June allowing shops to reopen and private vehicles to get on the road under the odd-even scheme, taxi drivers have been raising their voices demanding that they too be allowed to work.
In the past two weeks alone, traffic police have impounded over 5,000 cabs for flouting lockdown restrictions.
During the demonstration on Tuesday, taxi drivers chanted slogans against the government accusing it of trying to force them to "kill themselves".
"During the lockdown, ambulances declined to ferry passengers and in many places taxis were the only a means to send sick people to the hospital, but the government has adopted a cruel stance against us," said Bista, holding placard that read, "Banks and cooperatives are going to seize our vehicles, sarkar".
Over four hundred drivers took part in the protest as they parked their vehicles in line outside the Department of Transport.
As the protests went on, hundreds of taxis were impounded by traffic police in different parts of town such as Koteshwor, Tripureshwor, Singha Durbar, Koteshwor, Gaushala, Maharajgunj, and Gongabu.
Senior Superintendent of Police Bhim Prasad Dhakal said 308 taxis were kept in hold in different parts of the Valley.
Taxi owners said they had to come to the protest venue before 5 am to avoid getting their vehicles impounded.
"Many of them have come here on foot, and others early in the morning with their taxis," said Purna Lal Tamang from the Valley Taxi Entrepreneurs and Taxi Service Society, an alliance of taxi drivers. "We all have problems and that can't be tolerated any more," said Tamang.
Kathmandu Valley has 12,385 taxis, and twice as many drivers who work in day and night shifts. Tamang said if the government does not allow them to operate, they will submit their keys to the transport department.
Gogan Bahadur Hamal, director-general at the department of transport, said discussions were ongoing over the resumption of public vehicles at the Corona Crisis Management Centre.
However as the number of Covid-19 positive cases soars in the Valley, most taxi drivers are worried that the government may not allow them to get back on the road soon.
"I tried to run my taxi last week when the government eased the lockdown," said Shri Krishna Maharjan, 62, who had been driving a taxi for three decades. He said he came to the protest walking all the way from Swayambhu.
"I had taken all the precautions such as sanitising my taxi and providing sanitizer to clients before boarding, but traffic police impounded my taxi," said Maharjan.
"My taxi was the only means to feed my family," said Maharjan, a sole breadwinner of seven member of the family. "Now I do not have savings. The bank keeps on calling to service their loan, but the government does not let us work. We are not asking them for a job, we just want to work," said Maharjan.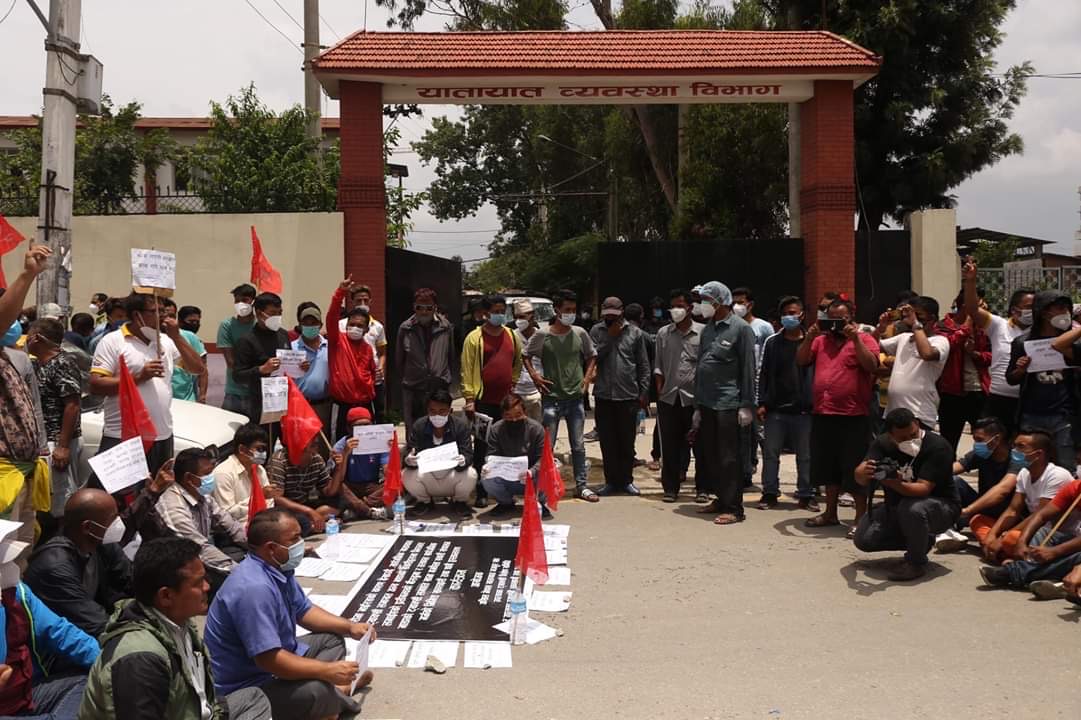 Elite Joshi/TKP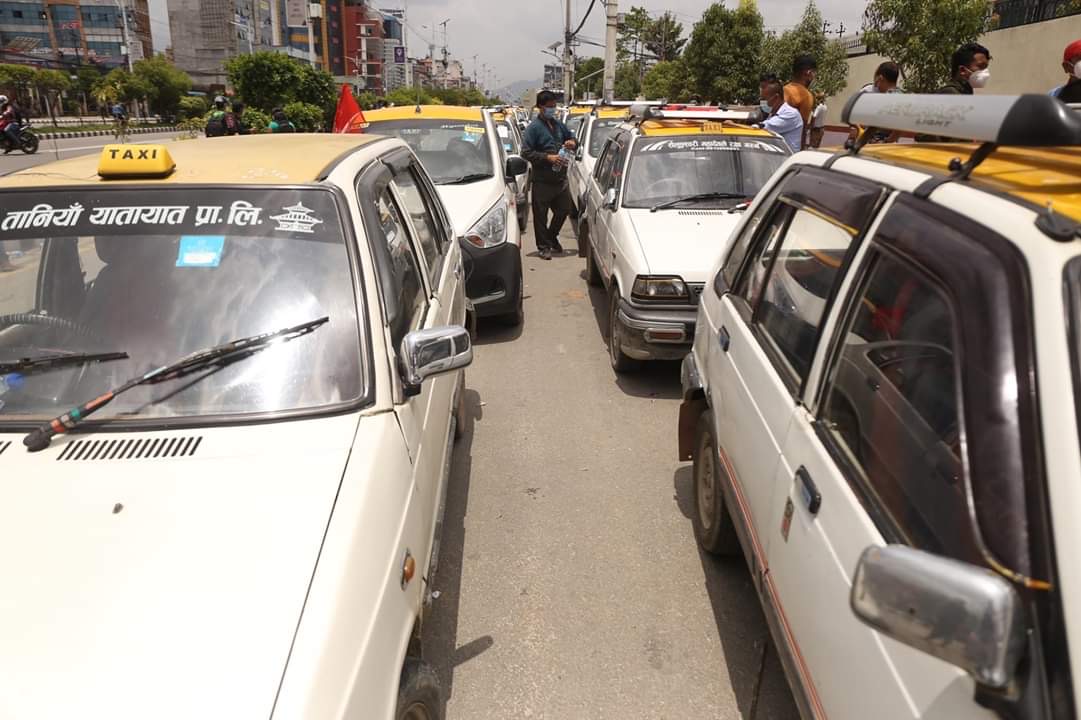 Elite Joshi/TKP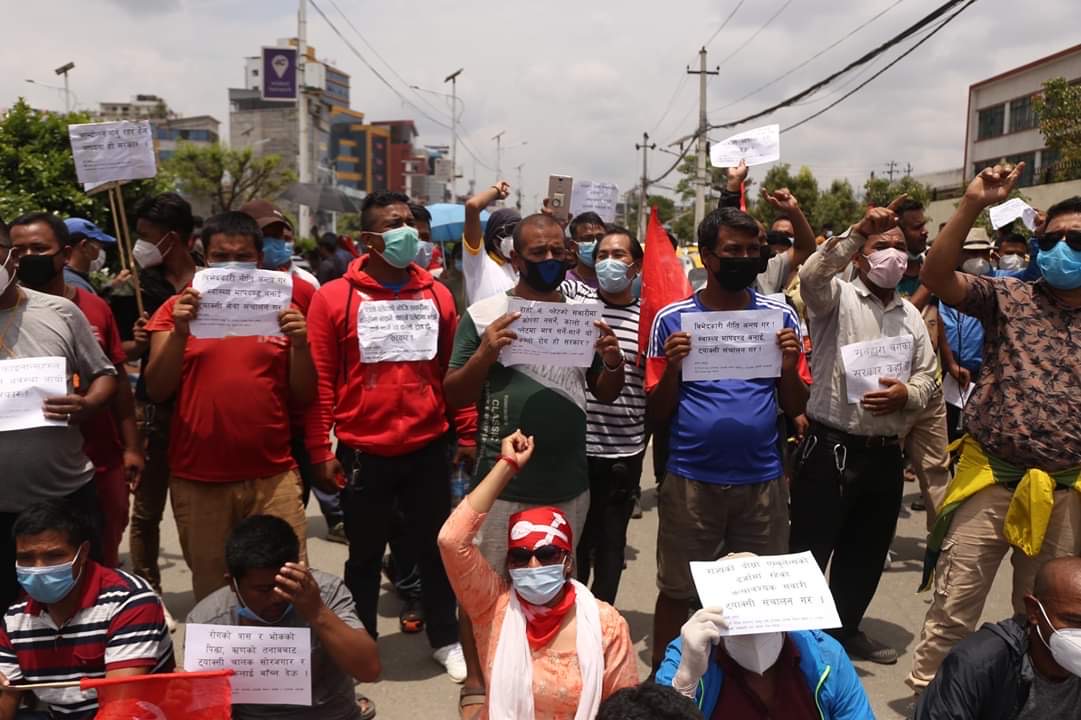 Elite Joshi/TKP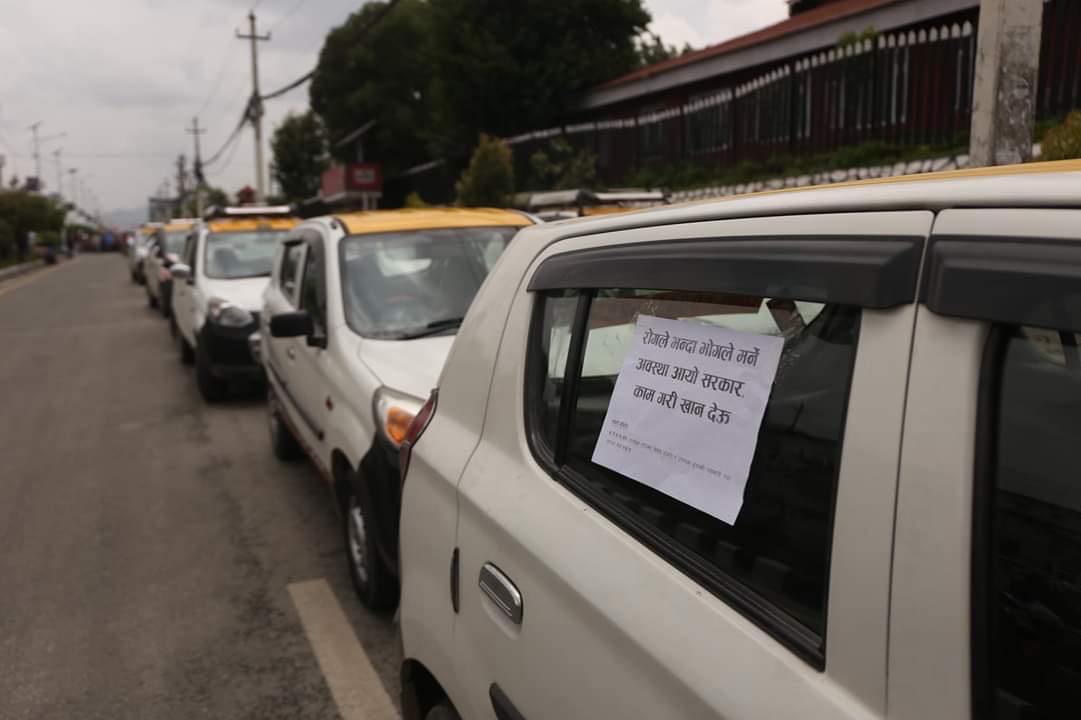 Elite Joshi/TKP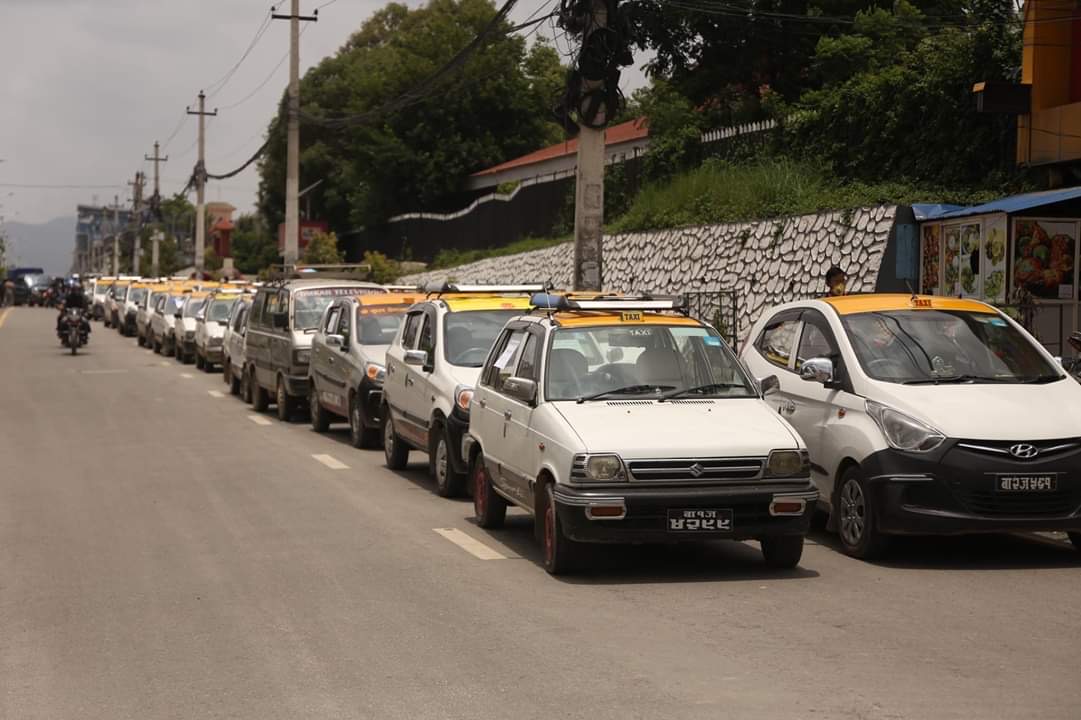 Elite Joshi/TKP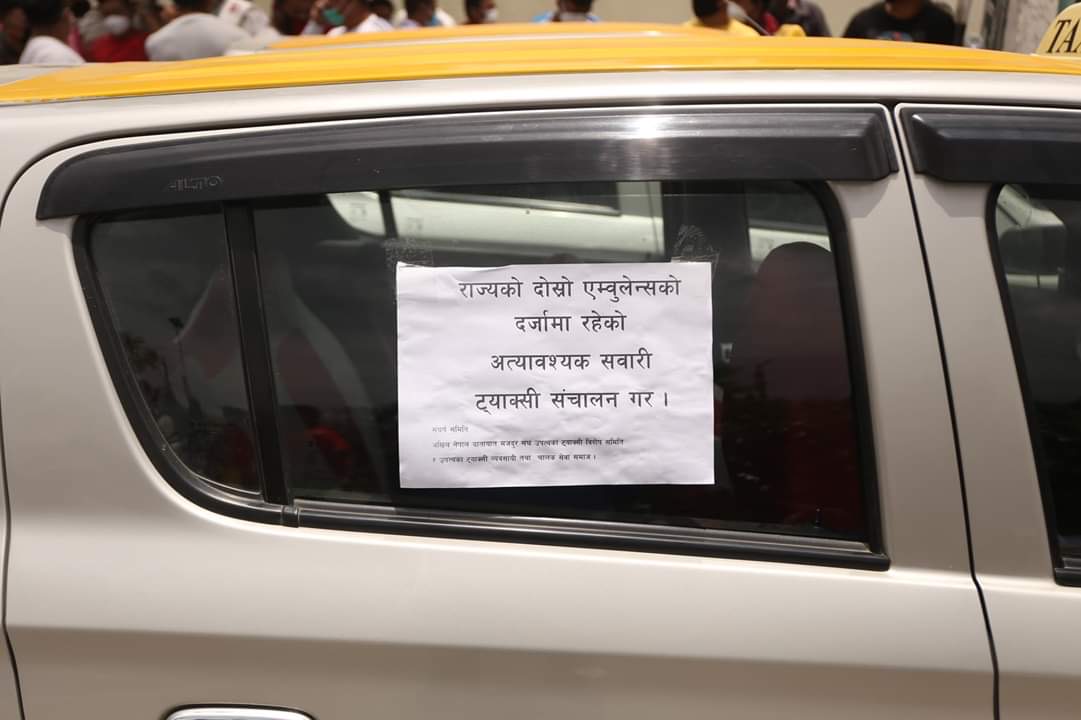 Elite Joshi/TKP
---
---