Kathmandu's taxi drivers say the meter fare is killing them
A new alliance of taxi drivers in Kathmandu Valley wants to set a fixed rate for routes under three kilometres. Government officials say they haven't given the demand any thought.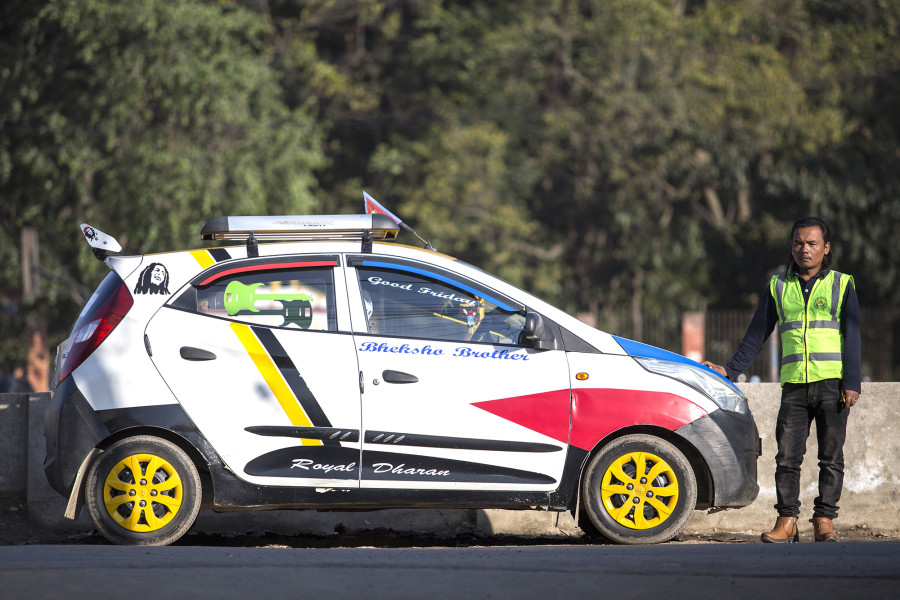 bookmark
Published at : March 6, 2019
Updated at : March 8, 2019 07:44
Kathmandu
When Simal Rai returned the gold jewellery and cash he had found in the backseat of his taxi, he made headlines across the country. The 44-year-old taxi driver, who migrated to Kathmandu from Dharan three years ago, was all over social media, and on television giving interviews as he was hailed for his honesty.
But Rai says life for Kathmandu's taxi drivers isn't joyous on most days. If anything, most drivers say it is hard to make a living on income from taxis these days.
"Passengers who understand our situation tip us a little and that is how we sustain ourselves and run our taxis. The meter is killing us," Rai said.
The most common complaint among taxi passengers in Kathmandu is taxi drivers' refusal to go to their requested destinations by the government-mandated meter, as required by law. Passengers have to bargain a set price beforehand, which can often be frustrating for both parties involved. But if a new alliance of taxi drivers has its way, negotiations might become a thing of the past.
The Valley Taxi Entrepreneurs and Taxi Service Society, an alliance of taxi drivers established on January 9, has been demanding a fixed fare for routes under three kilometres, saying that this would professionalise and transform the entire taxi business. In the last two months, the alliance has already registered more than 3,000 taxi drivers as members.
"The Nepal government's meter does not sustain us," said Rai, who took out a loan to buy his taxi. "There is the monthly instalment, inflation and increasing operating and maintenance costs."
The last time the government revised taxi fares was in 2018, just before the Dashain holidays. Citing fuel prices, the rate had been calibrated at Rs39 per kilometre. Taxi drivers, however, say that the government's calculations, including the flag down rate—the base fare—of Rs 14 is outdated, unscientific and ignores increasing operation costs, interest on loans and taxes.
"The last revision excluded 65 percent of indicators that we take into account while reviewing fares. A study report is due, after which the fares will be adjusted," Gokarna Prasad Upadhyaya, spokesperson for the Department of Transport Management, told the Post. It is unclear when the report will be out.
On average, a taxi driver's daily operating expenses, including loan repayment, vehicle insurance, fuel and maintenance, taxes, amount to about Rs1,500. Subtract these expenses from average earnings of about Rs2,000 a day, taxi drivers who spoke to the Post say they are left with just Rs500 after working for 16 to 18 hours. This is a little above the minimum monthly wage of Rs13,450—if they manage to make Rs2,000 every single day.
"We're in dire straits," said Rai, who lives with his wife and two children in a rented flat in Bhimsengola. "What can we afford to eat after all these recurrent expenses? We have no savings."
Left: Simal Rai lives with his family in a rented flat in Bhimsengola. Right: Iswari Thapa and her daughter at their room in Sano Thimi. Photo: Sanjog Manandhar
To earn Rs2,000 a day, a taxi driver needs to make a minimum of 10 trips. But on average, drivers say they only manage five or six trips. On some days, they even run dry. Increasing congestion in the city and an abundance of taxis vis-à-vis scarce parking spots have only compounded the problem.
Within the Ring Road, Kathmandu and Lalitpur have only 40 designated parking areas, which have a maximum capacity of 400 taxis. There are around 11,000 taxis in the Kathmandu Valley, according to the Department of Transport Management.
"We don't earn. We are desperate. This is why we are pressing for a scientific revision and assured payment for a minimum route distance as practised internationally. It will make our lives easier," said Rai, who only recently became a member of the Valley Taxi Entrepreneurs and Taxi Service Society.
The alliance's member base grows every week, as new sub-alliances are established across Kathmandu. Their unique mode of protest has also received widespread attention as member taxi drivers stick pamphlets on the rear windshield of their vehicles, demanding a scientific revision of taxi fares.
"Most of the time, we have to return empty after dropping off a passenger," said 37-year-old Iswari Thapa, an active member in the alliance. "If there is scientific fare management in place, there would be no bargaining at all and we could cover shorter routes and even turn on our meters."
Thapa, who has been driving her own taxi for nine years, spends much of her time these days making a minimum number of trips and reaching out to more taxi drivers for union events, before returning to her rented room in Sano Thimi.
"I begin at 3am and return to my room at 10 or 11pm. On a good day, I make Rs2,500 but that is barely enough," she said.
Passengers who are at the receiving end of taxi drivers' woes say they usually end up paying more instead of the hassle for bargaining.
"Taxi drivers usually do not agree to go on the meter and even if they do, they ask for Rs50 to 100 extra on the meter most of the time," said Preet Shah, program manager at Planet Enfants and Development.
Shah says the drivers who demand higher fare prices have their explanation.
"It is probably because of the inflation. Most taxi drivers tell me that they have to return empty and have to wait for a longer time to get a parking slot."
Pradeep Aryal, who frequents pubs to catch football matches on weekends says taxi drivers demand up to Rs700 and point to the outdated meter for a higher fare. The new demand by the drivers, Aryal says, sounds realistic.
"I have noticed that the taxis with pamphlets on their rear windshield agree to go on the meter," said Aryal. "Kathmandu is a small place and the trip distance is usually under 8 to 10 kilometres. A minimum rate, I think is good idea."
Two taxi drivers chat as they wait for passengers in New Road. Photo: Sanjog Manandhar
Earlier this year, the alliance handed over a list of demands to the Department of Transport Management and the line ministries and authorities, proposing assured payment for a route distance under three kilometres and that the rate be set at Rs 55 per kilometre, among other things.
On February 13, the alliance also registered a complaint with the Metropolitan Traffic Police Division and the department against private four- and two-wheelers for illegally ferrying passengers and placing their jobs at risk.
"We are apolitical. We do not want to trouble passengers who are the source of our income," Purna Lal Moktan Tamang, the alliance's general secretary, told the Post. "We just want the government to introduce a scientific fare management policy."
The outdated meter fares are not just harming livelihoods but have also led to an extremely negative image of taxi drivers, said Tamang who has also worked as a taxi driver in Qatar for five years. "The meter encourages desperate measures among taxi drivers, which we want to discourage and do away with," he said.
Department officials, who are currently reviewing fare adjustments in public transport services across the country, say it seems unlikely that taxi drivers' demands will be heard.
"I am not aware of the new alliance. I am hearing about it for the first time," said Madhusudan Adhikari, secretary at the Ministry of Physical Infrastructure and Transport.
Adhikari said even though the demands to review the fare is legit, officials have not thought of fixing the minimum fare based on the distance of the route.
"Assured payment for a route distance under three kilometres is not something we have thought of," he said. "But the ministry is working on a policy to standardise taxi services and we will make a decision on fare adjustments once the transport department submits its report."
---
---