Poets recite poems in Tundikhel in solidarity with Occupy Tundikhel movement
Tundikhel was once one large open ground, nearly four kilometres long, stretching from Rani Pokhari to Dashrath Stadium.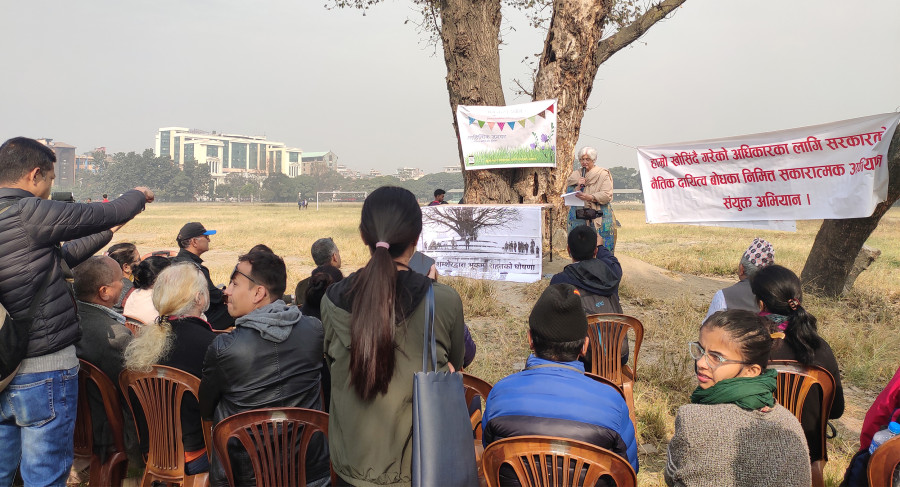 A poet recites poem as part of 'Mukta Tundikhel' campaign in Kathmandu on Saturday. Anup Ojha /TKP
bookmark
Published at : November 24, 2019
Updated at : November 24, 2019 10:18
Kathmandu
More than two dozen poets assembled in Tundikhel on Saturday morning to show their solidarity towards 'Mukta Tundikhel', a people's movement aimed at reclaiming the once vast open space from encroachers.
The poets recited poems and derided the government for its apathy in preserving the heritage site, which holds social, political and ecological significance for the residents of Kathmandu Valley.
Last Saturday was marked by the planting of 'Khari saplings' in the eastern part of Tundikhel, which has historical significance in the local folklore.
Veteran poet Biplov Pratik recited the poem 'Charako Byatha' (sorrow of a bird), depicting how the loss of Tundikhel has been messing up the local ecosystem.
"It was in 1986 that I used to live in Putalisadak. Nepal Army officials would allow people to pass through Tundikhel. At that time, this place was open, but now it's all encroached," said Pratik. He publicly asked the authorities not to mess up with public spaces and ordinary people's rights.
Poets Bishnu Kumar Sinjali, Bir Prasad Bhansali, Niraj Dhakal, Ratna Shrestha, Sneha Sayami, Aruna Panta, Prajol Aryal, Rupa Joshi, Asim Sagar, Renuka Shrestha, Raj Bhai Jakarmi, Debi Nepal, Ramprasad Gawali and Prabha Bhattarai recited poems in the nearly two-hour poem recitation programme. Lekhmani Trial, a stand-up comedian from Nep-Gasm, also performed an act at the event.
Tundikhel once constituted one large ground nearly 4 kilometres long, from Rani Pokhari to Dashrath Stadium. Over the years, successive governments divided the ground into small parts.
The public-led movement started on November 9 with a mass gathering of conservationists, heritage lovers and members of the civil society making a human chain to put pressure on the government to reclaim Tundikhel, one of Kathmandu Valley's largest open spaces for public gatherings.
"We have taken this public initiation to reclaim the encroached land of Tundikhel. We have zero funds, and this movement will be based on voluntary support. The positive response of people has motivated us, and we are very hopeful that greater masses will join this movement," said Vijay Shrestha, coordinator of the campaign.
The organisers have announced that they will take forward the movement with various activities that include raising awareness through live musical shows, poetry recitation, street plays and painting exhibitions.
As a part of the 'Occupy Tundikhel' movement, locals and conservationists last week made the Kathmandu Metropolitan City padlock Dui Maju shrine, located on the northwest side of Khula Manch, where around two dozen shopkeepers were running businesses.
---
---