Campaigners launch 'Occupy Tundikhel', a movement to reclaim open spaces from encroachers
An initiative of local residents, environmentalists and heritage activists, the campaign sees the presence of prominent figures from politics to academics and civil society.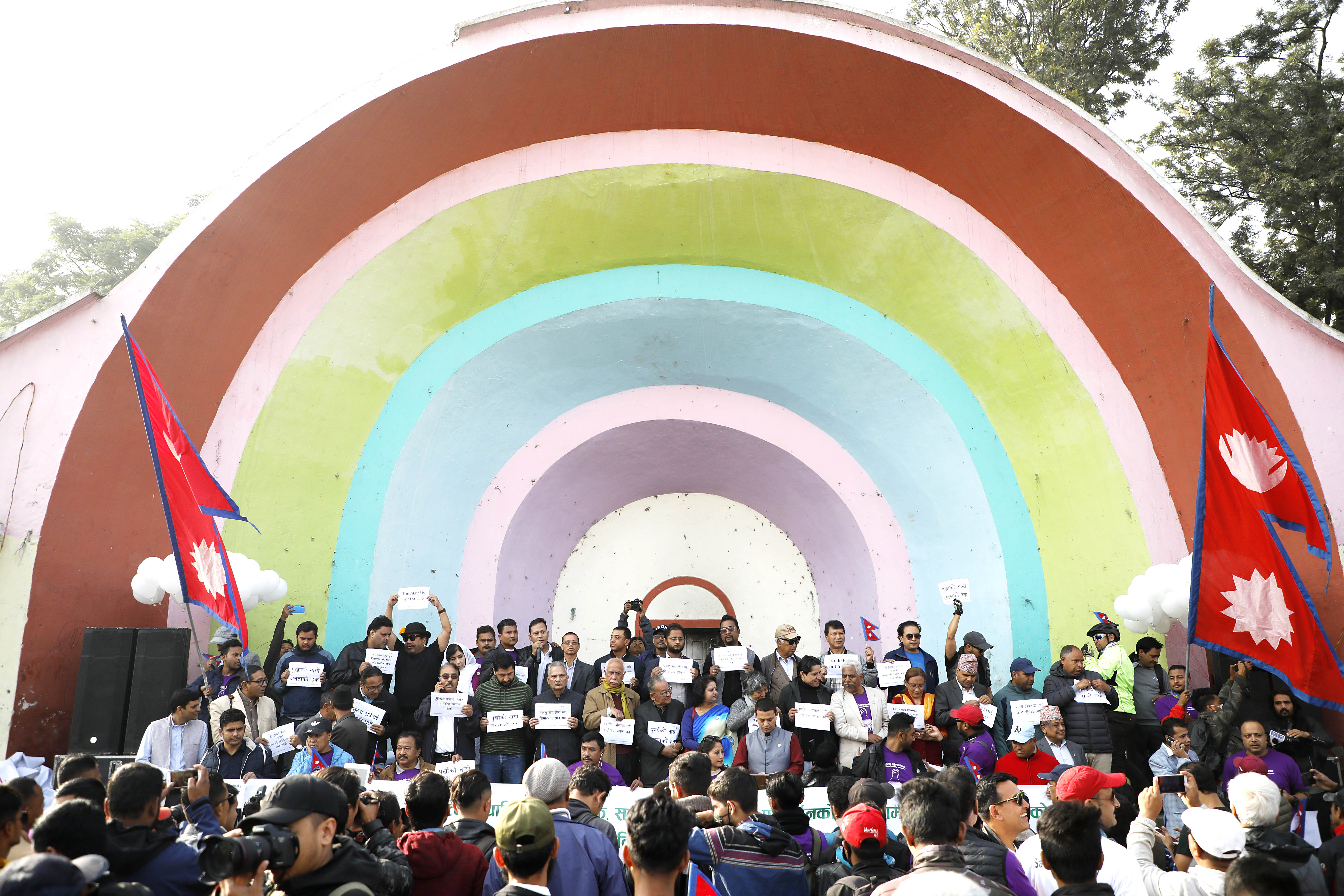 Campaigners gather for a symbolic protest to reclaim Tundikhel, which has been encroached upon by privates builders and the Nepal Army, at Khullamanch in Kathmandu on Saturday. All photos by Sanjog Manandhar
Published at : November 9, 2019
Updated at : November 10, 2019 07:28
On Saturday morning, when people from different walks of life started to fill Tundikhel as part of a citizen-led movement against continued encroachment of the once vast open space, a septuagenarian quietly joined in. Birendra Bhakta Shrestha, 75, was overwhelmed to be a part of the initiative.

"This is a much-needed campaign. It's sad to see such a vast swathe of land in the heart of the city encroached upon by people with vested interests," Shrestha told the Post. "Once, it spanned from Ratnapark to Dashrath Stadium. We used to play here."
Today, Tundikhel hardly has any open space left; it's less than half its original size. The Nepal Army has taken a huge chunk of its part, while the remaining open area has been converted into a bus park.
Saturday's campaign, dubbed 'Occupy Tundikhel', is an initiative by a coalition of locals, environmentalists and heritage activists, and it also saw the presence of some prominent figures from politics to academics and civil society.
The part of Tundikhel from where the campaigners launched their 'Occupy' campaign once used to be the most favoured place for Nepali politicians, which is fondly called Khula Manch, or open theatre. It served as a platform for people to gather and politicians to deliver speeches. For the past three decades, it has been a silent witness to political changes sweeping the country. But it is no more 'khula', or open.
Successive governments, which have been led by various political parties since 1990, have consistently chipped away at this prime land, dividing it for parks, roads and the sole use of the Nepal Army.
On Saturday, prominent personalities such as Kedar Bhakta Mathema, former vice-chancellor of Tribhuvan University; Baburam Bhattrai, former prime minister and chairman of Samajbadi Party Nepal; Gagan Thapa, former health minister and Nepali Congress leader; and singers Yageshwor Amaya and Prem Dhoj Pradhan were among those present to express their solidarity with the campaign.
Kathmandu Metropolitan City Deputy Mayor Hari Prabha Khadgi was also present, but Mayor Bidya Sundar Shakaya was conspicuous by his absence. Shakya seems to have a completely different take on the entire movement, as he said on Friday at a public function that he saw some "political colours" in the 'Occupy Tundikhel' campaign.
While Tundikhel has over the years lost its parts to various encroachers, in recent years, Shakya has faced censure for failing to take the initiative to protect the area.
The responsibility for the upkeep of Tundikhel has been with Kathmandu Metropolitan City since 2016. Shakya won the local elections in 2017 and as Kathmandu mayor, he is the guardian of open spaces like Tundikhel as well.
Concerns started to mount when the city authority awarded a contract to Jaleshwor Swachhanda Bkoi Builders to construct a view tower at the old bus park, which resulted in the shifting of the bus park to Tundikhel "for three months". But the bus park has remained in Tundikhel, occupying a majority of the space, while the remaining area is being used for parking vehicles and dumping and storing construction materials.
Campaigners complain that Shakya has failed to take an initiative to protect the public ground. In late April, after mounting public outrage and protests against encroachments, as many as 52 illegally constructed structures were demolished. The demolition orders came from the Prime Minister's Office which instructed the Kathmandu Metropolitan City and the District Administration Office to clear the illegal structures.
"Hundreds of open spaces in Kathmandu have been encroached upon. Tundikhel is one of them and it's one of the most important open spaces Kathmandu has," said Thapa, the former health minister. "There's no political interest in this campaign. Tundikhel has been public space, and it should remain so. Let's revive the Tundikhel regardless of our different political ideologies because it belongs to every one of us."
The organisers said 'Occupy Tundikhel' is purely a non-profit, non-political campaign and that it will continue for three months to build pressure on the authorities to leave Tundikhel as an open area.
"The campaign is for building pressure to reclaim the 300-year-old Tundikhel from Ranipokhari to Dashrath Stadium," said Alok Siddhi Tuladhar, a heritage conservationist and one of the organisers of 'Occupy Tundikhel.'
Tundikhel also served as a temporary shelter for thousands of people in the aftermath of the 1934 and 2015 earthquakes. With Kathmandu's most prominent open space shrinking by the day, there are also concerns over where Kathmandu residents will go if such disaster strikes again.
Shrestha, who attended political gatherings at Khula Manch, said he was encouraged by the initiative to reclaim public spaces.
"This campaign has given me hope now," said Shrestha. The septuagenarian, who was active in politics until his 50s, disagreed that the campaign had any political colours, but said that the open space certainly has some political value.
"I will fight to reclaim this open space as long as I can walk because we need to hand over this precious open space to the new generations. Not only to ensure that the new generations get to breathe in clean air, but also to hand it over to them as a legacy of political changes the country has seen."
Open public spaces not only draw people from various walks of life, they also enable them to participate in sporting activities.
"They provide a platform for social interaction and political discourse," said Shrestha. "That's why open spaces are also vital for participatory democracy."
---