Another fire in Kathmandu exposes its limited firefighting resources
The Capital city needs more fire engines and fire stations at the local level, says Kathmandu's fire chief.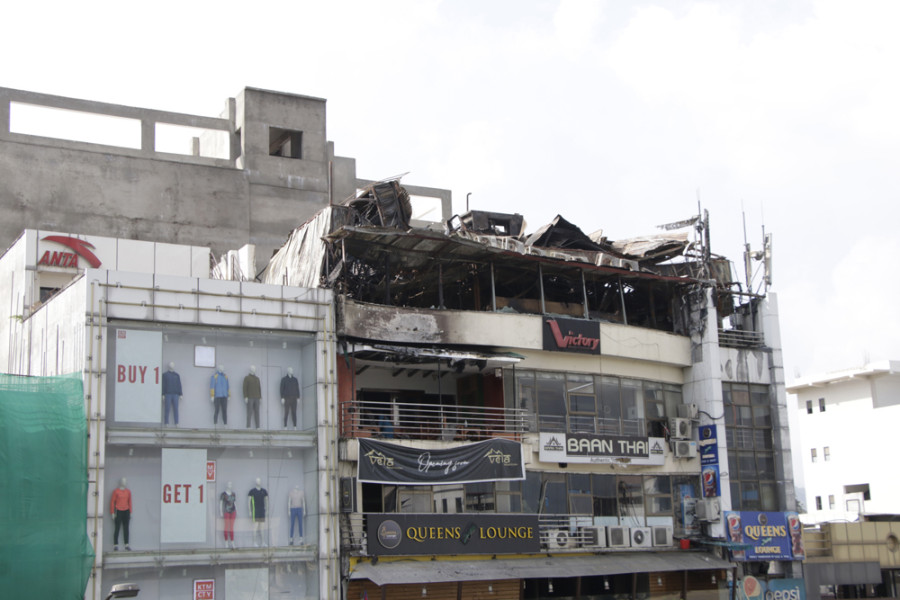 The fire, which started at the Victory Lounge in Durbarmarg because of a short circuit, spread to the fifth and sixth floors of the building. Anish Regmi/TKP
bookmark
Published at : October 14, 2019
Updated at : October 15, 2019 09:26
Kathmandu
A massive fire that tore through a commercial building in Durbarmarg on Sunday evening destroying property worth millions has once again raised serious concerns over whether Kathmandu is well-equipped to fight such fire-related emergencies.

The fire, which started at the Victory Lounge in Durbarmarg because of a short circuit, spread to the fifth and sixth floors of the building. Although there were no casualties, the blaze raged for nearly three hours, reducing everything on the two floors to ashes.
It took two fire engines, a water tanker, and more than 30 firefighters to contain the blaze which lit up Kathmandu's skies and sent embers and ashes flying across the upmarket Durbarmarg street.
"We were able to stop the fire from spreading to the next building, but it was a major challenge to contain the fire because it took place on the fifth and sixth floors," said Lila Raj Gatha Magar, chief of the Kathmandu Fire Brigade. "We had to use a 30-metre ladder to reach the fire and one of the firefighters almost slipped on the ladder."
This is not the first time fires have tested the capital city's limited firefighting resources. Last August, a similar blaze destroyed property worth millions at an internet company's data centre in Baluwatar, and in 2013, a devastating fire swept through Thamel and reduced the iconic Pilgrims Book House to ashes.
"Our resources aren't enough. We've been trying to convince the authorities to add more fire engines and establish more fire stations, but there hasn't been much progress," said Magar. "Local bodies need to have a fire station which can then provide first response in case of a fire emergency."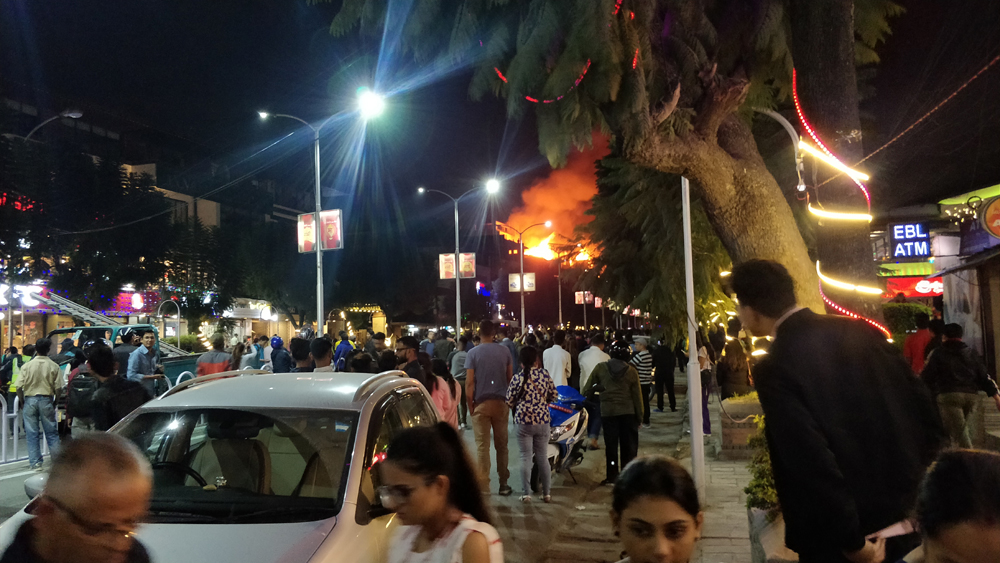 People see blaze raging at Victory Lounge in Durbarmarg from a distance on Sunday. Bhrikuti Rai/TKP
It isn't just fire brigade officials like Magar who were terrified about what could have happened if the fire had spread to other buildings and if there were people inside the building when the blaze broke out. People who saw the blaze raging in Durbarmarg and gas cylinders exploding one after another at Victory Lounge from just a few hundred meters had the same thought.
"My first reaction was, are there people inside the building, and is one fire truck enough to contain the raging blaze," said Priyankana Bastola, who was among the hundreds walking around dazed and terrified with their phones up towards the building engulfed by fire. She was supposed to meet her friends for a birthday dinner at a restaurant nearby when the building caught fire and she began looking for an alternative way to get off the jam-packed streets.
In the 40-or-so minutes she was there, Bastola saw additional fire trucks reach the scene, watched hundreds of people being cleared off the street by the police, and dozens of vehicles stuck in traffic.
As she hurried down an alley just a couple of hundred meters from the building, she saw ashes floating in the sky and worried about a possible stampede, she said.
"It could have been us because we don't have multiple marked exits in buildings here," said Bastola. "Whether it is a fire or an earthquake or any kind of emergency, there is no protocol on how to get to safety."
---
---