Things are improving at the Pashupati Home for the Elderly, but conditions remain bleak
New regulations and improvements in facilities and infrastructure have been instituted, but much more could be done.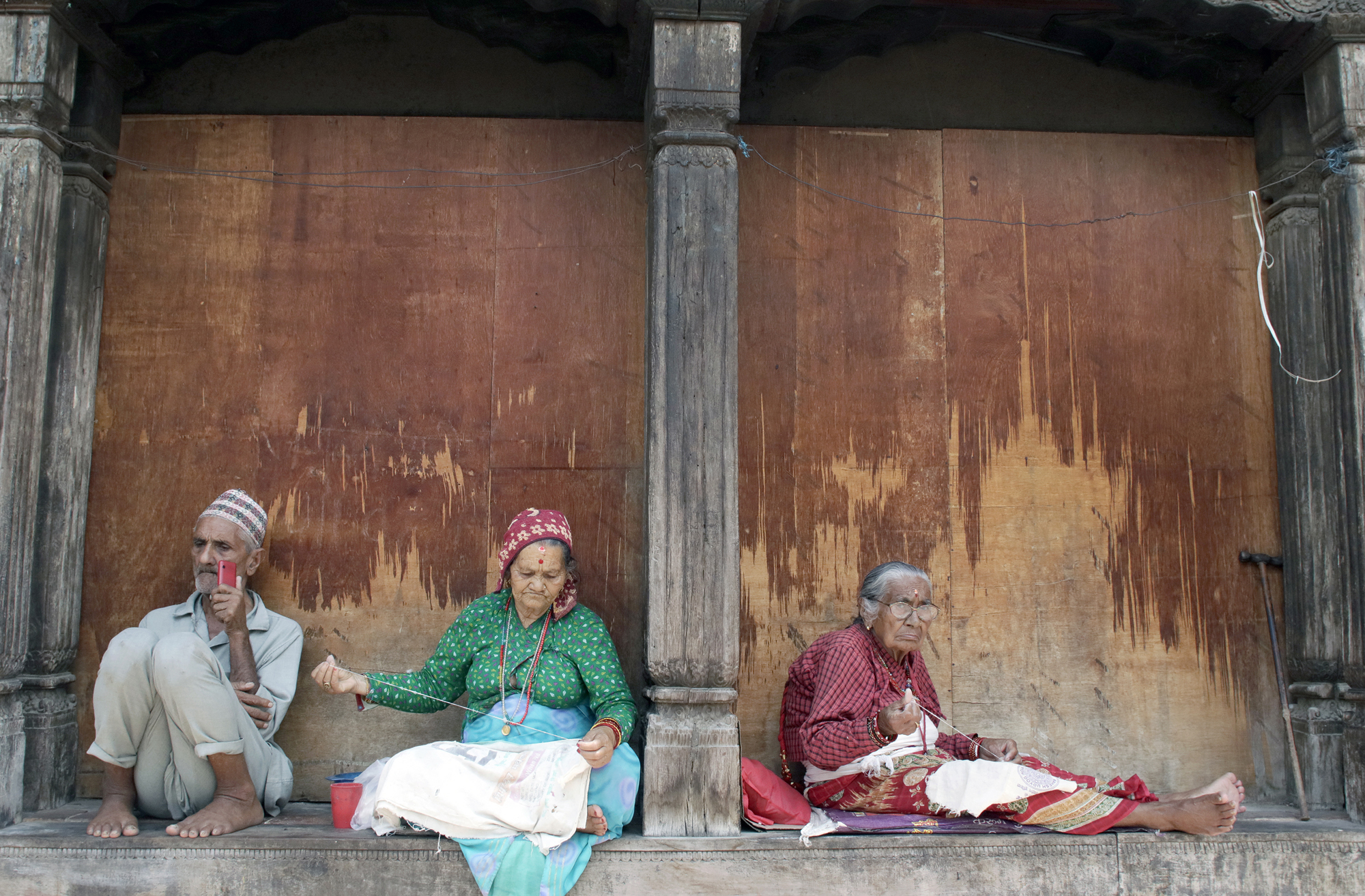 Elderly people sit on a pati outside their rooms at the Pashupati Home for the Elderly. Anish Regmi/TKP
Published at : July 27, 2019
Updated at : August 3, 2019 09:39
At 86, Om Kumari Tiwari might be old but she hasn't lost her penchant for colour. Even in the dark of the century-old room at the Pashupati Home for the Elderly, Tiwari is attired in a flower-printed red cholo and a bright red fariya with a patuki. But despite the colour of her clothes, Tiwari longs for colour in her life. She longs to return to her family, who left her at the Pashupati Home for the Elderly 15 years ago.

"Nobody will come for us. It's just us for each other," said Sannani Timilsina, who, at 89, is younger than Tiwari and helps takes care of the frail older lady with Bishnu Maya Tamang, who is 75.
The three share a room at the home for the Elderly, a government-run elder care home. There are 155 senior citizens at the home, and while they might still live in dark, cramped quarters with few modern amenities, things have gotten better in the last three years, according to residents. Long maligned for its filth and squalor and its treatment of the elderly, the Pashupati Briddhashram, as it is called colloquially, is making slow, incremental changes under a new leadership.
"We still don't get hot water to bathe with, but for the longest time, we had to wait in a queue to even take a shower. Now, we have two toilets and it's a privilege," said Timilsina, who has been living at the home for the past 25 years. "The situation has definitely improved since the new management took over three years ago."
When Krishna Prasad Kandel came to the Home for the Elderly in 2016, he was baffled by the system that prevailed. It didn't focus on health, hygiene, sanitation or nutritious food, he said.
"We now have strict new rules and regulations, which may seem stern but we need to have a system," said 30-year-old Kandel, who is part of the management team.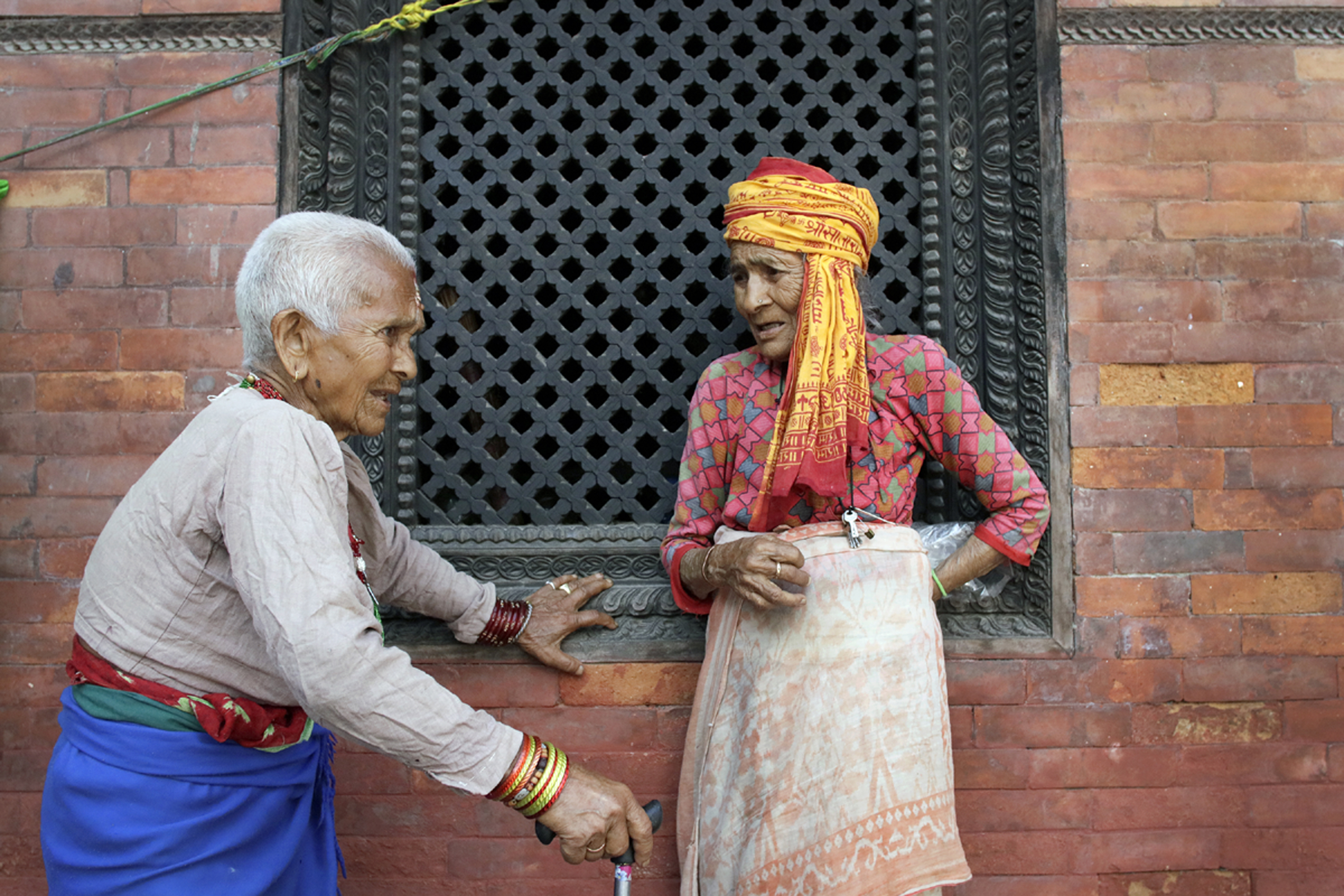 Anish Regmi/TKP
Earlier, donors could bring in food individually for the elderly but the new management put a stop to that. The elderly have specific dietary needs and can't simply be eating whatever people bring to them, he said.
The home has often been criticised for the meals it offered to senior citizens, but according to Kandel, people misunderstand the elderly's needs.
"We have to understand that we are catering to 155 senior citizens and we have to keep in mind the kind of food we provide," he said. "They cannot eat the kind of food we eat, so we have to be careful with what we put on their plates."
They are provided with meals five times a day with dinner at 5.30 in the evening. Behind the dining hall, the management has also set up a small pantry so that the senior citizens can cook and eat at their own convenience, if they so desire.
The home has also stopped accepting 'in kind' donations from visitors, who often come with blankets, clothes and other goods.
"If visitors want to donate, they can put in cash in our bank account or drop edible goods like biscuits and juice that we will distribute ourselves," said Kandel.
This is all part of the management's attempt to ensure that the elderly are fed, housed and clothed according to their needs, and not just on the whims of people who come with donations.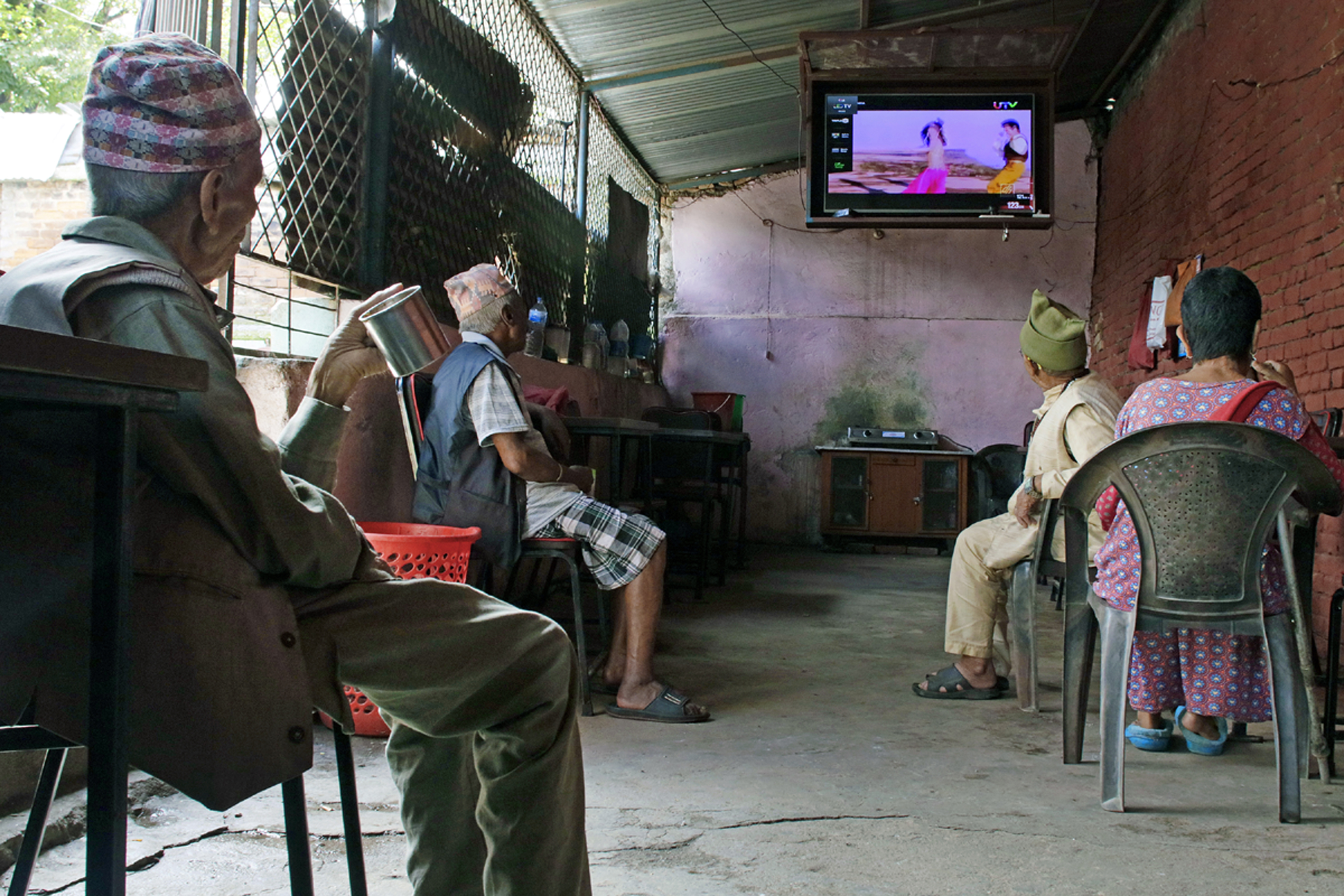 Anish Regmi/TKP
Senior citizens are also not allowed to leave the premises anymore. Many of them have Alzheimer's, dementia and other health problems and can't be allowed to wander around without supervision. The management doesn't want to take any chances that could risk their lives, said Kandel.
Of 155 senior citizens, 127 receive old age allowances of Rs 6,000 every three months. Others don't have citizenship documents so they're ineligible for social security.
"If they wish to purchase anything, they ask us and we buy it for them. There's no point in sending them out on their own," said Kandel.
There have also been changes to the infrastructure. The Elderly Home, for the longest time, housed all of its senior citizens in a century-old building, built in 1882, but now quarters are divided into two sections. Those who require special assistance are housed in a new makeshift building while those who can look after themselves continue to live in the old premises.
The Home for the Elderly lies in the heart of Pashupatinath Area Development Trust. Until 2015, the care centre had 250 senior citizens living under the same roof, but due to structural damage after the earthquake, the management has limited the intake of senior citizens. The home currently houses 155 senior citizens. Most of them have either been abandoned by their families, or are unmarried or widows and have no one to take care of them.
Things might be getting better but they're nowhere near great.
In Kandel's time, the rooms have been painted bright blue and bulbs and tubelights have been put up. Yet, the ancient building lacks sunlight and ventilation. Every room has a musty smell.
Eighty-two-year-old Tirtha Maya Rai, like many others, complains that her body itches time and again and that disturbs her sleep.
Nirmala Subedi, who has been head nurse at the elderly home for the past 18 years, knows all about the bed bugs in the mattresses, blankets and even the building itself.
"This building is over a century old and at times, bed bugs fall from the ceiling," said Subedi.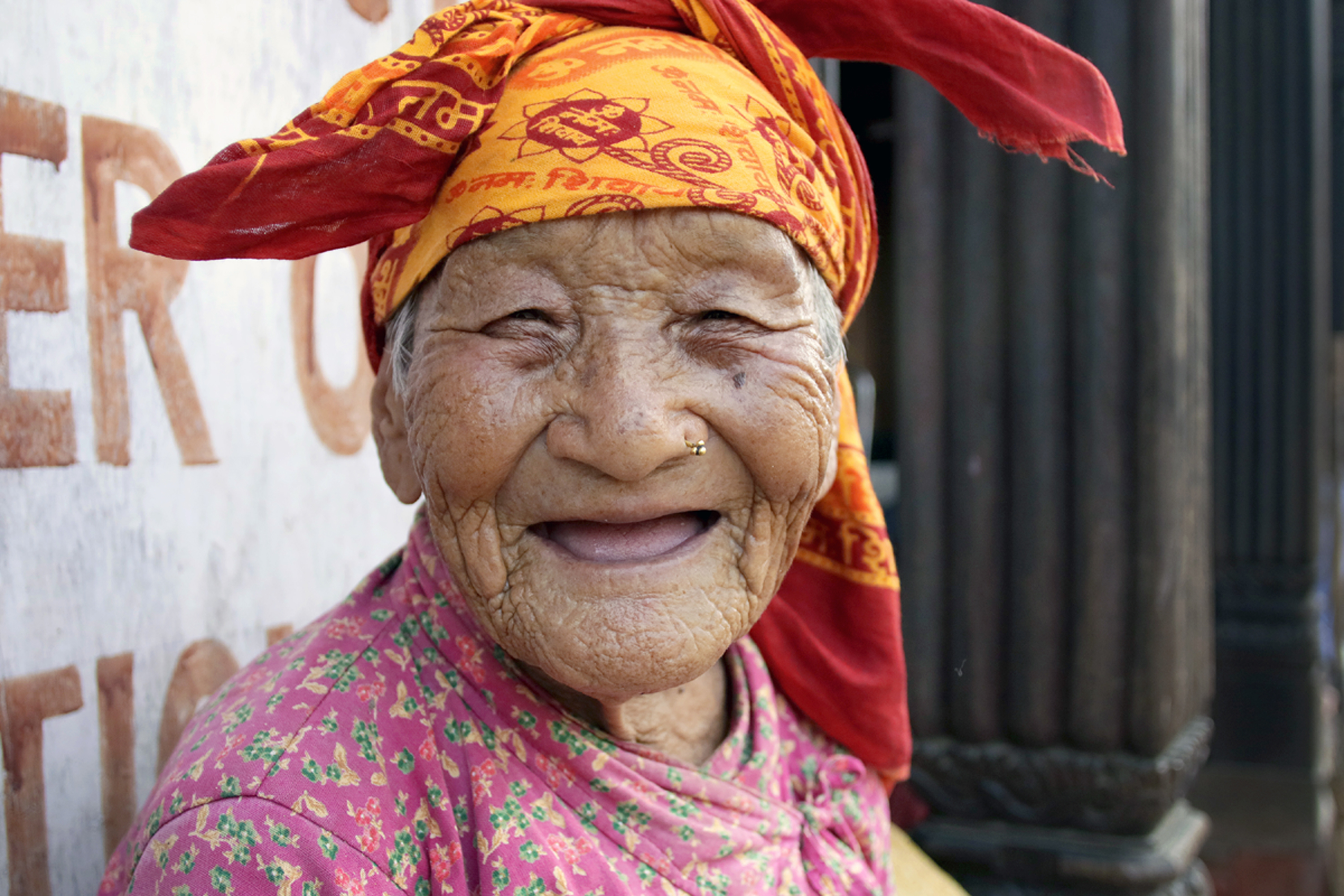 Anish Regmi/TKP
The home's health centre often conducts a deep cleanse of the entire building, spraying all the rooms with pesticides. But Subedi says not even pest killers can get rid of the bed bugs.
"We need to shift the elderly home somewhere else before new unsolvable problems come up," she said. "The government has been promising a new old age home at Gothatar but it's been almost a decade and nothing has materialised."
According to Kandel, the government has allotted 20 ropanis of land at Gothatar for a first-class elderly home, which should be ready within the next four years.
Rajendra Kumar Poudel, spokesperson of the Ministry of Women, Children and Senior Citizen, confirmed that the government had a plan but that it has been delayed time and again.
Residents, too, have heard of this new space, but they've heard it so many times that they've grown jaded to the news.
"Ever since I came here, I have heard of us shifting to a cleaner space, but I feel happy here," said Ram Prasad Acharya, a dapper 73-year-old who's been living at the home for the past four years. Acharya was dropped off by his boss, with whom he had worked for 40 years in a dhaka production factory.
Tiwari too doesn't dream of moving anywhere else. At her advanced age, she has resigned herself to the space she's been living in for the past decade.
"This is what was written in my fate," she said. "Now that I have come here, I'll go peacefully from here."
Many at the Home for the Elderly share Acharya and Tiwari's sentiments. For them, the home is a small mercy and no matter its conditions, they have few alternatives.
"I have been living here for the past 25 years now; I can't complain much," said Timilsina. "If it wasn't for this briddhashram, I would have ended up in the gutter."
Dear reader, we'd like to hear from you. We regularly publish letters to the editor on contemporary issues or direct responses to something the Post has recently published. Please send your letters to tkpoped@kmg.com.np with "Letter to the Editor" in the subject line. Please include your name, location, and a contact address so one of our editors can reach out to you.
---