The allure of Annapurna
A trek to the Annapurna Base Camp is arduous, featuring steep trails and extreme weather. But the view of the mountains more than makes up for the toil.

A view of the Annapurna I from Annapurna Base Camp. Photo courtesy: Juraj Ondris
bookmark
Published at : October 21, 2022
Updated at : October 21, 2022 08:00
After almost two years of being forced to stay indoors, I needed a getaway, and that was when my friend Jeevan and I decided to trek to Annapurna Base Camp (ABC), which lies to the north of Pokhara at the base of the majestic Annapurna range.

Having never trekked in my whole life, I thought we would reach ABC by walking just two to three hours a day for a few days. Little did I know that I would be carrying an eight-kilo trekking bag on my back and climbing steep hills for five days—and, in the process, almost dying of exhaustion.
We landed at Pokhara Airport and boarded a jeep to Marque, one of the many starting points for the ABC trek. After trekking three hours from Marque, we reach Chomrong in the late afternoon. It was heartwarming to witness the rich culture and typical lifestyle of the Gurungs and Magars of Chomrong village, which is surrounded by forests of rhododendron and oak trees. Not long after we reached the village, the evening set in, and the sky turned deep blue and the sun a fiery orange. The distant mountains disappeared behind a thick fog.
Our aim for day two was to reach Himalaya. We started the trek by crossing the Chomrong river, and in three hours, we ascended from Lower Sinuwa and reached Upper Sinuwa. The trail from Upper Sinuwa to Bamboo cuts through dense forests of cane, rhododendron, and oak trees. After walking by the banks of Modi Khola Valley for two hours, we reached Bamboo—which, as the name suggests, had thick bamboo clumps—and stopped for lunch. Even though the steep climb of the day had made me lose all my appetite, I stuffed myself with dal bhat.
On the way up from Bamboo, we met a group of boys from Chitwan and a group of girls from Butwal, all heading to ABC. We got along well and now, it was 11 of us. Trekking suddenly became more fun and safer.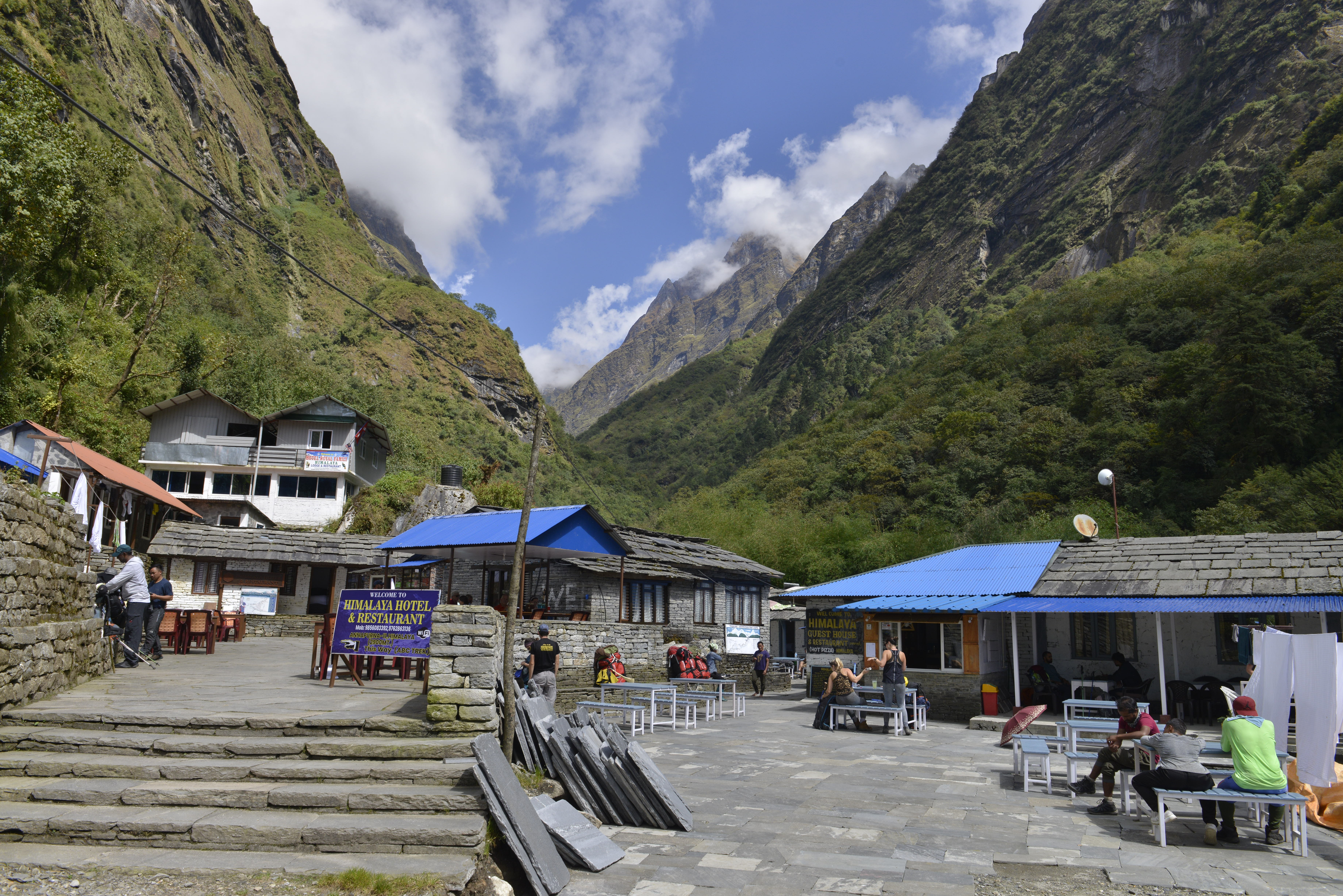 A row of guest houses at a place called Himalaya on the course to ABC. Photo Courtesy: Juraj Ondris
A hotel owner at Bamboo had warned us of wild animals, advising us to scream as loud as possible if we encountered any. Even though there were 11 of us, there were times when the group split because of our varying walking pace. It was just Jeevan and me walking through a dense forest for a few brief moments. At one such moment, we heard two fierce growls reverberating out of the thick forest. Our survival instincts kicked in, and we ran as fast as we could.
When we reached Dovan and stopped for a much-needed rest, Jeevan and I recounted our experience and bragged about how we outran a bear. The trail from Dovan to Himalaya, our stop for the night, had thick forests and several avalanche chutes. Upon reaching Himalaya, we checked into the Himalaya Hotel and had a vegetarian dinner. Once you cross Upper Sinuwa, hotels do not serve meat, but you do get eggs. This factual information got me wondering how many eggs get broken when transporting them to such remote villages high up on the mountains.
Day three was the day when we finally got to see Mount Annapurna up close. After having an unappetising breakfast, we left for Deurali. As we gained altitude, the forests gave way to alpine scrub and grasses. The valley walls became steeper, and the river at the bottom of it now looked like a thin strip of white ribbon. We crossed the Hinku cave and a major avalanche track to reach Deurali. ABC was now just five hours away, and knowing that we were close to our destination seemed to have energised everyone except me. I wanted to stop and rest every five minutes. My bag seemed to have gained a few extra kilos, and my body was on the verge of giving up. I tried all sorts of tricks to slow down my companions' pace but without much success.
To my relief, the trail from Machhapuchhre Base Camp (MBC) to ABC wasn't as challenging. There were no steep climbs. We seemed to have finally crossed the treeline and all we could see was the breathtaking view of Annapurna. The gorgeous views and the relatively easy trail brought smiles to our faces. When I finally reached ABC, I couldn't believe the views in front of me: glaciers, mountain ranges from Hiuchuli, Annapurna South, Annapurna I, Gangapurna, Khangsar Kang, Annapurna III, and Machhapuchhre. I thought I was dreaming.
Going on a physically challenging trek is anything but romantic. Steep trails, the weight of your trekking bag, and extreme weather take a toll. I had to go through my five-day ABC trek without having a single shower. I had to wear the same clothes every day because I didn't have the energy to change, and I stank of sweat.
But when I saw the majestic Himalayas so near for the first time, all the troubles I had gone through in the previous days, probably the most physically challenging and grossest period of my life, seemed a small price to pay.
---
---