Finding familiarity in Ghiling
The sense of community, of belongingness, is so pronounced in the people of Ghiling that you too feel like a part of them no matter how long, or short, your stay.

The village of Ghiling, made of mud and brick homes, blends seamlessly with Mustang's arid landscape. Marissa Taylor
bookmark
Published at : September 23, 2022
Updated at : September 23, 2022 09:58
Mustang
The festival of Yarthung is one that is celebrated with much fervour across Mustang. Every summer, once work in the fields is over and the people have some free time at hand (until harvesting season comes around that is), the festival is enjoyed across the district, including in neighbouring Manang.
The festival, which means 'the end of summer' in Tibetan, is celebrated by the people to mark the end of the warm days and to pray for a good harvest. That is what Tsering Norbu Gurung tells me in between sips of salted butter tea as we sit in the shade of a peepal tree under a spotless blue sky in Ghiling.
"The festival has been celebrated in this region since the 15th century. It was started by Agon Sangpo, the second king of Mustang," says Gurung, who is the village chief and is currently working on writing a book on Ghiling's history and culture.
Over the years, he adds, the customs of the festival have changed from what they used to be. "Earlier, the festival was more of a display of warcraft and sportsmanship, of archery and horse riding. Today, the festival is more about merrymaking and preserving our culture," he said.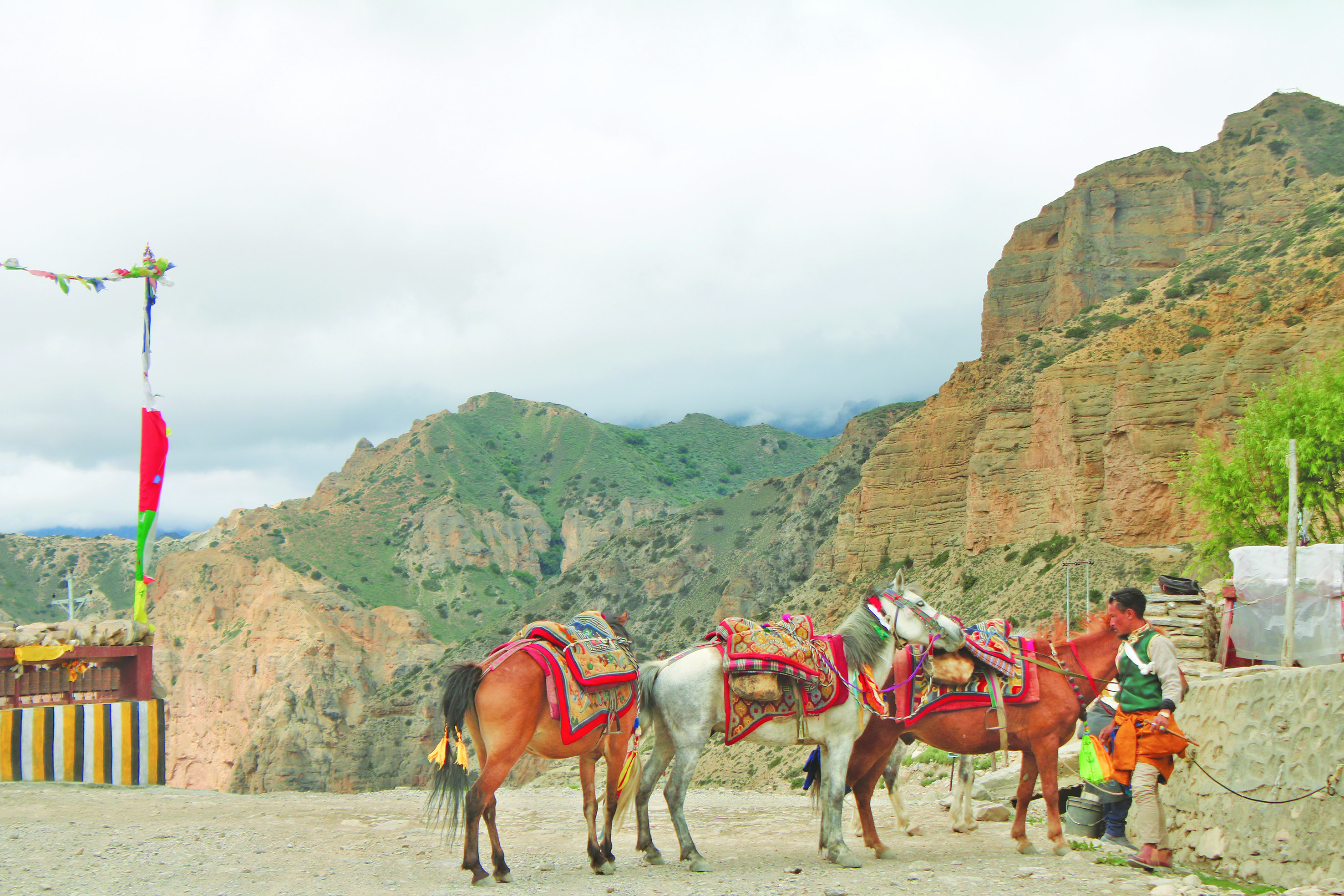 Men, young and old, ride their horses to observe the festival of Yarthung every summer and the sight is one to behold. Marissa Taylor
Different villages in Mustang pick different days to celebrate the three-day festival on a full-moon week in the months of June-August. This year, Ghiling, one of the five wards of Lo-Gekar Damodar Kunda Rural Municipality, celebrated the festival in late July, together with another festival, Dhacchyang, making it a five-day-long celebration. And the excitement in the village was palpable.
Bordered by the Tibetan plateau, much of Upper Mustang's culture is steeped in undisturbed Tibetan Buddist culture and Ghiling is no exception. I was fortunate to have been there during the festival, for it gave me a chance to not just immerse myself in Ghiling's beauty but in the warmth of its people, its culture and traditions.
For the entirety of the festival, the whole village, which consists of only a few dozen families, got together in the community centre built in the heart of the village. All meals were made and eaten together, first served to the elderly and then to everyone else. Over seemingly endless cups of salted butter tea (or something stronger, if you prefer), young boys and girls spent the days playing cards or mahjong while the younger ones stuffed their faces with khapse or amjok in Tibetan (a traditional Tibetan biscuit-like treat) and candies.
In a quieter corner of the centre's building, the elderly women and men prayed and sang songs of faith and prosperity. Outside, men contested each other in archery, which is what the festival of Dhacchyang is all about. Dhacchyang's literal translation in Tibetan being 'arrows' for 'dha' and 'beer' for 'chyang'.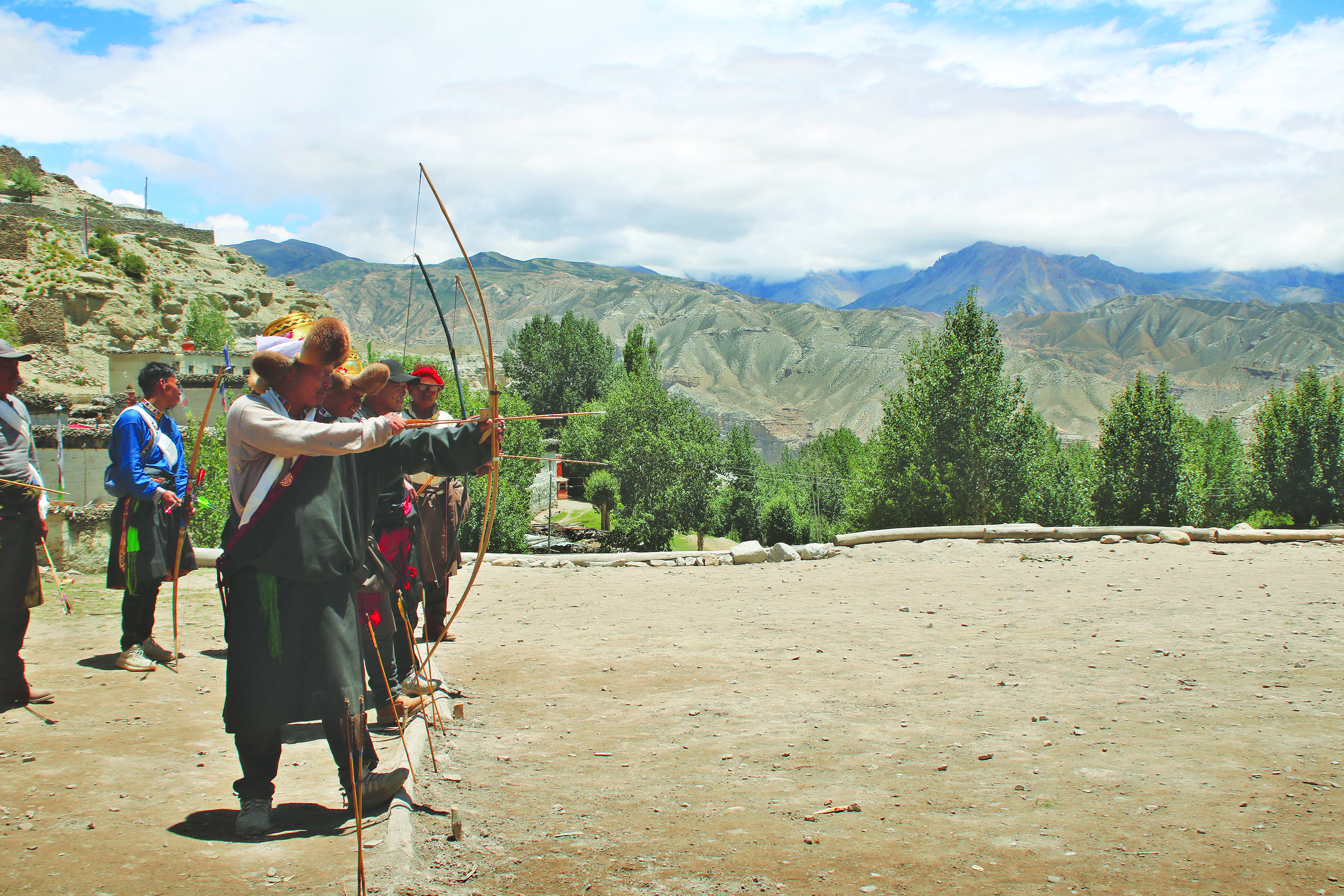 Dhacchyang is another festival that is lovingly celebrated in Ghiling. Its literal translation in Tibetan is 'arrows' for 'dha' and 'beer' for 'chyang'. Marissa Taylor
The main day of the festival, however, is observed on the full moon day. On this day, the men of the village rode their horses to Chungsi cave, in Syangboche, where it is believed that Padmasambhava, or Guru Rinpoche, meditated for years in the eight century. There, the villagers prayed and meditated throughout the day, thus marking the end of the festival.
Beyond its cultural allures, Ghiling also offers much for nature lovers and hikers. Any path you take—whether it's a light walk around the village or to the village's monastery atop a small hill—gives you a breathtaking view, leaving hikers extremely pleased.
Sherap Tenzin has lived most of his life in Ghiling. And he wouldn't have it any other way. A great grandfather at 72, he's one of the two eldest people in Ghiling. There are around 50 families in Ghiling and Tenzin proudly says he knows everyone.
"When I was younger, I lived in India for work because I had to make money to feed my family. But I could never live there, or anywhere else, for that matter. Ghiling is my only home. I have everything I need here," says Tenzin, clad in a chuba, in bits of Nepali that is laced with a thick Tibetan accent.
The sleepy village of Ghiling is located on the way to Lo Manthang, the famous walled capital city of the former kingdom of Lo. Ghiling doesn't necessarily fall on the road to Lo Manthang, even trekkers do not drop by most of the time. The village is lesser known than other bigger villages like Ghami, Syangboche, Dhamkar, and Charang, and thus is not on most itineraries. A quick Google search too does not yield many results either. Ghiling is as secluded as a mountainous village can be. And that is its charm.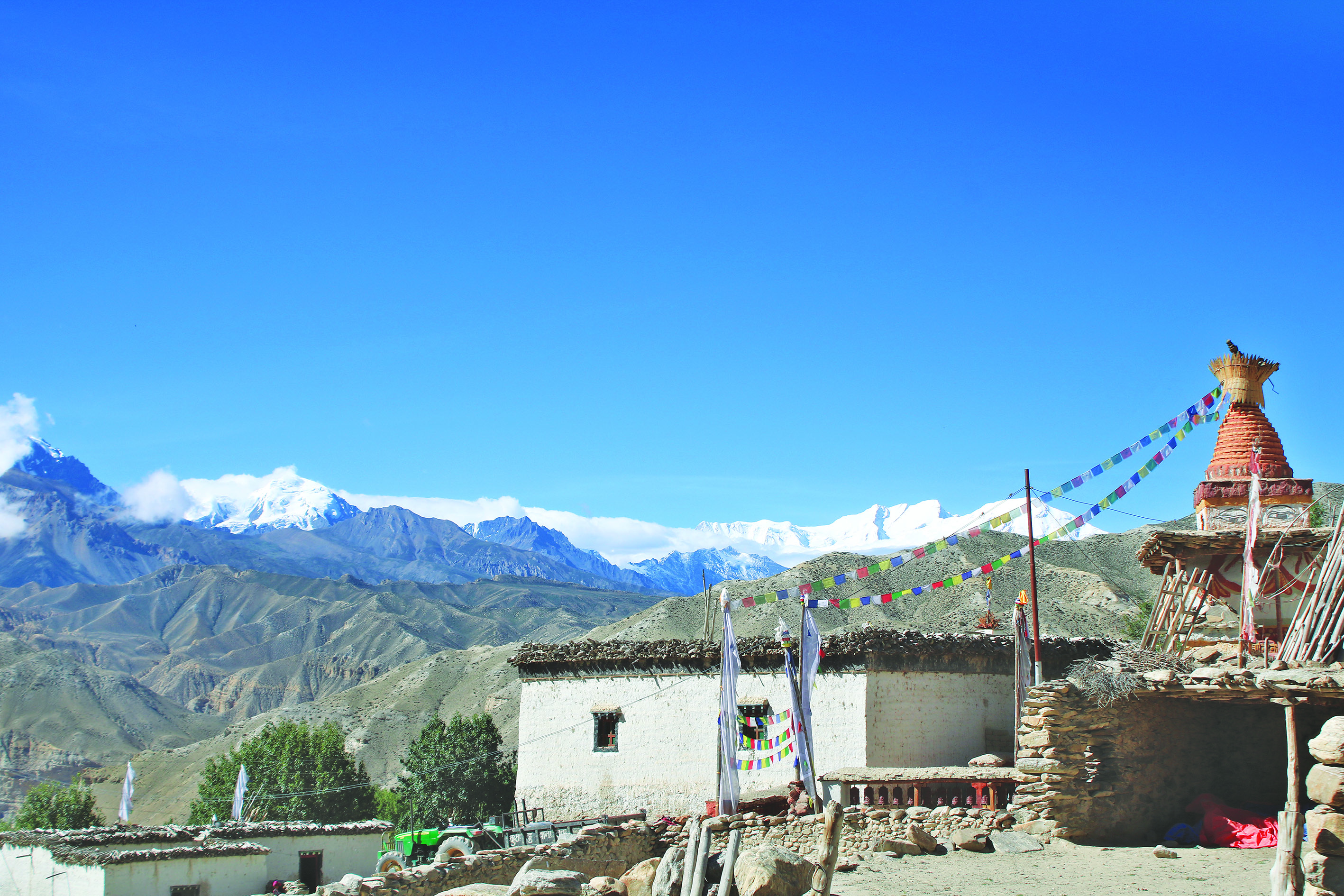 The striking desert landscape and snow-capped peaks make for a breathtaking view no matter where you look. Marissa Taylor
The best time to go to Ghiling, and Upper Mustang, is during Yarthung if one wants a more immersive cultural experience. But if that's not possible, then the second best option is any time during the warm season, when the flowers and fields are in full bloom. Winters however are piercingly cold, so cold that most of the people head down to Pokhara or Kathmandu, at least the ones who have places to stay in the cities. So there won't be much to do or see during that time of the year.
Much has been written and said about Upper Mustang, but words really do no justice to the beauty that the place is. It is only after being in the midst of the region's raw remoteness, striking desert landscape and snow-capped peaks, do you realise how truly a marvel Upper Mustang really is. It is near impossible not to be lost in one's sense of awe in such beauty in this isolated part of the world.
But at Ghiling, despite that otherworldly vibe, there is a sense of familiarity because of the people and the warmth with which they welcome you. Despite the region's alienness, in terms of culture, language, and landscape, you kind of still feel at home. And that is what makes your stay so wonderful here. And you leave the place with a promise to come back.
---
---