Helambu: A humble haven in the Himalayas
Once you have tasted the mountain air, you will yearn to return.

The journey from Kathmandu to Timbu, the starting point of the trek, takes less than four hours. Photo: Tulsi Rauniyar
bookmark
Published at : March 6, 2020
Updated at : March 6, 2020 08:09
Sindupalchowk
Leaving Kathmandu for Helambu, the landscape changes quickly. One moment you are looking at shiny stores and street stalls, and next thing, you're passing by snow-crusted seismic rocks resting against one another.

You then start noticing wooden houses, only a couple of storeys high, perched in clusters on elevated slopes as you enter Helambu. Their humble design and wooden balconies blend seamlessly with the landscape.
The small settlement of Kakani is a small village en route to Tarke Ghyang. It isn't very well-known to travellers, but it is breathtakingly beautiful and blessedly quiet. And it's from Timbu where the trek starts.
The hike from Kakani to Tarke Gyang is scenic. For the first two hours of the hike, the trail climbs steeply through dense forests. It's a tough climb, and it will most likely leave you breathless and your limbs aching.
At the entrance of Tarke Gyang, you will be greeted by a tall white Buddhist chorten, which according to religious rules, must always be circumambulated from the left. "These mud-brick structures are built at the entrance of most Tibetan-Buddhist villages. These ancient spherical burial mounds entomb the remains of holy men, which make the sites very important,"says Lakpa Hyolmo, an inhabitant of Yalmonesa, a small village in between Tarke Gyang and Kakani.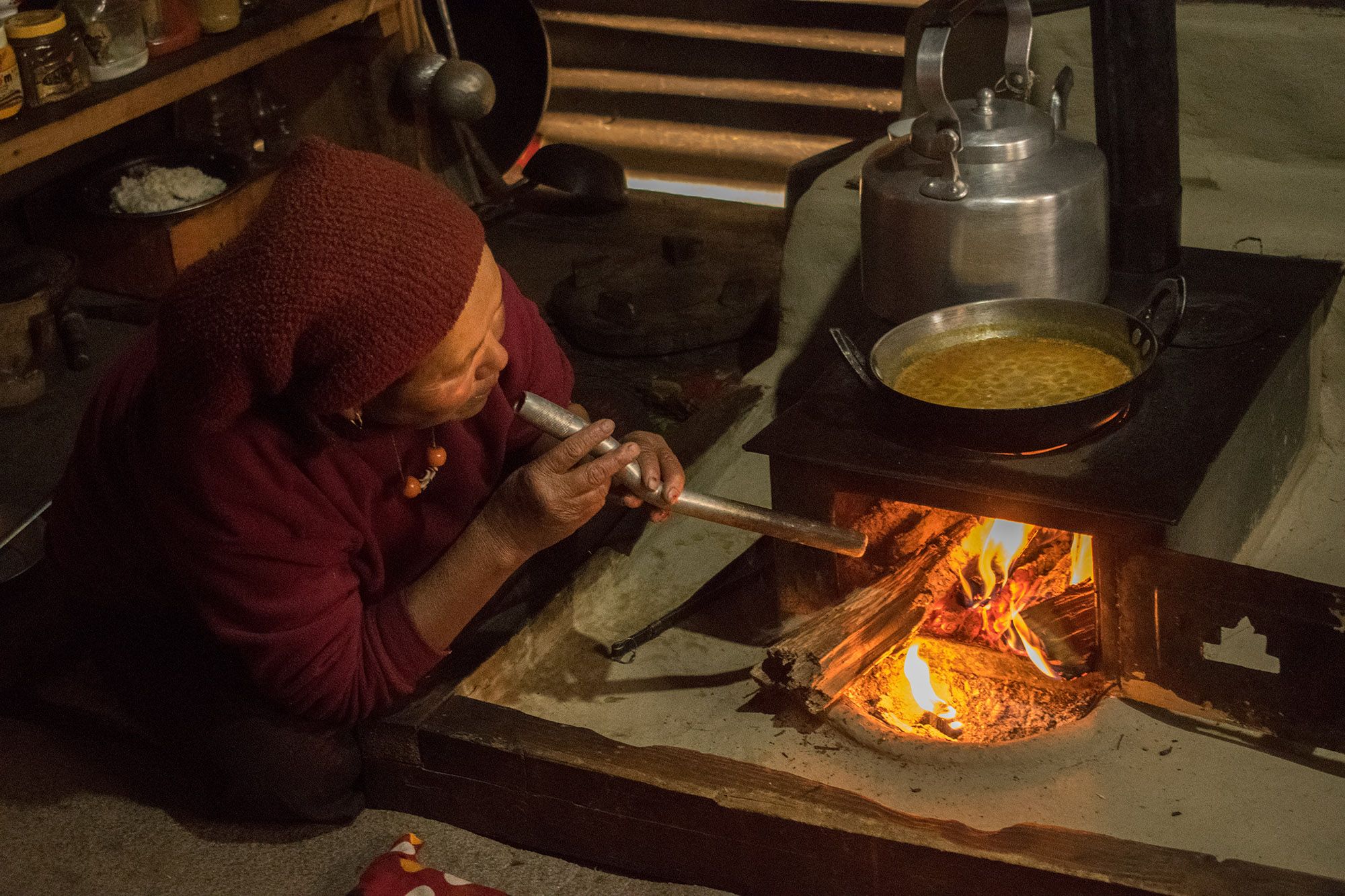 Photo Courtesy: Tulsi Rauniyar
Over the time you spend in the remote, unspoilt valley of Tarke Gyang, you will come across a few travellers. The mountains surrounding Tarke Gyang are draped with snow, and below the snowline are dense pine forests. The valley is approximately three hours away from the summit of Aama Yangri. There are two comfortable lodges in the village for guests to stay in.
A little ahead of the main settlement is Chiri Gumba—one of the oldest Buddhist stupas in the Helambu region and a prominent holy site. The gumba has its own folklore, which says the gumba was discovered by rats who dug through the hills for days to reach Tarke Ghyang.
"Our Buddhist traditions have created and maintained a vast body of mythological beliefs. Just like Chiri Gumba, all our monuments have a backstory of how they came into existence. The stories have been passed down from generation to generation, and we truly entrust them as our guiding principles," says Anu Lama, the owner of Hotel Tarke Gyang.
On the final day, complying to a local's recommendation, I ascended Aama Yangri, which takes around three to four hours to climb and offers a bird's-eye view of the Helambu region. Aama Yangri is considered a deity which protects the region and its peak, according to the local belief, brings you good fortune and is visited by locals on special occasions.
When I began my hike to the summit, the sun had just risen. The forest trail was quiet and it was snowing. Considering the steady rise in the level of snow, I thought I should abort my plan and return to the village. But drawing from the teachings learned on previous travels, however, I remembered that it is never wise to turn down an adventure. The view from the summit was rewarding, and on my way back, I encountered a wild fox emerging out of the mist that had enveloped the forest in a shiny coat of gloom.
Though the day's six-hour-long hike to Timbu had been exhausting, I spent the last leg of it bouncing along on a snow-induced high. I was glad I had said yes to the Aama Yangri.
Many prioritise the destination or reaching the summit, forgetting that immersing in a new culture and environment, and enjoying the journey, is more important and humbling. Helambu, with its humble community of Hyolmo, is an easy deal that will inspire and leave you yearning for more.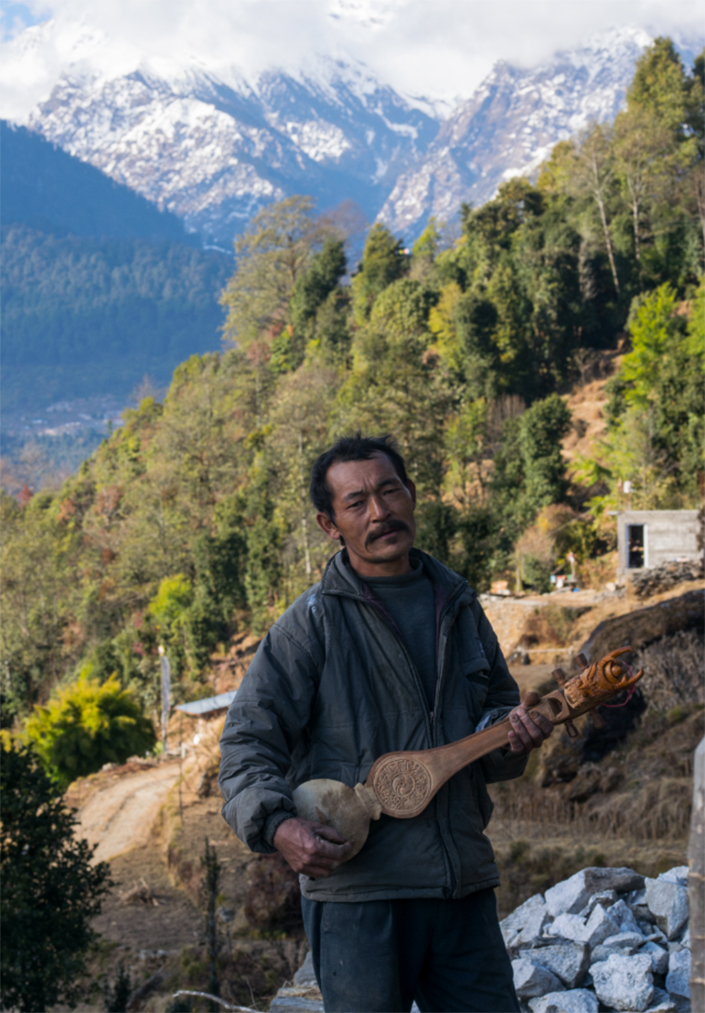 Photo Courtesy: Tulsi Rauniyar
Getting around
One can get public vehicles plying from Kathmandu to Timbu at the Aama Hyolmo bus park in the capital. A bus ride to and back from the town of Timbu can cost anywhere around Rs 400.
Stay
Most accommodation consists of either small scale lodges or simple guest houses run by local residents.
Local food
While visiting Helambu during Losar, expect to be served traditional homemade aarag, Hyolmo wine; a plateful of fruit and bhabar bread, known as derka; meat, thunse; and butter tea. Moreover, the Hyolmos grow maize, potatoes, carrots, barley, wheat, lettuce, millet, apples, among other things, and raise sheep, yak and other animals. Almost every appetising meal I had in the Helambu region was organic and straight from a farm.
Immerse in culture
Hyolmo families are known for keeping the interiors of their houses very tidy, and they decorate in a unique way. They also have an equally unique style of hosting guests—most families are quick to offer their guests a mug of butter tea.
---
---